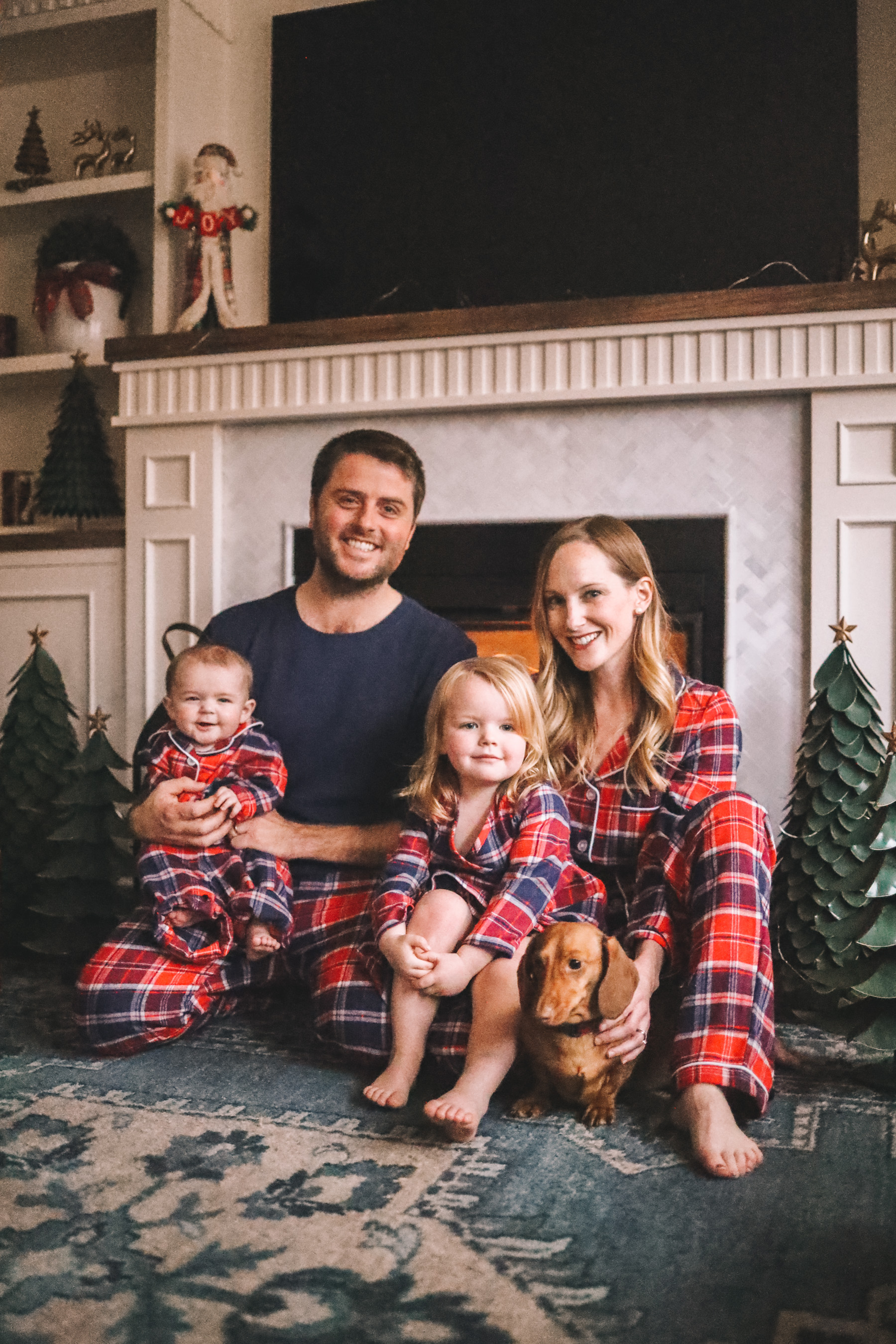 Kelly: Women's 2 Piece / Mitch: Men's Thermal Top and Flannel Pants Set / Lucy: Plaid Kids' 2-Piece / Emma: Plaid Girls' Flannel Nightgown / Holiday Decor: Large Tree / Holly Tree / Tiered Tree / Joy Pillow Cover 
Mitch here!
Less than a week with the new fireplace and we're already cozying up with the matching PJs. And if that's not a record turnaround, I don't want to know about it. Any faster would be a little ridiculous.
But what did you expect? Matching-family-jammy-cuddle-sessions are EXACTLY the kind of thing I intend to do with this fireplace. And that's coming from a guy who voluntarily owned only one pair of pants in his early 20s. I'm a family man now. And, I mean, if we don't have matching jammers during the holidays, are we even alive?

But these aren't just your run of the mill nighties. They're from The Company Store's Whitaker Collection, and they tick all our boxes.
Plaid? Check.
Flannel? Check.
Matching? Check.
High quality? Double check.
It's no secret that Kelly and I love the Company Store. We both grew up with the brand as our parents believe in the "buy quality once and be done with it" method of running a house. Not has the brand become a long term partner for the blog, it's also the backbone of this house. From bedding and bath basics to the cutest kids' stuff ever, we love it all. Lucy, who is in her first week without a helmet, now requires her flannel and plaid PJs at be time for comfort. 😂
It must be hereditary. (Kelly would drape herself in flannel and plaid if it were socially acceptable.
I should also mention that the Company Store is donating $1 for every pair of family pajamas sold this season to the Ronald McDonald House, which the Larkins are also supporting this year. Ronald McDonald House Charities are one of our favorite charitable causes. Simple put, they support families with ill and injured children in every way possible. They provide access to care, enable families to stay together during treatment, and support them on their path to recovery. More than 275 chapters are responsible for over 2.5 million overnight stays and $930 million is savings for families who really need it. They're at the top of our list this giving season and if you're feeling charitable, you can support them through the Company Store or drop a direct donation here.
Anyway, we took these photos right before a family movie night that we'd been planning for months as we waited for renovations to end. I've apparently fully transitioned to "old man status" and I unfortunately (or fortunately?) fell asleep about five minutes into Emma's movie of choice: Frozen. Luckily I'd seen it a few times before. ;)
Before you ask, those decorative trees are from the Company Store too, and they're even nicer in person. (Kelly receives approximately one zillion questions about them every day!) This is our first holiday season in the new house and they've brought the holiday cheer.
Mitch. OUT!
This post is sponsored by the Company Store; all opinions are my own. As always, thank you so, so much for supporting the partnerships that keep Kelly in the City up and running!