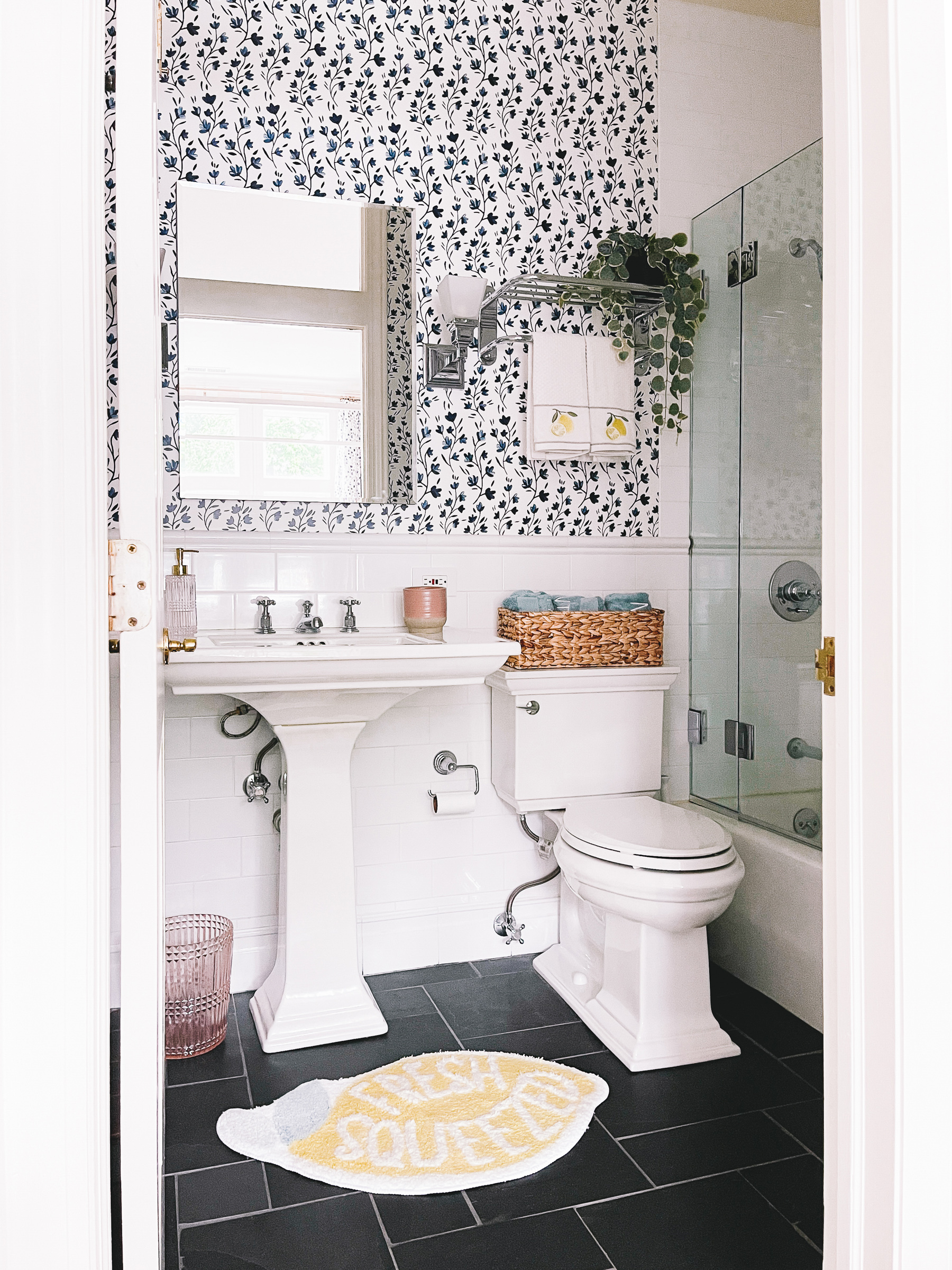 Mitch here!
Guys, I took these photos. It was a very interesting experience. I learned that A) Photography is hard, B) Photography during stormy days is harder, and C) Interior photography during stormy days is hardest. 😉 So I'd live to give my wife a round of applause for putting her all into the images that show up here. Because it can be challenging, and she really loves it!
So this is Lucy's bathroom! We gave it a little facelift for summer last week, and it came out very cute. (Cutely?) All the colorful citrus design pieces are from Walmart.com. As you may know, I am a big fan of Walmart—and have been since I lived in NYC. It was—and still is—where I went for quick, easy and affordable home projects. The prices can't be beat. Walmart orders of $35+ also typically ship free in two days, and their customer service is phenomenal.
Here are the upbeat, colorful updates from Walmart's Citrus collection. The products definitely seem to transport us somewhere summery and warm, and help bring nature indoors— something especially helpful seeing as we're a city family!

Fresh-Squeezed Bath Mat: I'm not sure exactly who or what is being freshly squeezed here, but it all feels fresh and clean, and I'm here for that—especially in a kids' bathroom. Emma also shrieked when she saw the bath mat, so I do expect to be buying another one very soon. Ah, sisters.
Warm Spring Sunshine Candle: The older I get, the more I love candles, in particular the ones that smell heavenly. In my younger years, I wouldn't have been caught dead with a candle in my shopping cart. These days, though, I'm drawn to them like a moth is drawn to a light. They just make a home feel so inviting and cozy! Sometimes I don't recognize the man who stares back at me in the bathroom mirror.
Woven Water Hyacinth Basket: These things are normally very expensive. Yet this one, which is super well-made and sturdy, is under $13! It fits perfectly in its designated space, and now we have a place for washcloths.
Lemon Zest Hand Towels: As a representative of all the men on the face of the earth, I feel it's my duty to vocalize that hand towels that are off limits for our hands as towels is an infuriating paradox. But this set is cute and plush so I'll allow it.
And now I get to show off my stunning photography. BOOM:
Shop the post:
Fresh-Squeezed Bath Mat / Warm Spring Sunshine Candle / Woven Water Hyacinth Basket / Lemon Zest Hand Towels
This post is sponsored by Walmart. As always, thank you so, so much for supporting the partnerships that keep Kelly in the City up and running!