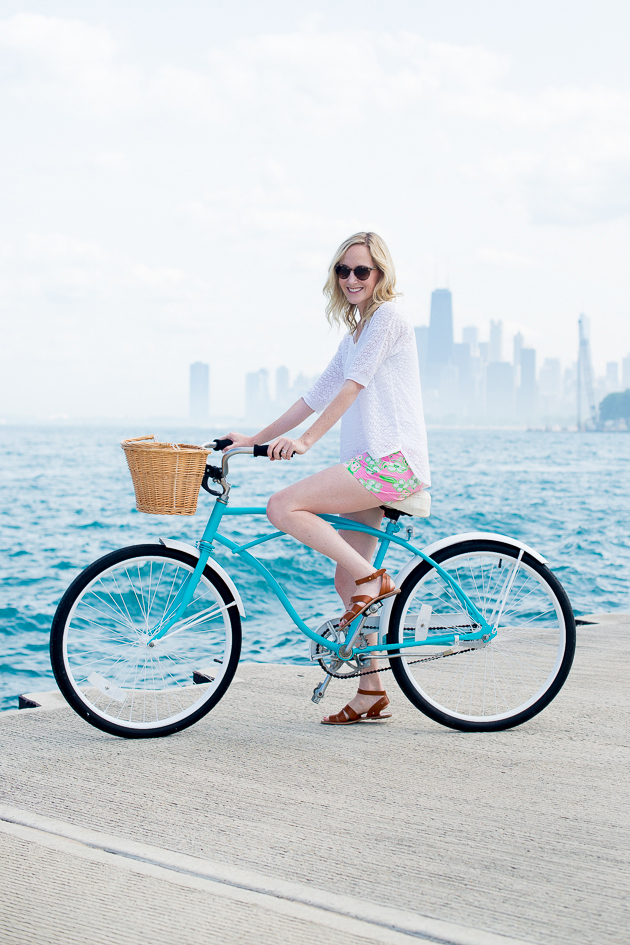 Disclaimer: I always wear a helmet. I just took it off briefly for these photos. Bike safety is extremely important!
Lilly Pulitzer Shorts (Old, newer styles here. I love this pair in "Let's Cha Cha," this elephant-clad pair, this white scalloped pair, this pair in "First Impressions," and this pair!) / Tommy Bahama Sandals c/o / French Connection Sweater c/o (Old, similar here and here) / Kate Spade Bag (Old, similar here. And take 25 percent off all Kate Spade sale items with code "SETSALE"!) and Sunglasses (Old, similar here and here) / J.Crew Earrings / Helen Ficalora Necklace c/o
These shots were taken in Chicago a couple of weeks ago, but because Mitch and I are taking a long bike ride up the island today (and because I haven't unloaded new photos off my semi-functioning camera), they seemed fitting. :)
Guys, I'm feelin' so relaxed right now. The week leading up to our departure was a rough one, and it seemed like every day we were confronted with a new emergency that had to be taken care of immediately. At one point, I said to Mitch, "We have to be in the clear. I mean, what could possibly happen tomorrow?!" And his response was, "Death?"
Sheesh, haha.
Needless to say, we needed this little getaway, and it's absolutely wonderful to be with the fam. We've been following the same routine every day: wake up late, lazily make and eat breakfast, mosey down to the beach, and spend the whole day–well into the early evening, actually–in a circle of beach chairs. (There were actually 12 chairs in total today! My family plus a lot of good family friends who also summer in Ocean City.) After the beach, we go back to the house, get cleaned up, eat dinner, and throw cocktail parties or take long strolls on the boardwalk.
So not much to report. But that's exactly what I was hoping for. ;)
Hope you had a great holiday weekend! I'll be back in a few hours with an extra post, and I'll be sure to share pics from the Fourth of July tomorrow!