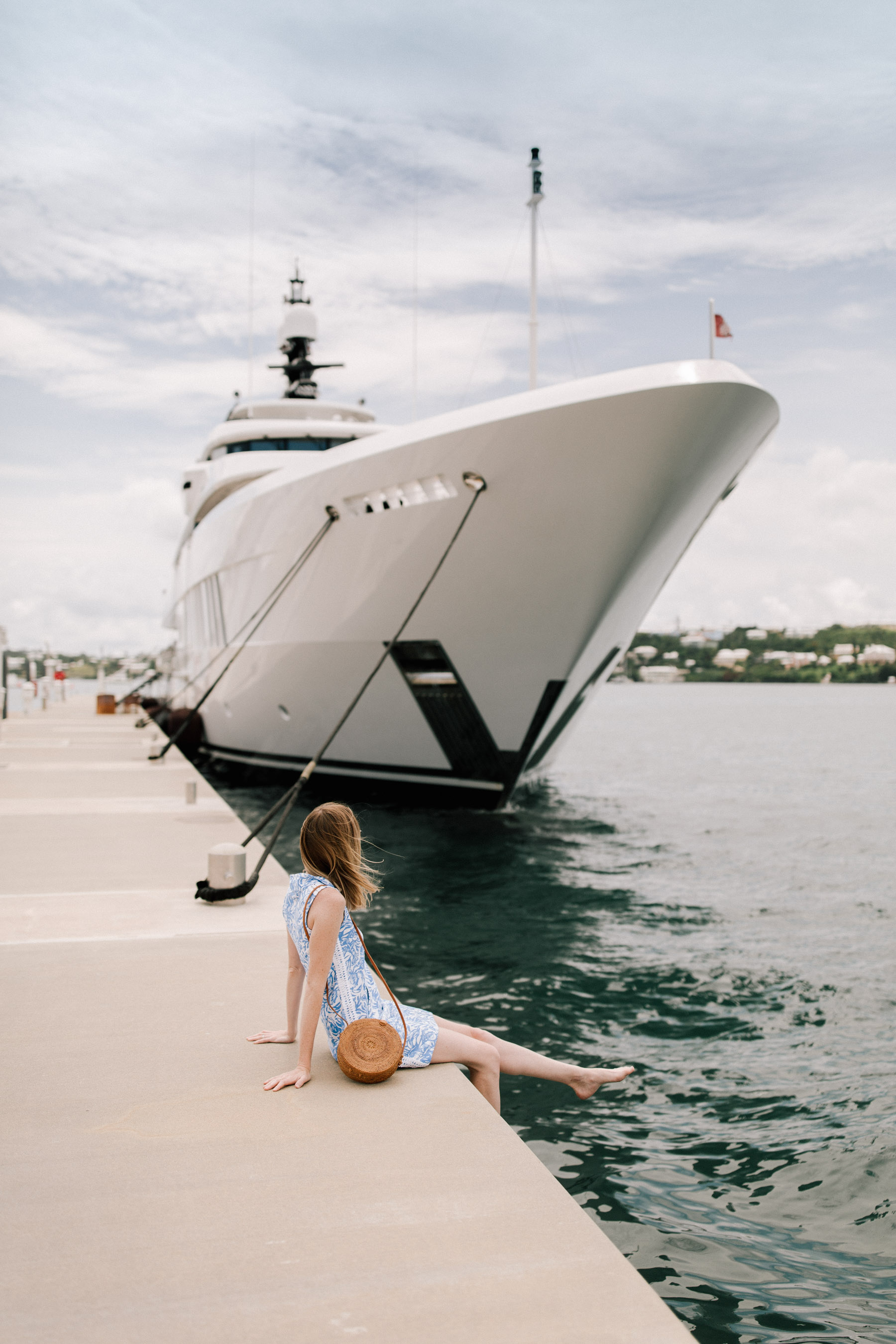 My Lobster Lilly Dress & Emma's Lobster Lilly Dress c/o (A Mother's Day gift from Lilly Pulitzer! Thank you so much; we love them!) / Jack Rogers Sandals / Poppy + Sage Bag c/o (Also obsessed with this one! Love how affordable they are.) /Emma's Sandals / Mitch's Favorite Vineyard Vines Shirt c/o (Here's why he loves it so much!)
I totally missed posting this on "National Wear Your Lilly Day," which occurs on the first day of summer. But then the whole D.C. thing happened and my posting schedule fell apart, haha. Here it is, though! The Larkin gals are extraordinarily happy that our favorite season has finally arrived, and we're dusting out our Lilly dresses this weekend.
One of my favorite parts of our visit to the Hamilton Princess was taking our daily walk out on the docks and around the gorgeous grounds before breakfast. Emma's super into boats and fish right now, so we had so much fun pointing and screaming "white boat, white boat!" and "BISH BISH BISH!" 😂 (No F sounds yet.) It was such a relaxing way to start every day. Screaming and all. ;)
On this particular day, I wore this adorable Lobster shift dress, which is made out of knit material and therefore can easily be dressed up or down. (Perfect for vacations in which you're not really sure what you're going to need!) Emma wore this lobster shift; I'm SO excited she now fits into the little girls' sizes! (Btw: Lilly sent us the dresses as a Mother's Day surprise, and I was saving them for this trip! So special.)
Anyway, on my Lilly Pulitzer wish list for this summer:

Hope you guys have a great rest of the weekend!
Shop the post:
My Lobster Lilly Dress & Emma's Lobster Lilly Dress c/o (A Mother's Day gift from Lilly Pulitzer! Thank you so much; we love them!) / Jack Rogers Sandals / Poppy + Sage Bag c/o (Also obsessed with this one! Love how affordable they are.) /Emma's Sandals / Mitch's Favorite Vineyard Vines Shirt c/o (Here's why he loves it so much!)