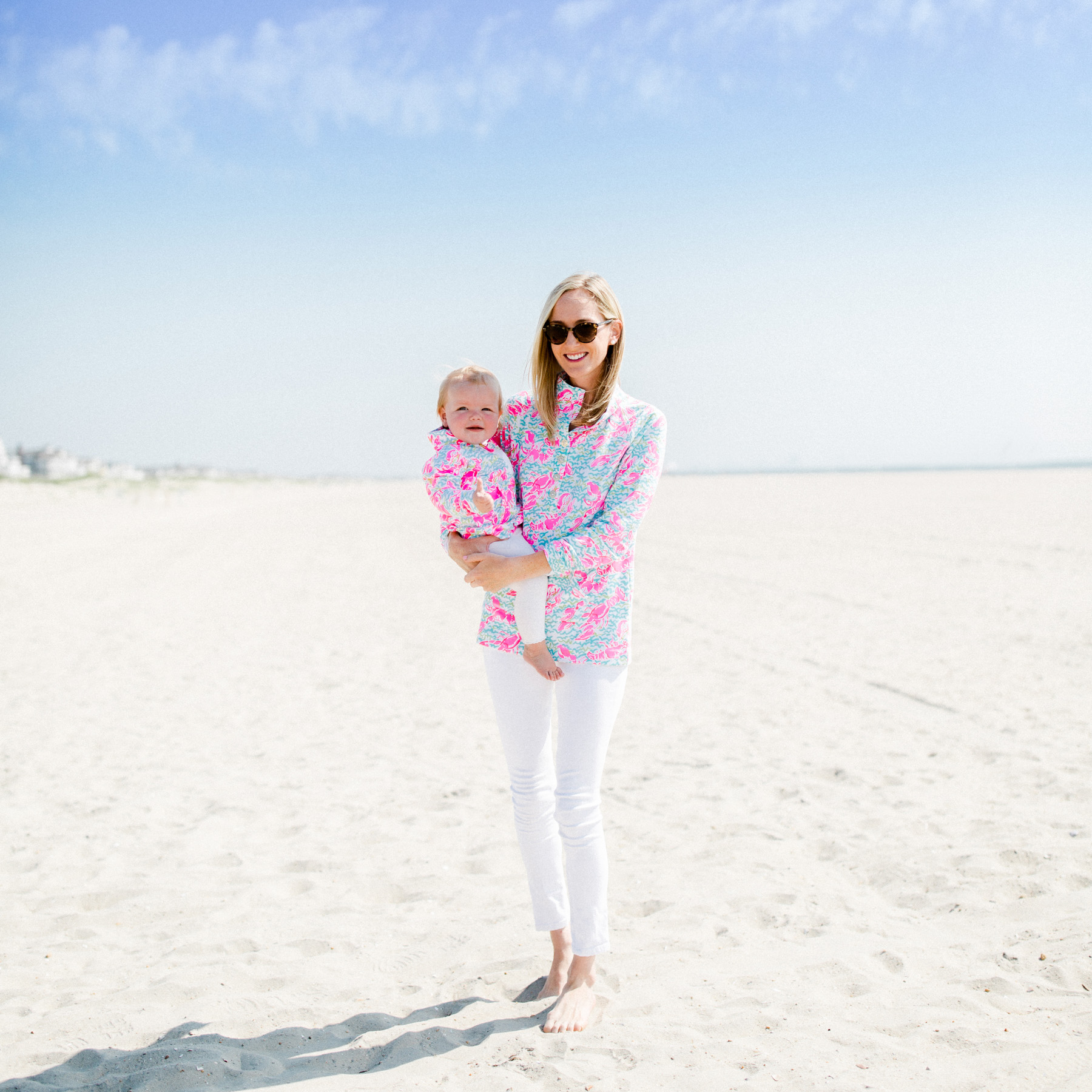 Lilly Pulitzer Lobstah Roll Popover & Kids' Popover (All "Lobstah Roll" print clothing here.) / Hudson Jeans (On sale!) / Lilly Pulitzer Flip Flops (Wedges here.) / Replacement Sunglasses

Mitch here!
Today's adorable Kelly/Emma outfit combo is in honor of our lobster addiction on this trip.
Lobster is cheap now for some reason, and we've gone a little nuts. Last night, we ate four lobsters (FOUR!) between the two of us, and I think we might go back and do it all again tonight. Kelly and Emma dress up like this every single day of the week down here. Not pictured is me and every other dad on this beach dragging wagons full of chairs, umbrellas, towels, coolers, snacks, and tons of sand castle-building implements.
As I write this post, I'm sitting on the front porch with an air conditioner buzzing nearby. There's a cicada over there that won't shut up. A few minutes ago, I poured a glass of wine that would likely be illegal in some states. Emma is inside napping on sandy sheets, and Kelly is napping to my right. Noodle is naked–her collar is jammed up with sand–and I can see the beach from where I sit. There isn't a cloud in the sky.
But something is amiss. Today's 80 degrees feels different than the 80 degrees of a few weeks ago. 7:30 sunsets aren't quite as nice as 9:30 sunsets. A subtle chill rides the breeze which makes me wonder where I left my sweatshirts back in April. (Seriously, where are they?) As a veteran teacher, I can tell you that this cold breeze is about to blow everyone off the beach and back into school.
Emma is a city kid. She sits on the stoop and oohs and ahhs at all the people going by. She sleeps through late-night city sirens and obnoxious last call bar crowds on the block at 2 a.m. She even passes the "Sleeping Baby Passing Under the Subway Track" Chicago Baby Test. She doesn't flinch.
But she's embraced the beach! What kid gets to grow up in (what I believe to be) the best city in the world, but also gets to summer on the Jersey Shore? For the uninitiated, the Shore has it all figured out. After a long day on the beach, everyone trudges home, showers and then rushes to the boardwalk for pizza, ice cream, Skee Ball and roller coaster rides. On any summer night, there must be 100,000 people packed shoulder to shoulder on the Ocean City boardwalk. The boardwalk crowd is just perfect, with everyone from the elderly couple who've vacationed on the Shore for decades and the awkward piles of teenagers desperately trying to avoid their parents to Emma experiencing it all for the first time and… us. This place has everything a kid could ever want!
Emma's gotten a taste of Jersey Beach Life, too. (Literally. She puts handful after handful of sand in her mouth.) We build sandcastles, hunt for sand crabs and dig deeps holes until the waves fill them in. She loves bobbing around in the waves and even sticks her face in the water! While I wasn't raised in Jersey, I feel lucky that I get to raise my daughter here in the summer.
Anyway, we're probably off to dinner right now, so I've gotta go. (Lobsters, anyone?) More Ocean City stories to come!
Mitch out!
Shop the post:
Lilly Pulitzer Lobstah Roll Popover & Kids' Popover (All "Lobstah Roll" print clothing here.) / Hudson Jeans (On sale!) / Lilly Pulitzer Flip Flops (Wedges here.) / Replacement Sunglasses