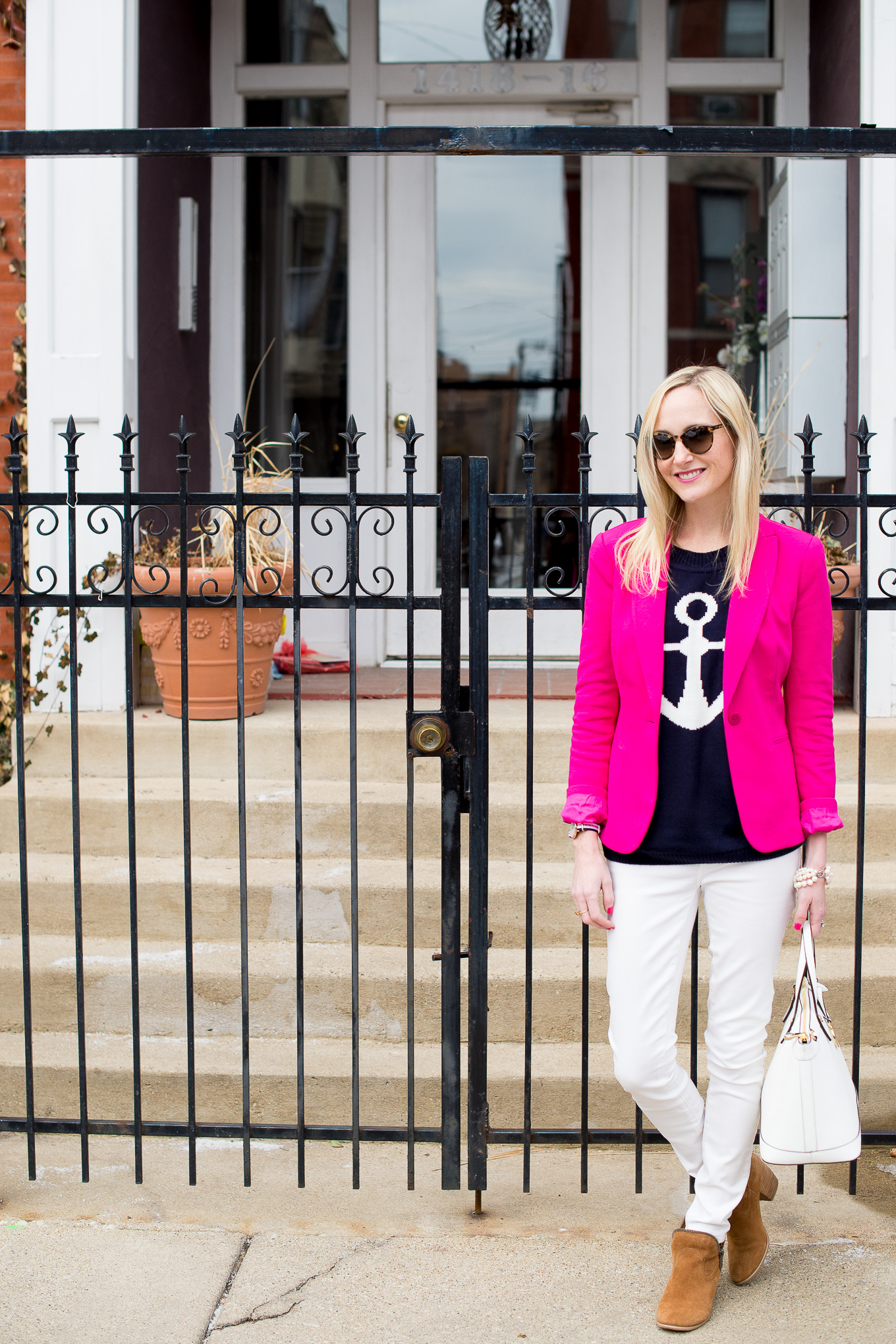 Sheinside Anchor Sweater (c/o) / Henri Bendel Tote (c/o) / Lilly Pulitzer Blazer (Old, similar here) / BlankNYC Jeans (On crazy sale! Also available here. I wear one size larger than I do in the J.Crew Toothpick.) / Chinese Laundry Booties / Daniel Wellington Watch (c/o) / Hazel & Marie Pearl Bracelet (c/o, Similar here) / J.Crew Pearl Earrings / Kate Spade Sunnies (Old, similar here)
Happy Almost Valentine's Day! Mitch and I have a wonderfully low-key weekend ahead of us, and I can't wait. Tonight, we're celebrating the birthday of a close friend with several other couples (yay!), and after that, we might attend a turtle race. (Yes. You read that correctly.) Tomorrow, we're getting all dressed up and going to Shaw's. Crab legs are my favorite food in the whole world, so I'm pretty excited. (Sigh… I miss you, Jersey Shore!) We also just found out that Mitch has off on Monday (woo!), so we might hit up the Art Institute at some point, too. Do you guys have anything fun planned?!
Oh, and a quick note about the navy anchor sweater I'm wearing. (It's less than $20! WHAT?!) It's from Sheinside, which I recently discovered and am now obsessed with. The company carries a ton of clothing from popular pins on Pinterest, and has made a few of my "I-wish-I-could-figure-out-where-that's-from" dreams come true, haha. (Isn't it the worst when you click on a pin and it brings you nowhere?!) But seriously. Check out the site. The prices are unreal, and shipping is free when you spend $30 or more!
Sizing tip for the navy anchor sweater: Size up. I typically wear an XS, and I went with a medium in this sweater. :)