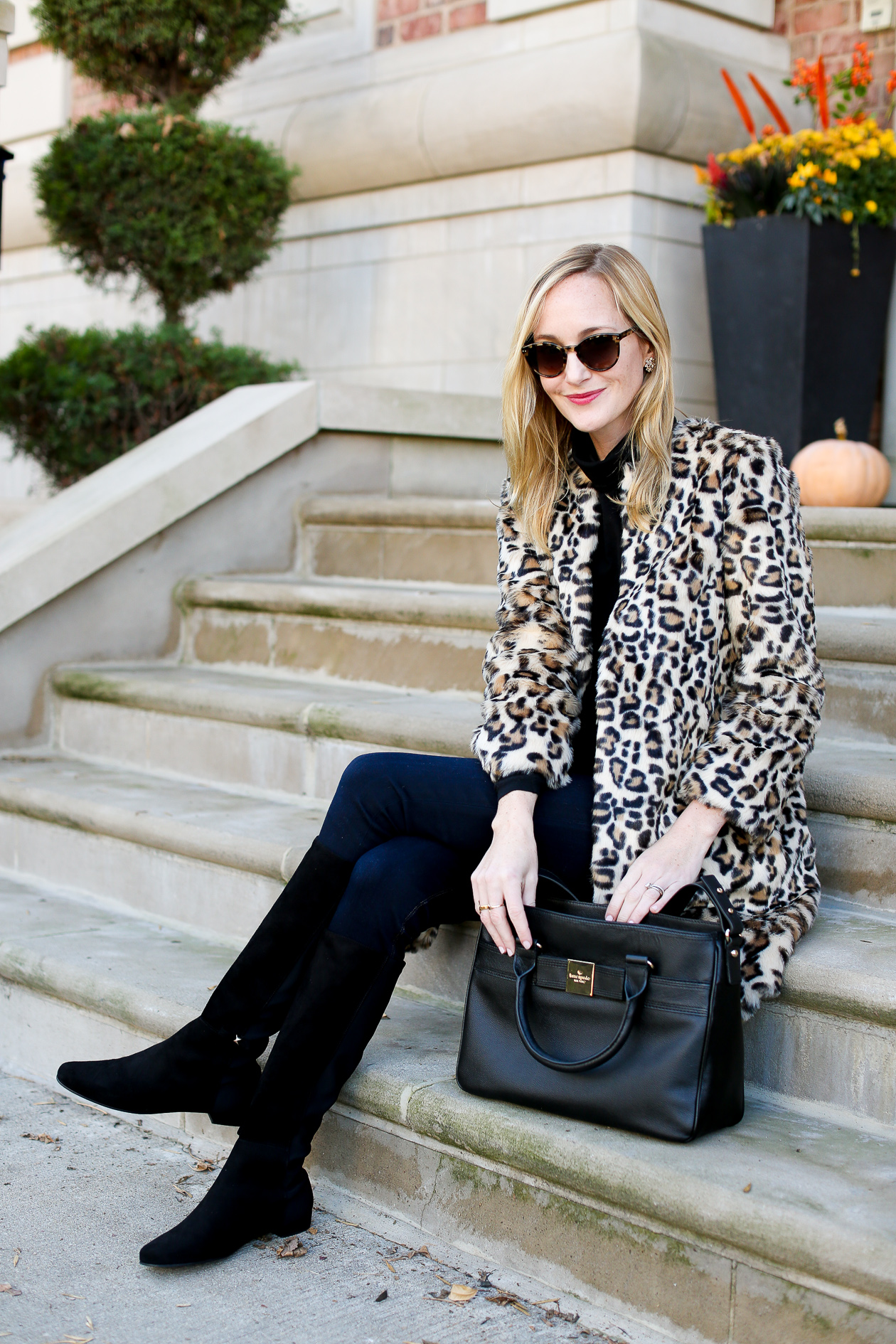 Kate Spade Coat, Bag, Watch and Boots c/o HauteLook
Stop what you're doing and visit HauteLook (and Nordstromrack.com) right now, because the kate spade new york event is live! The event, which will run online only through November 18th, features clothing, handbags, shoes, jewelry and accessories, all for up to 70 percent off. While it's a great opportunity to snag something for yourself, you could also potentially get half of your holiday shopping done today, too! (Spoiler alert for my family, haha.)
Can you believe the beloved leopard bow coat is available at such an amazing price? I wanted it so badly when it first came out, but it was pretty expensive. Of course, I was devastated when it sold out, but now–low and behold–it's back! Just look at the bow detail on the back. I mean, goodness.
While I've been waiting until today to showcase the coat on the blog, I've been wearing it around Lincoln Park on an almost-daily basis. It feels like you're wrapping yourself in a blanket. It's ridiculously soft, and I can't even tell you how many compliments I get on it. Favorite coat ever. Expect to see this thing a lot. ;)
As for the boots, they're the lightest and most comfortable dress boots I own. I love that they're flat, which allows for lots of painless walking around the city, and that they feature an adorable bow that really classes them up. They're perfect for casual outfits, like I'm featuring here, but I also plan on wearing them with dresses and black tights this winter!
The bow bag (are we noticing a theme here?!) is also one of those pieces that can swing either way. It holds a ton and has a cross body strap, making it great for schlepping around the city. At the same time, though, it's totally gorgeous enough to wear to dinners and evening events. I live a pretty fast-paced life, so I love that this bag can bring me from day to night!
And the watch? I've been looking for a replacement gold watch for a long time, and this one is perfect. I love its bold face, dainty roman numerals and pink seconds hand. It makes me happy every time I look at it!
A little bit more about HauteLook: Every day at 8 a.m. PST, the retailer features new events from the best names in fashion, including women's and men's clothing, accessories and beauty products; kids' apparel and toys; and home decor. Everything is up to 75 percent off! Currently, HauteLook serves customers in the U.S., Canada and Australia, and membership is free. Likewise, orders over $100 ship free! (Side note: returning is easy. HauteLook and Nordstrom Rack purchases can be returned at any Nordstrom Rack store nationwide.)
If you snag something special today, I'd love to hear! And be sure to share the excitement on social: @HauteLook / #HauteLook
This post was sponsored by HauteLook, but all opinions are my own. Thank you for supporting the partnerships that keep Kelly in the City up and running!