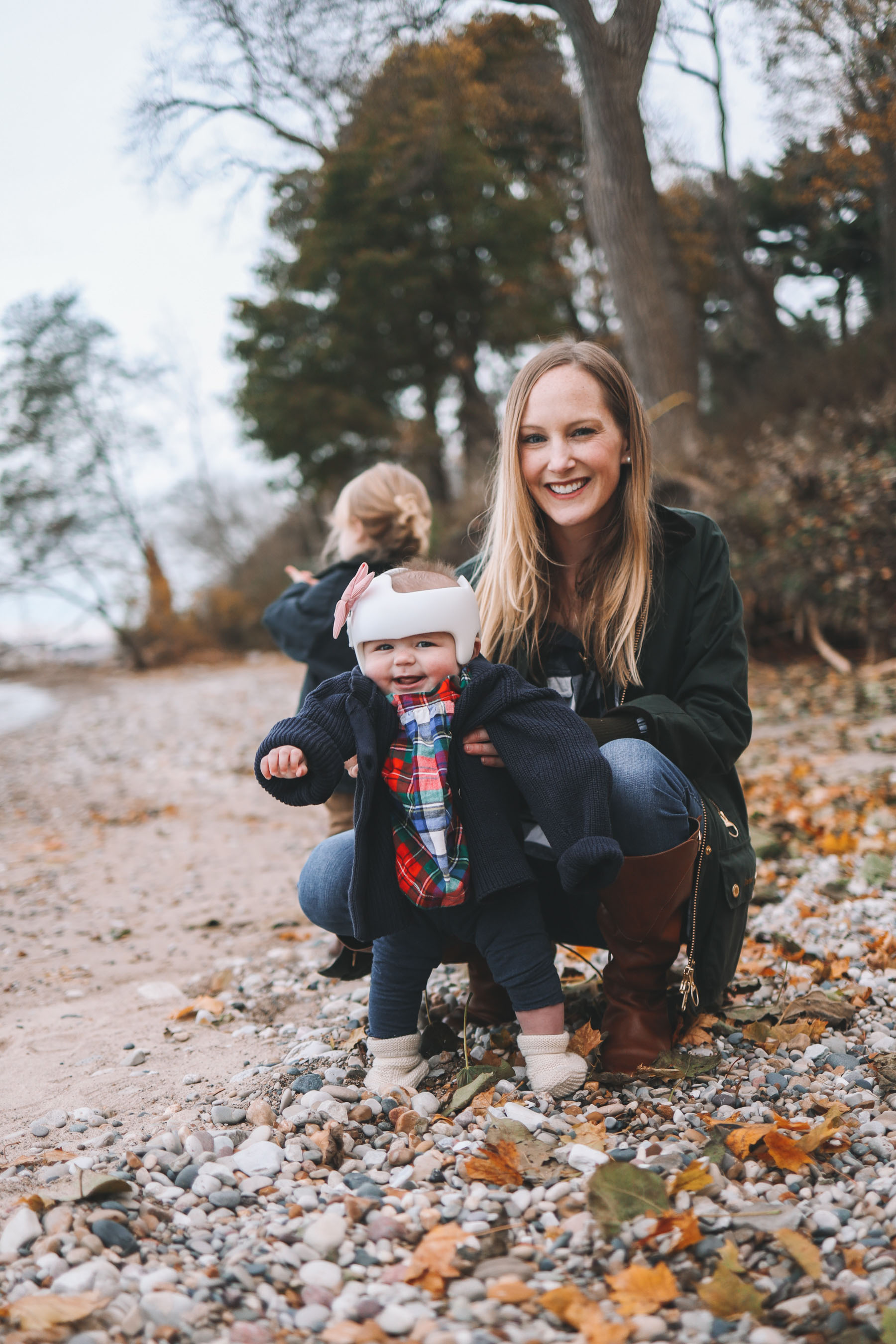 Barbour 125th Anniversary Icons Beaufort Jacket (Also available via Tuckernuck) and Fleece-Lined Betty Vest c/o (Also available at Tuckernuck. It zips into most Barbour jackets! I also LOVE this Barbour vest and this one, too.) / J.Crew Factory Buffalo Plaid Shirt Jacket / Newer Cole Haan Riding Boots (These waterproof riding boots are awesome, too.) / Madewell Jeans (They're GREAT.) / UGG Gloves / Kids' Barbour Jacket (Also love this pink one!) / Emma's Ralph Lauren Tartan Shirt and Equestrian Pants (She doesn't ride, haha.) / Newer Carter's Boots (We also love the Bunny!) / Emma's Mittens and Hat / Lucy's Plaid Dress (Newer version. The one she's wearing was Emma's!) / Lucy's Corduroy Bows (We just velcroed them to the helmet.) / Lucy's Booties / Mitch's Barbour Jacket / Mitch's Sweater, Sperrys, Jeans and Button-Down Shirt
This was my favorite day of this past fall. Every year, we drive up to the North Shore of Chicago to get out of the city, and we spend the day roaming around the little lakeside towns together. This was obviously our first trip with Lucy, so it was extra special this time.
Of course, we move more slowly and generally do less now that we have two children. 😉 Everything just takes more time! From putting on boots and coats and mittens to packing and organizing and keeping everyone happy, we could run around all day and never actually get to leaving the house. (It's happened before. And I don't know any parent to which this hasn't happened to before. 😂) But in many ways, it's a welcomed change. Mitch and I are both guilty of packing way too much into our lives, and the girls force us to slow down and press pause.
For example, we had GRAND PLANS for this particular day. We were going to get breakfast, visit a toy store, hit up some other shops, grab coffee and doughnuts (we're a healthy bunch), go the playground, have lunch, take a long stroll on the beach, go to a bookstore, and walk some of the residential streets to admire the fall decor. (Oh, and Mitch threw out the idea of going to a pumpkin patch, too.)
What did we actually get to on the list? The lunch, bookstore and beach stroll. And it was amazing; probably a zillion times more amazing than it would have been had we rushed to "do" everything! And once again, it'll remain in my memory forever. ❤️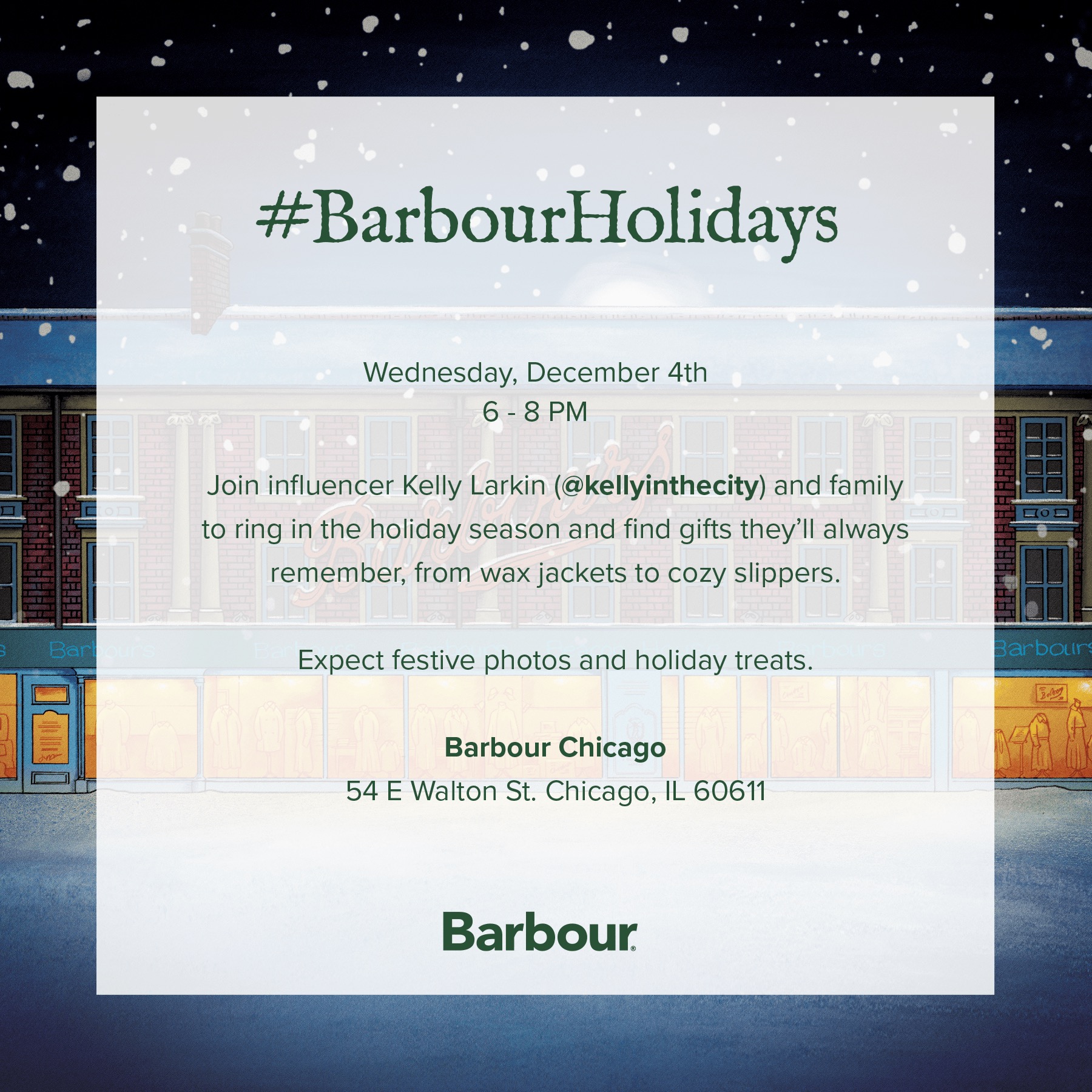 I'm so happy that I saved these photos of Mitch, Emma and me in our Barbour jackets because the brand and I (and Mitch 😉) recently decided to host a big event this coming Wednesday at the store at 54 East Walton Street in Chicago! If you're in the area, please come! I would LOVE to meet you, and there will be fun photo ops, festive treats and refreshments, and a whole lot of holiday shopping. (Modeled after the iconic British telephone booth, a "phono-booth" will be there to help you capture and share DIY photo moments. Share your image with #BarbourHolidays and mention @Barbour for a chance to win a holiday gift for yourself or a friend or family member! How cool, right?!)
Hope to see you there! And see below for reviews of our most-loved Barbour jackets!
I always used to say that the quilted Beadnell was my favorite Barbour of all time, but I don't know, guys. It's now tied with the Beaufort for first place! (The Beaufort is available at Bloomingdales and via Tuckernuck, btw. And my Fleece-Lined Betty Vest is both at Bloomie's and Tuckernuck, too. It zips into most Barbour jackets! I also LOVE this Barbour vest and this one as well.) Okay. So the Beaufort is part of Barbour's 125th Anniversary collection, and it's casually the most gorgeous thing you've ever seen. Note the tartan lining, which makes it super preppy AND super cozy. I can normally only wear my waxed jackets for a few months per year, as Chicago has very few "mildly cold" days. ;) The Beaufort, however, is so much warmer and cozier… and I still wear it NOW, in December, if I'm not going to be outside for super long stretches of time. I wore it to pick up Emma at school the other day while it was snowing and I was totally fine. ME! Crazy, I know. Also notice the knit detailing around the wrists. This helps to ensure warmth, too. Oh, and I can't forget the gold hardware. That's tough to find, but doesn't it add so much to the jacket? I'm clearly obsessed. Runs TTS for Barbour. I'm wearing a size U.S. 4, what I normally wear in the brand, here. And in the vest, I'm wearing a size U.S. 6, as it's a little more fitted. Hope that helps! -Kelly
Did you guys see Frozen II yet? I'm seeing it this weekend. I'm going to wear this jacket because it's cold. this jacket is blue. I love my jacket. I love Elsa. I love mermaids, bunnies and ballerinas, too. And I love Noodle. Noodle is my doggy. -Emma (We also love this pink one, in case you're looking for other options!)
The Barbour Latrigg Wax Jacket is the best jacket I've ever owned. We're five weeks into the Chicago winter and this is the only jacket I regularly reach for. It's slim, warm, stylish, trim and looks right. This is the kind of jacket you don't immediately rip off when you get home. I love it. -Mitch
Barbour 125th Anniversary Icons Beaufort Jacket (Also available via Tuckernuck) and Fleece-Lined Betty Vest c/o (Also available at Tuckernuck. It zips into most Barbour jackets! I also LOVE this Barbour vest and this one, too.) / J.Crew Factory Buffalo Plaid Shirt Jacket / Newer Cole Haan Riding Boots (These waterproof riding boots are awesome, too.) / Madewell Jeans (They're GREAT.) / UGG Gloves / Kids' Barbour Jacket (Also love this pink one!) / Emma's Ralph Lauren Tartan Shirt and Equestrian Pants (She doesn't ride, haha.) / Newer Carter's Boots (We also love the Bunny!) / Emma's Mittens and Hat / Lucy's Plaid Dress (Newer version. The one she's wearing was Emma's!) / Lucy's Corduroy Bows (We just velcroed them to the helmet.) / Lucy's Booties / Mitch's Barbour Jacket / Mitch's Sweater, Sperrys, Jeans and Button-Down Shirt