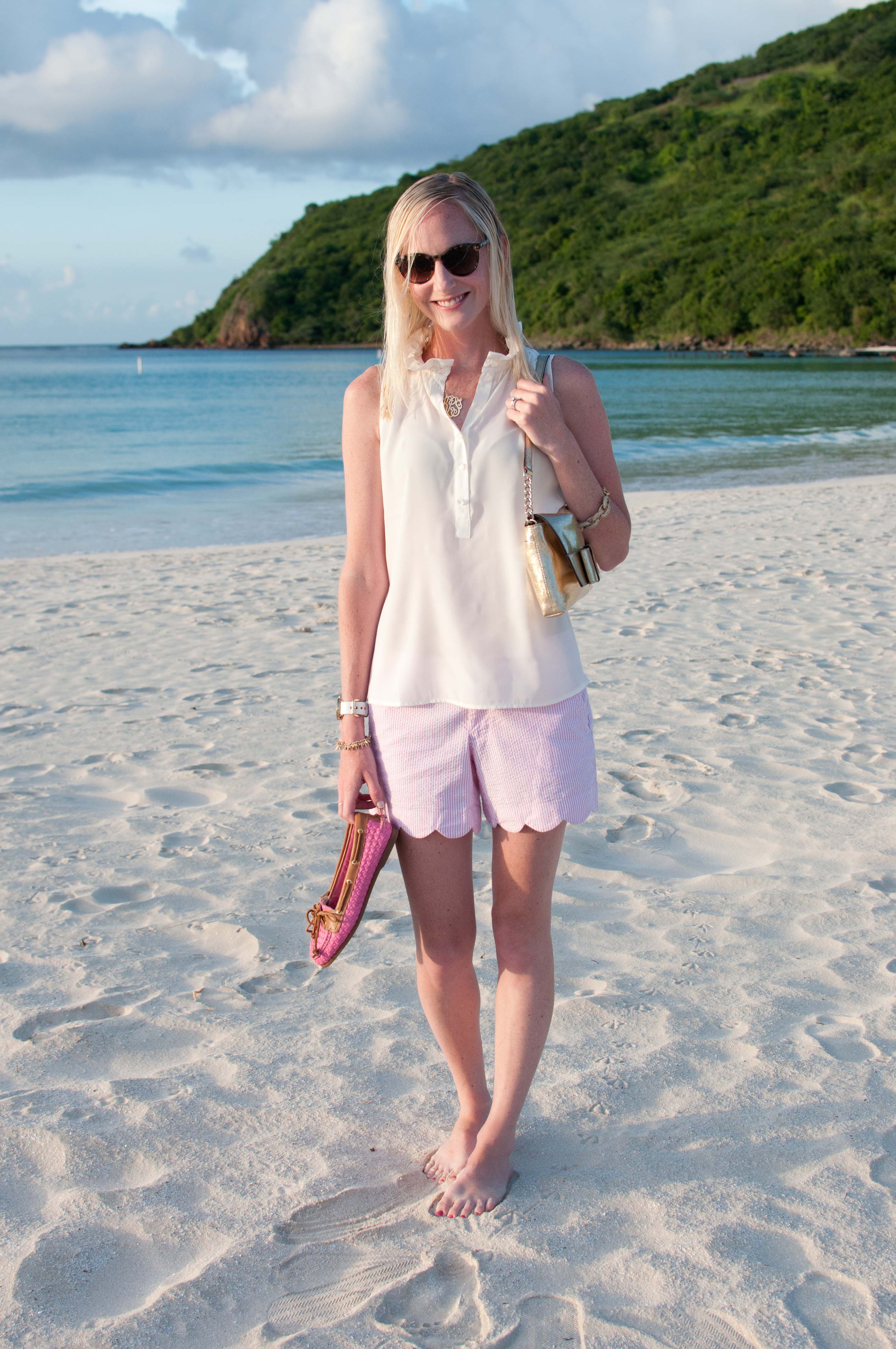 We're back! Sorry for my absence. I'm sick. Boo.
What a crazy, wonderful, dreamlike honeymoon. You know, it's funny. Right before leaving, Mitch and I both wondered why we were even going. We were just so, so happy after the wedding that we couldn't imagine why we'd take a big trip. But I'm really glad we did. It was so nice to relax, clear our minds, and spend some quality time together. Plus, it was an absolute blast!
Shorts: Lilly Pulitzer (Also loving Lilly's scalloped shorts in white and also floral!) / Top: J.Crew Factory (Sold out), still available in herringbone… And swooning over this sleeveless rhinestone top from J.Crew! / Necklace: Paradise, almost exact here… Also loving this monogrammed necklace in tortoise shell! And this monogrammed ring in gold? Never going to happen, but I'm in love! / Shoes: Sperry (Most comfy shoes I own!) Available in mint! Loving them in tan and white, too! / Watch: Marc Jacobs, also loving the teal, brown, rose gold, black, and multi-colored versions! / Bracelets: J.Crew (Also available in color version and sandals version!) and Stella & Dot / Earrings: J.Crew, less expensive J.Crew Factory version here / Sunnies: Kate Spade (Sold out), available via eBay here, similar styles here (Ray-Ban for J.Crew) and here / Bag: Kate Spade, available via eBay here
First up on our trip was Culebra, which is a Puerto Rican island situated between the mainland of Puerto Rico and St. Thomas. Oh my goodness. Sure, Culebra isn't exactly the most upscale place you're going to visit. But its beaches? The most gorgeous I've ever seen. We stayed right on Flamenco Beach in a cabin-like studio, complete with its own kitchen, grill and wraparound deck. (Check it out!) It was fabulous. I really couldn't recommend it more. There's nothing like falling asleep to the sound of waves crashing, and waking up to a pristine beach and clear blue water. (And roosters cockadoodledoo-ing. Seriously. Those roosters mean business at 7 a.m.!)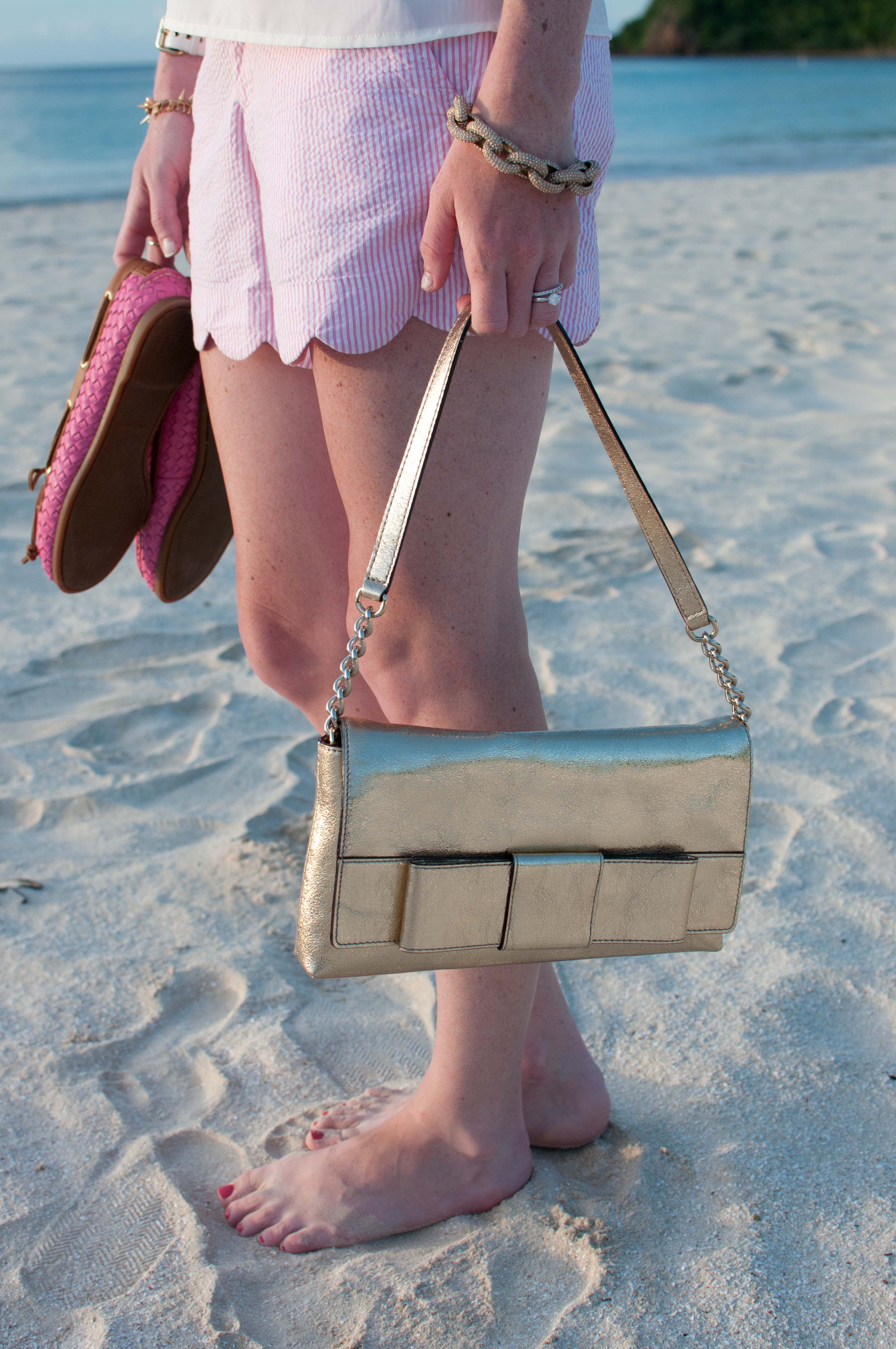 While on Culebra, we rented a Jeep Wrangler so we could go off-roading and get to those deserted beaches. ;) So fun! We spent our days snorkeling in the insanely warm water, drinking cocktails, exploring the island, trying to talk to locals (our Spanish is pretty bad, though — haha!), and eating authentic Puerto Rican food.
Our favorite beach (besides Flamenco) was Carlos Rosario Beach, which a local told us is the island's best for snorkeling. It was definitely worth it, but getting there was quite the experience. We quickly discovered that there was no way to get there other than hiking. Fine. I'm a princess, but I love snorkeling. So I happily agreed. The only problem was the sign that was wired to the fence surrounding the path. Granted, it was in Spanish, and Mitch and I aren't great with the language. (We should be, though! We teach in the South Bronx, after all! Embarrassing.) But we managed to decipher that it said something like, "DO NOT GO ANY FURTHER! EXPLOSIVES MAY DETONATE! DANGER! RISK OF DEATH!" Not great. (The military used to use Culebra as a bombing range from 1935 to 1975.)
"This can't be it," I said to Mitch.
"No. There must be some other entrance."
So we asked around. And every single person we talked to told us, "No! No. It's fine. Stay on the path. Everyone goes. It's fine. Safe!" In hindsight, maybe we shouldn't have gone. But we went. My heart was pounding every step of the 20-minute hike, but we made it, unharmed. (We even saw a giant iguana on the way!) And when we stepped out onto that beautiful beach and caught a glimpse of the giant reef before us, we were speechless.
[Okay. That story just made us sound like crazy people. But I swear… the islanders were super convincing!]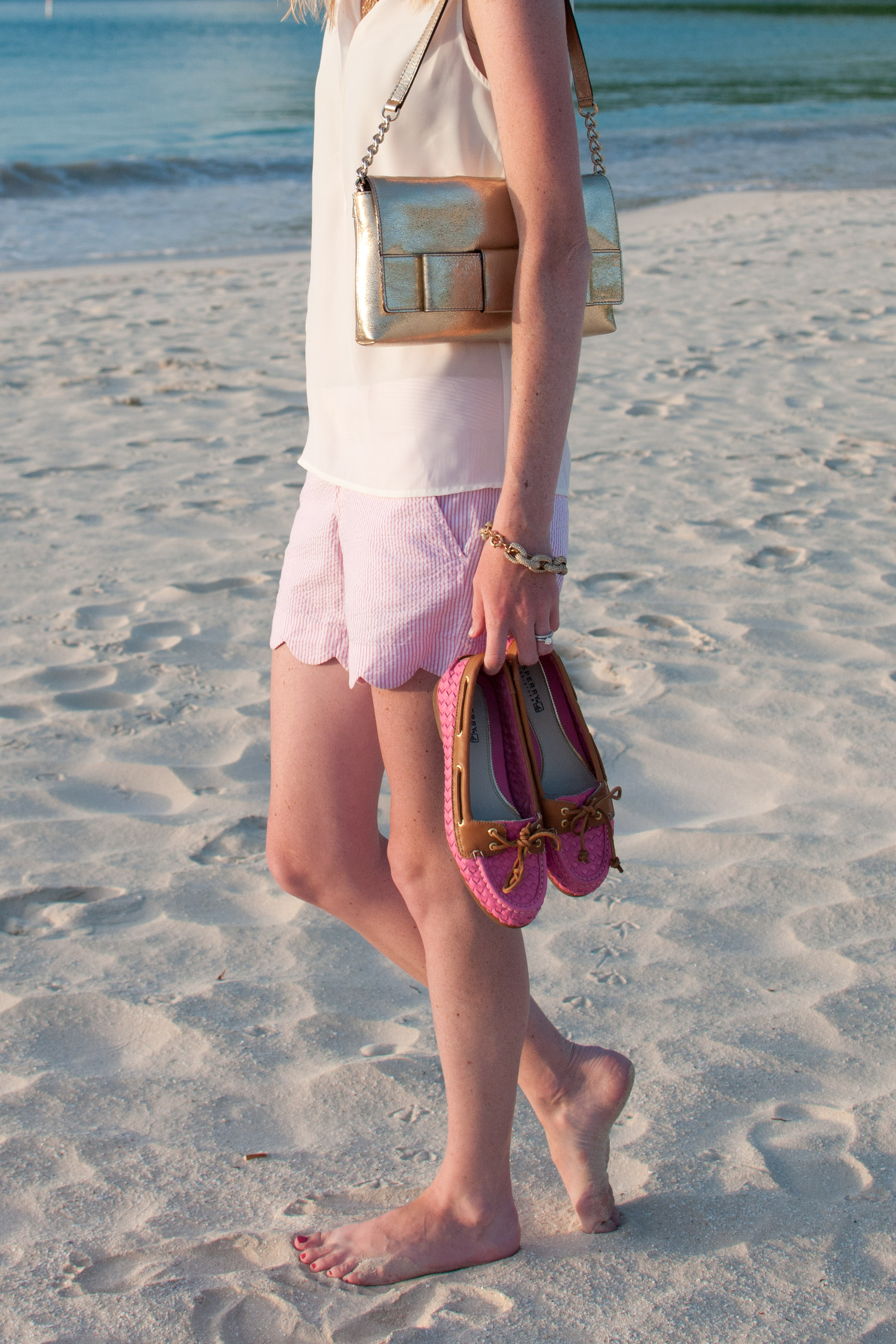 We saw so much while snorkeling! We saw hundreds of beautifully colorful fish, including tons of Nemos and Doris. ;) At one point, I had dozens of Dori fish swimming around me! It was incredible. We also saw a stingray, a giant puffer fish, some type of sword fish, and two squid. It was insane! (Later, on another beach, Mitch saw a sea turtle and a giant ray, too!) It was undoubtedly one of the most memorable experiences of my life.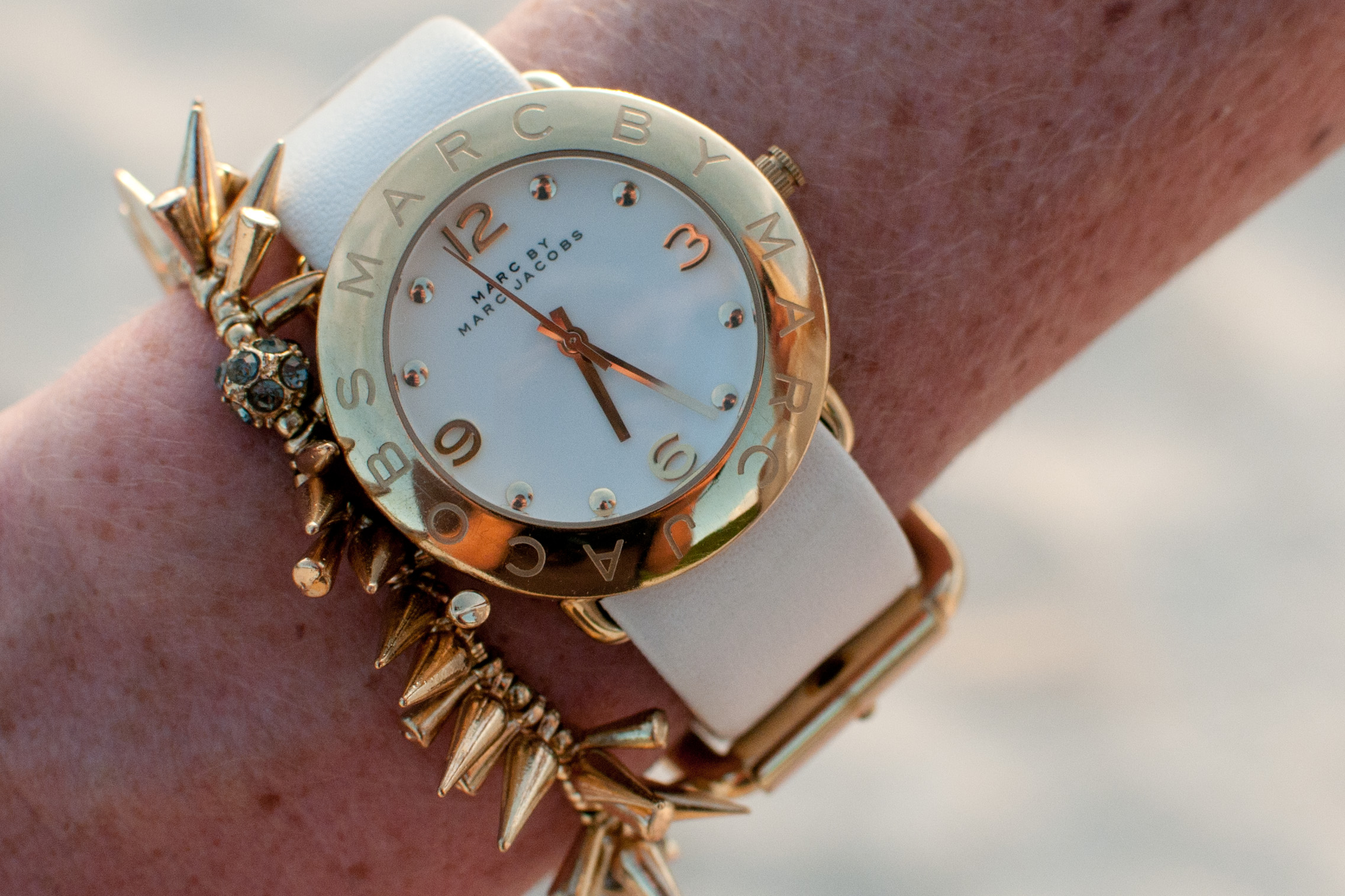 So we obviously loved the beaches. But we also loved the food! Our favorite restaurants were Zaco's Tacos, El Eden and Mamacitas. Each one offered an authentic experience and great food and drinks. My personal favorites were the mussels, steak, seared tuna tacos and Caribbean lobster risotto. (We ate well. ;)) And the strawberry daiquiris? To die for!
Okay. I'm spent. ;) Back to nursing this head cold! More on Culebra tomorrow.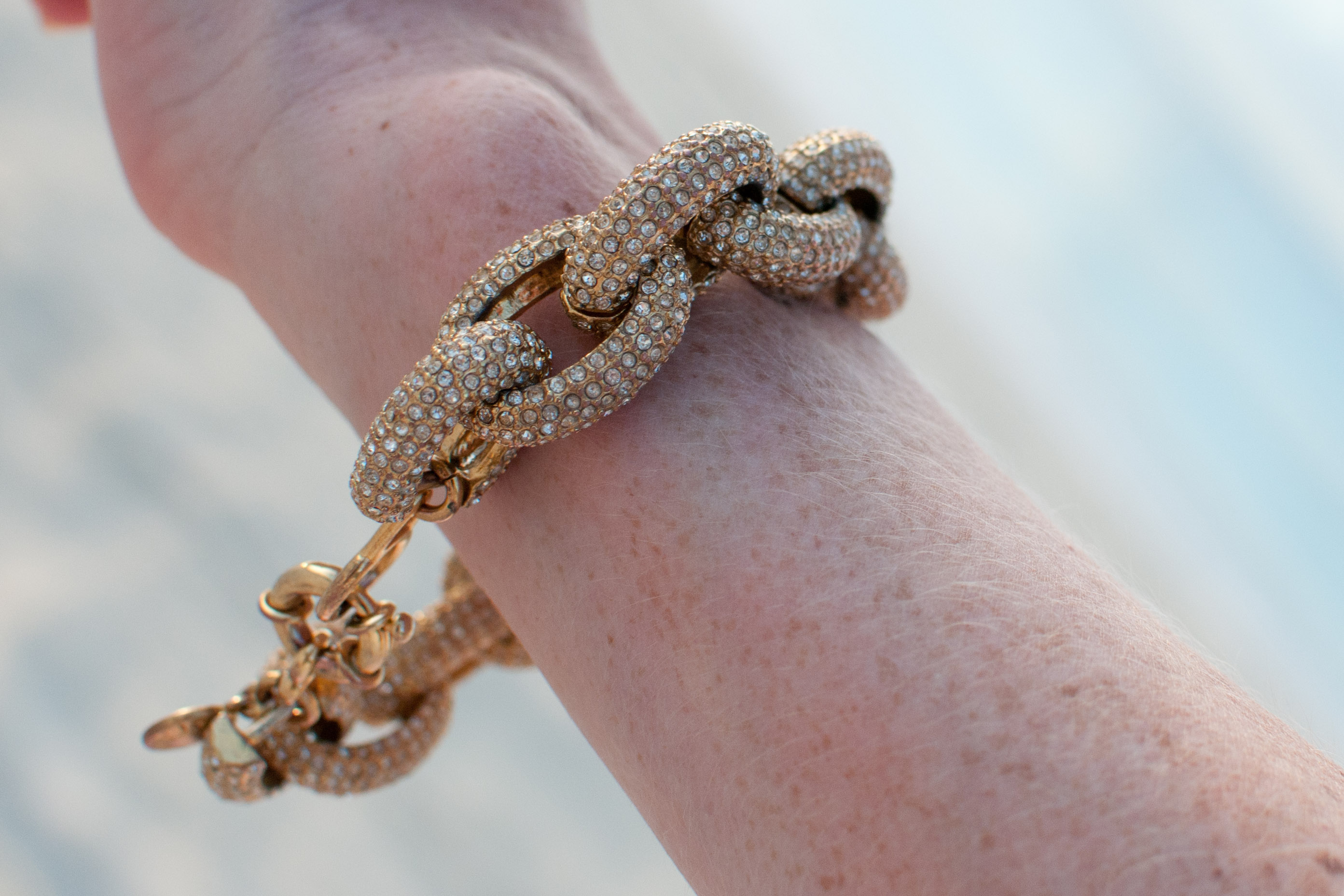 Shorts: Lilly Pulitzer (Also loving Lilly's scalloped shorts in white and also floral!) / Top: J.Crew Factory (Sold out), still available in herringbone… And swooning over this sleeveless rhinestone top from J.Crew! / Necklace: Paradise, almost exact here… Also loving this monogrammed necklace in tortoise shell! And this monogrammed ring in gold? Never going to happen, but I'm in love! / Shoes: Sperry (Most comfy shoes I own!) Available in mint! Loving them in tan and white, too! / Watch: Marc Jacobs, also loving the teal, brown, rose gold, black, and multi-colored versions! / Bracelets: J.Crew (Also available in color version and sandals version!) and Stella & Dot / Earrings: J.Crew, less expensive J.Crew Factory version here / Sunnies: Kate Spade (Sold out), available via eBay here, similar styles here (Ray-Ban for J.Crew) and here / Bag: Kate Spade, available via eBay here