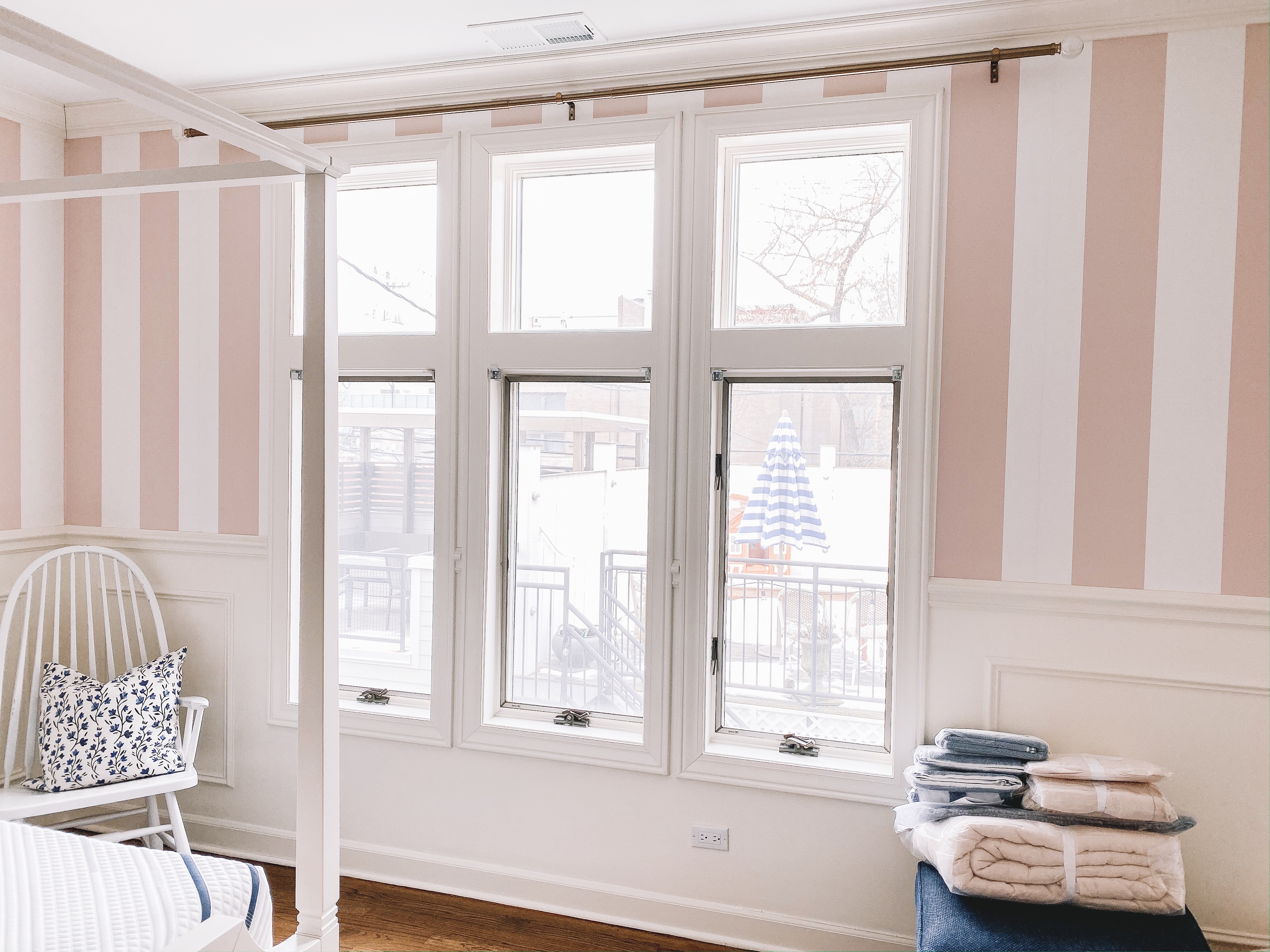 I don't know what it is about drapes, but they stress me OUT. I can't even tell you how long it took me to figure out Emma's curtain situation, and Mitch will tell you that the whole thing overtook my life for a little while. 😂 It's just really confusing! From pleats, grommets and pockets to tabs, folds and all the different rings, it's hard to know where to start and it's easy to make mistakes. (I seriously returned Emma's curtains three times because I kept getting the length wrong due to hardware and whatnot. And that was after a lot of research! Btw, in case you're interested in the bow curtains, I went with these affordable rods and rings. As far as I can tell, there's really no need to drop a ton of dough on hardware. The Amazon version is so much cheaper than what Pottery Barn Kids carries, and I actually think that the Amazon hardware is cuter?! Quality is great, too.)
We didn't have any window treatments on our first home since we had plantation shutters and there wasn't much extra wall space for them. But with this home, every room needs drapes… and every room's windows are unique. We're lucky that the previous owners maintained the place extraordinarily well, and it's clear that they put great thought and time into their decisions. They installed double rods throughout the first and top floors of the home, and I love them. They also take standard length curtains… which is incredible! (This is how I was able to get my tartan curtains–available at Overstock and Hayneedle–for the holidays and not have to get them hemmed! Unsure what we'll do for year-round curtains at this point, but I'll figure that out in January.)
So yeah, if you're installing hardware, I highly recommend doing it so that the rod will take drapes in standard lengths. (63″, 84″, 96″, 108″, 120″, etc.) It makes everything SO much easier and more affordable!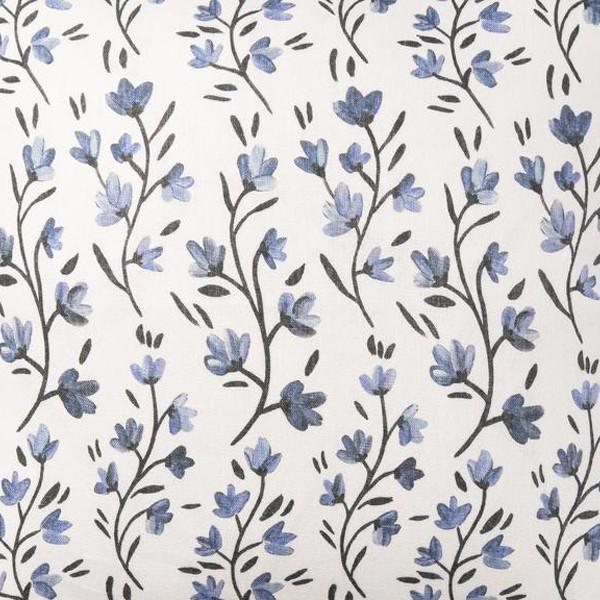 From the get-go, I've had my heart set on having curtains made for Lucy's room in Caitlin Wilson's Bluebelle Fabric since her bathroom is wallpapered in Bluebelle and we have Bluebelle pillows on her bed. Even if I'd wanted to go with something simpler, though, we probably would have ended up with custom treatments since she has three different window "situations." (Set of three windows on the main wall; windowed door to back deck next to that; narrow window on wall to the right.) Unfortunately, though, all the companies and services I got in touch with were wildly expensive. And while I'm all for investing in our forever home, the prices seemed a bit outlandish.
So I turned to Etsy! And after lots and lots of consideration, I decided to go with The Drawn Company, which I stumbled upon while browsing. What really sealed the deal for me was this listing, which actually features my friend Paige's home! (I had no idea!)
Julie and Jen's work looked incredible, and they received glowing reviews from customers, so I got in touch and they said that yes, they could handle my project! (Also, look at this room that they recently did. Isn't it stunning?!)
The entire ordering process–from start to finish–took roughly two days, and perhaps about an hour of my time total (taking measurements, snapping and sending photos, and making some simple decisions.) Julie and Jen made everything exceptionally easy, which was such a welcomed change after I struggled with Emma's room for so long! For each decision, they gave me a handful of options to choose from, and they provided me with their own style recommendations based on their expertise, too. The best part was that I didn't even have to handle getting the fabric to them; I just drop-shipped it directly from Caitlin Wilson. (Julie and Jen told me exactly how many yards to purchase.)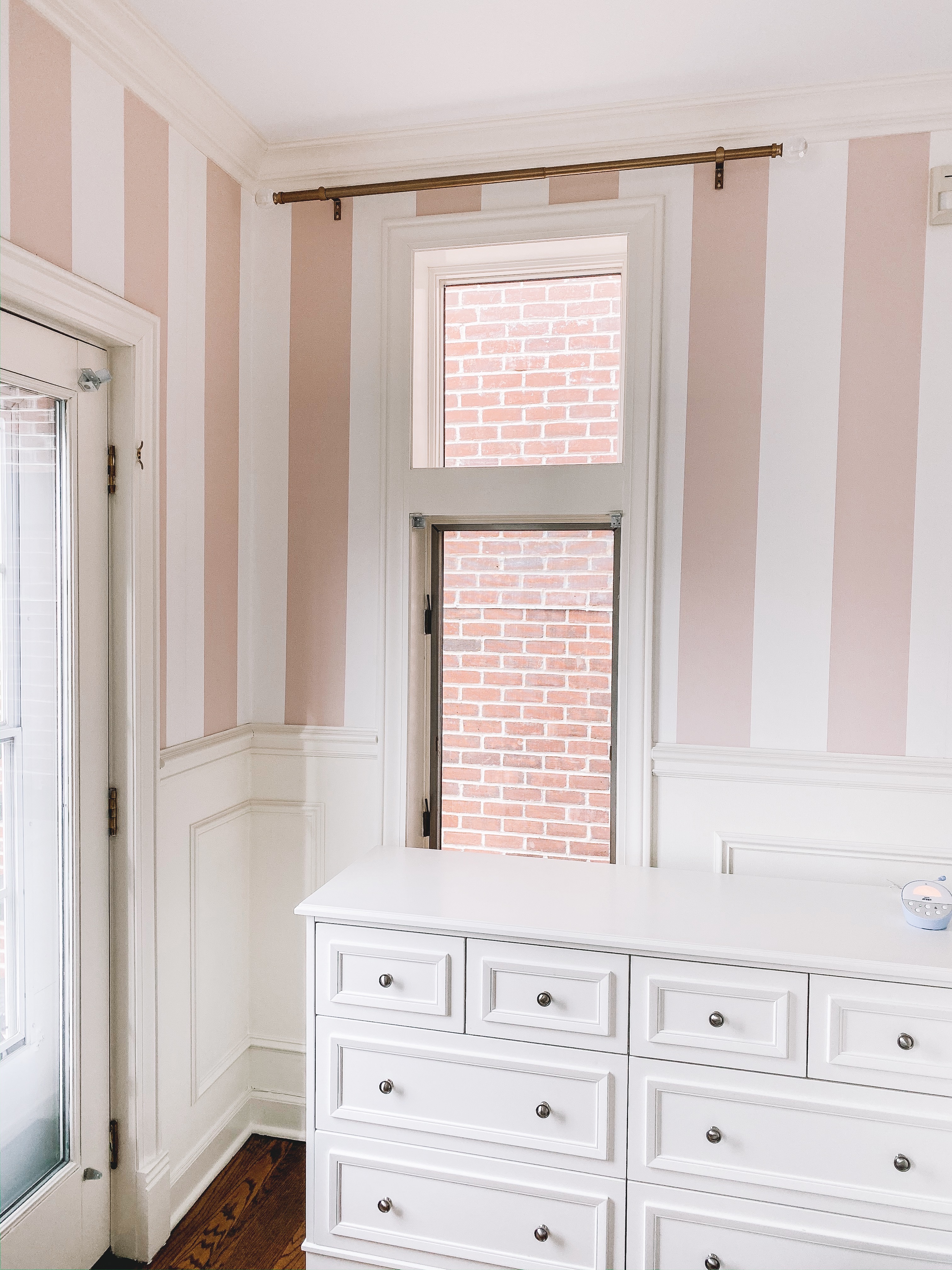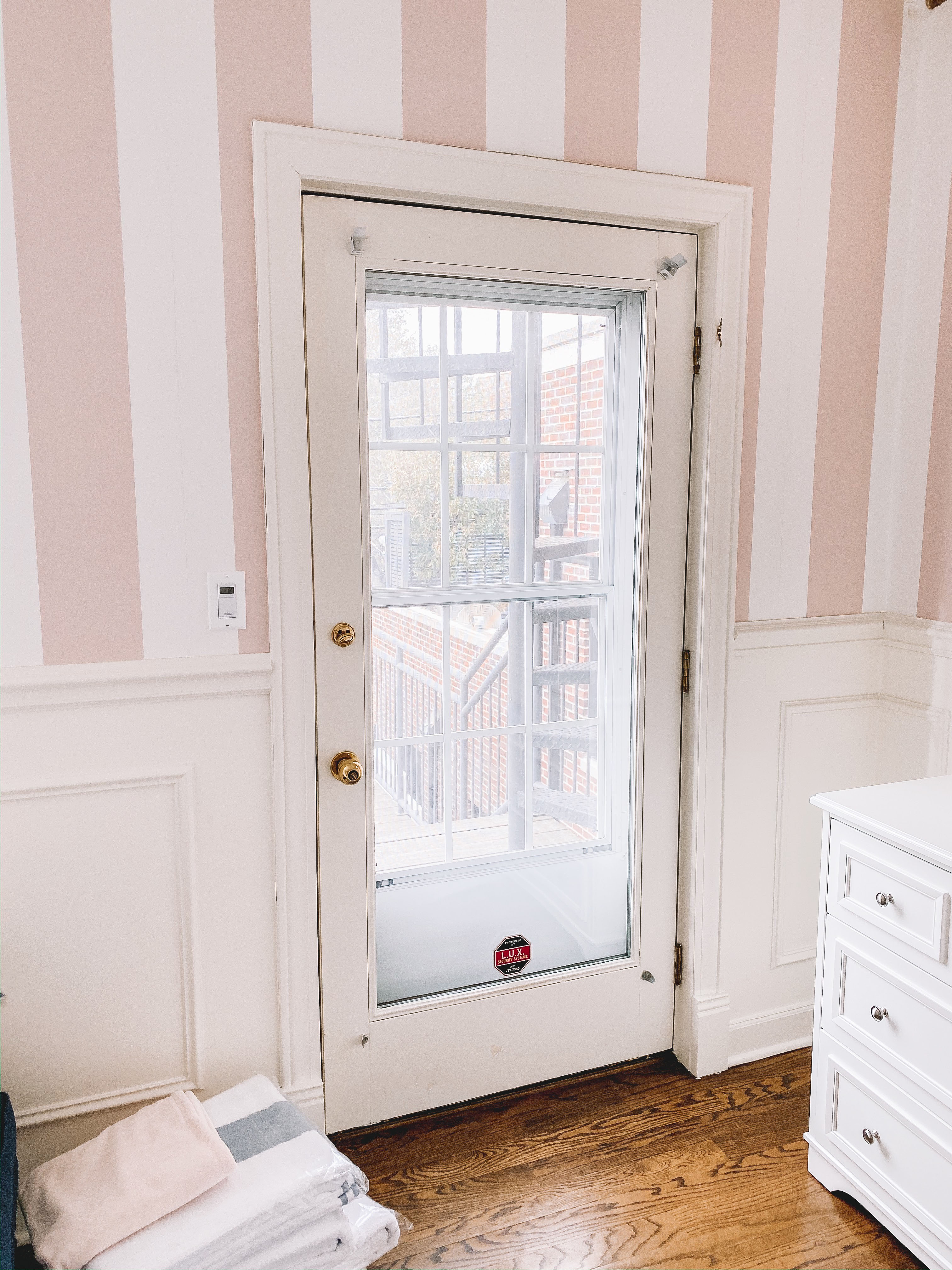 In case you're curious, I went with two pairs of flat top panel drapes with backset pin attachments and blackout liners, and a relaxed Roman door shade–also with a blackout liner because we have quite a bit of ambient city light that shines through at night. The huge windows' drapery fabrication cost ~$750, and the fabrication of the door and smaller window treatments cost ~$340 each. (All in, about a fourth of the price that I'd been quoted by larger companies!)
The Drawn Company's turnaround time is about eight weeks, so we'll probably receive Lucy's drapes sometime in January. And yes, the savings is amazing, but working with a small, women-owned business is even better. It's been a joy–and really fun!–working with Julie and Jen, and they've truly cared about my project. I'm excited to tackle Roman shades in the kitchen with them in the new year, too!
Hope this is helpful for anyone with tricky windows in their homes and is struggling with where to start. Etsy is such a great solution, and I can't wait to share the finished product with you!
If you're interested in working with Julie and Jen, you can contact them directly here. :)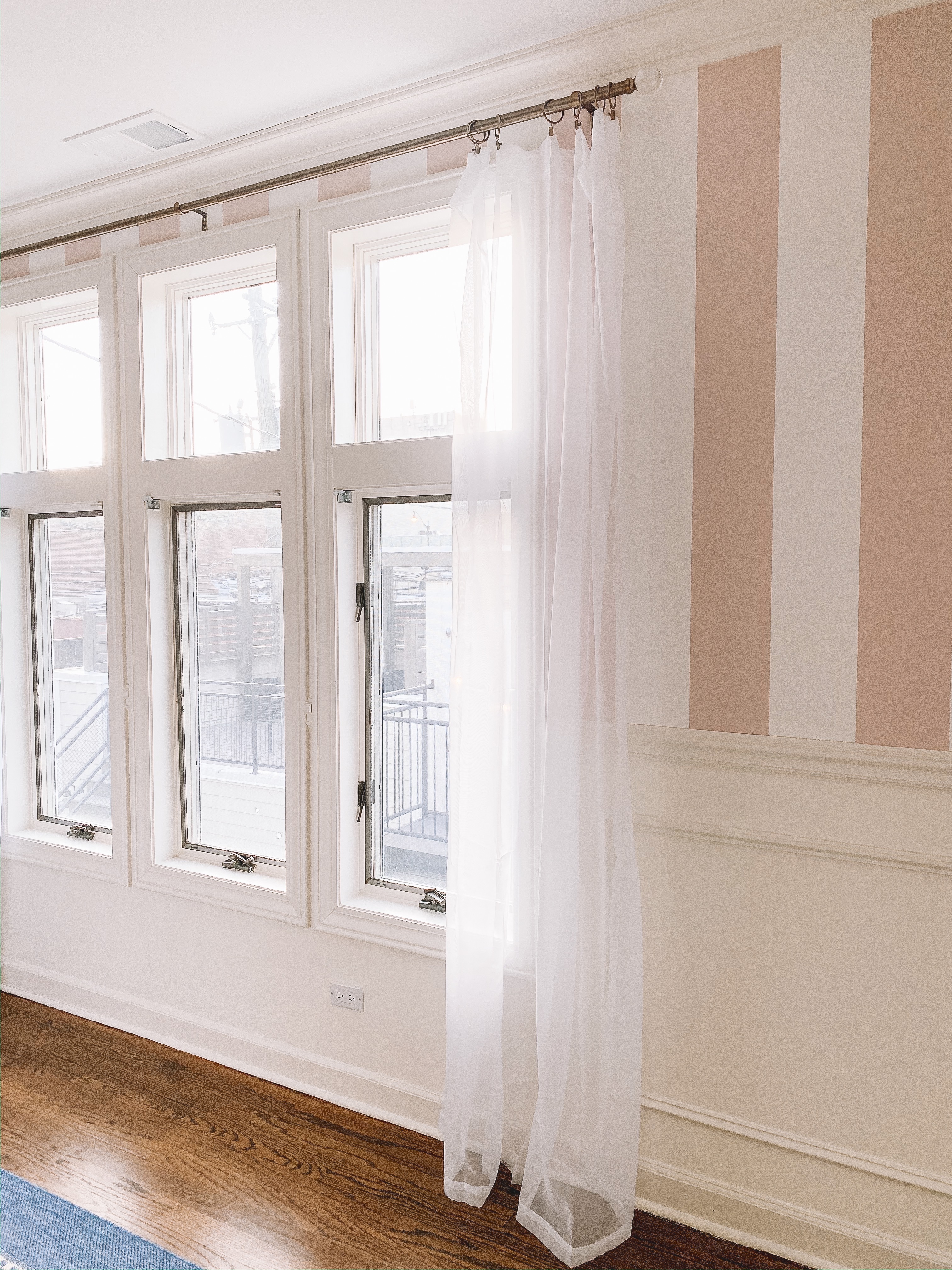 Oh! Because we have some guests coming in for the holidays, we decided to get some cheap temporary curtains in the meantime. We found these on sale for only $12.40 (per pair!) on Amazon, so we decided to get them while we're waiting for the nice drapes. :) There's almost nothing to them, haha, but they have a nice whimsical effect, and it will make the room look and feel a little more finished for friends and family while they're in town. No, they're not the best quality, but they're pretty… and I do feel like they would have been great for all the apartments I lived in over the last 15 years. (Of which there are many. 😜) Just thought I'd highlight these in case anyone is looking!
Note: The measurement from the curtain rod to the floor is 97.75″. With these ring clips, though, the 95″-inch curtains were perfect, and just skim the ground. That was a nice little surprise! Also, don't get the Ivory color. It's yellow. Stick to white!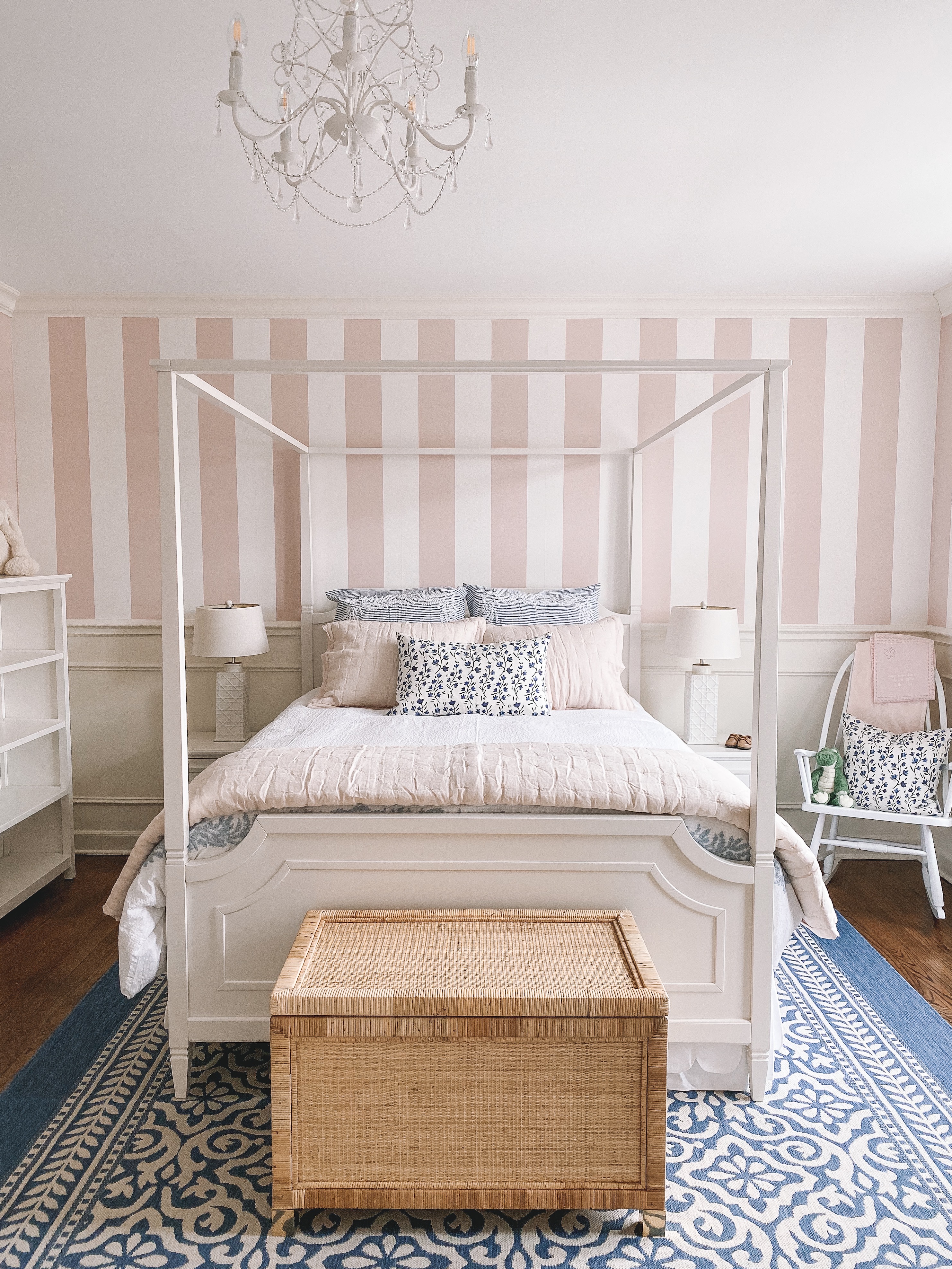 Lucy's room in progress! Do you like how the bed skirt is only showing on the right-hand side? Totes did that on purpose. ;) Next up: Steaming + bookshelf decor!
Shop the post:
Caitlin Wilson Bluebelle Pillows / Caitlin Wilson Striped Wallpaper / Caitlin Wilson Bathroom Wallpaper / Serena & Lily Westport Bedding Collection / Sutten Linen Quilt / Balboa Storage Trunk / Oxford Stripe Sheet Set / Ballard Scalloped Bed Skirt / Blue Floral Indoor/Outdoor Rug / Pottery Barn Kids Bed / Nightstands / Bookshelf / Crib / Pottery Barn Lamps (These are the 2013 version.) / Chandelier / Bunny / Mini Sperrys / Monogrammed Blanket / Trim Paint: Benjamin Moore "Ivory White" #925 / Drawn Company Drapes (Coming soon!) using Caitlin Wilson Fabric / Dresser / Similar Rocking Chair / Sara Fitz Framed Prints (Haven't done this yet but so excited! Probably in the new year. Two above her bed, I'm thinking!)