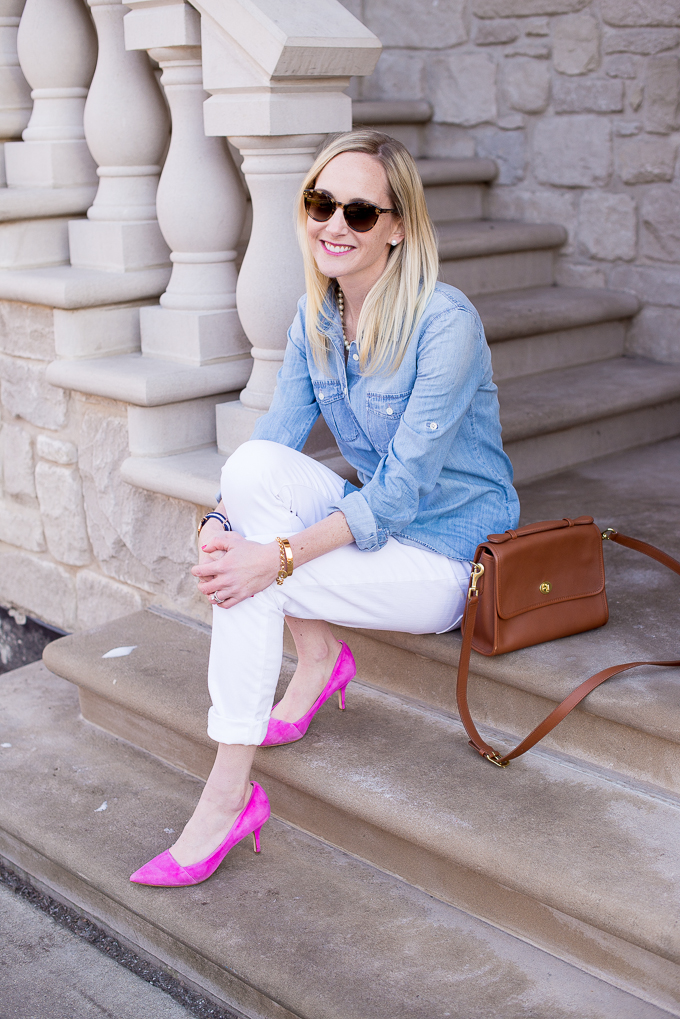 J.Crew Chambray Shirt (Similar here, here and here), Jeans and Earrings / C.Wonder Pink Suede Pumps (Old, similar here, here, here and here) / Coach Bag / Kate Spade Sunglasses (Old, but love this similar pair), Necklace (Old, similar here) and Bangle (Old, but love this sailor's knot version) / Joyiia Elephant Bangle (c/o) / Daniel Wellington Watch (c/o)
Don't worry. It didn't snow in Chicago over the weekend. Maya and I snapped this photos a couple of weekends ago, after the city's last snowfall of the season.
Toward the end of my first Chicago winter, I kind of gave up on the photo front. I was chugging along pretty well for a while, but sometime in late March/Early April, I decided that enough was enough… and stopped shooting on a regular basis. Throwing off my coat–even for 2.5 minutes–was just too torturous.
Thank goodness for my girlfriends.
We came up with a plan: Shoot once per week, and simply save our "looks" for those shoots.
Did it take a lot of planning? Yes. And for a few weeks, I was piling up my clothes on my dresser at the end of every day, labeling them "Monday, Tuesday, Wednesday," etc. It got me through, though.
Today is my last of those "looks," and, as I'm pretty sure the pics came from a Monday, the look is a fitting one.
To fresh starts! :)