There are few clothing items as strikingly bold as striped pants. A pair of striped pants can easily make a fashion statement. And since they come in so many different styles, patterns, shades, and silhouettes, you can wear them with practically anything. So many wins, including that striped pants are almost always totally adorable. Eeeek, I love them!
So, if you're looking for a bit of inspiration, you've come to the right place. I've gathered a list of outfit ideas that you can use as inspiration when slipping on a pair of striped pants, so you can look cute, preppy, and chic every single time you break these bad boys out.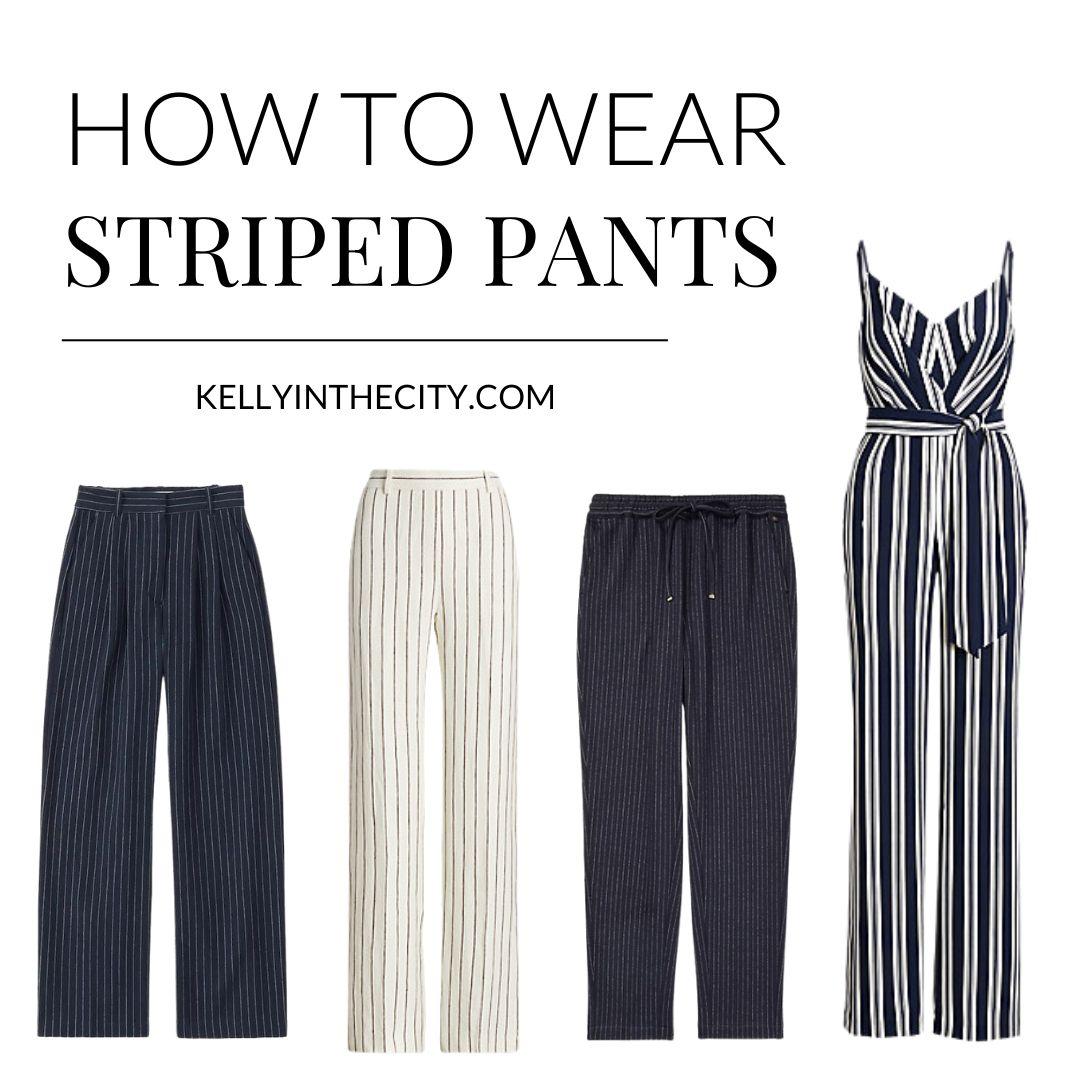 How To Wear Striped Pants
With A Plain Tee Or Tank Top
Stripe Wide Leg Pants / Plain White Tee / Sandals
These striped wide leg pants from Cloth and Stone are made of linen blend fabric that pairs perfectly with a plain white tee. The Slim Perfect Fit T-Shirt from J.Crew is a great choice for this outfit. Then finish this chic, casual look by slipping on a comfortable pair of sandals. More from J. Crew here.
With A Denim Jacket
Striped Beach Pant / Essential Scoop Neck Tank / Classic Jean Jacket / Sandals / Dana Rebecca Curve Necklace
These Striped Beach Pants from Willow & Root are a great way to wear stripes and add a pop of color at the same time. I like to style striped pants like these with a classic denim jacket for a cool, casual, everyday look. To wear under the denim jacket, opt for a simple tee or cropped top if you like, then complete this look with a classic pair of sandals.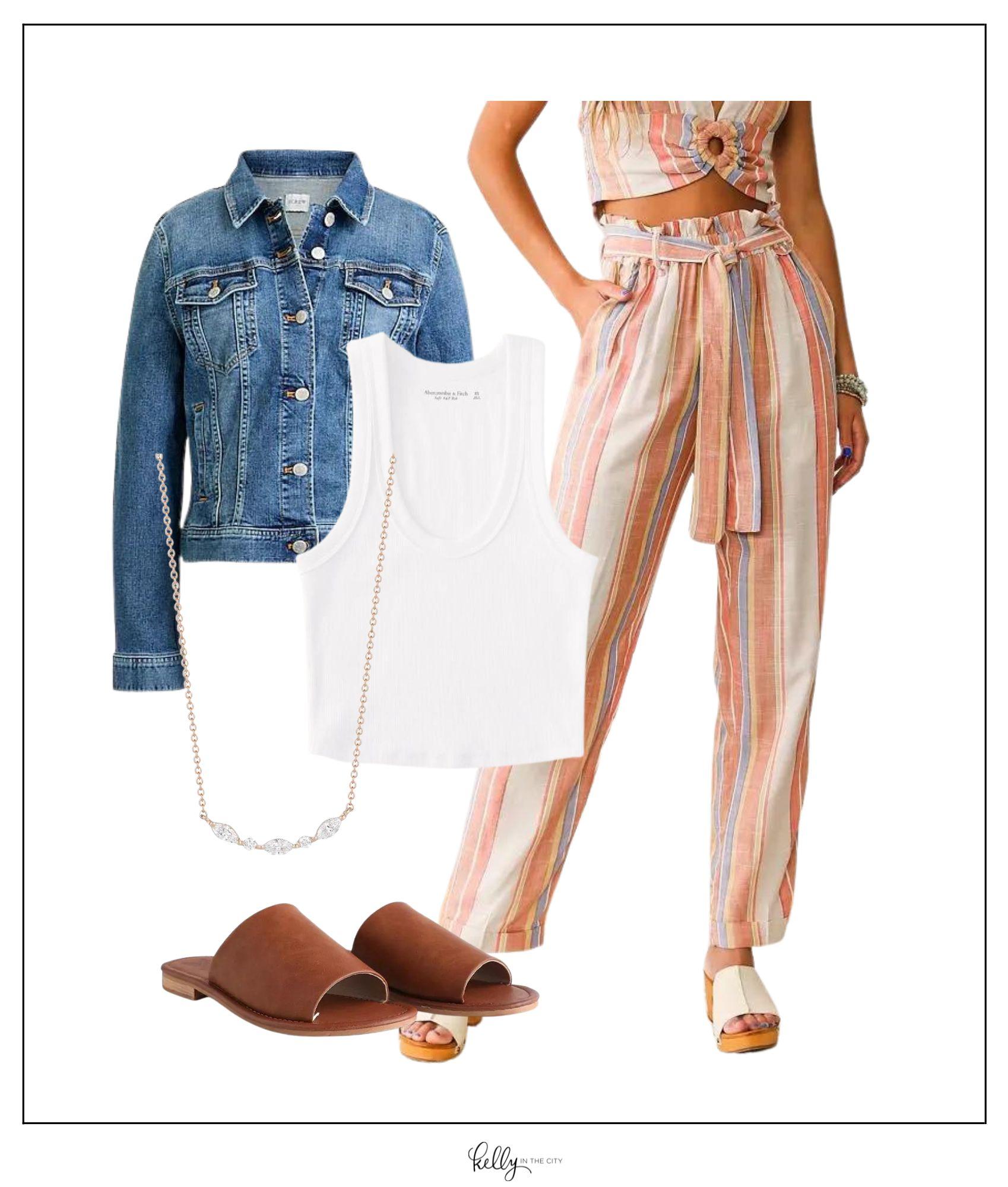 As A Jumpsuit Or Matching Set
Striped Belted Crepe Jumpsuit / Double-Strap Block Heel Sandals
The one rule everyone seems to remember when it comes to wearing stripes is that you should stick to vertical stripes because horizontal stripes tend to make you look wider. But no one said anything about wearing stripes on top and bottom. In fact, this is a trendy, fashion-forward look as long as it's done right.
The Striped Belted Crepe Jumpsuit from Ralph Lauren is a perfect example of how flattering vertical stripes can be. All you need to complete the look is a pair of neutral strappy sandals.
With A Graphic Tree
TH Monogram Pinstripe Pull-On Pant / Short Sleeve Graphic Tee / Rothy's Slip On Sneaker / Woven Leather Tote / Ray-Ban Sunglasses
The soft jersey cotton material of the TH Monogram Pinstripe pants makes them perfect to wear as part of a casual, edgy look. The black and white striped pants look great styled with a black graphic tee. In keeping with the monochromatic color combination, I styled this outfit with Rothy's Slip On Sneaker in Black Solid.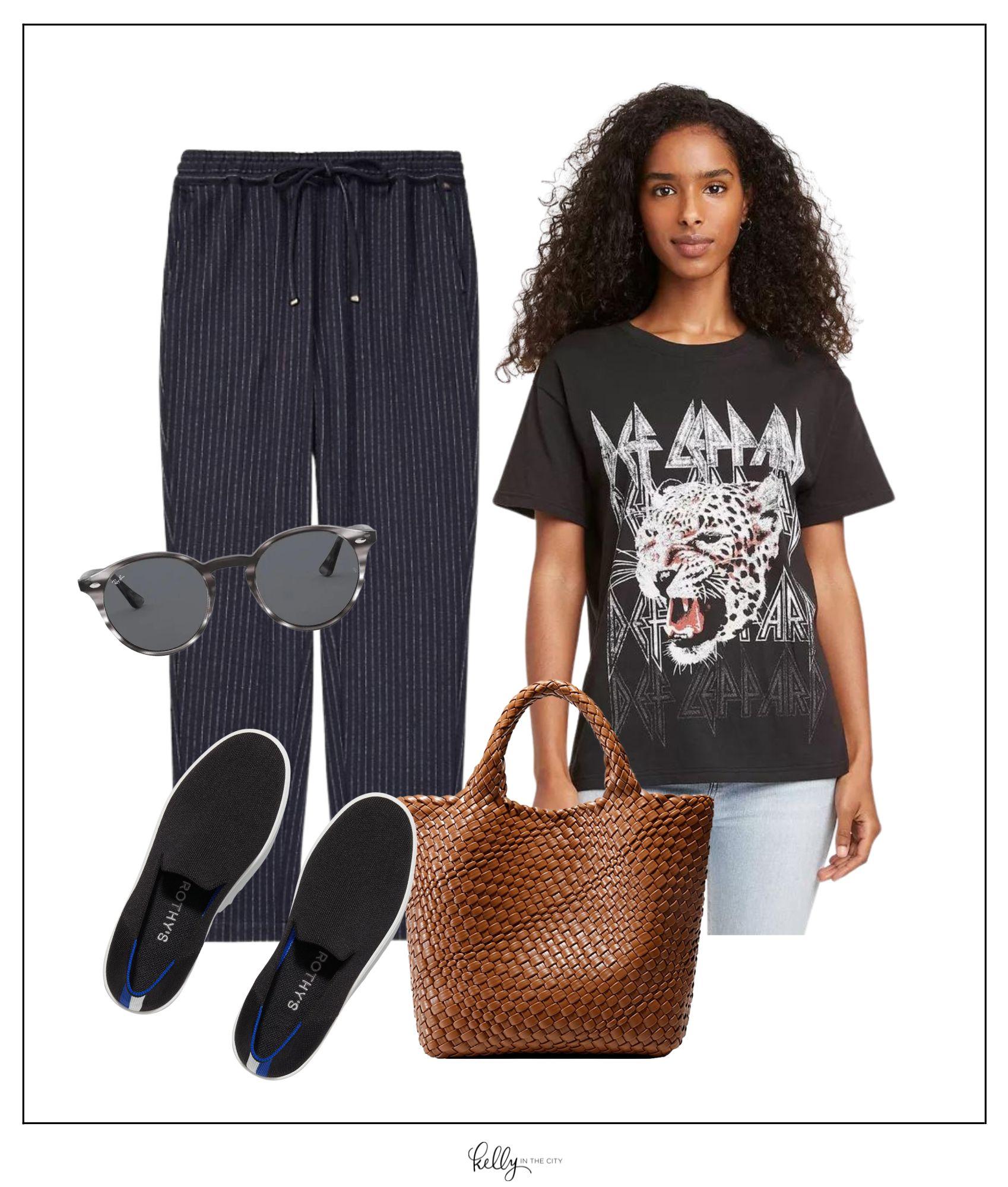 With A Blazer
Tailored Brushed Suiting Wide Leg Pants / Italian City Wool Blazer
These tailored, wide leg pants from Abercrombie & Fitch are the perfect pair of striped pants to style with a blazer. From there, it's up to you to decide whether you want to wear a blouse underneath for a more professional look, or a satin cami for a trendier style.
With A Sweater
Blue Striped Pants / Oversized Crew Neck Sweater / Pointed Toe Western Ankle Booties
To keep this look balanced and to offset the fitted striped pants, I paired them with a classic oversized sweater. To complete the look, I chose a pair of camel-brown Pointed Toe Western Ankle Booties.
This outfit offers an easy way to wear more colorful striped pants in a way that doesn't feel too over the top.
With A Blouse
Striped Linen Jacquard Straight Pant / Knit Blouson Top / Block Heel Sandals / Dana Rebecca Bar Necklace / Tory Burch Chevron Chain Wallet
Striped pants also work well as part of a more elegant and sophisticated look. These vertically striped, wide leg pants from Ralph Lauren create a flattering silhouette that goes perfectly with a simple blouse. A pair of black block heels is the finishing touch on this sophisticated outfit.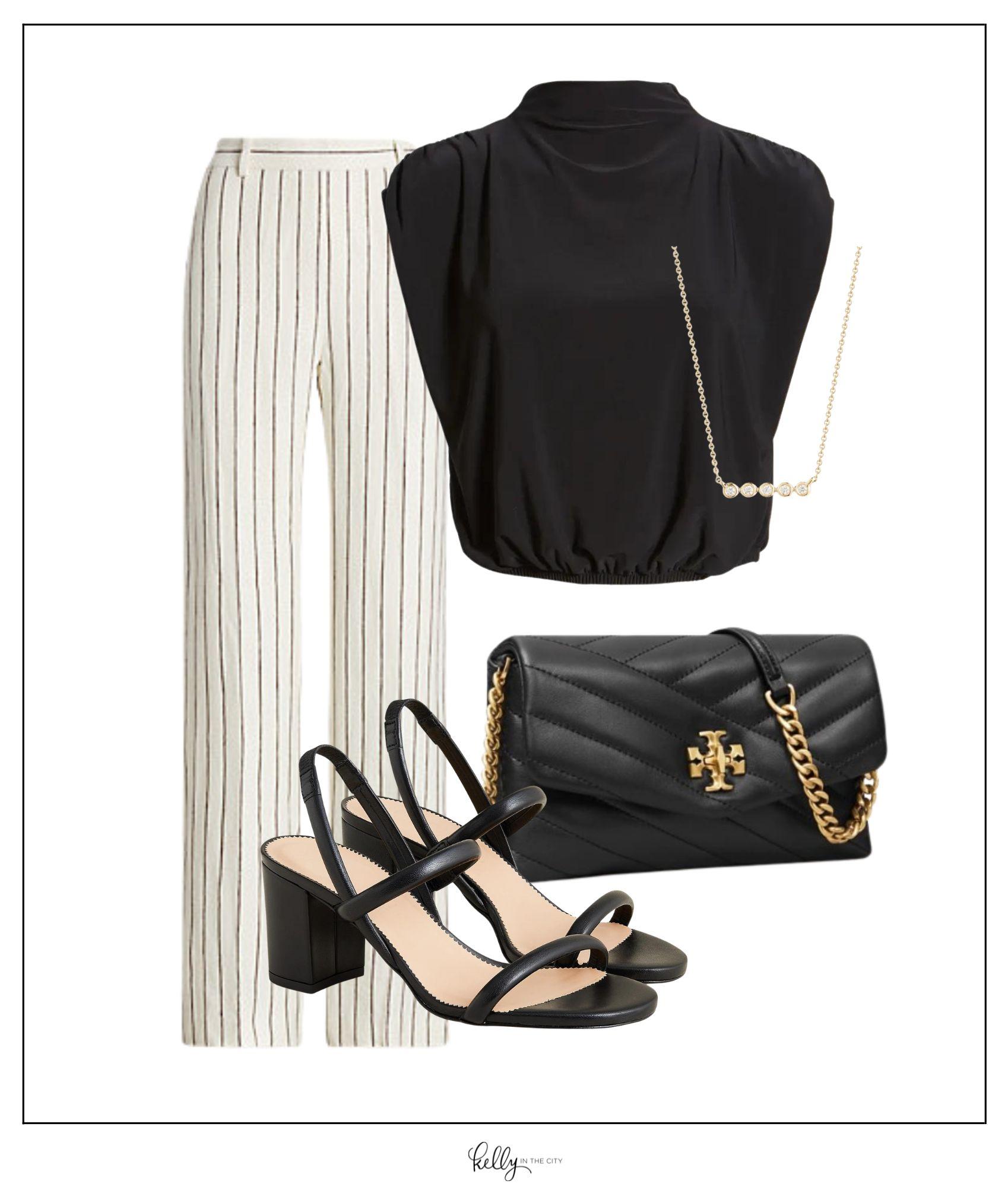 What's your favorite way to wear striped pants?
Do you have a go-to look that includes striped pants? I'd love to hear how you like to style them. Then, head over to the blog for more of my favorite outfit ideas.