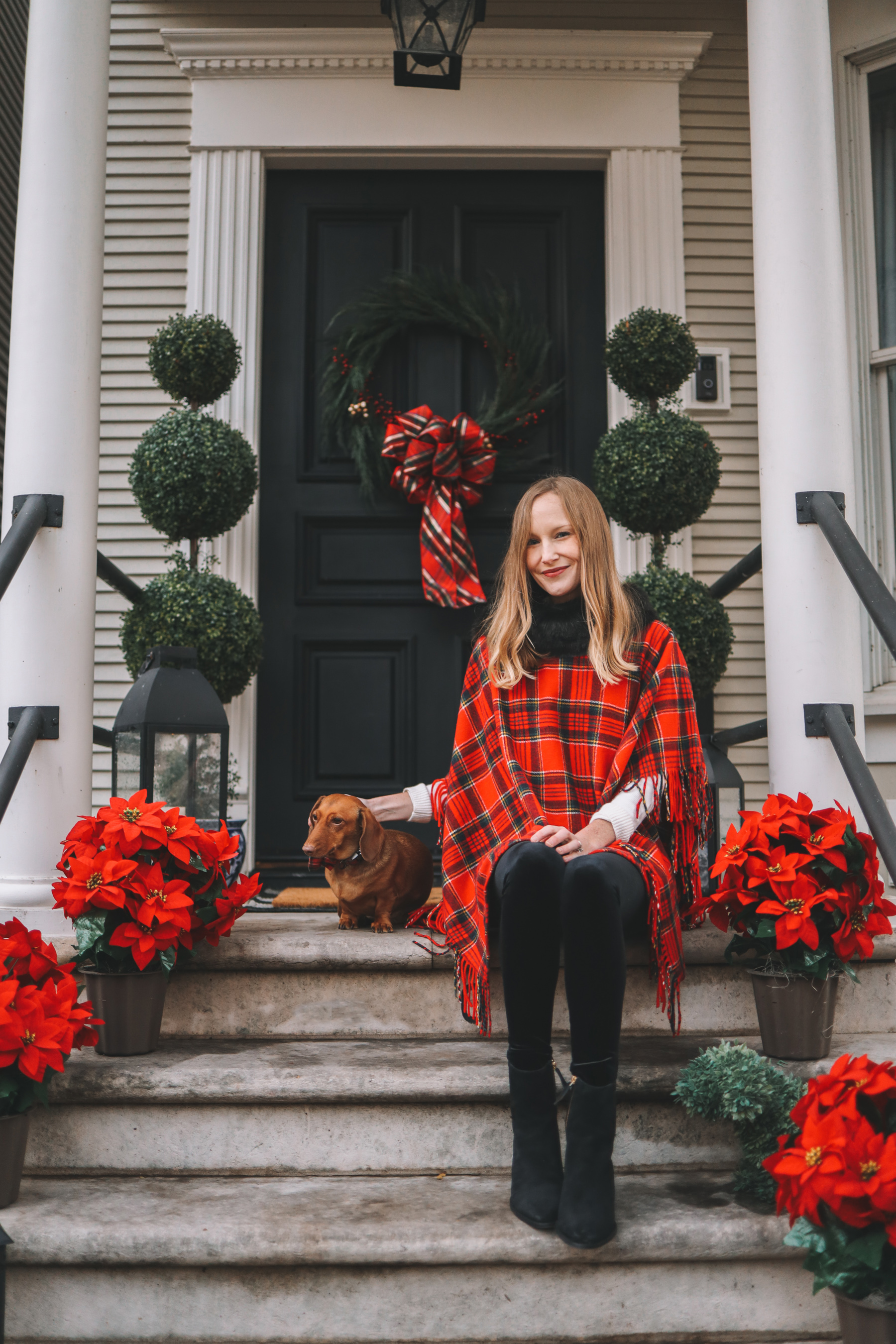 Plaid Poncho (Here in black watch plaid and here in Stewart plaid.) / Velour Leggings (The Tech Stretch Leggings are also great!) / Black Booties / Soft Cable-Knit Sweater / Wreath / Bows / Artificial Poinsettias / Artificial Topiaries (Ours are smaller, though. These are another great option!) / Planters / Doormat / Newer Lanterns / Newer Plaid Bow Dog Collar
When I first moved in with Mitch—in secrecy, after three months of dating, haha—I told him we really needed to put hooks near the front door for our keys. Thinking he was being a spectacular boyfriend, he grabbed his toolbox and proceeded to hammer two giant and very crooked nails into the wall, which was met with a very exasperated response by yours truly.
Which is why ever since, I've taken it upon myself to handle stuff like that. (My dad and father-in-law are also super helpful. LOVE YOU, MITCH. 😆)
And that's part of the reason that I'm always in charge of the holiday wreaths, too! This year, Talbots invited us to be part of their #makingspiritsbright holiday campaign on Instagram, and I was so excited to get the wreath-making assignment! (I loved it so much that I asked permission to post it on my blog, too. 😜)
Head to the site today for my best wreath-making tips, and as for my outfit, isn't it adorable? It screams holiday, and I think we could all use as much cheer as possible this year!
We're a tartan-loving family, and every holiday season I add a few gems from Talbots to the collection because they do plaid so well! The poncho is an absolute favorite. First, I love the extra-soft faux fur collar, which blocks out the wind and keeps me feeling cozy, even in Chicago. Second, that fringe is adorable! Third, you can throw it over leggings or jeans and instantly look festive and fancy. Fourth, it's forgiving. Help yourself to another sugar cookie! ;)
Thank you, Talbots!
Shop the post:
Plaid Poncho (Here in black watch plaid and here in Stewart plaid.) / Velour Leggings (The Tech Stretch Leggings are also great!) / Black Booties / Soft Cable-Knit Sweater / Wreath / Bows / Artificial Poinsettias / Artificial Topiaries (Ours are smaller, though. These are another great option!) / Planters / Doormat / Newer Lanterns / Newer Plaid Bow Dog Collar