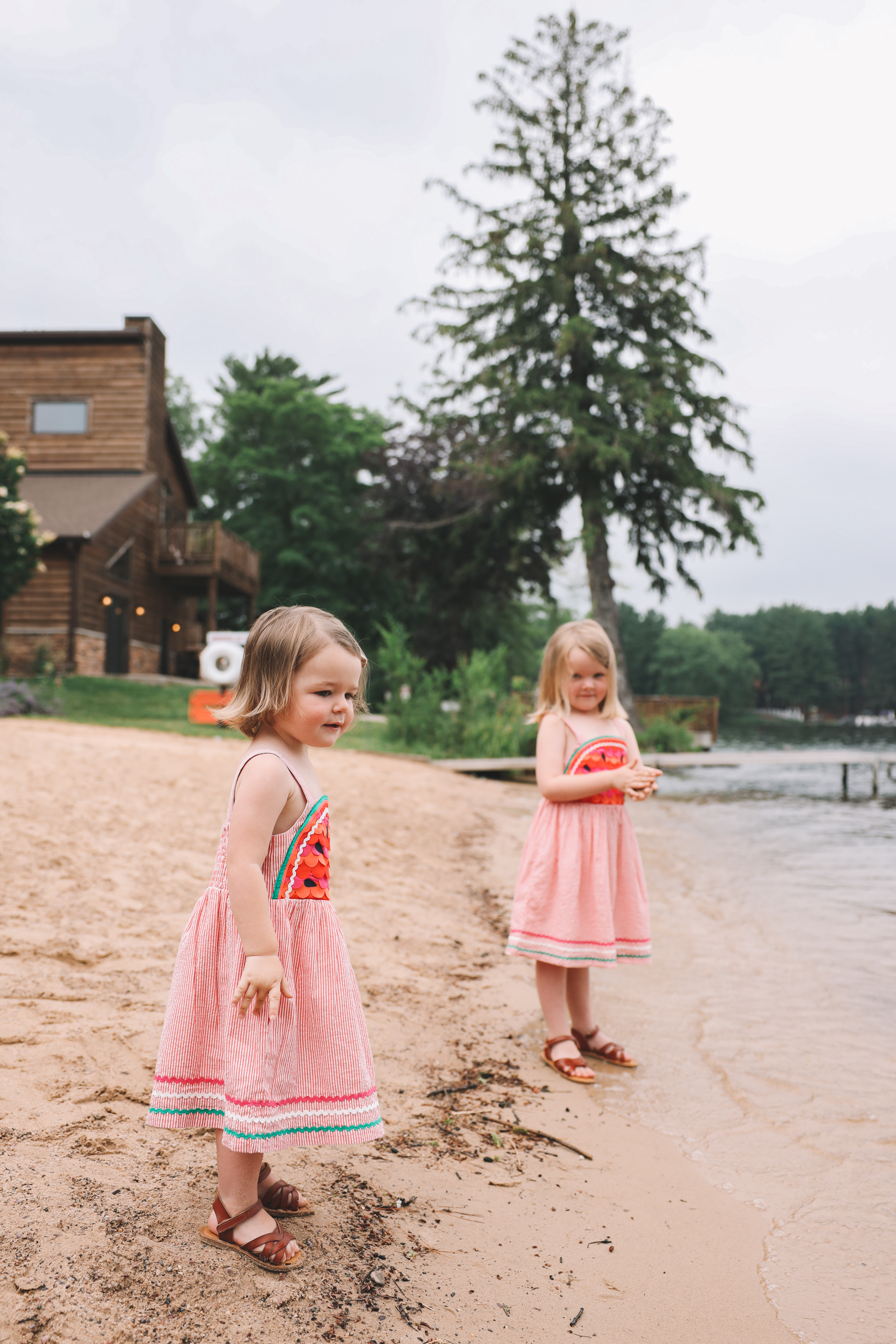 Watermelon Dresses / Sandals / Liberty of London Dresses / Lucy's Bathing Suit / Emma's Bathing Suit / Girls' Clips
Mitch here!
There are three kinds of Summer People in Chicago: City People, Michigan People and Wisconsin People. And after our recent trip to the Wisconsin Dells, I'm thinking it's time to declare myself a Wisconsin Person!
Listen, I'm flying blind with this whole fatherhood thing. I don't know what the heck I'm doing. Emma is four and she just finished a very bizarre year of school. I wanted to do something fun for her to celebrate her success… and kick off her summer break.
Also, and this might sound strange, I wanted to do something different in the hopes of setting up a new tradition. I want Emma and Lucy to always have something reliable and exciting to look forward to as they finish their school years. The only issue is that I'd never been to the Dells and had no idea what I was doing. Luckily, though, Travel Wisconsin had reached out before the pandemic… so I called them right up and they helped me figure everything out!
Where we stayed
Wisconsin Dells is littered with dozens of unique and interesting lodging options. They range from rugged camping sites—see a recent camping trip we took in the area here—to all-encompassing resort hotels. We stayed at the Lake Delton Waterfront Villas, and our temporary home was absolutely perfect for our needs. Each villa feels like its own log cabin on the shores of Lake Delton, with comfy beds and incredible views. There was a sandy beach a few feet from our front door and the girls could've played there for days. From the moment we arrived, Kelly and I couldn't stop talking about how we wanted to come back again with friends and family over and over. This is definitely where we'll be stayed next year.
I didn't know it at the time, but it's worth mentioning that in 2008, a freak rainstorm caused a breech of Lake Delton's shore causing 600 million gallons to drain into the Wisconsin River in about two hours. Luckily, no lives were lost during the catastrophe but HOLY, that must've been a scene. Anyway, the lake is refilled now and absolutely gorgeous!
What we did
Kalahari Resort: This place is exactly what you have in mind when you think about classic indoor and outdoor waterparks. It's giant, it has water features for kids of all ages, and both Emma and Lucy absolutely loved every second of it. Emma bounced around in the waves and traversed the lazy river while Lucy went down a series of slides no fewer than 100 times. They both love to swim and I've never seen them so happy. I think we even liked the indoor water park better than the outdoor, which is great as it means we can come back in the winter!
Lake Delton Beach: Again, we spent a lot of time here. Traveling with a two-year-old can be tough, and we decided to embrace the relaxation part of this trip. :) We loved that the beach was mere steps from our villa, which made things super easy. The girls swam, skipped rocks and built sand castles. This was notably the first time that they really played together independently… without parents. Thank you, Wisconsin, for this magical gift. Kelly and I got to catch up!
Upper Dells Boat Tours: Our only regret from the trip is that Lucy had a total mental breakdown as we were boarding the Upper Dells Boat Tour, so we decided to appreciate the river from the shore. But hey. It'll give us something to look forward to on our next trip! The Wisconsin River has carved out impressive sandstone cliffs and bluffs creating a uniquely beautiful scenery. The whole area is stunning, it's hard to believe it's in the midwest and not in Wyoming or something!
Where we ate
Bella Goose Coffee and Roastery: I'm a bit of a coffee nut, and I can say that Bella Goose is the real deal. Overlooking the Wisconsin River and Kilbourn Dam, Bella Goose was the perfect setting for a casual breakfast. They also poured Kelly one of the most beautiful mochas I've ever seen.
Summer House Grill & Bar: Our first stop when pulling into the area was Summer House, in no small part due to the fact that it had the same name as our favorite restaurant in Lincoln Park. And the Wisconsin Summer House didn't disappoint with its classic cheese curds, giant pretzels with beer cheese and New Glarus beer. There was so much beer that I can't even remember it all! The restaurant overlooks the lake, and the service was so good it brought our experience to another level. After dinner, the girls played in the grass and walked out on the docks looking for fish. All in all it was a great night!
Paul Bunyan Cook Shanty: Now this is my kind of place. You get to meet Paul Bunyan and Babe the Blue Ox on the way in, and as you enter, you're in the middle of the largest and kitschiest gift shop imaginable. The whole family loved it. The place is very rustic with wood walls, tables, floors—the whole thing. And the food is served all-you-can-eat family-style, which means they bring metal plates piled high with unlimited servings of pancakes, biscuits and gravy, sausage, ham, scrambled eggs and potatoes. And there's endless hot coffee. This is the kind of place where if you look around, everyone has huge smiles on their faces. Paul Bunyan's Cook Shanty was my personal favorite experience of the whole trip. It's a must from here on out.
Ishnala Supper Club: Wisconsin has a wonderful tradition of supper club restaurants that are typically higher-end establishments in scenic locations that serve a standard fare of classic dishes like prime rib, steak and broiled fish—and at least in my experience, a never-ending parade of incredible drinks. On the last night of our trip, I made a point to find a supper club, and the one we found, Ishnala Supper Club, was the most supper club-y supper club I've ever experienced. A short drive outside of Wisconsin Dells, Ishnala is perched on a cliff overlooking Mirror Lake. We spent nearly four hours there! So fun. Ishnala is famous for serving the perfect Old Fashioned cocktail and they serve as many as 900 of them each night. I tried hard to help them reach that goal. The food was delicious, the girls were happy and it was a great way to finish the trip.
The tradition continues…
In the end, Wisconsin Dells and the surrounding areas were absolutely charming. It's hard to believe such a beautiful place exists only a few hours drive from Chicago. I absolutely plan to make the trip a tradition, and I can't wait to explore all the fun tourist attractions, restaurants, hiking trails and, yes, water parks in the years to come!
Mitch. OUT!