Girls' Classic Little Lilly Shift Dress: Normally $58, sale price $40
This morning, I'm sharing answers to FAQs as well as my best tips and tricks for shopping the 2020 Lilly Pulitzer After Party Sale! Check back later today for a try-on. In the above photo, the girls are wearing matching shifts from the sale! (Normally $58, sale price $40.)
Monday, September 14th (around 8:00 a.m. EST) – Tuesday, September 15th (at 11:59 pm EST)
🌴 What is it, exactly?
It's Lilly Pulitzer's semi-annual sale. The company doesn't regularly mark down its products throughout the year; instead, it typically holds two sales. One is in early January and the other is in late summer. All sales are final, but everything does ship free.
🌴 How many product drops will occur?
There will be two this year! Again, the sale will go live on the morning of Monday, September 14th. There will be another drop–most likely restocks as well as new products–on the morning of Tuesday, September 15th. This is to ensure that more shoppers are able to find something they love for a steal. (Remember that shoppers are also a bit less frantic on day 2 as well, so definitely log on Tuesday morning for the second drop. More often than not, products from the second drop stay in stock much longer!)
🌴 Will there be a virtual line?
As always, there will be a "virtual line." It exists so that Lilly can avoid site crashes and to ensure that everyone gets the chance to shop. When you arrive at the site, you'll receive a number and a wait time, even if you arrive promptly at 8. Once you're in, you can shop until you check out. When you check out, you'll be placed at the back of the virtual line again. It's that simple!
This process has worked very well in the past. While numbers and wait times might seem extraordinarily high, they're not actually as bad as they appear. The line goes relatively quickly (way more quickly than your given wait time indicates), and you're in before you know it with TONS of merchandise left to shop. I also like that the virtual line prevents shoppers from going crazy and emptying their bank accounts.
Note: Sometimes numbers and wait times are pushed back, and this can be frustrating. But this is an important precautionary measure that Lilly only takes when necessary to avoid site crashes. If it's happening to you, it's happening to everyone. Never has all the good stuff sold out on the first day.
Because of the virtual line, though, it's helpful to turn up the sound on your computer or device. Typically, you'll hear a loud ding! when you're let into the sale.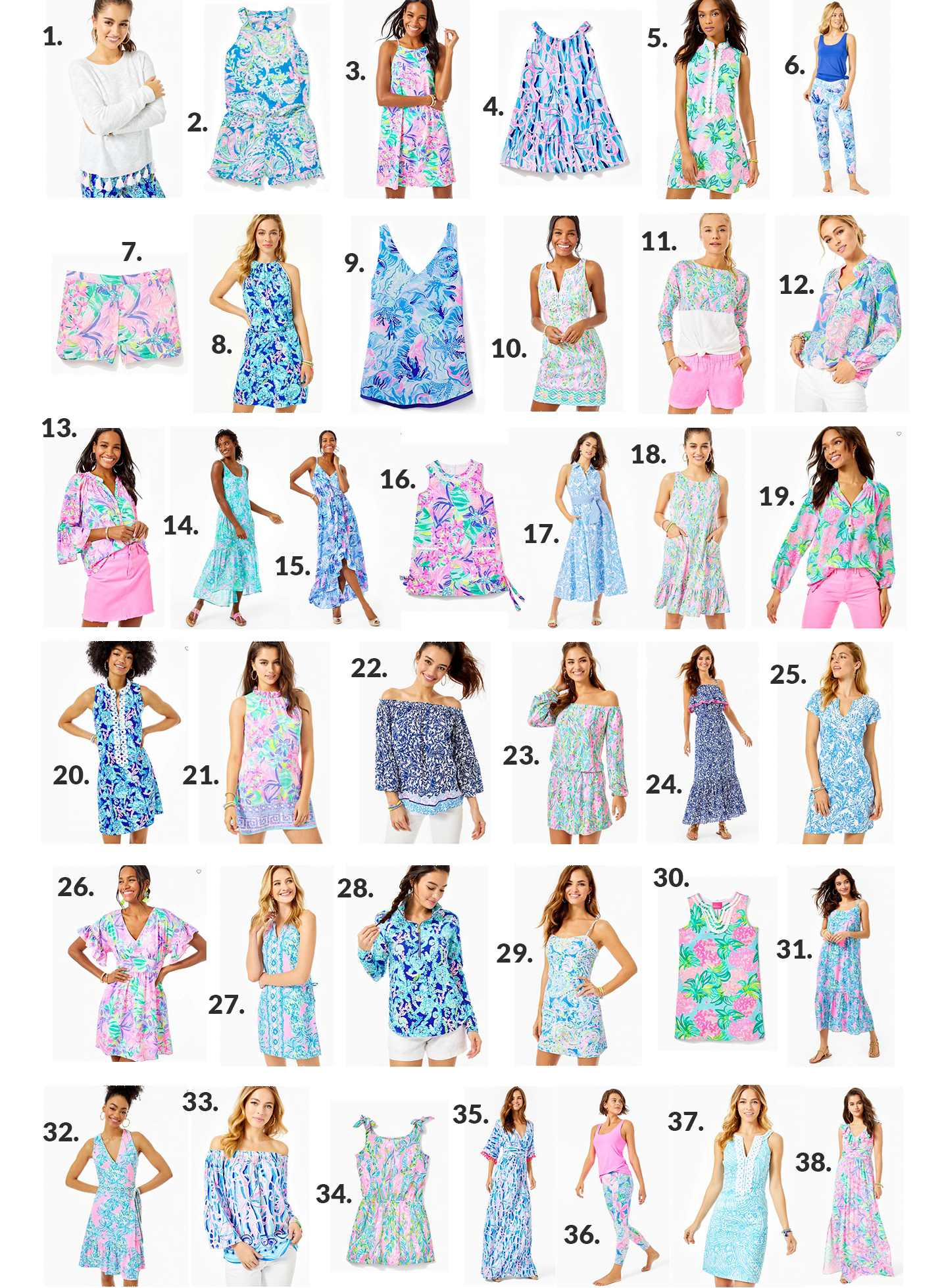 1. Athea Tassel Sweater: Normally $138, sale price $54 / 2. Girls' Brienne Romper: Normally $58, sale price $29 / 3. Margot Swing Dress: Normally $108, sale price $50 / 4. Girls' Mini Loro Dress: Normally $68, sale price $40 / 5. Jonna Romper: Normally $178, sale price $64 / 6. High-Rise Weekender leggings: Normally $118, sale price $90 / 7. Ocean View Shorts: Normally $58, sale price $39 / 8. Gianni Romper: Normally $138, sale price $49 / 9. Reversible Florin Top: Normally $88, sale price $44 / 10. Gabby Shift Dress: Normally $198, sale price $74 / 11. Finn Top: Normally $86, sale price $45 / 12. Elsa Top: Normally $158, sale price $69 / 13. Dakota Button Down Top: Normally $128, sale price $49 / 14. Camellia Coverup: Normally $148, sale price $54 / 15. Mareena Maxi: Normally $258, sale price $99 / 16. Girls' Classic Little Lilly Shift Dress: Normally $58, sale price $40 / 17. Chrisella Midi Dress: Normally $228, sale price $84 / 18. Kristen Flounce Dress: Normally $98, sale price $60 / 19. Elsa Top: Normally $158, sale price $64 / 20. Jane Shift Dress: Normally $178, sale price $64 / 21. Adalina Shift Romper: Normally $98, sale price $74 / 22. Nevie Top: Normally $118, sale price $49 / 23. Lana Off the Shoulder Romper: Normally $138, sale price $59 / 24. Aida Ruffle Midi Dress: Normally $218, sale price $74 / 25. Brewster T-Shirt Dress: Normally $108, sale price $50 / 26. Blaire Fit and Flare Dress: Normally $218, sale price $79 / 27. Pearl Romper: Normally $178, sale price $64 / 28. Round Hem Skipper Popover: Normally $98, sale price $64 / 29. Shelli Dress: Normally $168, sale price $79 / 30. Girls' Mini Harper Shift Dress: Normally $68, sale price $30 / 31. Winni Midi Dress: Normally $188, sale price $79 / 32. Misha Wrap Dress: Normally $168, sale price $64 / 33. Nevie Top: Normally $188, Sale price $59 / 34. Girls' Sundari Romper: Normally $60, sale price $30 / 35. Parigi Maxi: Normally $228, sale price $89 / 36. Midi Weekender Legging: Normally $98, sale price $70 / 37. Valli Shift: Normally $198, sale price $69 / 38. Mirella Maxi Dress: Normally $198, sale price$69
🌴 What goes on sale?
It's usually a mixture of products from years past, specific items from more recent and current collections, and possibly new (limited stock) merchandise. 
A few days beforehand, Lilly actually pulls those current products (and sometimes prints all together) from the site because the company plans on including them in the upcoming sale. The sale is a great time to score popular prints that haven't been available for a while, too. In the past, Lilly has included samples and new products made from older prints and materials, which is very fun.
You can check out the sneak peek above. (It's just a sampling of what'll be included in the sale!)
🌴 What are the prices like?
GOOD. Note that I've included the sale prices in the above sampling.
🌴 Why should I set a budget or refrain from shopping?
It goes without saying that 2020 is not the time to empty out our bank accounts during a sale. This a great time to save on Lilly, but it's just a sale. No need to panic or get swept up in the frenzy. This will not be the last great deal, and don't shop just because it seems like everyone else is shopping.
If you're in the position to do so, set a budget and stick to it by putting thought into your purchases. (While also having some fun!) But if you're not in the position, don't feel badly about it. This has been a crap year and most of the world is down on their luck. You are not alone. ♥️
(Also keep in mind that I run a style-focused blog, and part of what I do is review and guide shopping decisions. I would not own what I own were it not for that! During the Nordstrom sale, Mitch chimed in and said, "Fun fact! Kelly owned one dress in 2009." It's true. BUT IT WAS A KILLER DRESS and I had a tiny closet and to be fair, it was an extremely versatile little thing and I miss it. RIP, Old Friend.)
But here's something fun: Everyone can enter to win $500 to shop the sale here! Fingers crossed that it goes to someone who could use a little pick-me-up. It did last time, which was SO nice!
🌴 Why should I create an account (or update it) now?
The site will likely be down for several hours before kickoff time for sale preparation, it's best to create a Lilly account now. If you already have one, look over your billing address, shipping address, and credit card/PayPal information, and then double check everything. I recommend pre-loading both your credit card and PayPal info. (You can also use gift cards during the sale, btw.)
🌴 How do I get a good spot in the virtual line?
Today, log in to your account and leave the window open. Then, set your alarm! Remember that the sale will start at 8 a.m. EST, so account for that if you're elsewhere in the country.
Tomorrow morning, at sale time, simply hit "refresh"–over and over again, haha. Once you get in and receive a number, STOP clicking refresh, or else you'll lose your spot in line. (And obviously don't close the browser or spill coffee into your computer, like I've done in the past. #goodtimes)
It's really not the end of the world if you can't log on at 8 a.m. — I swear! Everyone is juggling a lot right now. I've logged on later in the day or at night in years past, and I've scored some amazing stuff. (I'm also not lying just to make you feel better.) The wait times are eventually either shorter or non-existent once the morning rush is over, so it's actually a bit nicer!
🌴 Why is it important to know my size?
Because After Party merchandise is non-returnable. But this isn't a big deal, as Lilly sizing is very consistent. From time to time, though, certain pieces–like the brand's shifts, for example–run large or small. (FYI, I usually go one size down in Lilly shifts, but I always check the reviews before ordering.)
If you don't own many Lilly pieces or are at a complete loss, do your research beforehand by reading product reviews. Here's the Lilly size guide, too.
My best advice here, though, would be to go with your usual size when you're shopping the actual sale if you're not 100-percent sure. You can't do very much about a product that's too small, but one that's slightly large can always be tailored or altered!
Note: I typically wear a size small or a 2/26 in J.Crew. In Lilly, I wear a size small as well.
🌴 How else can I shop most effectively?
During the sale, you'll likely see a couple of options: "show filters" and "sort by." There's no use in wasting your time looking at products that aren't available in your size, so select "women's sizes" first. I tend to then click on "sort by" and select "price – low to high" next. If you're nuts about a particular print, you might want to select that under "show filters," though. Every gal has her own method!
If you're over-the-moon in love with a particular item and you have to have it, check out immediately. You'll be placed at the end of the virtual line if you do this, but you won't be heartbroken that you lost what you had your heart set on. :)
🌴 Why is it important to act quickly?
Building on the previous paragraph, just because a product is in your cart doesn't mean it's yours. Sizes go quickly during the sale, and products sell out fast. Again: if you're over-the-moon in love with a particular item and you have to have it, check out immediately. Shipping is free, so you can place multiple orders guilt-free. (I know I sound like a broken record, but remember that once you check out, you're placed at the back of the virtual line. So that particular item needs to be really awesome.)
🌴 Can I use multiple devices?
YES! You can also shop on any internet-capable device. If you can't be at your computer at the time of the sale, for example, utilize that phone! Many sales ago, mobile devices and tablets seemed to work better than computers, but over the last couple of years, I've found all devices to be reliable. Use whatever option you're most comfortable with.
🌴 How will the ordering process run?
Certain parts of it will likely run slowly, especially considering the current state of the country and world.
In the past, this is how it's worked:
You receive a confirmation e-mail within a few hours of ordering. (Not immediately!)
Next, your order appears as "processing" while it's being selected and packed up.
After that, the order is marked as "shipped." (While this process normally takes two to three days, it might be completed faster or much slower during the sale. Some people receive order confirmation emails immediately, while others see them a few hours later… and some people receive their products within a day or two, while others see their orders three to five weeks later. It's normal! You can check your order status here.)
But that was before 2020. So… yeah. Keep in mind that you may not receive your package for a while. Rest assured, though: it'll arrive!
🌴 Why should I be understanding and stay grounded? ;)
Because you ARE an understanding and grounded person, and you will not let a silly sale affect those wonderful qualities! 😂
Like I mentioned, Lilly will likely be working to prepare the site ahead of time, and the virtual line is extremely helpful in preventing site crashes. But stuff happens. If you see the cute "Oh Shift" message or a notification that you're "in line," it's highly probable that most other people are seeing that, too. (So you're not missing anything!) A sudden influx of traffic can cause issues for any site, no matter how much preparation. Back in January, things went pretty well, but if something happens this time, be patient and understanding. No need to get ugly and publish nasty Tweets or post mean comments on Facebook. It's super nice that the company is doing this in the first place, right?! :)
Similarly, do the right thing while the sale is going on. I don't love it when people buy a ton of stuff just to turn around and sell it all on eBay for a profit. Let's remember the high school girl who's had her senior year cancelled and is hoping to buy her first Lilly dress. Or the tired mom who'd like to buy a few things for her daughter who's in a hybrid program. Or the college girl whose semester is totally up in the air!
🌴 Will other retailers discount their Lilly products?
They normally do. Retailers like Zappos, Nordstrom, RueLaLa, Saks and Amazon will put a lot of their Lilly stuff on sale during and after the sale. I've found some great deals on those sites, so be sure to check 'em on sale day! (This is also a great thing to do while you wait to be let into the sale.) These products generally are returnable, unless otherwise noted.
🌴 Where can I find updates?
I hope that following the Kelly in the City Facebook, Instagram and Twitter accounts will be helpful. I'm going to be super active on social during the sale, providing as many updates and insider tricks as possible. This is my Facebook account, this is my Instagram account, and this is my Twitter account. Let's be friends!
Likewise, following Lilly's Facebook, Instagram and Twitter accounts is a good idea. ;)
To enter to win $500 to shop the sale, simply:
Comment at the bottom of yesterday's blog post in the comment section.
In your comment (on yesterday's blog post), tell me what your favorite current Lilly print is, and what you would buy if you won the giveaway.
Bonus points for including random facts, stories, funny stuff or anything that's on your mind. (Though definitely not required. A randomizer picks the winner. Mitch and I are just kind of bored in 2020 and always enjoy giveaway entries because people get CREATIVE. 😜)
Be sure to enter your e-mail so I can contact you if you win. (Don't worry; it's only visible to you and me, and I am far too exhausted to do anything with the information. 😉)
Remember: You need to comment on yesterday's blog post to enter to win. Not this one. 😜
Winner will be selected at random and contacted mid-morning on September 15th so she has time to shop the sale. The winnings will be awarded via Venmo or PayPal, which means that you can use the $500 for whatever you like/need. ♥️ There will be two more chances to enter to win: one in the try-on post that will go live later today and one more in Monday's post. So keep checking back!