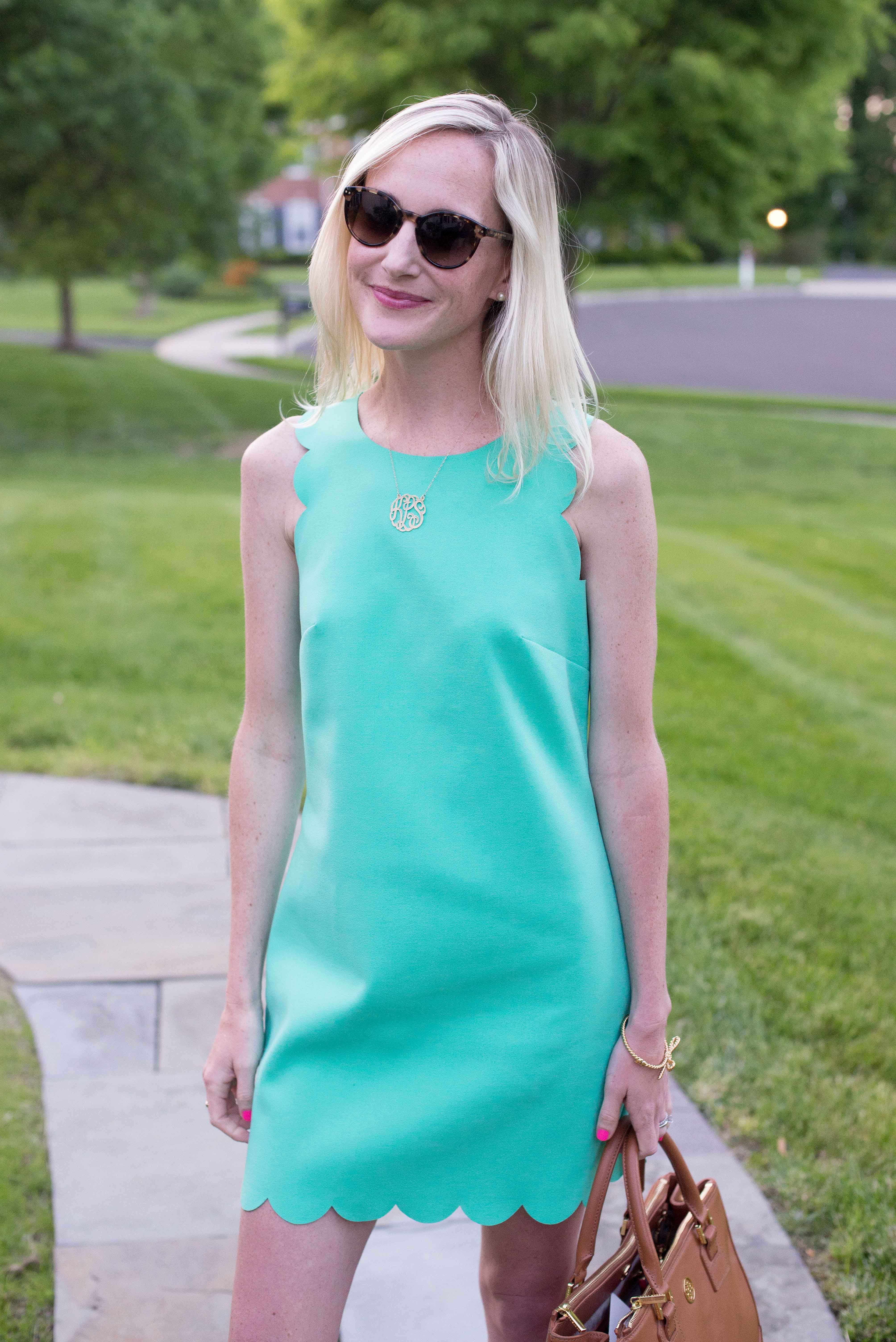 Dress: J.Crew Factory / Sandals: Jack Rogers (I know, I know. Get used to it, though. They don't come off in the summer.) / Bracelet: Kate Spade (Sold out), regular version here and pave version here / Necklace: Paradise, similar here / Bag: Tory Burch, also available in mini version / Necklace: Paradise, similar here / Sunnies: Kate Spade / Earrings: J.Crew / Lipstick: Clinique (In "Pudgy Peony")
When traveling, I try my best to keep things simple. I adore accessories, but when I pack a ton, I typically don't end up wearing them. They just seem to weigh down the suitcase! For weekend trips, I stick with gold jewelry: one or two necklaces, one or two bracelets, and that's that. I save my normal overloaded-with-accessories look for home.
Pause. Oh my god. Mouth full of wasabi. That's what I get for blogging while eating dinner.
…I'm back. While we're on the topic of travel, I should mention the scalloped dress I have on. Everyone seems to be wearing it–with good reason. IT DOESN'T WRINKLE. Okay, well… it wrinkles. But only under the worst of circumstances. (I tested it this past weekend by crumpling it up in a little ball and putting a bunch of books on it, haha.) But seriously–it's a piece every girl needs. Attending an event that requires a two-hour drive, like I did this past weekend? This dress will have you looking neat and tidy the moment you get out of the car. (The original J.Crew version wrinkles even less… but alas, that one is sold out.) Tip: go down a full size.
Anyway, these photos were taken last weekend at my brother's engagement party, which was a blast. It was so nice meeting and spending time with Patrick's fiancé's family! Now I understand why Kim is as awesome as she is. :) Such lovely–and fun–people. We spent the afternoon and evening on my parents' back patio, eating barbecue, sipping drinks, and excitedly chatting about the upcoming wedding. (It's a year away at this point, but time flies!) Oh, and this made my year: Kim asked my mom and I to go dress shopping with her, too. Ohmygod, ohmygod, ohmygod. I teared up! I can't wait. Thank you, Kim. I'm thrilled that we're going to be sisters!
Can we go back to Saturday, please?