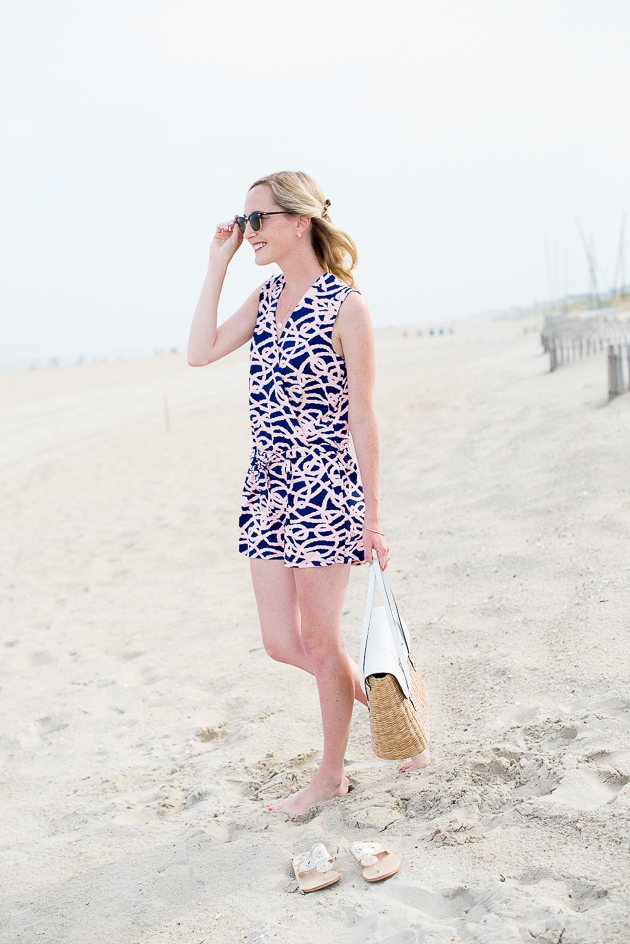 Julie Brown Designs Romper c/o / Barbour Picnic Rug c/o / Ray-Ban Sunglasses c/o Endless Eyewear / Jack Rogers Sandals (Don't forget to shop the Nordstrom Anniversary Sale! See my faves here.) / Kate Spade Bag (Borrowed from Mom, but check out the current KS handbag collection) /See Blair Earrings and clip c/o / Helen Ficalora Necklace c/o
Sorry about the radio silence over the last week. But I'm back. ;)
I missed you! What's new?
I know I promised a big post today (or was that yesterday?), but somehow it's the weekend already. Finally! My in-laws are coming to visit tomorrow, and then on Sunday, I have a very fun day planned, starting with a boat cruise with girlfriends and ending with the TAYLOR SWIFT CONCERT. (More on that later.)
So for now, I'll leave you with my last set of photos from Ocean City.
A couple of side notes before I go, though:
Endless Eyewear: If you haven't heard of it yet, it's this amazing subscription service from Ditto, and it allows you to rent designer glasses and swap them for another pair whenever you want. It's like Netflix for designer eyewear! And it's perfect for the person who likes to switch it up without breaking the bank… or for the person who has trouble finding good shades. (Like me. Hence the reason I'm constantly in the same pair of sunglasses on this blog.)
There are two types of subscription programs with Endless: sunglasses ($19 per month) and prescription glasses ($29 per month). Membership includes free shipping, free returns and insurance for minor wear and tear… and every pair of prescription glasses includes brand new premium lenses. Endless Eyewear members can select glasses from over 50 top designer brands including Ray-Ban, Burberry, Karen Walker, Givenchy and Paul Smith.
So far, I've tried the Karen Walker Harvest and Karen Walker Super Duper sunglasses (turns out I like Super Duper better!), and I'm currently trying out the Ray-Ban Clubmasters. (I plan on swapping them out for a pair of Wayfarers soon.)
Anyway, I can't recommend Endless Eyewear enough!
Barbour Picnic Rug: Hold the phone, because I love this thing. Mitch and I have been taking it everywhere with us–from beaches and parks to concerts and fairs. It's amazing! It keeps us totally dry, and doubles as a poncho. (Quite helpful in Chicago during the summer. All the rain.) Its storage pouch even turns into a mini cooler!
Julie Brown Designs: I've been obsessed with JBD for a couple of years now, and I'm so in love with the designer's current collection. I mean, the "Sailor Ropes" print?! The cutest. (Take 30 percent off your order until 7/19 when you use code "SUMMERDAYS.") I also just had the chance to preview Julie Brown's fall line, and oh my goodness. Just wait. :)
Hope you guys have a great weekend!