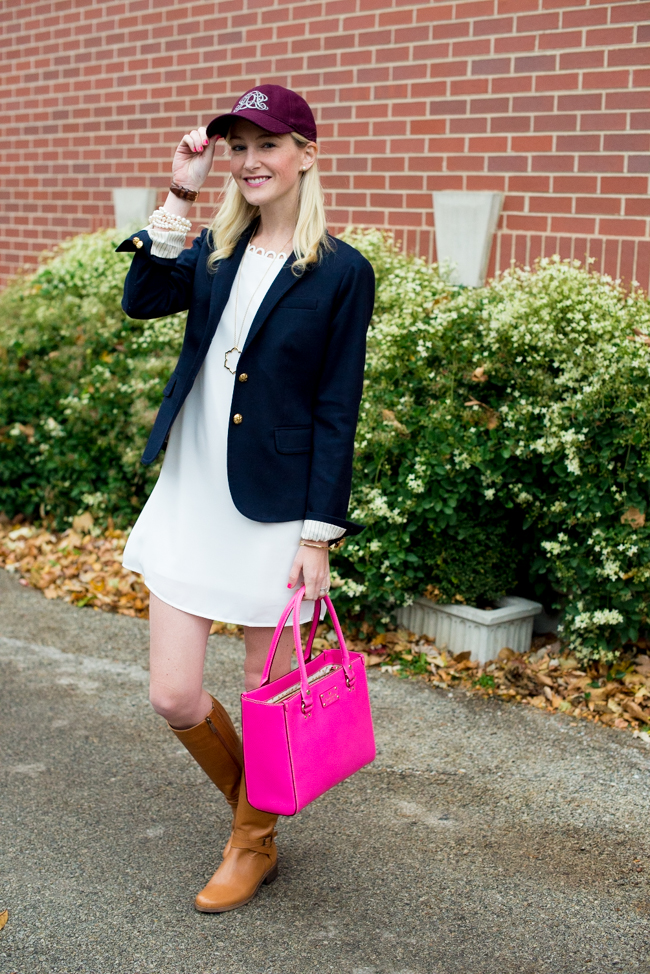 Duo Boots (c/o) / J.Crew Blazer (Wait for a sale!), Hat (Old, similar here, here, here and here) and Earrings / LuLu's Scalloped Dress (c/o) / Kate Spade Bag (Old, but there's a Kate Spade surprise sale going on right now!) / Daniel Wellington Watch (c/o) / Emma McKinstry Bracelet (c/o) / Hazel & Marie Pearl Bracelet (c/o) / I Love Jewelry Necklace (c/o — open pendant & charm)
This year, I decided to go all out and buy a pair of Tory Burch riding boots I'd fallen in love with. Expensive? Yes. But I waited for a killer sale, sold a bunch of stuff on eBay to help justify the purchase, and had a coupon code and gift certificate to use. I also promised myself that these would be my riding boots for the long haul; that I'd take care of them and get them re-soled when needed. After three months of hovering my cursor over the "order" button, I finally pulled the trigger.
Disappointment. The boots–while absolutely lovely–just didn't fit well. They were far too high, and I could fit my whole arm in them while they were on. Mom and I couldn't stop laughing. A few days later, I tried on several other pairs of TB boots, hoping it was just the "Teresa" that didn't work for me. They were slightly better I suppose, but I still looked like a l

I kind of panicked. (Not really, but you know.) My old riding boots were shot, and I couldn't survive the fall without a pair. I wanted light brown boots that actually fit my smallish legs, and I wanted to love them. (Riding boots are an investment. There was no way that I dropping the big bucks on something I didn't adore!) Mom and I visited department store after department store and tried brand after brand, but didn't find anything.
And then I found out about DUO, a UK-based company that specializes in custom, handcrafted classic footwear. Their made-to-measure boots–known for their classic style, lasting quality and comfort–come in 21 calf sizes. Finally!
Ordering was easy. DUO has a great, easy-to-understand sizing video which explains how to measure your calves and provides tips on what styles will fit you best. The company also has amazing customer service. The employee I chatted with was helpful and sweet, and never once got annoyed with my never-ending questions. (Or if she did, she hid it really well!) I ended up with the Gravina, which features a lower boot height, in a 7.5 and 33 cm calf. And they fit me perfectly.
The boots' buttery soft leather make them ridiculously comfortable, and I found that they required (quite literally) zero break-in time! (So nice. Who has time to put up with that kind of nonsense?!) They also smell fantastic, haha. There's nothing like good leather, right?
I also love that my boots can be dressed up or down. It's clear that DUO draws inspiration from the English countryside, as the company's boots are super comfy and feature classic designs and earthy colors. But I love that the brand has a team of "city girls" who help to make the boots suitable for urbanites, too. :) I'm obviously a city girl at heart, and I've always dreamed of living in London… so this makes my boots extra special!
Anyway, I can't recommend DUO more. I adore the Gravina, but I also love the Beaumont, Somerset and Sidra. Be sure the check out the company's shoes (#omg, right? And these?!), bags and ankle boots, too!