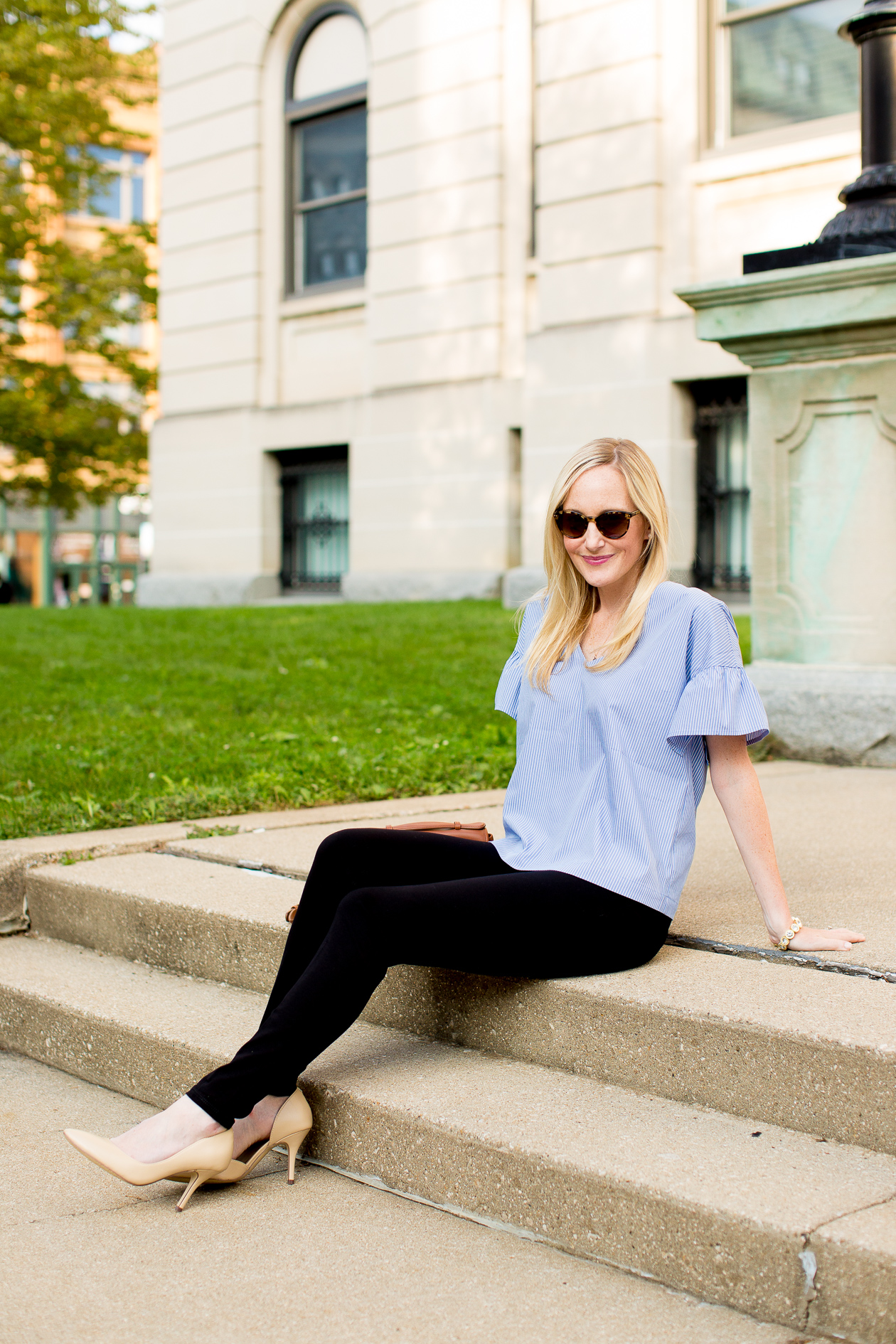 Ruffled Sleeve Top, Nude Pumps, Bracelet and Black Ponte Leggings (Also here) c/o / Bag / Necklace
Since becoming a mom, there simply aren't enough hours in the day to get it all done. I'm definitely learning tricks that are improving my productivity with household chores and work, and I'm realizing the importance of cutting back so I actually have time for family and friends. (The most important part of life! Not whether my kitchen is spotless or my inbox is organized.) Still, I almost always feel "behind." Though maybe that just comes with the territory of being a mom?!
One trick I've learned is that my busy days are far easier if I wear outfits that can take me from day to night. Unless I have no plans of leaving the house, haha. Then it's athleisure all the way. But really: there's no need to run home and change, there's less laundry, and there are smaller bedroom messes! So nice.
Recently, I picked up this BELLE + SKY ruffled sleeve top for just that reason: it's comfy enough to wear all day long, yet it's cute and fancy enough for dates with Mitch, girls' nights out on the town, and evening events. And can you get over the adorableness of the 70's-inspired ruffled sleeves?! As silly as this sounds, finding a good ruffled top is no easy feat these days, and this machine-washable number is only $24.99 from JCPenney! (I'm wearing a size small, by the way.)
And my black pants? They're actually ponte leggings from St. John's Bay! They're as comfy as pajamas but totally make me look like I have it together. ;) I wear 'em with flats during the day and simply throw my nude, go-with-anything heels in my bag for evening activities. I should also note that I've been known to stash a smaller bag in my huge tote and then leave said huge tote at coat check at night. So much easier on my shoulders! (And a much cuter look.)
A final trick for moms: shop online at affordable stores where you can find everything. It's such a time-saver. I found my top, pants, pumps and bracelet all online through JCPenney, and this saved me the hassle of placing multiple orders as well as dealing with a ton of boxes and receipts from different stores.
For more easy, on-trend and affordable day-to-night pieces, be sure to check out JCPenney. #SoWorthIt!
This post was sponsored by JCPenney, but all opinions are my own. As always, thank you so much for supporting the partnerships that keep Kelly in the City up and running!
Outfit details:
Ruffle Sleeve Top, Nude Pumps, Bracelet and Black Ponte Leggings (Also here) c/o / Bag / Necklace