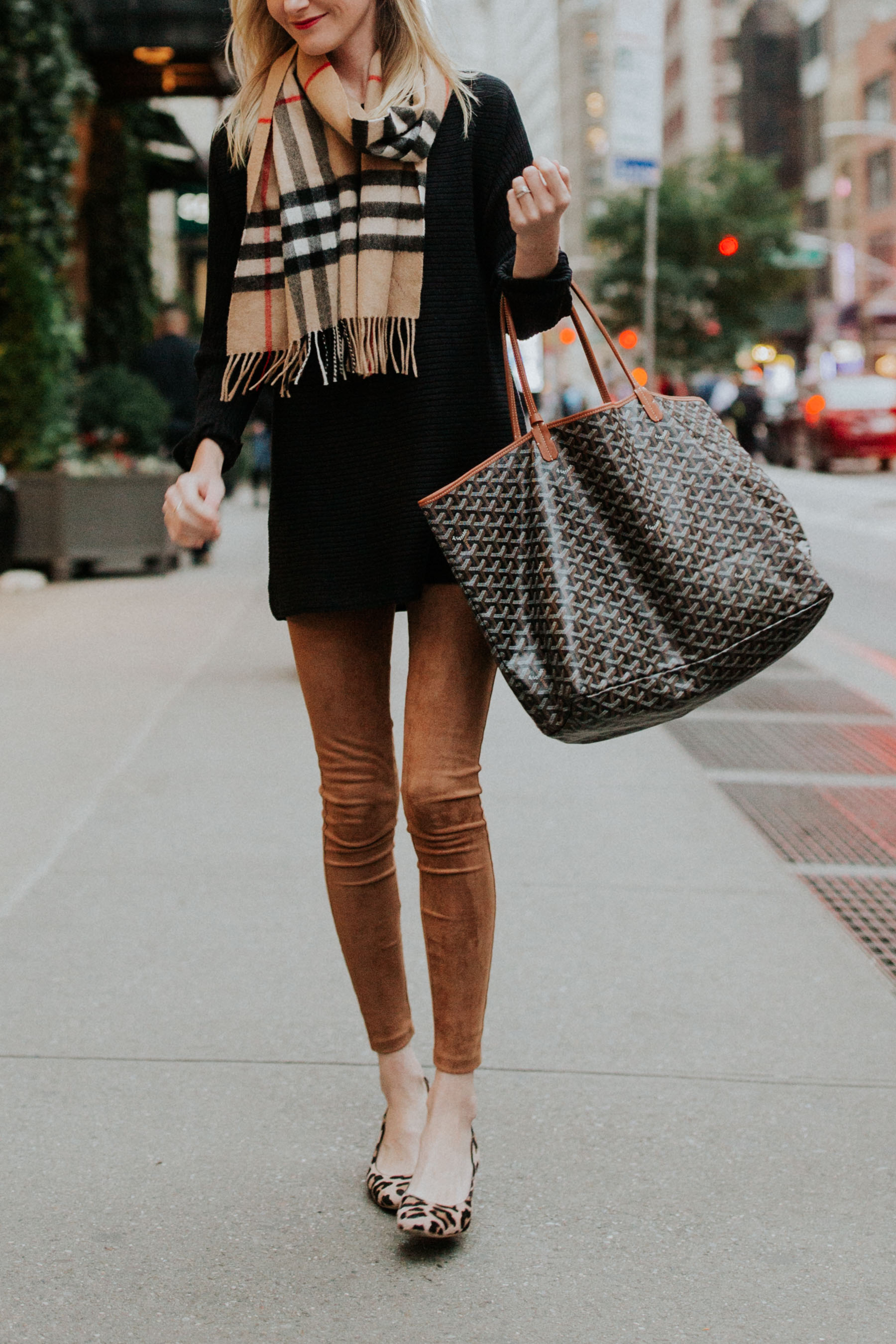 Halogen Bateau Neck Sweater (Runs slightly large; order regular size or down one. This is my favorite cashmere sweater, btw, which is from the same line and only $89!) / Burberry Scarf / David Lerner Suede Leggings (Love the leather pair, too.) / Kate Spade Block Heel Leopard Pumps (Also love the mules. More affordable block heel option: Talbots Leopard Pumps.) / Goyard Tote (Available here, here and here.)
Hello from New York! I know I just wore a very similar outfit on the blog yesterday (down the shoes!), but as I mentioned, I've been living in these suede leggings. I just love that I can simply throw 'em on and look relatively put together in only a couple of minutes. 🙈
I wore this a few nights ago to Mitch's annual business dinner. I love this dinner, mostly because it's with Shawn. Shawn is Mitch's childhood best friend, but I also lived with him for a couple of years in New York, so we all have a lot of awesome memories together. When we see each other, it's almost like we're back on 14th and Avenue B, and we're instantly nostalgic for those somewhat wild days of our 20s. ;) Of course, we had Emma at this dinner–which instantly snapped us back to reality, haha. I suppose what I'm trying to say, though, is that I'm grateful for both chapters of my life. Both are wonderful, despite how amazingly different.
Anyway, I can't say enough about this sweater. I'd been looking for a slightly oversized black sweater–one that I could easily dress up for nighttime events–and this one is perfect. I will say that I think I messed up with the sizing; I went with a small but I probably should have gone with the XS. Still, I love how it looks with tight jeans or leggings! It's also the perfect basic sweater to bring on a trip, as you can wear it several times without looking like a serial outfit repeater. (Which I clearly am, as evidenced by yesterday's post.) Side note: this is my favorite cashmere sweater, which is also from Halogen. It's FANTASTIC, and a great deal. I wear a small in that one.
Oh! And my Burberry scarf is another staple that I always travel with during the fall and winter. I'm pretty much freezing all the time, but I love that it's totally acceptable to wear this classic number even at fancier events. Yes, it's definitely pricey, but it's timeless–and I get SO much wear out of it!
Okay, over and out, guys. Meeting my parents and aunt at the Central Park Zoo today! Follow along on Insta Stories. :) Hope you're having a great week!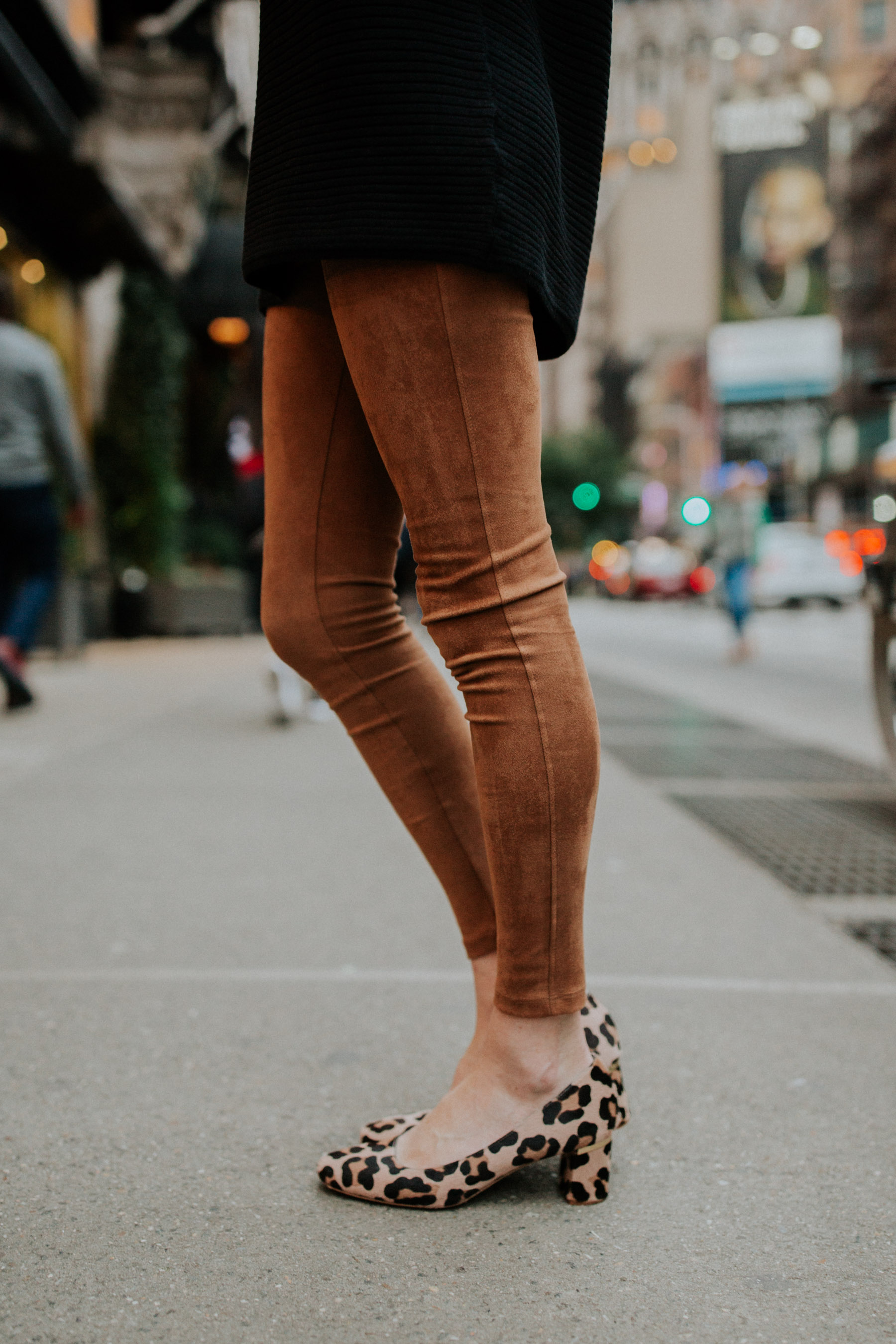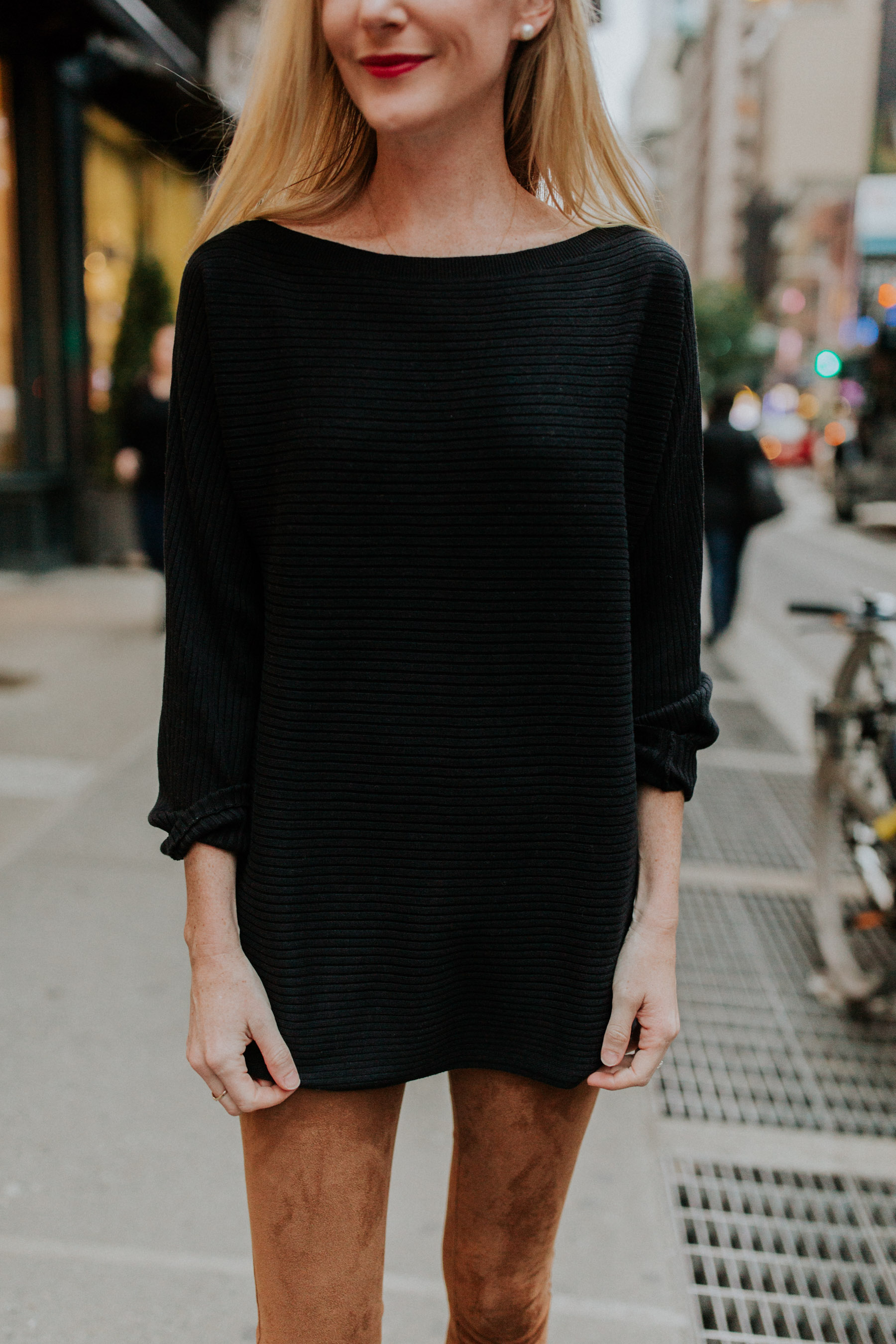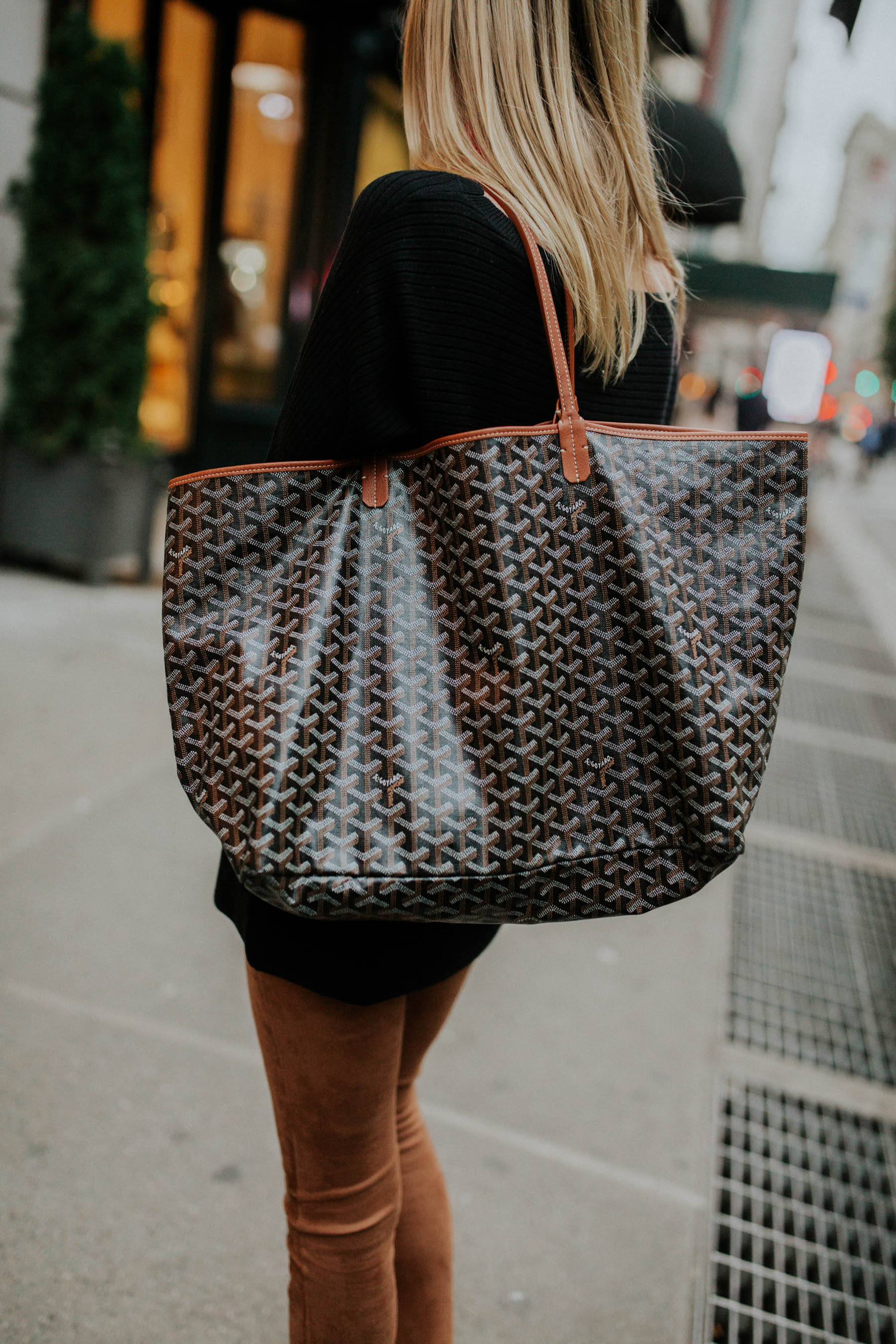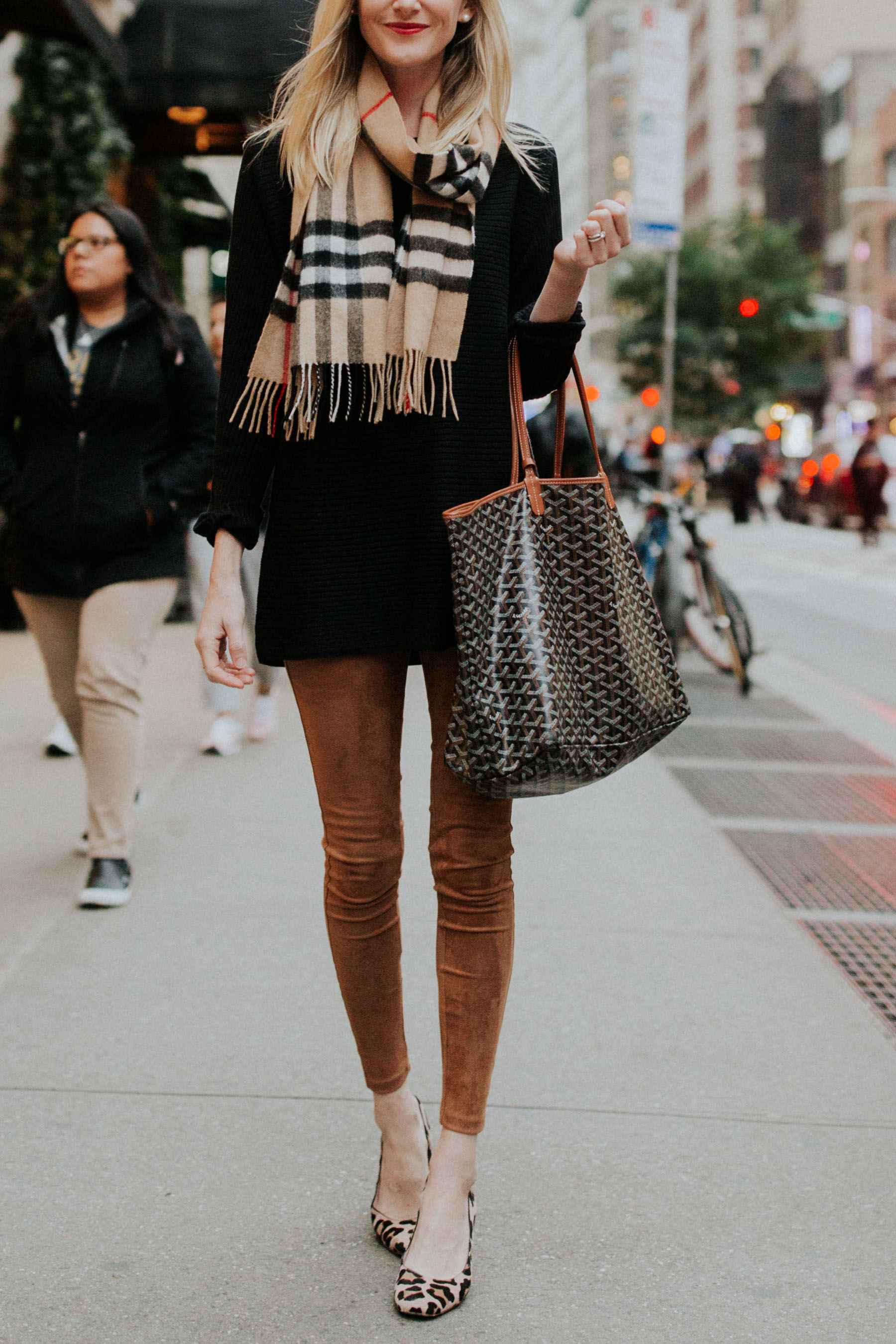 Shop the post:
Halogen Bateau Neck Sweater (Runs slightly large; order regular size or down one. This is my favorite cashmere sweater, btw, which is from the same line and only $89!) / Burberry Scarf / David Lerner Suede Leggings (Love the leather pair, too.) / Kate Spade Block Heel Leopard Pumps (Also love the mules. More affordable block heel option: Talbots Leopard Pumps.) / Goyard Tote (Available here, here and here.)
SaveSave