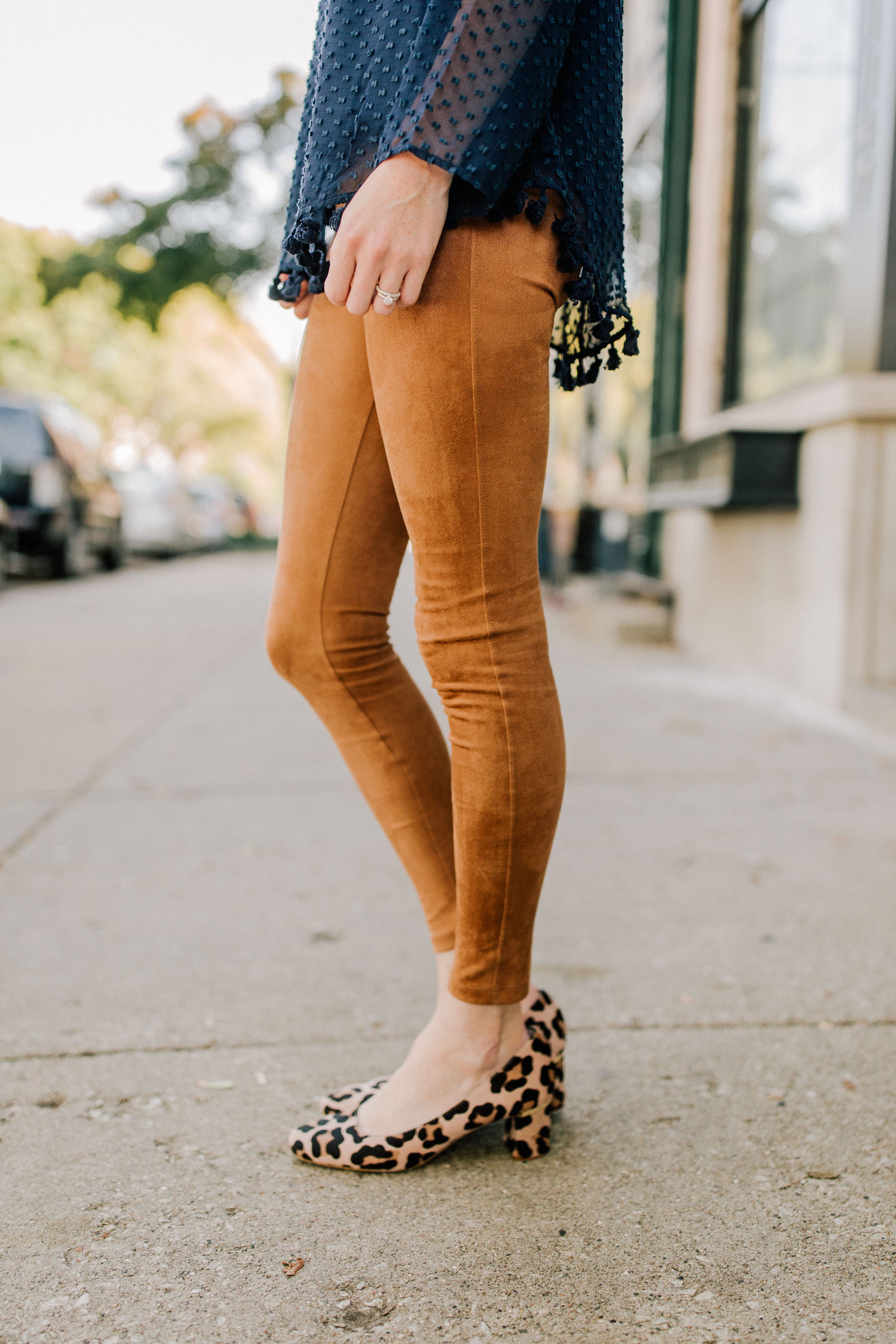 David Lerner Suede Leggings (Love the leather pair, too.) / Kate Spade Block Heel Leopard Pumps (Also love the mules. More affordable block heel option: Talbots Leopard Pumps.) / Sail to Sable Top c/o / Faux Leather Tote (Under $48 and SO soft!) / Lisi Lerch Earrings c/o
I finally found the perfect pair of faux suede leggings after being on the hunt for a while.
I really do like the suede leggings that Lysse carries, but I was after a pair that was more fitted… and this pair by David Lerner was exactly what I was looking for. They're SO good! They're amazingly soft and comfy but they don't stretch out or bag throughout the day, and they're very warm, too. And that color!
Most of all, though, I love how they hug my legs. Because I like wearing looser tops and sweaters, I prefer my leggings and jeans to be relatively form-fitting so I don't look sloppy. The David Lerners totally fit the bill. I love them so much that I truly want to wear them every day, haha… which is why I'm considering getting them in black suede and in black leather.
You might have noticed that on the model, the leggings are cropped. (They're called "Cropped Leggings," after all.) I, however, am somewhere between 5'4 and 5'5, and therefore they hit right at the ankle, which works so well. But it's definitely something to take into consideration if you're taller than I am. (I do, however, love the look of true cropped pants! So cute. I'm just pretty sure I'd need to take my pants to the tailor to achieve that look. 😉)
And while we're on the topic of fit, I should talk about sizing. I'm probably about 105 pounds and normally wear a size 25 in jeans, and I took the David Lerners in the size XS, which is what I normally wear in leggings. So I'd order your normal size!
A couple of other things I'm completely obsessed with this season: These Kate Spade block heel leopard pumps—so comfy and they run TTS!–and this faux leopard tote, which is crazy soft and indestructible.
Anyway, it's day five in New York, and I'm probably wearing this exact outfit. ;) Be sure to follow along in real time on Instagram, Facebook and Twitter! Can't wait to share our stories and adventures on the blog. Talk soon, guys!
Shop the post:
David Lerner Suede Leggings (Love the leather pair, too.) / Kate Spade Block Heel Leopard Pumps (Also love the mules. More affordable block heel option: Talbots Leopard Pumps.) / Sail to Sable Top c/o / Faux Leather Tote (Under $48 and SO soft!) / Lisi Lerch Earrings c/o