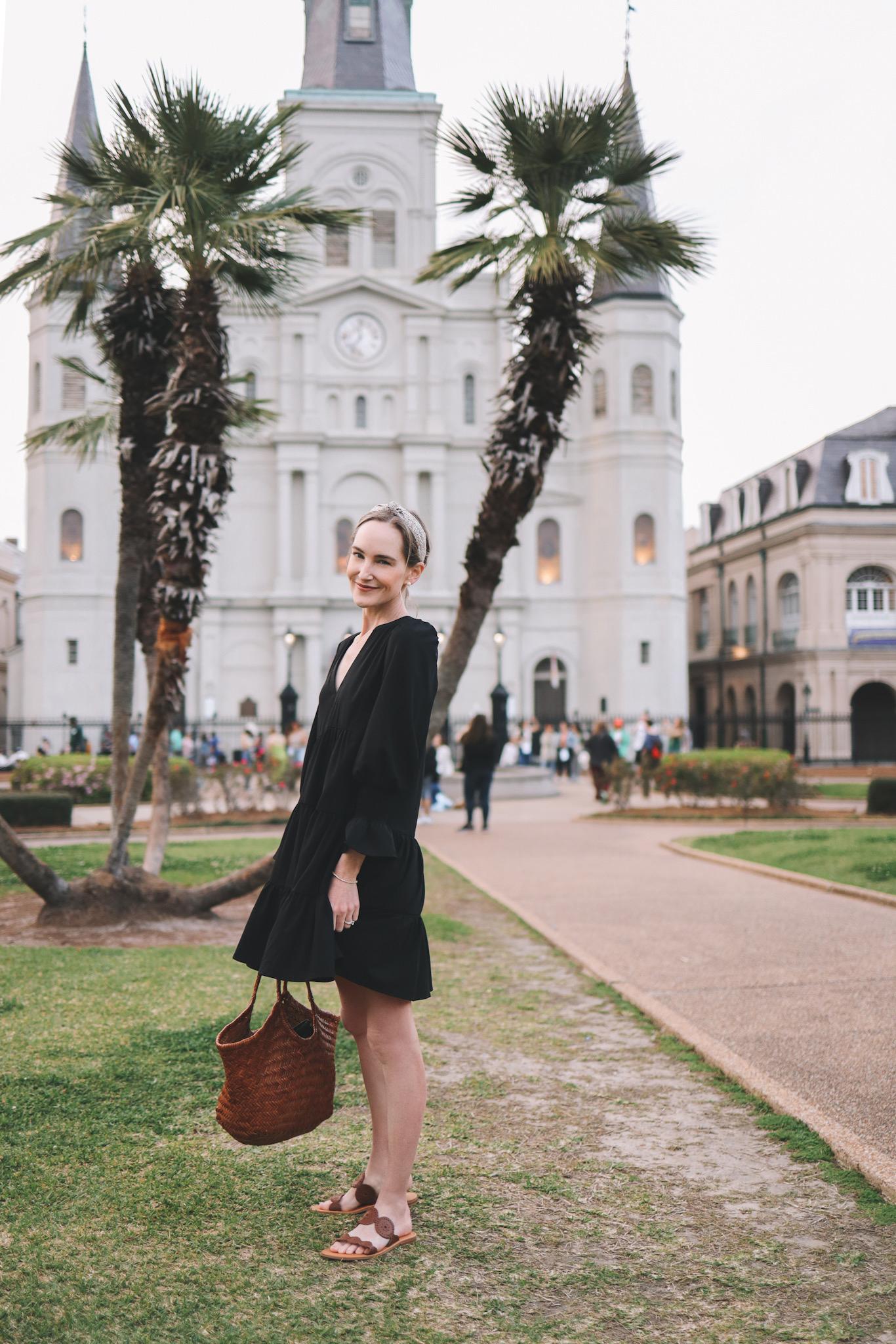 Tuckernuck Crepe Kenzo Dress (But this striped cotton version is a must, too!) / Comfiest Jack Rogers EVER (You need.) / Comfiest Headband (There are lots of others; I adore them all! The best part is that the seller is Chicago-based. Love that!) / Dana Rebecca Bar Necklace / Faux Diamond Bracelet / Dragon Diffusion Large Nantucket Tote (Tuckernuck has a bunch, too.)
I love New Orleans. But I don't know how people with fine hair live here. 😆 My locks instantly go POOF upon arrival, and there's just no battling it. My sister-in-law has been telling me for years that I just need to give up and embrace wet hair and headbands. So this time I did. 😜
First, before I get to my magic dress, I need to call out these headbands, made by the Chicago-based seller Maddy and Me Handmade. With the exception of an old rogue headband from J.Crew Factory, they're the only ones that I can wear for a full day without pain. They're amazing. I have this Liberty one, this black linen one, and this neutral linen one. They're way comfier than those $80 designer ones, and from a small women-owned company! I don't know what their secret is, but I'm here for it. Life changed!

Crepe Kenzo Dresses

Cotton Kenzo Dresses
This is one of the best travel dresses ever. It's made from crepe—though there are some cotton versions, shown above—and you don't have to worry about wrinkling. It comes out of suitcases and overnight bags looking perfect, and that's something I can appreciate as a busy mom and a lazy human. (What? Who wants to steam clothing while on vacation?! 😆)
The fit of the Kenzo dress works for nearly everyone. It's tiered, so it's the kind of dress you could eat many slices of cake in and no one would know—yet because of the crepe material, it falls perfectly. (No tent-like silhouettes over here!) Because of the crepe material, I went up a size for length, and didn't see any noticeable difference in width.
I love it so much that I have it in both the navy crepe and striped cotton, too. (Though I'll note that the cotton ones do tend to need some steaming after they come out of the wash.)
If you'd like to see it styled other times in my life, click here!
xoxo
Shop the post:
Tuckernuck Crepe Kenzo Dress (But this striped cotton version is a must, too!) / Comfiest Jack Rogers EVER (You need.) / Comfiest Headband (There are lots of others; I adore them all! The best part is that the seller is Chicago-based. Love that!) / Dana Rebecca Bar Necklace / Faux Diamond Bracelet / Dragon Diffusion Large Nantucket Tote (Tuckernuck has a bunch, too.)