Some people love to get all dressed up for Thanksgiving Day Dinner, and I love that. Honestly, it's the perfect excuse to put on your Sunday best (on a Thursday) and show off your best holiday looks. 
However, there are some people (like Mitch and I) that like to do Thanksgiving Dinner on the more relaxed and comfortable side. When it comes to doing anything festive, I find that I truly appreciate the casual vibe. A festive Fall outfit, but with maximum comfort.
I mean, really. No one wants to be dealing with some uncomfortable heels or ultra-tight jeans on Thanksgiving Day. Not when you're treating yourself to all the turkey, stuffing, seasonal sides, sweet treats, and more. Most of us have to unbutton our pants after eating our fill anyway, regardless of how fancy our outfits are.
Anyway, choosing a casual outfit this Thanksgiving doesn't mean you have to sacrifice style for comfort. Fall fashion is by nature cozy and comfortable. So it's right on point. Here's a roundup of some of my favorite casual holiday outfits. All of which pass the Thanksgiving Dinner dress code!
11 Casual Thanksgiving Outfit Ideas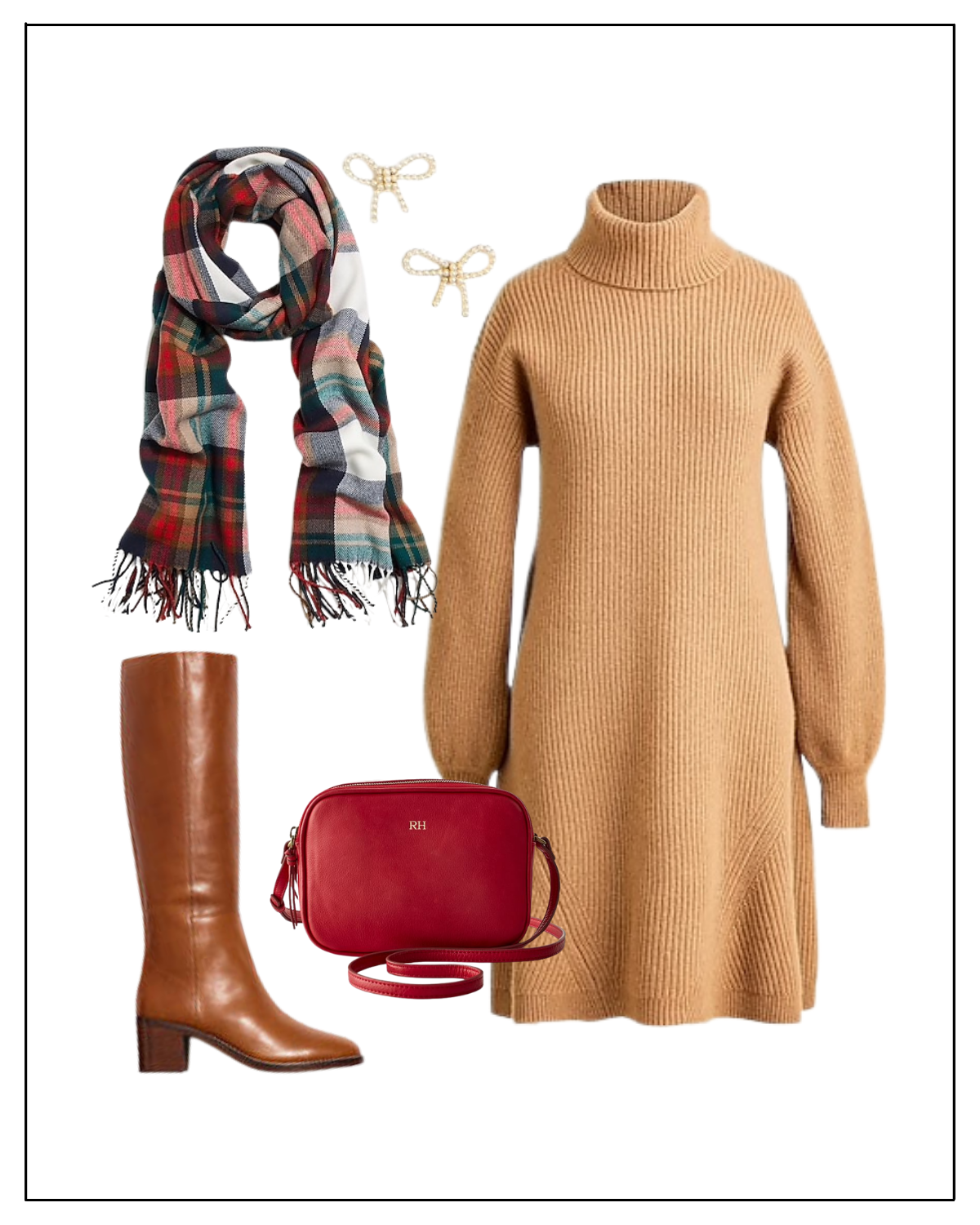 I've featured this look before, it was perfect then and it's still on point now. It reminds me of Fall leaves, mashed potatoes, and just all things Thanksgiving. Throw on this slightly oversized sweater dress paired with riding boots and you're not just ready for any Fall day, but any Fall festivities. Whether it be a casual Thanksgiving dinner, running around the pumpkin patch with the kids, or a Friendsgiving. The plaid scarf is a festive touch as well.
Speaking of plaid, there's no better time like the holidays to rock an adorable plaid dress. What I love most about this dress is that it can be dressed up or down, depending on your choice of accessories. Plus, I'd take a flowy shirt dress over jeans on Thanksgiving any day. Add some simple, yet still chic, ballet flats and some gold hoops, and you have a festive and functional dinner look. See this dress in action, here.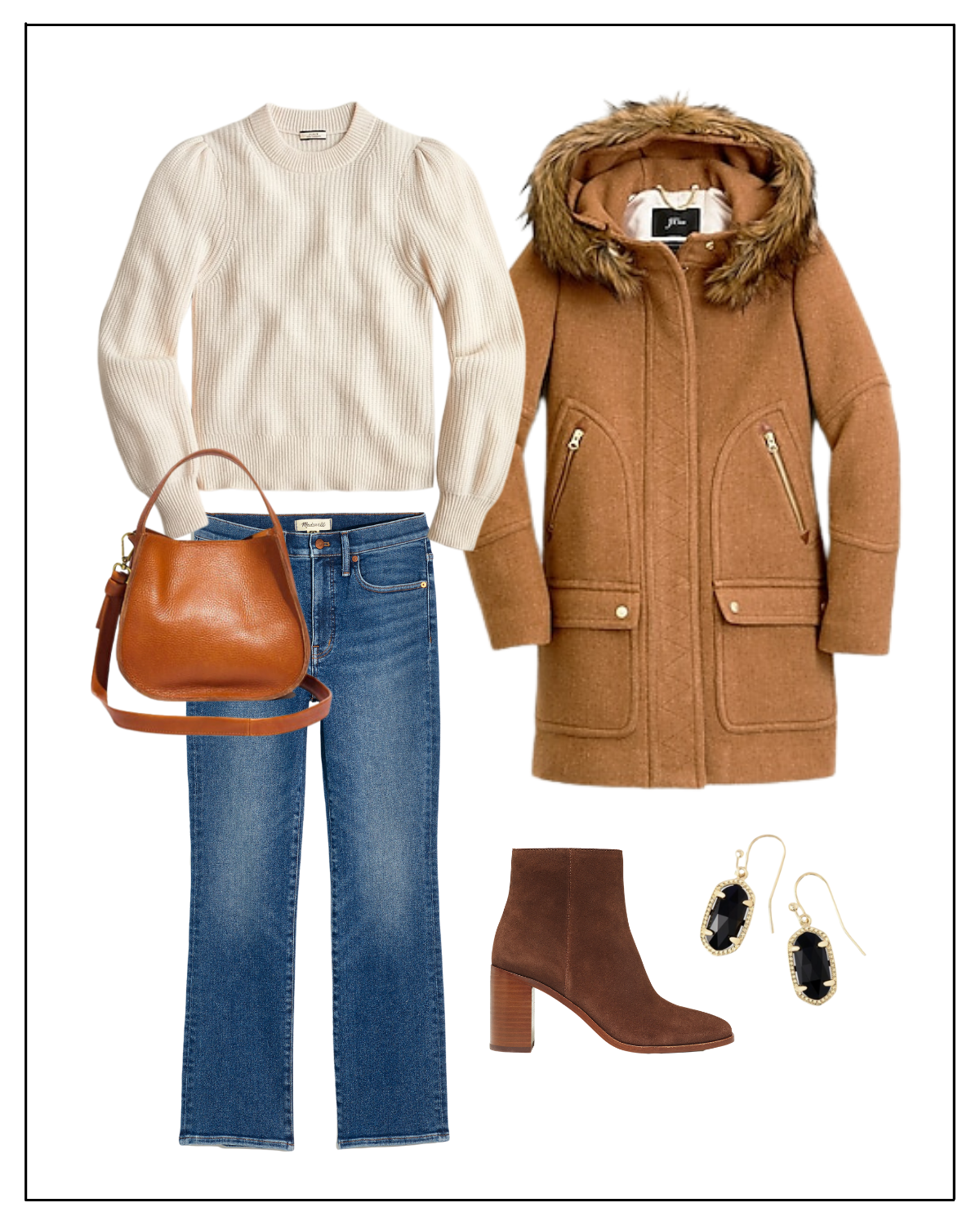 Puff Sleeve Sweater (Sold out but similar HERE) with Classic Jeans (Sold out but similar HERE) & a Coat (Sold out but similar HERE)
This is another look I've featured before. But let's be honest, there is nothing more appropriate for a casual Thanksgiving affair than an adorable long sleeved sweater and your go-to boot cut or skinny jeans. It does get chilly here in Chicago, so the coat is also a must. I'd also opt for a pair of brown boots to keep the color scheme cohesive.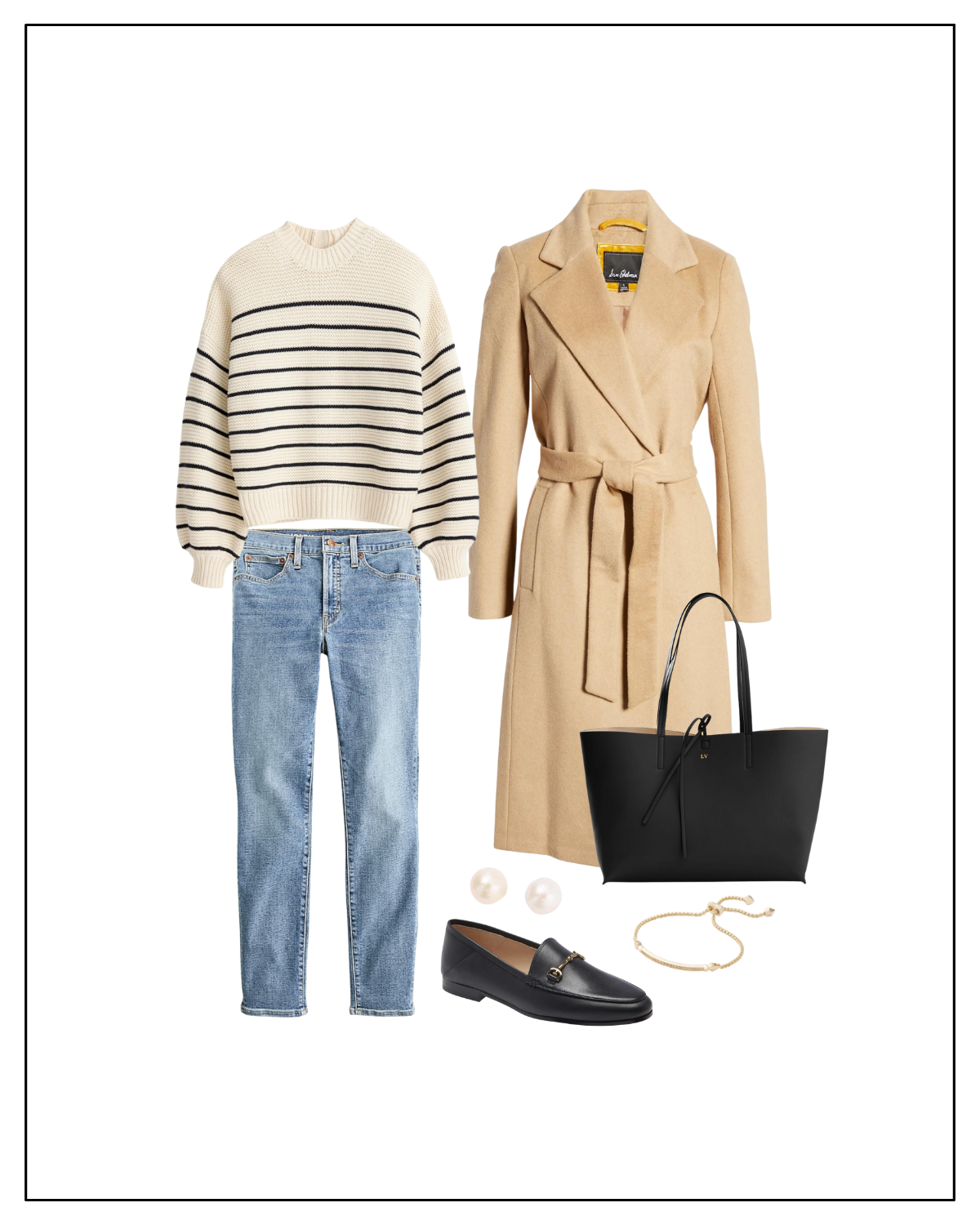 I love a wool coat. I mean, who doesn't? The classic coat makes a great choice for a casual Thanksgiving affair. I love pairing this color with stripes, it gives off preppy nautical vibes without going full nautical, if you know what I mean. For more on how to style stripes, check out this post.
Who doesn't love an all black look? And if you want to lighten it up, you can always choose a white tank top or a statement belt. But this faux fur cape scarf is really all you need to make this casual outfit festive for Thanksgiving. Just throw it over a tank top and jeans, and you're all set! Also, here's a fun twist if you feel like taking this outfit to the next level! Swap the pants for faux leather pants. This is a total game changer and elevates the outfit.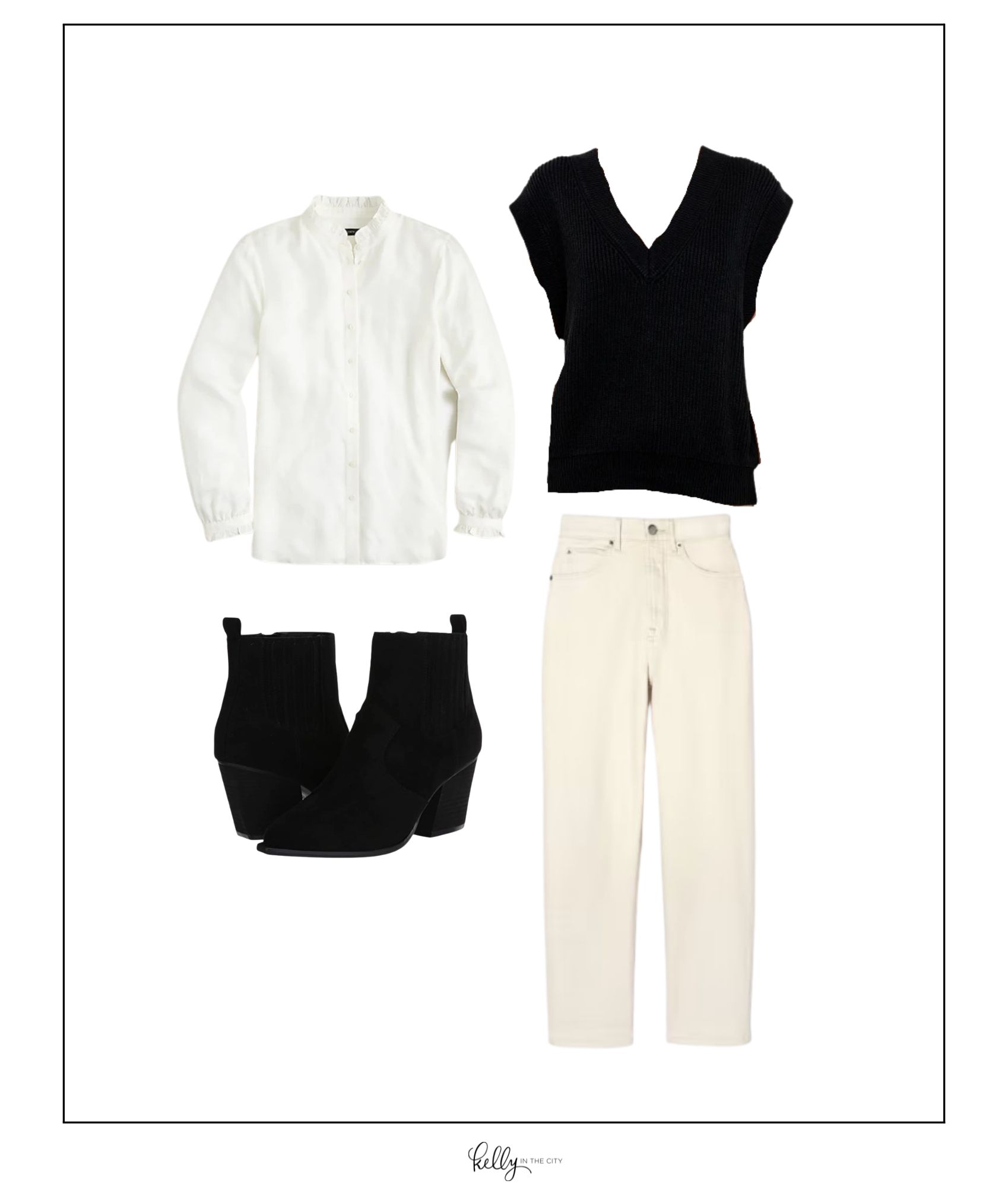 For those of you blessed with warmer weather during Fall, a sweater vest is a great option. It's still cozy and gives you all the Fall feels, but you're not sweating. And bonus! You can always throw on a white button down underneath the sweater vest. This is a classic preppy outfit choice. Another great option would be swapping the pants for faux leather leggings. Personally, I like pairing the dark black top with a lighter, more earthy or neutral tone for Fall. You can switch it up though too!
You guys know, I love a plaid moment. This dress is unbelievably comfortable, and equally cute. You really can't go wrong with plaid for Thanksgiving, or any special occasion during the holiday season for that matter. Throw the dress on with your favorite pair of loafers and you're done!
Again, I love all the earthy tones for the Thanksgiving holiday. This neutral cape scarf paired with the darker corduroy pants is the perfect combo. It's as close as you can comfortably get to an all white look without having to go all white. And trust me, you don't want to be stressing about getting food on your white pants while you're chowing down during Thanksgiving dinner. The darker color pants are a smart choice!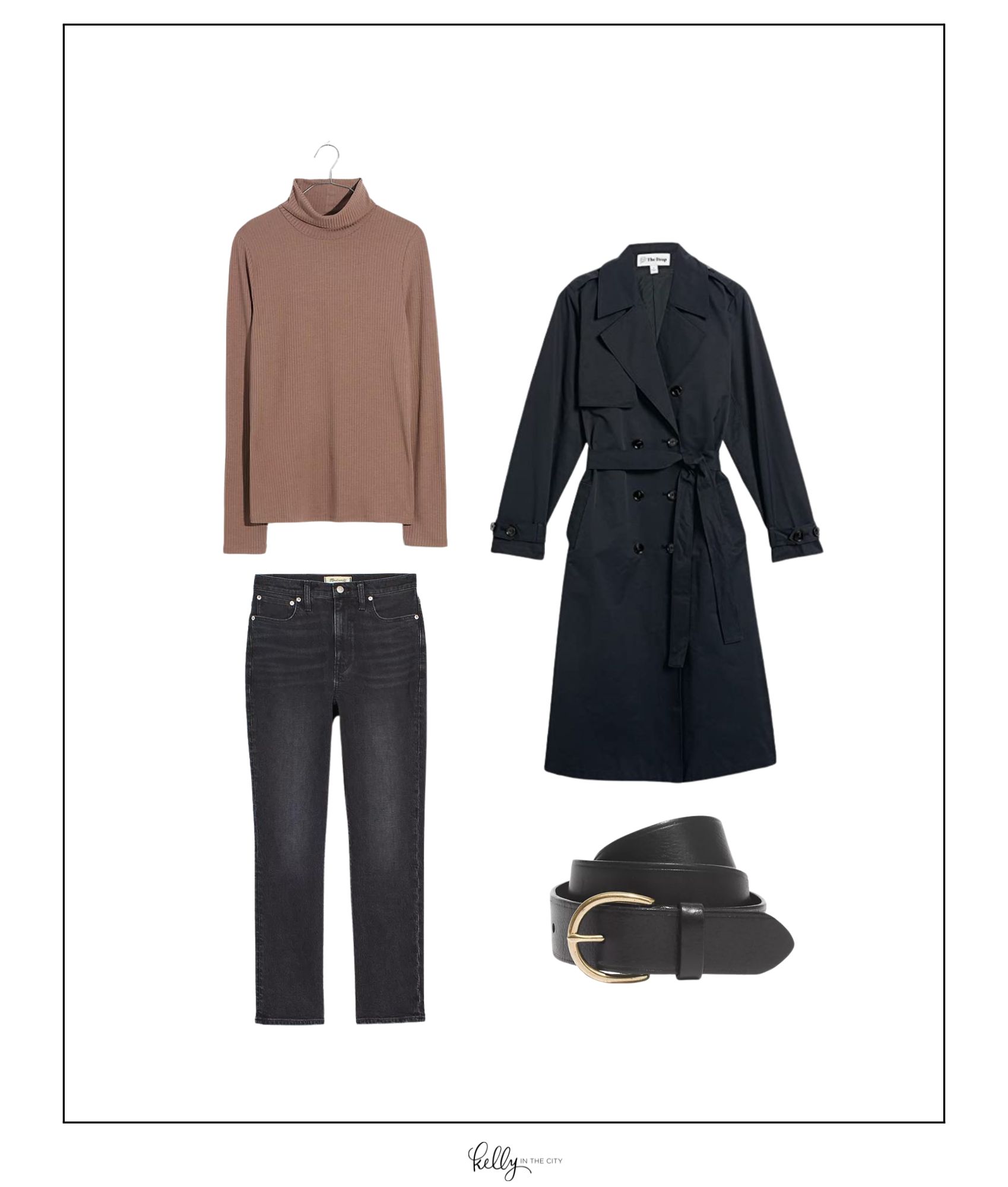 I love the pairing of brown & black for Fall. This ribbed turtleneck is again, giving off all the Earthy feels for Fall. I'd go with a lighter wash on the denim so there isn't such a contrast between the brown and black. It will also help the belt stand out a bit. This look is definitely on the more casual side. So I think a small family dinner, or a late Thanksgiving lunch would be perfect. If you're living in colder weather, you'll also most likely need to add a coat.
Apparently I'm really feeling the corduroy this Fall. It's having a moment to say the least. J.Crew nailed this dress in my opinion. It's cute, casual, but can also be dressed up with the right pair of shoes. For a casual Thanksgiving dinner, you can wear a black or neutral pair of boots. Or even opt for flats if you're striving for comfort.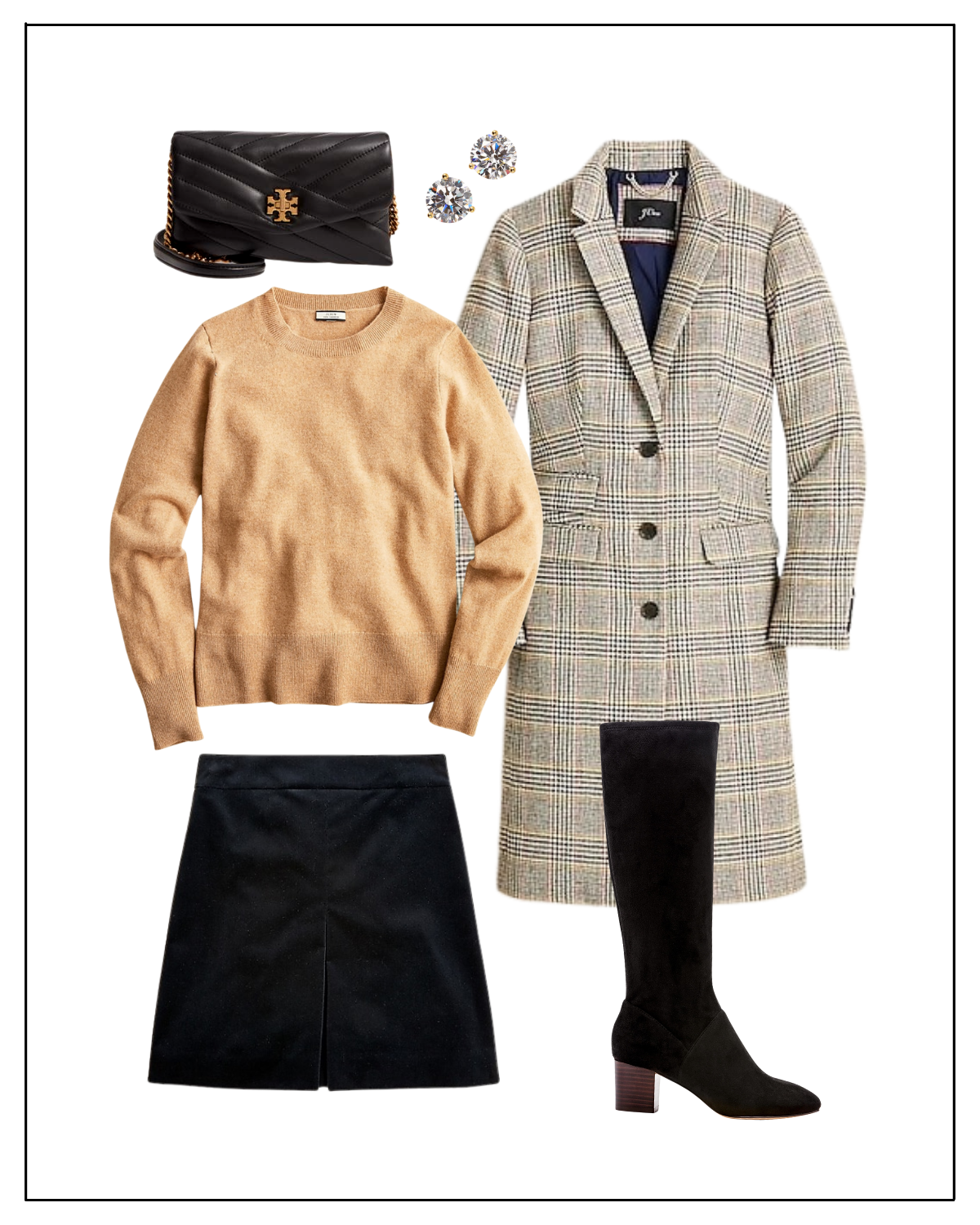 Okay you got me, this look is definitely a little more dressy, but I've featured it in the past and still think it's a total winner. Throw on the black suede skirt and tuck in a camel sweater. The plaid coat is so cute, I'm obsessed. Plus it's perfect for layering during Fall and Winter. I need all the warmth I can get in Chicago. Finish the look with tall knee high black boots, a pair of your favorite stud earrings, and a black crossbody and you're done!
What is your go-to casual outfit for Thanksgiving?
Hopefully these outfit ideas give you some inspiration for the upcoming holiday festivities! This is honestly our favorite time of year in the Larkin household. The girls love the changing leaves, all the Fall activities and decor, and more time with family. With that, I wish all of you a wonderful Fall and Happy Thanksgiving!
If you're like us and experience a true Winter, you can also check out all of my favorite Winter outfit ideas HERE.