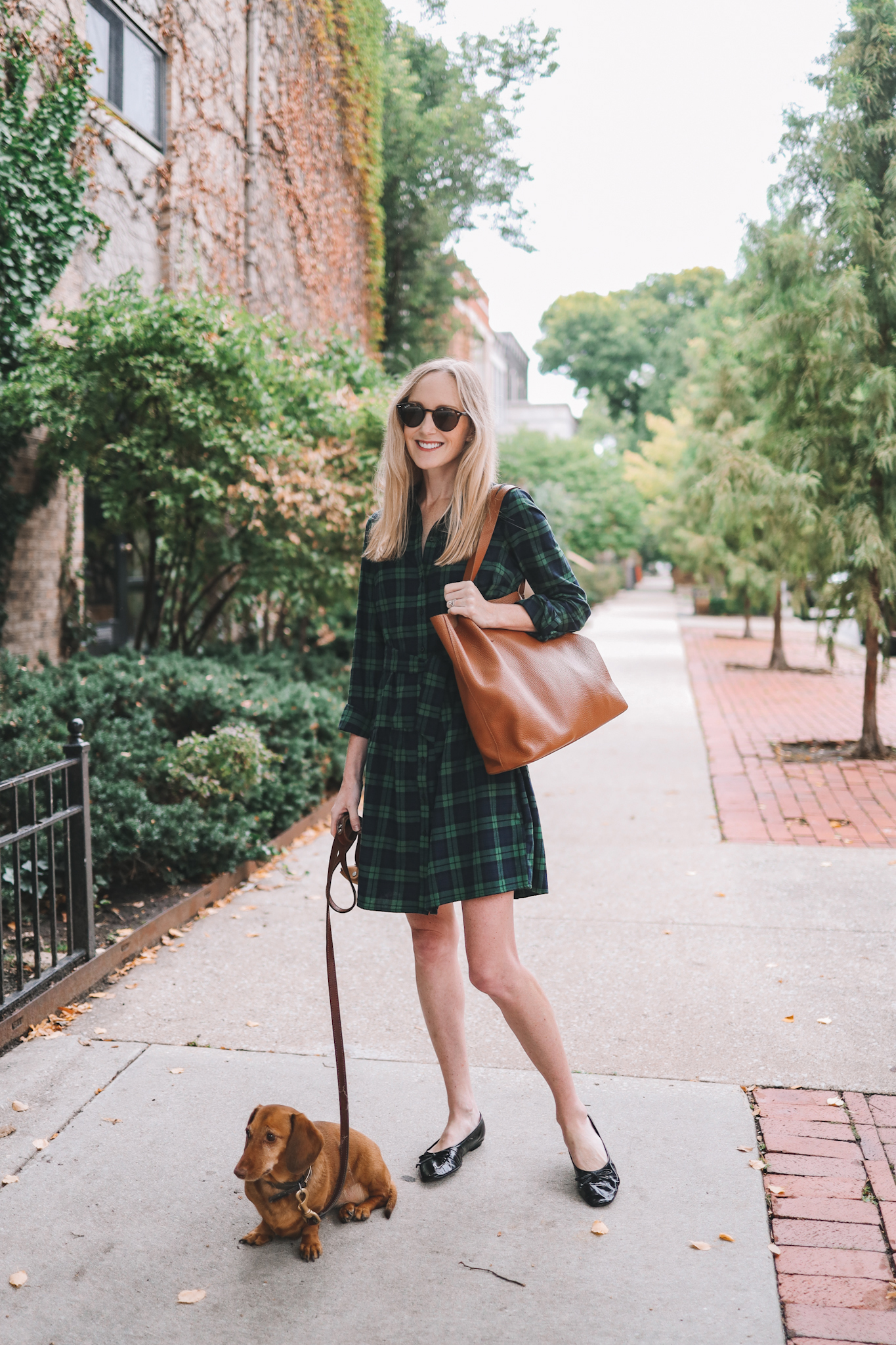 Amazon Flannel Shirt Dress / J.Crew Quilted Lightweight Lady Jacket (50 percent off today! Try this longer style, too.) / Unstructured Ballet Flats (SO comfy. Favorite ballet flats ever. I go a half size down.) / Newer Version of an Old Tote, Similar Here and Here / Sunglasses / Noodle's Leather Leash
I have a new Amazon dress for you today! 
I found this gem recently and felt like it was the flannel version of the famous Tuckernuck Royal Shirt Dress. Between the cute little sash, subtle ruffled bottom, and perfect plaid print (that works for both fall and the holidays), I knew it was a winner! It's lightweight yet cozy, and I think it would look great with flats, sneakers or boots alike. The dress is roomier; I went down one size. 
I should also talk about the J.Crew Quilted Lightweight Lady Jacket (50 percent off today!) because it's one of my favorite purchases from last year. Despite being lightweight, it really packs a punch—and I nearly always have it in my tote just in case. (Folds up nicely and doesn't take up a ton of room!) It's also fantastic for traveling to warmer locations during the colder months in Chicago. I can usually get away with wearing just the jacket to the airport, for example, and then I wear it when the plane's temperature inevitably plummets, and for chilly nights. In terms of sizing, it's generous. I normally wear a size 2 in J.Crew coats and jackets, but needed this one in a size 0. (And I still have enough room to layer underneath.)
That's all for today, folks! <3

Shop the post:
Amazon Flannel Shirt Dress / J.Crew Quilted Lightweight Lady Jacket (50 percent off today! Try this longer style, too.) / Unstructured Ballet Flats (SO comfy. Favorite ballet flats ever. I go a half size down.) / Newer Version of an Old Tote, Similar Here and Here / Sunglasses / Noodle's Leather Leash