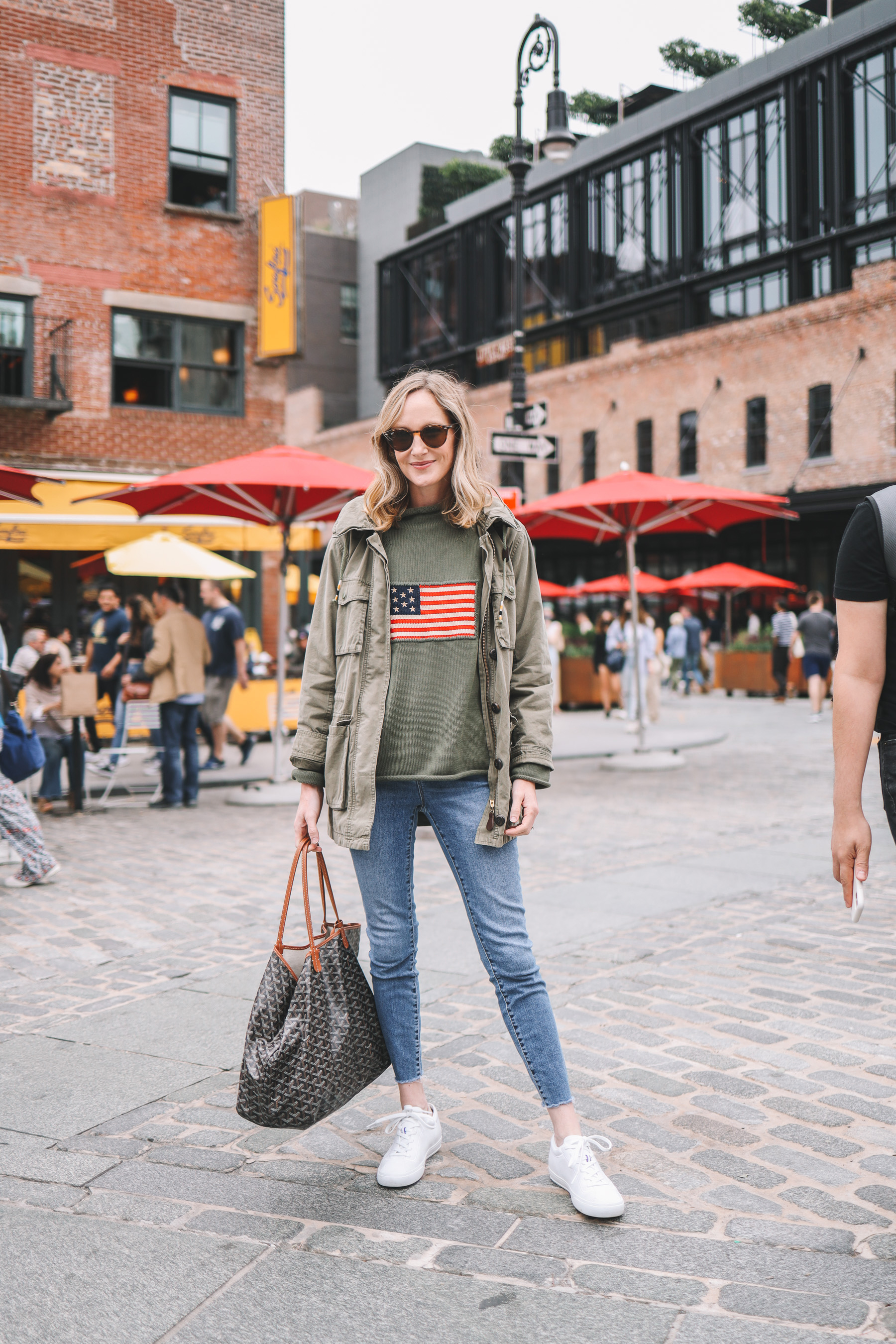 Tuckernuck Flag Sweater (Old, but Ralph Lauren carries a similar one in olive green!) / Jeans (Also love this pair and this pair.) / Rothy's Washable Sneakers / Newer Utility Jacket (L.L.Bean has a good one, too.) / Goyard Tote / Sunglasses
We're back from New York! More on that tomorrow—going to do a little travel diary post of sorts—but wanted to share what was my favorite outfit of the trip. ;)
It was a little chilly and rainy while we were there, and this look kept me cozy and comfy. Here are the details:
Tuckernuck Flag Sweater: I can't get enough of this number! Sadly, it's old, but sign up for restock notifications because every once in a while one becomes available. I really hope that Tuckernuck decides to bring this one back because the roll neck style is my fave. (Runs slightly big, btw. I went down one size.) Ralph Lauren does, however, carry a similar one in olive green.
Jeans: I don't know what J.Crew has been doing to their denim lately, but the jeans seem to have the perfect about of stretch. Okay, after further investigation, I learned this: "Crafted from premium cotton from Turkish mill Orta, it's specially formulated to keep you comfy all day without ever losing its shape." Aha! Knew something was different. A+, J.Crew. Also love this pair and this pair.
Rothy's Washable Sneakers: I recently upgraded to these magical sneakers and I'm never going back to non-washables! (Though I do really love this pair from J.Crew Factory, which is much more affordable.) The Rothy's run TTS, and they require zero break-in time. Insanely comfy the moment you slip them on. Couldn't be happier with my purchase.
Newer Utility Jacket: Green on green was a bold choice, and I'll admit that I didn't think it through. But I think it works okay?! Love a good utility jacket, too. L.L.Bean has a good one if you're looking for other options.
Goyard Tote: I've had my Goyard tote for years, and it's a go-to when I'm not traveling with kids. Makes me feel a little fancy. :) I'll be honest and say that while I absolutely adore it, the Louis Vuitton Neverfull tote's quality is better. (In case you're deciding between the two!) The Goyard tote feels more like a beach bag. (Even though I think the print is better than the LV!)
Sunglasses: My tried-and-true sunnies. Never leave home without 'em!