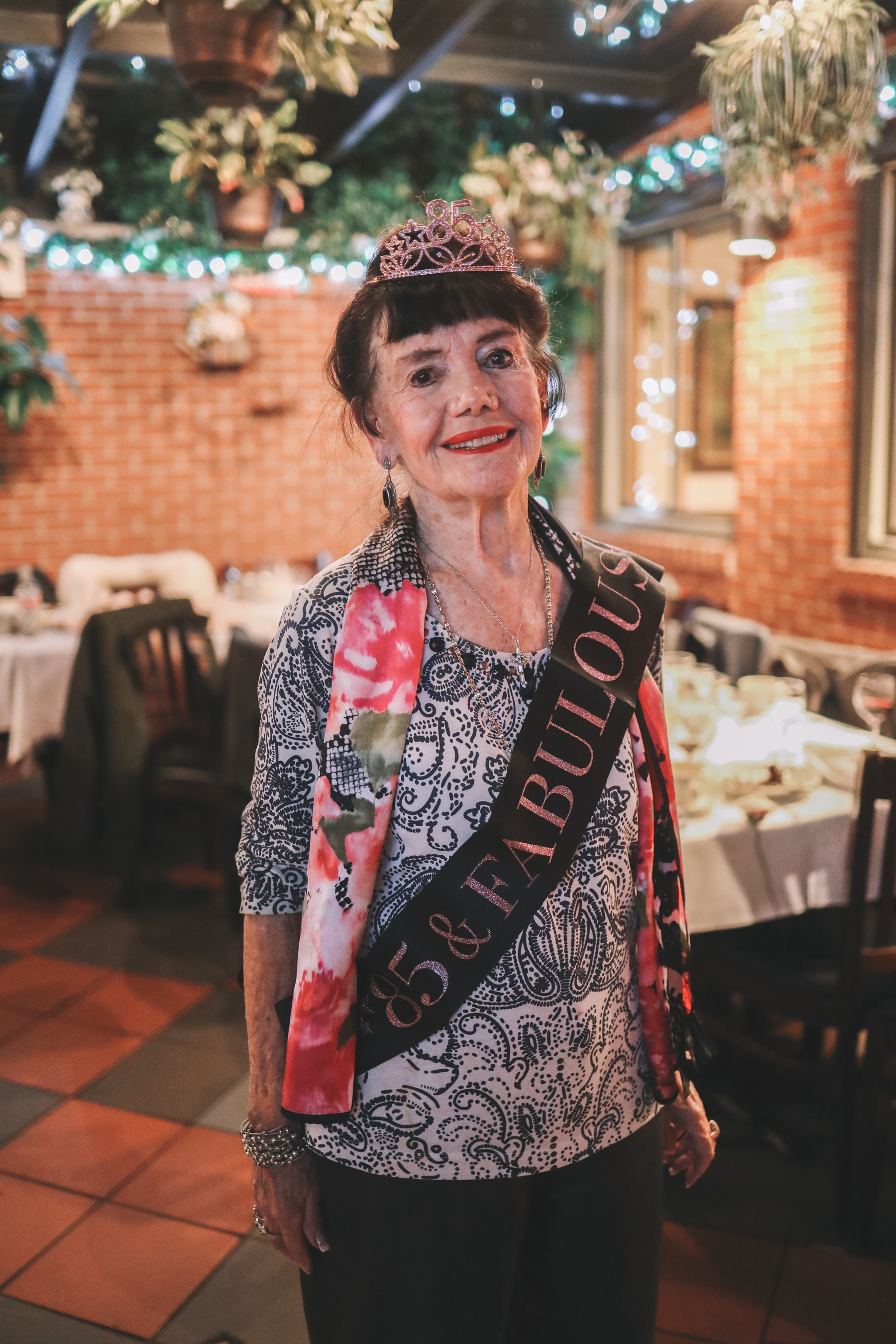 On Saturday, we celebrated my grandmother's 85th birthday in New York, and it was perfect. I think everyone's still on a "party high." ☺️
The guest of honor
A born-and-raised New Yorker, Grandma is the quintessential City Girl, and I know my love for the Big Apple–and sequins and shoes and faux fur–comes from her. When I was in college, she married Dick, the nicest midwestern guy. (We joke that I followed in her footsteps there, too. Awww, Mitch.) This was back before any of us had met Mitch, but they actually asked me to be their maid of honor! It was, as the name suggests, such an honor. And while I can't imagine how difficult it must be to lose your spouse, I'm so happy that Grandma and Dick found each other later in life. Together, they have the best adventures–bouncing around from New York to Florida to Wisconsin–and they truly bring out the best in each other. Dick, you're the absolute best, and thank you for making Grandma so happy and taking such great care of the woman who's responsible for the entire family!
Is goes without saying that Grandma's fabulous, too. 😉 We adore her. A fashion enthusiast, Grandma is always up on the latest trends. She's technologically savvy, which I feel like is rare with grandparents these days, and regularly sends update e-mails to the family. (Favorite e-mail remains the one that included the photo of Grandma in a faux fur coat in the woods in Wisconsin!) She's also a beautiful singer. My dad and his siblings grew up with music in the house, and they passed that down to their kids, too. And I just love how well-read she is. From current events and politics to literature and sports, Girlfriend always knows what's going on and wants to talk. Every time I chat with her, I learn something new… and she's taught me the value in lifelong learning. Most importantly, Grandma puts family and love first.
I wish I could remember the exact wording of my father's toast, but he said something to the effect of…
Grandma, you are adored by all. By your four children, two sons-in-law, one daughter-in-law, 11 grandchildren, two grandchildren-in-law (? ha!), two great-grandchildren, and another great-grandchild on the way. ❤️ You are the foundation for everything, and we love you!
The attendees
With the exception of my brother and sister-in-law who are doctors and couldn't get out of their shifts, the entire family made it! (Patrick and Kim were there in spirit, too!) My Uncle Alex flew up from Florida; my cousin, Rory, flew from William & Mary; my cousin, Mackenzie, and her boyfriend traveled from Philly; the Larkins flew in from Chicago; and the rest of the crew either walked, subwayed it, or drove in from Long Island or Pennsylvania. As families grow and get older, it becomes harder and harder to get everyone in the same place at the same time. But how lucky are we that nearly everyone could make it work?!
We're actually starting to talk about doing a "Sheehan Family Open" every couple of years. We're stealing this from my sister-in-law, who does it with the other side of her family. It's so good, though! In short, though, you pick a new location–a place that's somewhat affordable and easy to get to for most–and take a mini family reunion/trip every other year. There are t-shirts, too. 😜 Aunt Michelle and I decided that we're going to plan the first one, which will happen in summer 2021. So excited!
Oh, and in case you're wondering, we did take the girls to the party, but they slept through 80 percent of it. (It wasn't that late, but Emma was tuckered out from seeing "Frozen" on Broadway, and Lucy is… well, five months old, haha.) Lucy did wake up for like the last 15 minutes, though, which was really nice!
The location
We had the party at Villa Mosconi, an Italian restaurant in the Village. My dad's been going there for years, so it was the perfect choice for the occasion! The food was exceptional, the people were the friendliest and most helpful ever, and the space was STUNNING. I'll let the photos speak for themselves, but holy moly. We had it in the restaurant's back room, which is strewn with twinkle lights and greenery. Ask for Jerry if you're interested in having an event there! Can't recommend it more.
The "activities"
For Grandma's last big birthday bash, we unveiled this hilarious video on a big projector screen at the restaurant. This time, though, went a different route:
85 Memories: We got these cards, and each family member filled out a bunch. The idea is that for the next 85 days, Grandma will start her morning with a special memory. Of course, people continued to fill them out as the wine continued to flow, so there will be some pretty funny ones mixed in there. ;) But it was a REALLY enjoyable thing to do at the event. So many happy times were brought up, and such a great trip down memory lane. (We put them in this jar, btw.)
85 Roses: At the beginning of the night, each guest was given ~5 roses, and throughout the dinner, everyone gave their roses–one at a time, to represent all 85 years–to Grandma along with a hug and/or some kind words. They also went into the jar!
"Fabulous" pics: This "85 and Fabulous" sash and crown were a must! I didn't take a ton of photos because I really wanted to be present, but I took out my camera at the end of the night, and everyone posed for "fab" photos with Grandma. And while the quality isn't great because the room was very dark and I forgot  my flash, I'm so glad we have these because they're AWESOME, haha!
The outfit
I got a few questions about what I was wearing that evening, so wanted to quickly share:
Dress: It's from J.Crew Factory! If you can't find your size, regular J.Crew carries similar styles here, here and here and here. I would say that the Factory version runs a little small. I went two sizes up and it's great! (Though do take in consideration that I hate tight-fitting dresses. So I might recommend just going one size up. 😜)
Shoes: They're from Kate Spade and VERY comfy. Mine are a couple of years old, but this is the newer pair! Basically the same; slightly different toe shape. If you're looking for the pointed toe, try this pair from J.Crew. (Also here.) This pair is adorable, too.
Happy 85th birthday, Grandma!
Grandma, we love you so much! Saturday was magical, and we can't wait for Christmas and to have you and Dick out to Chicago. Here's to many more. ❤️