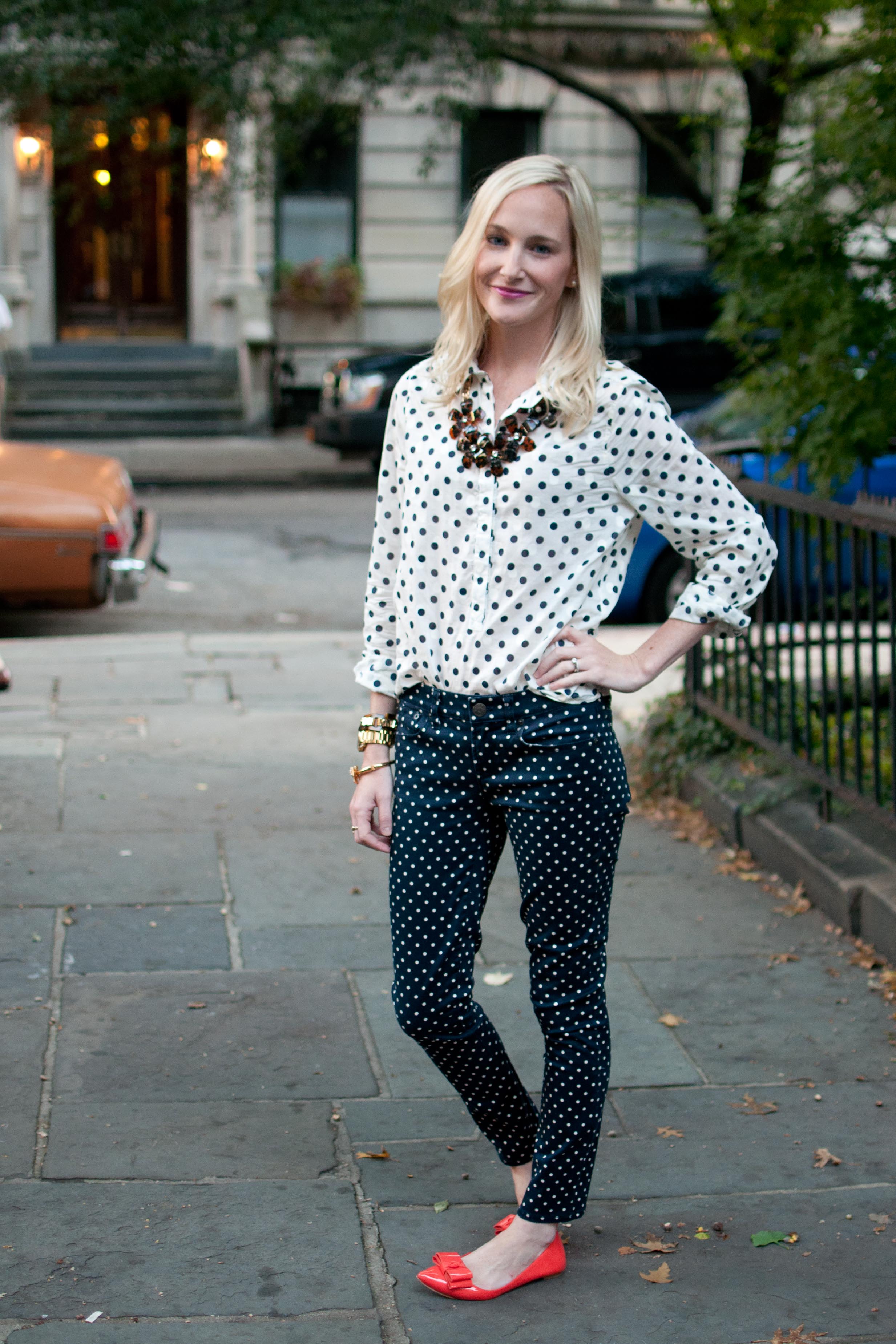 Okay… So I'm completely decked out in J.Crew today. I'm usually wearing one or two Crew pieces, but now that I'm looking at this outfit, I realize I've gone a bit overboard. ;) (Especially with the polka dots on polka dots.) But taking risks is what fashion is all about, right?
Top: J.Crew Factory, similar here, here and here / Jeans: J.Crew / Flats: J.Crew, same flats in nude, blue and black / Necklace: SassySteals (inspired by J.Crew) / Watch: Michael Kors / Bracelets: J.Crew (Bow) and C.Wonder (Sold out), same necklace here in gold, and necklace version available as well! (And kind of random, but obsessed with these tortoise C.Wonder earrings!) / Lipstick: Clinique / Earrings: J.Crew, less expensive version here
These photos were taken last week after filming the Huff Post Live segment with the fabulous Derek Warburton. (So fun!) But back to the present tense. OMG, fashionistas. Tomorrow we get our apartment! I'm psyched! We don't get our furniture until next Monday, but still. First thing I'm doing? Organizing my closet. I'm totally being organized this year. Totally.
Top: J.Crew Factory, similar here, here and here / Jeans: J.Crew / Flats: J.Crew, same flats in nude, blue and black / Necklace: SassySteals (inspired by J.Crew) / Watch: Michael Kors / Bracelets: J.Crew (Bow) and C.Wonder (Sold out), same necklace here in gold, and necklace version available as well! (And kind of random, but obsessed with these tortoise C.Wonder earrings!) / Lipstick: Clinique / Earrings: J.Crew, less expensive version here