Dyson Outsize Cordless Vacuum (Clip-in battery! Note that this one has a larger dirt canister than our V11 Torque, pictured above.) / Other Room Details
For the first time ever, we set out our Christmas decor early. I blame the snow we got in Chicago this past weekend. We were stuck inside for most of it, and when Mitch suggested pulling out the holiday stuff, it sounded like a fun, cozy activity. So we did it, and I have to say that it's lovely. Christmas is such a short season; might as well enjoy it for as long as we can! (Plus, we're doing Thanksgiving at my in-laws, so no need to keep the fall decor out any longer.)
With the house feeling very merry, I've been inspired to finish my Christmas shopping. (My goal is to actually start wrapping right after Thanksgiving so Mitch and I don't end up staying up late on Christmas Eve, like we always do. 😆) Walmart is one of our favorite places to shop for gifts as the prices are crazy competitive, the shipping is fast (usually 2-3 days!), and the inventory is extensive. I actually went down Emma and Lucy's Christmas lists and found 90 percent of the gifts on Walmart. So easy. But Walmart isn't just for kids' presents! Here are some of our favorite gifts for kids and adults: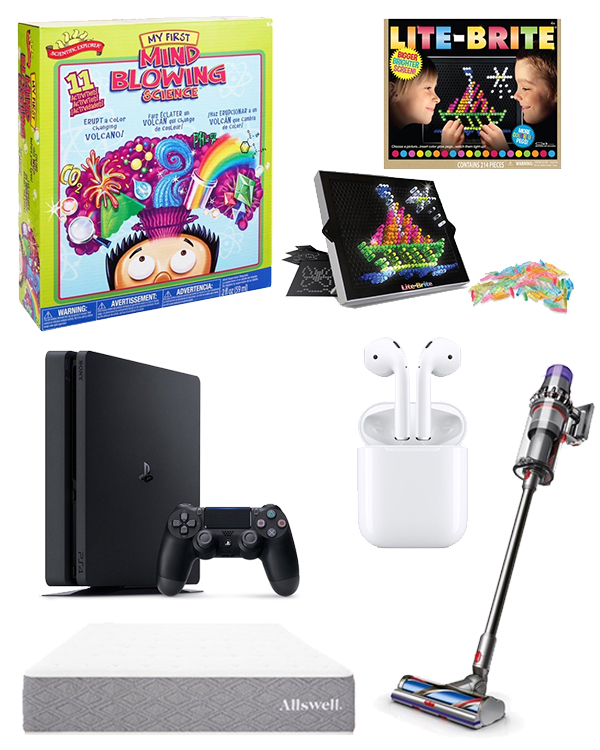 My vacuum brand loyalty has CHANGED. For years, I swore up and down about this cordless stick Hoover because it had a clip-in/clip-out battery—a total game-changer if you want to be able to vacuum your entire home at once. (Simply buy an extra battery and pop it in when the old one dies!) But then my spare battery bit it, and Dyson came out with a clip-in/clip-out battery model—newest here (with a larger dirt canister), our model here. And so I splurged and went Dyson… and whoa. I can't get over the difference. While I'd still say that the Hoover is very good, the Dyson picks up considerably more and I can go longer between vacuum sessions as a result. (Our home feels exceptionally clean when I use it!) The best part, though, is that I've never had to swap out the battery mid-vacuum because it lasts up to an hour on its own. With the Hoover, I had to swap out the battery every few rooms. (Note: The newer model lasts up to 120 minutes!) Anyway, I'm ridiculously happy with my purchase, and now that Dyson offers a clip-in/clip-out battery feature on some models, I'm Dyson for life! —Kelly
As the resident dude on this blog, I can tell you that the Playstation 4 is the best console of the last decade. Sure, there's a new Playstation… but good luck finding one amidst the global supply chain meltdown and holiday rush. If your guy is stuck inside like most of us are during the winter, he needs a game system. And if he's without one, the Playstation 4 is ripe for the taking and my favorite on the market. —Mitch
The Larkin Family swears by Allswell. We got Allswell mattresses the moment we moved into our home because they're so insanely comfortable—better than any expensive store brand out there—and affordable. Better yet, the mattresses come neatly rolled up in a box so you can easily get them to where they're going in your home. Once you get them to the desired rooms, you unbox and cut the plastic off them—and they expand like magic. Home run. —Kelly
If you're lucky enough to have someone on your list without AirPods, just buy them and wrap them immediately. (We actually purchased them from Walmart for my brother-in-law! I'm not ruining the surprise here because there is no way he reads the blog. 😉) Anyway, AirPods are the single most life-changing piece of technology since the iPhone. They work seamlessly with your iPhone, iPad and/or Mac… and they come in a convenient charging pack that you can keep in your pocket or bag. (They're always with me and always charged!) They're the only wireless headphones I've found to be truly reliable, and the result is that I pop one in whenever I have a free minute to listen to an audio book or podcast. They're great. Frankly, you could give a pair to somebody who already has them and they'd still be excited! Once an AirPods fan, always an AirPods fan. —Mitch
I recently had an epiphany about kids' gifts. Activities are better than toys. Of course, toys are important too. But whereas traditional toys can lose kids' interest pretty quickly, activities potentially provide hours of entertainment. And educational activities? Even better. No more "I'm bored" complaints when you have a good number of these activities stored away! (I keep them in our mudroom closet, right next to our kitchen, and often break them out when cooking dinner.) Anyway, I let Emma choose activities every once in a while when we need a restock. She recently chose My First Mind-Blowing Science Experiment Kit, and it occupied her for hours yesterday today, when it was too cold/rainy/snowy to go outside. Eleven sciences experiments included! —Kelly
This was a sentimental impulse buy during the pandemic, but it's quite the hit with Emma! Once again, it's an activity. As this one isn't messy, we keep it in the game cabinet in the living room, and she can grab it whenever she wants. I love that it hasn't changed at all since we were kids! On the weekends, when Lucy is still sleeping, I'll often sit with Emma (and my coffee 😉) and do it with her. It's a surprisingly relaxing way to start the day, haha! —Kelly
More gift ideas from the Larkin Family

Mitch's picks

Kelly's picks

Emma's picks
Be sure to use Walmart's Gift Finder for additional inspiration!
This post is sponsored by Walmart; all opinions are my own. As always, thank you so, so much for supporting the partnerships that keep Kelly in the City up and running!