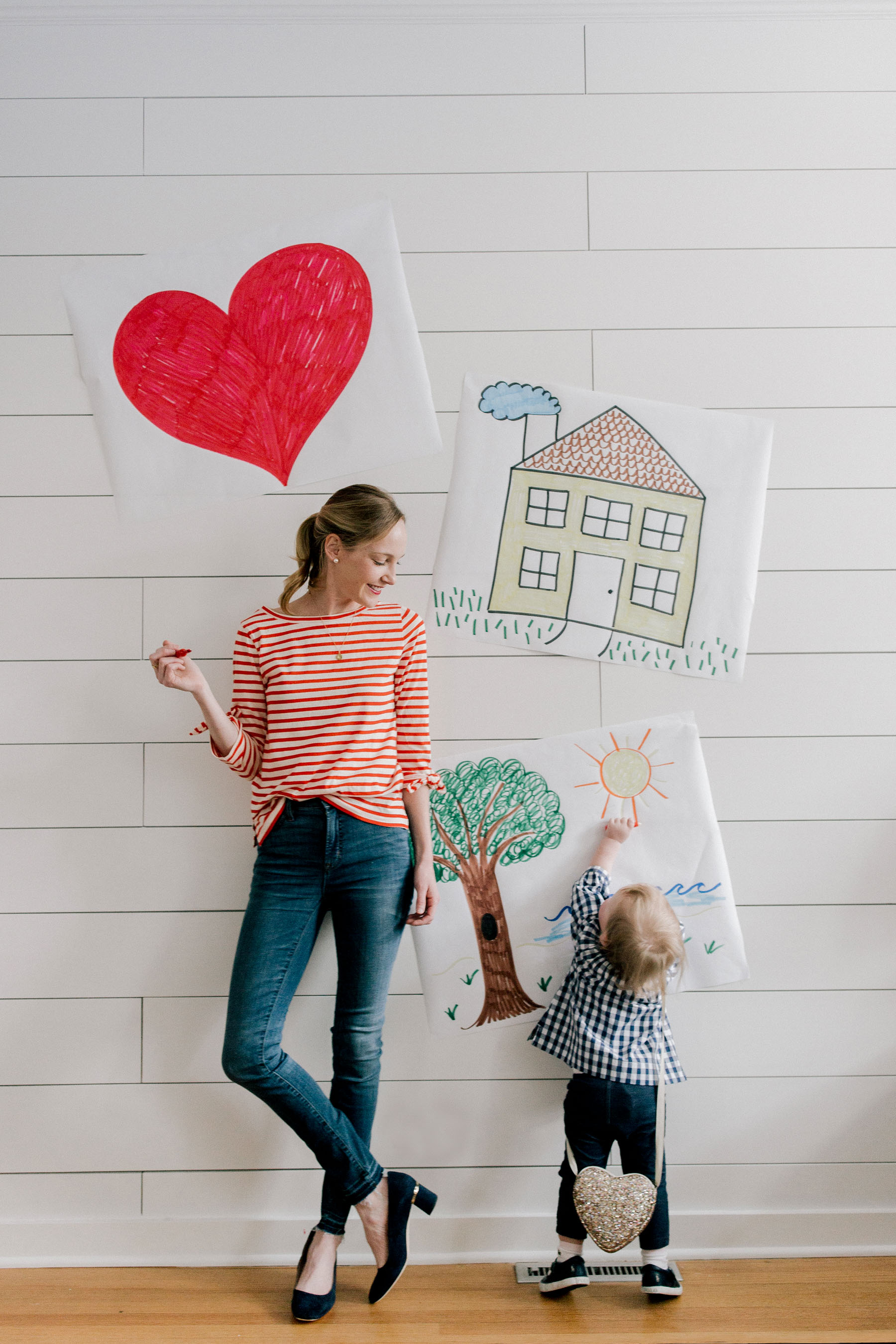 Kelly's Pants, Sweater Blazer, T-shirt, Sweater, Dress & Jeans / Emma's Top & Bag / Mitch's Blazer, Shirt & Pants c/o
Mitch here!
Happy Valentine's Day, everyone! Or, you know: screw Valentine's Day. This holiday is the worst!
Before we start, I have to tell you something exciting: Kelly and I are taking over J.Crew Factory's Instagram account today! Be sure to follow along; that's where today's photos are coming from!
But let's get back to it:
February 14th has taken on very different meanings throughout the life of Mitch Larkin.
Cool! Red candy all day!
Yikes, girls!
Depression!
You know what? Screw Valentine's Day!
Crap! I have a girlfriend and I can't say "Screw Valentine's Day" anymore. What do I do?
Marriage.
But I thought I'd take a moment to reflect on "my girls," and share what they mean to me–and some cute, funny things about them–on this wonderfully awful holiday we all agree to celebrate for some reason.
14 Things I Love About My Girls
That they're "my girls" in the first place: I love that. And JUST for the sake of this post, I'm including Noodle as one of "my girls." Not to discount Noodle, but she's a dog… and while she's very a very good-looking dog, she's an annoying one. (Currently mad at her because she ate my favorite pair of shoes.)
That I get to come home to them: When I open the door, it's like I've won a sweepstakes. Fireworks go off; confetti falls from the ceiling. Noodle barks. I get Emma hugs and a little wifey kiss and a big embrace. Life is so good when I come home.
Their hugs: While I'm on the subject, Emma gives the best hugs. It's this sort of lean-in nuzzle thing. She doesn't even use her arms. How crazy is it that she knows what a hug is? I guess I've been giving her about 100 hugs a day since she was born, so maybe she learned it or something? Is hugging an inherent human trait? Why am I still writing this?
Their kisses: Emma does this funny fake kiss thing where she puts her face really close to mine and just holds it there. It's awkward but so incredibly cute. She won't do it on command, but when I get one, it's just the best thing. I will not comment about the wife kisses for fear of said wife.
That they'll rough house: Emma picks on me. She pushes me around and sneaks up to pin me when I'm laying down. It's the best surprise when I hear her creeping up to pounce. I live for that moment… which is why I lay down so often. I'm really laying down most of the time, but I do it for my family.
Their singing: I can't sing, but Kelly and Emma can belt it out. "Wheels on the Bus" ; "Itsy Bitsy Spider." That's it, actually. That's what they sing all day long. They sound great, though, and I'd be a happy man if I only heard those two songs for the rest of my life.
Their make-believe games: We caught Emma doing it for the first time a few weeks ago. She was carrying around Mr. Monkey and setting him up on the sofa, or on the chair or in her room. She would put him down and give him a cup of coffee or a toy. It blew my mind. Kelly pulled out her phone and texted me, "Look at her playing make believe!" so as not to interrupt. So now, as a family, we play make believe. And it's really fun. I even sit up for it.
Early-morning wake-ups: I sound like a crazy person, but I love getting up early with Emma. Every single time I walk into her nursery in the morning it's different. Sometimes we play in her crib. Or in her room. Sometimes we have an early breakfast or we stare out the window. Sometimes we watch a movie and sometimes we color. It's like we have the whole world to ourselves before anyone else is awake.
That they let me hit the snooze button once in a while: That being said, I love my mornings off, and I love Kelly for giving them to me. That tap on the shoulder when the monitor goes off and a little, "I got this one" nod is all I need. It's like a snow day four times a week. Thanks, Kelly.
That I get to nap with them: Not every nap time is a successful nap time, and after we've exhausted the rest of our options, one of us will go and lay next to Emma's crib to comfort her back to sleep. Maybe it's the 17 months of sleep deprivation or the quiet comfort of Emma's nursery, but without fail, I fall asleep right there on the floor. To be honest, I probably fall asleep before Emma. The best part is that Kelly can't wake me without waking Emma so the nap stands. It's like a parenting chess match. The best is when all three of us fall asleep on the floor together.
Emma and Noodle's relationship: Noodle is a great dog. There, I said it. My affection for Noodle grows as I watch Emma grow up with her. They're best friends. When I walk into the room, I get an Emma smile, but when Noodle shows up, she gets a full-on scream and a dance. I'm not jealous.
When Emma calls me "Daddy": That word doesn't feel like a fit for me yet. When I hear it, I get like the opposite of deja vu. But Emma's said it a couple of times so far, and every time I hear it, I think about how lucky I am.
Emma's love of snacks: I think it's worth mentioning how nice it is to finally have a family member who appreciates snack time. I don't know if you've gathered it from the pages of this blog, but Kelly doesn't snack. Emma and I do, though. Like all the time, and it's nice to have a partner in crime. ;)
That my wife is my best friend: I mean, I could write a thousand pages about how much I love Kelly J. She's beautiful, caring, kind, intelligent, thoughtful, and creative… and to top it all off, I'm pretty sure she loves me right back! I knew from the moment I met her that I wanted to be sitting where I am right now. The only tough part here is keeping up with her as a spouse! She gives so much to her friends, her family, her daughter, and to me that I'm in awe when she has enough left to run this blog and deal with Noodle eating all the shoes around here. I love you more every day Kelly J. Even though this holiday sucks, I wish you a happy Valentine's Day, and I'm so proud to be your husband.
Mitch. Out!
Shop the post:
Kelly's Pants, Sweater Blazer, T-shirt, Sweater, Dress & Jeans / Emma's Top & Bag / Mitch's Blazer, Shirt & Pants c/o
SaveSave