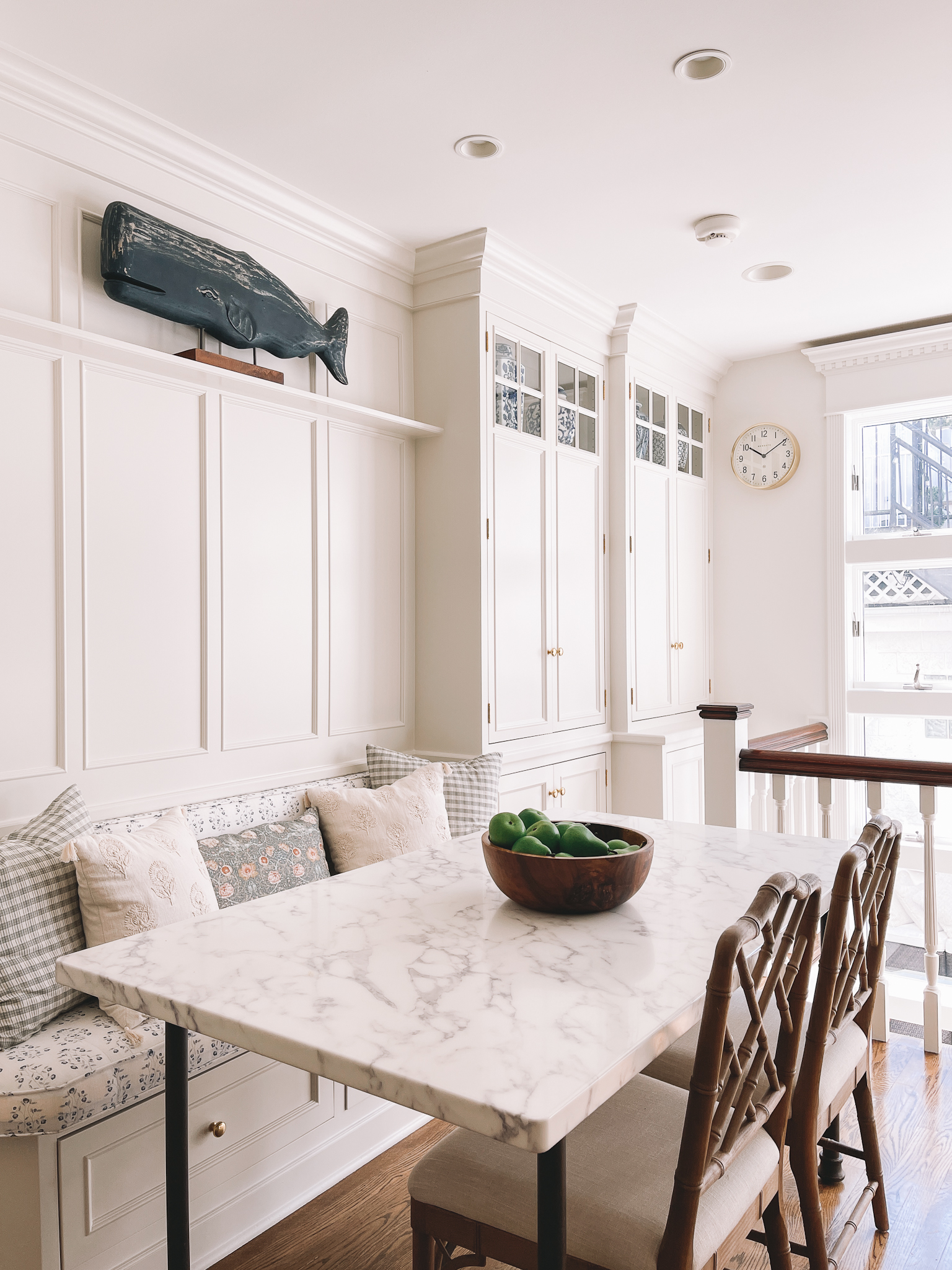 Cabinet Paint Color: Benjamin Moore Dove Wing / Ballard Designs Dayna Chairs / Wooden Bowl / Artificial Pears That Everyone Keeps Biting / Pillows (Here are the green checked ones, and here are the similar white ones that we have in the living room!) / Brass Clock / Faux Marble Table: The original inspiration was this one from Crate & Barrel, but we went with faux marble since we have young children. Have had it for four years and looks brand new and very real. Find it at Overstock, Macy's, Home Depot, Lowe's, Wayfair, and Wayfair #2. (Slightly different design.) / Old Broyhill Whale (Wayfair has lots of options, though.) / Floor Stain: Minwax Antique Brown
Hello! Here are the first 10-ish things that come to mind this morning:
Mitch and I started watching "Mad About You," and I'm into it. I remember really liking it in middle and high school, but it's even more enjoyable to watch it as an adult who has a love for New York! (Though seriously, that massive kitchen. Get out of here. 😆) We actually started watching the show late Friday night when our friends Nicki and J.R. were over because someone brought up Paul Reiser, but then I wanted to keep with it. Also, I just Googled it and there was apparently a reboot?! DON'T TELL ME WHAT HAPPENS!

Madewell is having its Insiders Event. That's big! It means that if you sign up to be an "Insider" right now (which is free), you can take 20-25 percent off the whole site depending on your status. (Also, did you know that Madewell lists all its promo codes here? Crazy.) Above are my Madewell favorites!
Lucy finally started sleeping through the night again. Her molars were giving her a lot of pain for a couple of weeks, and she was up every night multiple times—even with ibuprofen. So glad she's feeling better… and that everyone is getting more than three hours of sleep again. ;)
We saw Ben Folds with our friends Gretchen and James at Ravinia over the weekend! It was amazing. I've loved Bed Folds since high school—so many high school references today, haha—and it was emotional, for sure. (Miss you, John Cifelli!) There are only five Ravinia shows left this year, so GO GO GO if you've been wanting too! We brought the Crate & Barrel "Table in a Bag" (previously called the "Ravinia Table"), charcuterie board snacks and wine/canned drinks. And btw: We actually Ubered it this time because it was only $45 each way from Lincoln Park and we all had babysitters to get back to. Was really lovely. Good to look into depending on how many people you're going with! (Though the Metra is free if you show your ticket.)
We attended our neighbor's 8th birthday party at our gym's pool on Sunday night, and it was magical. It was just one of those wonderful end-of-summer evenings where the weather is warm but crisp, and the girls were having a ball together during a time that's usually reserved for routines. Do you remember those nights as a kid? When the parents were enjoying themselves so much that they pretended to lose track of the time? For my younger self, somehow those "bonus" hours were sweeter than any others. And the timing of these 2021 bonus hours—falling on the last summer weekend—made them even more special. At the very end of the night, it was just the three families on our block, and I remember saying to Natalie, "Well, aren't we a lucky crew?" ♥️
Have you heard of the designer Josh Young? I love him. As I've been talking about a lot lately, my style—both in terms of my home and clothes—changed a lot over the pandemic. Whereas I used to be drawn to all things blue and nautical, I know find myself loving the simplicity of black and white, neutrals, and wood tones. (And more city, if you will. Which works well, as we live in Chicago, not on the ocean. 🙈) Anyway, I stumbled upon Josh Young via Pinterest, and then came to discover that he's friends with Danielle and Kira! Meant to be. Anyway, his work has been really inspiring me as I tone things down in our bedroom/office space upstairs. More on that below!
I'm hoping to shoot some home content this week. Specifically our kitchen, which has been finished for a while now, haha. (Above photo is a sneak peek.) Of course it's dark and rainy for the foreseeable future, but cross your fingers for me for Thursday/Friday. My end goal is to create a part of this site entirely dedicated to home decor!
I mailed a friend's thank you cards three years late. Oh my goodness. So I was over my friend Natalie's house last year, when we were talking about how tough snail mail can be with small children. We grab it from the mailbox, but then don't open it because we get distracted by a kid—and then it gets shoved in a drawer and it forever disappears into the abyss. She held up a bunch of letters and was like, "These thank you cards are from a year ago! Never mailed them! And now I can't because it would be weird!" My response was, "Oh no. People will get a kick out of it. Let me mail them for you!" We laughed, she agreed, and I shoved them in my bag and vowed to mail them on the way home. Well, guess what? Forgot to mail them. And then apparently didn't use that tote bag until LAST WEEK, when I found the forgotten now three-year-old thank you cards. I need to admit that for a second there, I thought about not mailing them. Because it would be weird. But then said to myself, "They must be sent." So I wrote little notes to the recipients on the backs, apologizing for my mistake, and dropped them in the mailbox. And can I tell you? People enjoyed it. Dave and Natalie received many text messages. 😆 Except not from the woman who had moved at some point over those three years. Because that thank you card got sent back.
My Chicago mom friend Alex has the BEST fall popcorn recipe to share. It's AMAZING. I highly recommend making it at some point this season; it was such a huge hit when she brought it to the Indigo Girls concert a couple of weekends ago. Check out all her recipes here!
"One Home Project Every Day" update:

I decorated the hallway console cabinet. I got the cabinet nearly two years ago and it's been sitting empty the whole time. ;) But so happy I did it! It really just needed a few coffee table books, a lamp, and some decorative objects. Photos to come!
I purged half my jeans. WHOA GUYS WHOA. I will say that a huge percentage of the fashion collaborations I did this year involved denim lines. But my collection had kind of exploded. So I found better homes for all pairs that were too tight or too low cut. And while I still think I have too many 😉 (and will probably go through them again in the near future), they all fit very nicely in my two dresser drawers!
I put out our fall decor. That was fun! Happy with myself that I took the time to organize it and pack it away in garage tubs last year. Was super easy just to pull it out, and brought me a lot of seasonal joy. Hi, I'm Kelly and I'm in my 30s.
Mitch set up an "Alexa" outlet for Emma's lamps and it's hysterical. If you read last week's post, you might remember that it took me years to finally shimmy under the bed and plug the lamps in. And THEN MITCH TELLS ME HE WANTS THEM ON AN ALEXA PLUG AND GOES AND MESSES UP THE RUG AND MOVES THE BED AND TRUNK AND DOESN'T PUT ANYTHING BACK. Not like I'm upset about it or anything. Not like I'm not leaving it there until he realizes that I expect him to clean up his mess. Not like I'm getting even more upset as I type this because I'm realizing that he'll never realize because the men in my life are simply not wired that way. 😆 Okay, anyway: The real story here is that Mitch and Emma now have Alexa wars. "Alexa, turn on lamps." "Alexa, turn off lamps." "Alexa, LISTEN TO ME!" "Alexa, this is MY room!" "Alexa, I'm going to disable you!" "Alexa, play Jojo Siwa!"
Our parkway mums died. Oof. See, guys? This is why I go artificial.
I'm painting our bedroom/office! It's going to happen in November. I'm really excited about it. We wallpapered the space when we moved in with the help of some wonderful brands, and I've truly loved having the cheery space over the last few years. But I'm excited for a little refresh, and one that reflects my current style. I think we're going with Benjamin Moore "Pale Oak" in the bedroom and some sort of sage green in the office. Our current bedroom rug is too small—it's from the old house—but I've fallen in love with this rug from Pottery Barn. Stay tuned!
We cleaned out a few kitchen cabinets. Man. There was so much in there that we didn't need! Feels good to only have the necessities now.
I moved some old OXO "Pop" containers into the laundry room cabinets. We now use (and swear by) the Rubbermaid Brilliance line because they're so clear and are so easy for the kids to handle, too. But we had some leftover OXOs from our first home—so into the laundry room they went! Feels really nice to feel organized in there now.

My parents are coming this weekend! We're going to a wedding in San Diego with Mitch's family, and staying in the village of La Jolla. So excited! My parents will be taking care of the girls while we're gone, but they're coming a few days early—and staying a few days later—so we can have some time together. I can't wait to see them. ♥️ And Emma and Lucy are going berserk over it.
I DO NOT HAVE A DRESS FOR SAID WEDDING. How is this even possible?! I suppose I just haven't been to a wedding in a really long time… but there is literally nothing in my closet that is dressy enough for such an event. I just panic-ordered a couple from Amazon. Cross your fingers that one works. Ha!