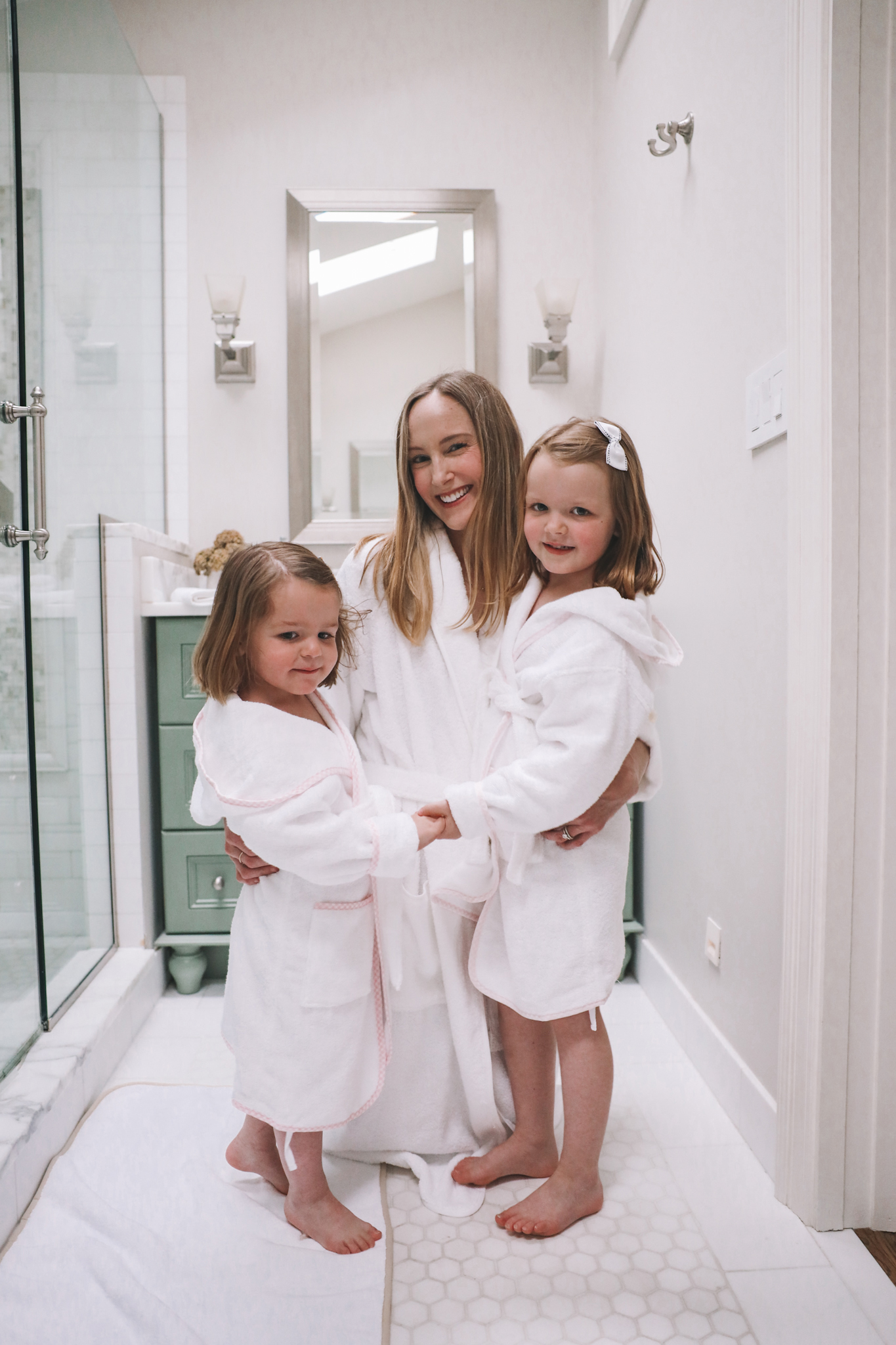 Women's Personal Long Plush Luxury Robe / Kids' Lil Robe / Monogrammed Plush Luxury Bath Mat
Hello! Here's what comes to mind this morning:
I am found the cutest insulated lunch totes (using this Liberty fabric) for the girls for next year! When I asked them what they wanted, they said narwhals or flowers. So flowers it is. How adorable, right? (Just message the shop owner and tell her what fabric you're thinking! You can send directly to her.)
If you've been parenting during the pandemic, read this thread. Mitch found it, and it brought me a lot of comfort. I feel seen, heard, less alone!
Looking for ways to help grieving families in Uvalde, Texas? GoFundMe has verified fundraisers, and donations go directly to victims' families.
I'm grateful to those who gave their lives so we could have ours. Remembering our fallen today, and forever thankful for their bravery.
I'm revamping my blog, and will be trying to post using the below categories. I took a major step back from my site this past year, and I do not regret it. But I've learned that having an organized home has made for a more fruitful life—and I'm hoping that having a more organized approach to blogging will allow for me to enjoy it—and perhaps do it—more. :) I do NOT intend on hitting on all of these categories on a weekly or even monthly basis 😆; I just think it'll be nice to choose from one when I sit down to blog. Here's what I'm thinking. Thoughts?

10 Things
Organizing with Kelly
Outfits
Videos
Photography
Try-Ons
Recent Finds
Treat Yourself
Mom Hacks
Found on my iPhone
Home Inspiration
Amazon Product Reviews
5 Home Decor Products
Chicago Guides
Playlists
Adventures with Noodle
The Morning Coffee
Mitch Posts

I had the weekend to myself. Crazy, right?! Mitch took the girls down to his parents' lake house for the weekend and I stayed behind to pack/prepare for this week's travels and meet some deadlines. I thought I would be sad to miss out on the fun, but GUYS. Haha — It was magical. I don't think I've had a weekend alone in six years. I could hear myself think; I could clean; I could accomplish stuff; I could shower longer than four minutes. I watched girly television shows and read my book. I took Noodle on long walks, coffee in hand. And now I can't wait for my family to get back today. ♥️ Thank you, Mitch. Deep sigh. Best husband!
Product recommendation: Supergoop "PLAY" Sunblock. It was recommended by nearly all my Chicago mom friends for kids because it isn't greasy at all. And this powder is apparently god's gift to mothers who don't want shiny faces.
I bought this Tuckernuck dress. I actually have it in black, and wear it year-round. (Wore it on Christmas night last year!) The blue and white stripes are perfect for summer, though. I took it in a size small. It's so flattering and hangs perfectly. A+.
MY BROTHER- AND SISTER-IN-LAW ARE MOVING TO NASHVILLE! This is huge. They moved to Virginia a few years ago for John's job, and while the family was so happy for them, it was heartbreaking to see them go. Nashville, though, is so much closer. My in-laws are even closer than we are! Here's to new beginnings and all the family gatherings at the lake house again. Congrats, John and Sarah. We love you!
These are the best white skinny jeans, and they're on crazy sale with code "LONGWEEKEND." They're the only white skinnies I own! TTS and ridiculously comfortable and flattering.
I made a new playlist. Trying to get back in to sharing them because I so enjoy collecting songs throughout the month and listening to them on repeat. 🙈
We leave for Nantucket on Wednesday for my cousin's wedding! Eeeeeee! I can't believe it's here. It seems like just yesterday that they were calling with the engagement news and I was, well, sobbing. I'm certain this will be one of the best weekends ever, and the Larkins—two little flower girls included—can't wait to celebrate two of our favorite people in the world, surrounded by family and friends… and the Atlantic Ocean. ;)
I found great school shoes for Lucy. They're the TOM'S Mary Jane shoes in this Amazon Shop. She peed into Emma's hand-me-downs and they simply never recovered, haha.
Have you heard of Naghedi totes? I'm obsessed. I particularly adore the ecru ones for summer, with the crossbody and large tote being my fave. You can tons of styles via the Naghedi website.
One Home Project Every Day:

I did a 15-minute drawer purge. Try it! It's great, haha. I just walked around the kitchen and got rid of anything that I felt we didn't need. Set a timer and try it in any room. Call it a success if you get rid of even just one thing!
I put felt under chair legs. Several of the old ones had fallen off. And now I feel so much more chill about our wood floors.
My brother-in-law took a drill home to Nashville. It was a super nice drill, am incredibly thoughtful gift from my father-in-law, but John was going to buy one and promised to come back to Chicago when we needed drilling done. Considering how bad we are with home improvement projects, this felt like a great deal. 😜
I cleaned and tidied Mitch's medicine cabinet. It needed it. Not sure if I'll organize it for him the way that I did for myself… but yeah, I probably will. 😆
I donated several pairs of shoes. GOODBYE shoes, HELLO space.
Mitch sold my very last old camera lens. I bought it when I was 21, and sold it when I was 37 for $100. PRETTY GOOD!