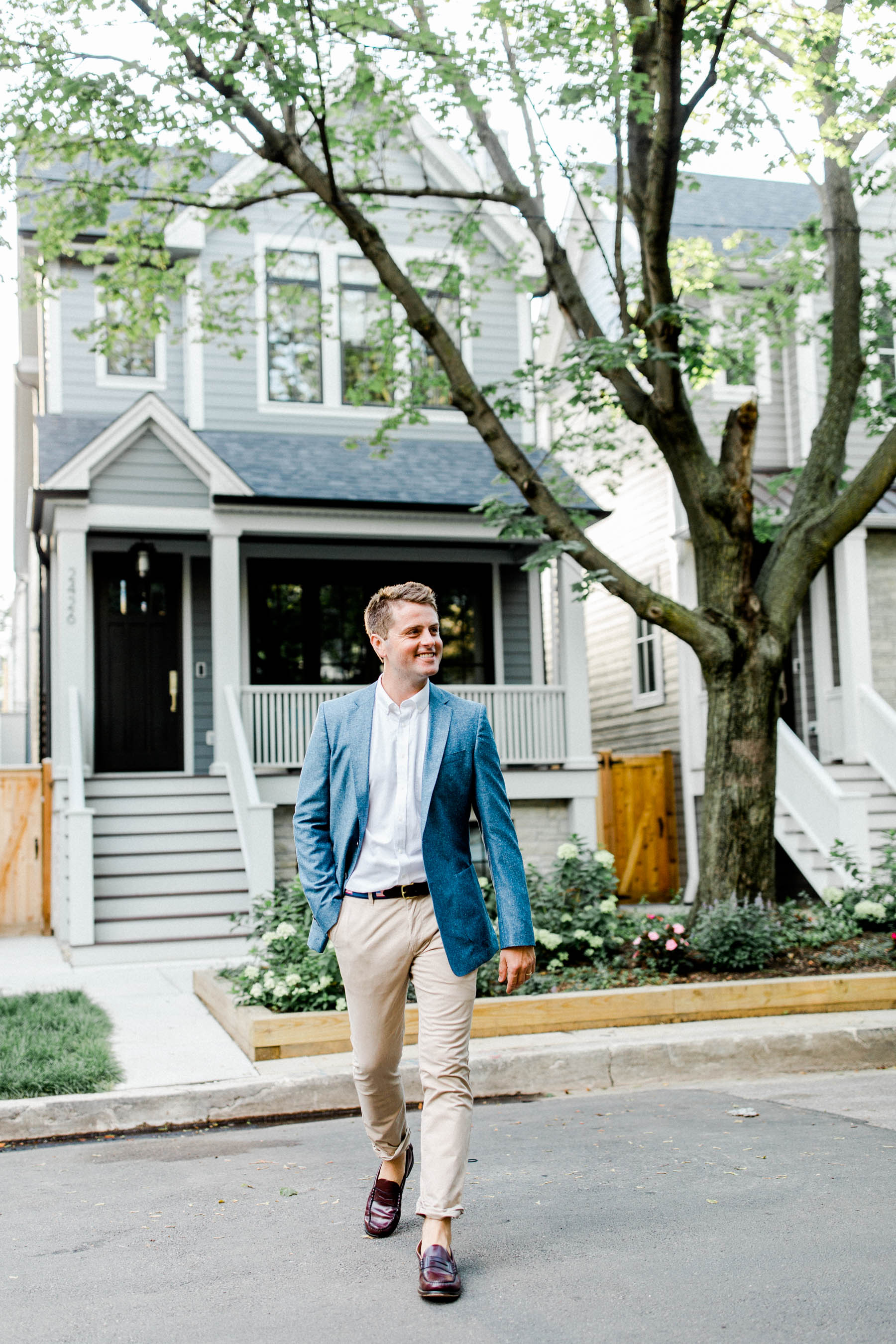 Boss Nordan Blazer / Non-Iron Shirt (On sale!) / Vineyard Vines Belt / Bonobos Chinos / Bass Loafers (On sale here!) / Emma's Dress
Mitch here!
My buddies think it's hilarious that I now regularly write for Kelly's blog. As I type this post, I'm wearing a shirt I stole from my dad's closet over 20 years ago. This shirt has seen some stuff. It's barely holding on.
To be honest, I'm barely holding on. All year, Kelly and I looked forward to June 20th because it marked the end of the school year and less chaos, but it's now July 25th and I have no clean clothes, I just ate a whole frozen pizza and I'm not packed for our trip to Memphis tomorrow. (Though, when we get back from Chicago, we're staying put for several weeks! We're looking forward to getting into a routine.)
Despite all this, Kelly's on the exact same schedule, yet looks immaculate every day. (I'm not just scrounging for brownie points, either. She probably won't even read this, as she's passed out on the couch next to me.) Long story short, she looks great and I'm usually embarrassed to even take the dog for a walk in my 20-year-old t-shirt.
I mean, I have fashionable impulses. If I see an interesting-looking dude walking down the street, I might remark upon his shoes:
Mitch: That dude has nice shoes. I wish I could pull something like that off.
Kelly: You're not even wearing shoes right now.
Mitch: I know, but if I were wearing shoes, I just wish I could wear shoes like that.
Kelly: Jesus.
So today, I'm going to share the three things I've learned can easily take a guy from unfashionable to fashionable with very little effort. And believe me: it's extremely little effort.
I hate effort.
By the way, all these clothes came from Nordstrom, which is great for a number of reasons. First, we're dead smack in the middle of the Nordstrom Anniversary Sale. Second, this stuff is super affordable as a result. Third, Nordstrom is fuss-free, and makes shopping actually enjoyable and returning actually feasible for guys.

Three Ways to Instantly Improve a Guy's Look
No more undershirts
As the old adage goes, I'm willing to do anything to lose weight except diet and exercise. In lieu of actual effort (and due to the recent heat wave in Chicago), I've adopted a new strategy for looking thinner: I've thrown away all my undershirts.
Ditching undershirts did three things for me:
It makes me look like I've been working out even though I really haven't been.
It helps me look like some kind of old-money European baron who spends his days eating dried meats and drinking wine.
It allows for less laundry.
I know what you're thinking. Gross. My guy is going to sweat SO much. But you're wrong! Why would he sweat more if he has less clothing on? huh? Huh?! ANSWER ME!

Get him on the blazer train
I'm no Clyde "The Glide" Drexler, but I want to be a blazer kind of guy. So I can blaze the trail, so to speak? I want to order my coffee to stay, and to have something to put in that cool inside-jacket pocket. I don't want to wear a backpack anymore.
I always thought that the guys walking around Chicago in their fancy coats were some kind of super human beings, who had a special predilection toward dressing well and the bodily composition to pull it off. They spent more than three minutes dressing in the morning, and they flaunted it to make the rest of us feel like crap. But it turns out that those guys are just the guys who own blazers.
So I bought a blazer and it changed my whole life. 

Buy the right pants
I have a drawer filled with relic khakis. Khakis bought in desperation for a new school year or wedding or whatever. I buy khakis in bulk to get the price down to under $20. I buy these khakis and I hate them, though. They sit in the bottom drawer until I throw them away. It's like I'm a middle man between the store and the garbage can.
But I finally took the plunge this summer and and bought nice pants. And–surprise, surprise–I freaking love them. These pants look so good! I even iron them once in a while. Well, I iron them with close Kelly supervision so I don't wreck them. Actually, I try to iron them and Kelly just takes over. But I learned a lot about ironing from this experience, and I totally might iron them all by myself next time.
I rolled up the bottoms of these khakis and paired 'em with a no-sock look, which makes me looks like I know what I'm doing… and I wore penny loafers, which give the outfit a more finished look than flip flops or boat shoes or no shoes.

In conclusion, it's just that easy, ladies and gentlemen (?). Ditch the undershirt, add a blazer, and get some proper pants. I should have thought of this before!
Mitch. Out.
Shop the post:
Boss Nordan Blazer / Non-Iron Shirt (On sale!) / Vineyard Vines Belt / Bonobos Chinos / Bass Loafers (On sale here!) / Emma's Dress
This post was sponsored by Nordstrom. As always, thank you so much for supporting the partnerships that keep Kelly in the City up and running!