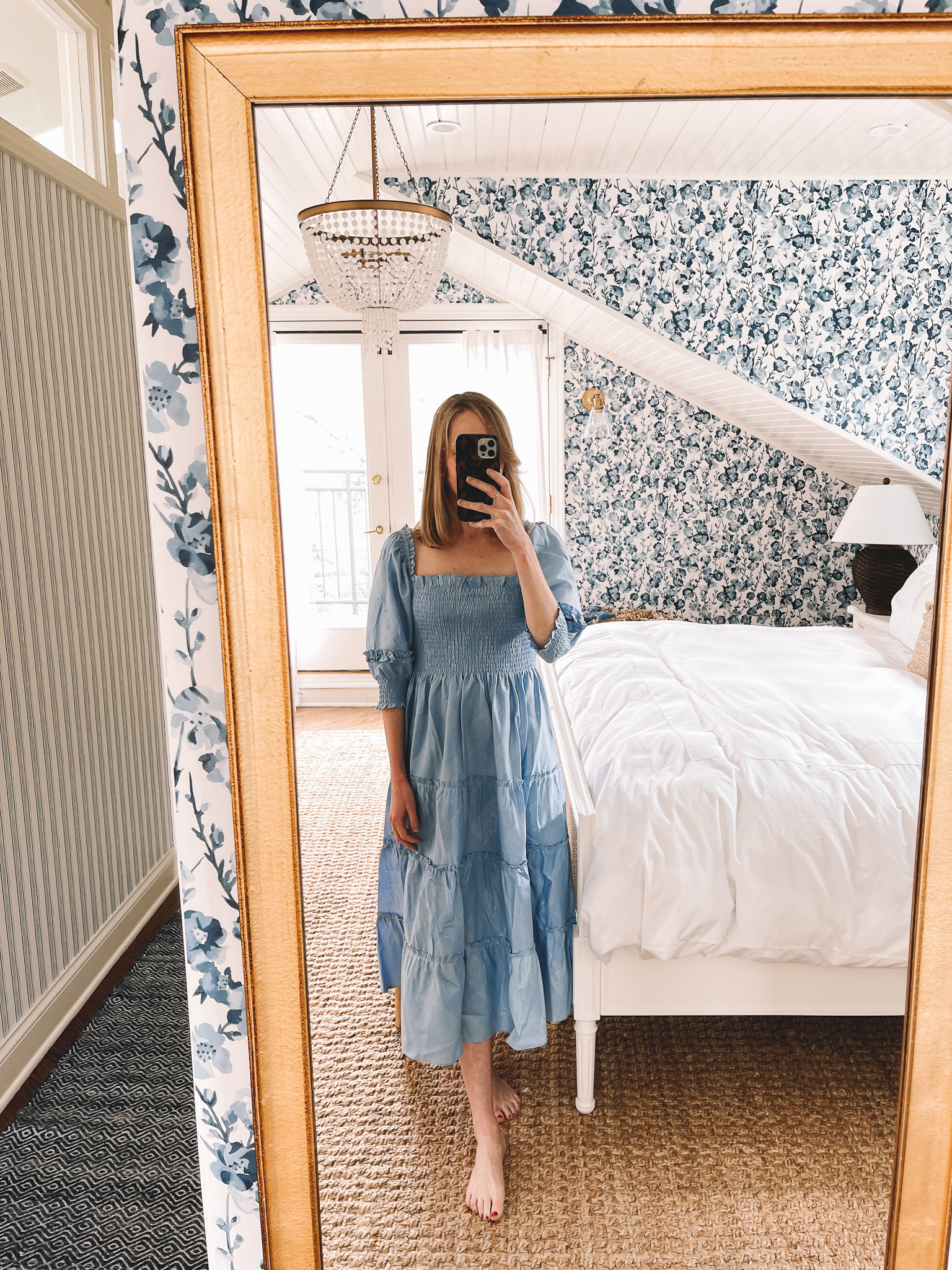 Hill House Nesli Nap Dress: Designed to be so comfy that you can sleep in it, too!
Good morning! Grab your coffee because I'm ready to chat. 🙃 Here are the first 10+ things that come to mind today:
All Chicago residents aged 16+ are eligible to get the vaccine in the city today. (Chicago is behind the rest of the state because of low supply. The city receives its supply of vaccine from the federal government allocated separately from the state.) The city says that it may take a few weeks for appointments to become available, but here's how to get the ball rolling. You can also drive to the federally funded FEMA site in Gary, which has had a lot of availability.
Have you heard of "Revenge Bedtime Procrastination"? I feel like there's been a ton of press about this lately… and for good reason. This is me to a T, and I'm trying to break the habit. Are you the same?! More on this soon.
We're still making so much progress with BOB Books! I swear they're the reason Emma can read. It's nuts! They're magic. I've had so many readers tell me that they read BOB Books growing up, too, and still have a fondness for them. Emma and I read one BOB Book every night, and then a chapter or two from whatever series she's currently reading—right now it's Ivy and Bean—and every once in a while she'll read a line or two from the chapter book! I should also mention how much happier Emma is now that she can read. She's been wanting to for the longest time, and I feel like the world has opened up to her now that she has a bit of a grasp on it. It's been wonderful to witness.
My parents are here! As always, I'm writing this post in advance, but they're here until Wednesday afternoon and I'm so grateful. We're keeping things pretty low-key with limited plans, but I'm hoping the weather cooperates and we can spend a lot of time outdoors. We have this running joke that every time my parents come, there's either a major snowstorm or monsoon, and believe it or not my iPhone is currently telling me that we can expect snow tomorrow. (Hopefully that changes, haha!) Either way, it's going to be lovely to be together. I've missed them so much.
I dyed my favorite white jeans BLUE. Noooooooo. I absentmindedly or mistakenly tossed something blue into a whites load, and boom. Devastation. Some things were totally fine, but others were not. Currently soaking them in Oxyclean, but pretty sure they're goners. (My mom swears by soaking them in bleach, but I'm terrified of bleach and won't let it into our house.) Mitch, if you're reading this, I probably need to buy a new pair. If you're not, well… good.
Can we talk about FaceTime? Do you love it or hate it? Lately I've been thinking about how Emma and her friends have it right with FaceTime. When Mitch and I use it, I feel like we talk on top of whomever we're talking with. It's so hard and awkward! Emma doesn't use it like a phone call, though. She'll FaceTime her friends while she's doing activities so she'll have company. They chat on and off while playing Barbies, for example, or coloring. The dichotomy is so interesting! I mean, I'm not about to FaceTime my best friend from college while doing the dishes… or should I?
LUCY IS TALKING. I repeat: Lucy is talking. I'm so relieved, haha. I knew it was all going to be okay, but I'll admit that I was antsy about the whole thing. She has very short sentences, but she has sentences. And she's making huge gains every day! Really fun to experience. Whenever I get nervous about milestones, my mom always tells me about how I talked at six months (#weird), and my brother Patrick talked at like two or three years. Guess who got a 1600 on the SATs and became a doctor? NOT ME. Kids do things on their own time. 😆
The Abercrombie drapey trench coat is back! I love this thing so much. It's made of the nicest material, and as the name suggests, drapes beautifully. I hope they bring it back year after year because it's such a gorgeous piece! I wear a small, if that helps with sizing. You can see me wearing mine here.
Have you tried Aqua Beads with your kids? They're very inexpensive but will provide HOURS of entertainment. They're kind of like those little iron-on bead things we had as kids, except these are activated by water and not dangerous hot irons. :) Emma and I spend so much time making the characters from "Frozen." It's kind of relaxing for adults, too?!
Mitch had a massive product launch. We normally keep Mitch's company off the blog, mainly because the products can be very random and not sure they'd be of interest to you guys. But this one is different! I actually designed it, and I'm really excited to share it with you. The process gave me an inside look at just how difficult and frustrating product development can be, and I learned that I am not cut out for it, ha! As soon as the listing is live (which should be any day now), I'll share it!
These super-soft "Roadtripper" stovepipe jeans look awesome. I'm a longtime fan of the Roadtripper line. Comfiest jeans I've ever worn! Excited to see Madewell embracing some other cuts besides skinny. :) Love the color of this pair!
My best friend from high school, John, released "Late Night Drive Vol. X" and I'm crying. I loved high school. I was actually a transfer student, and came in my junior year. I expected it to be a lonely, solitary experience, thinking that most people would have made their friends by that point in high school. I was fine with going into survival mode, but then I found the nicest, most wonderful group of friends… and the experience was pretty transformative. I was deeply unhappy—and they totally turned my adolescent existence around. Anyway, John used to make these mix compilations called "Late Night Drive" (or "LND"), and to this day, I can remember the songs—and their order—so clearly. "Nightswimming" by REM being the one that really gets me! (Off topic, but I was a really awful driver in high school. One time, I was driving John somewhere… probably because he couldn't remember where he left his… listening to LND, and didn't realize the road was ending. Drove straight into a cornfield. 🙈 No drinking. No drugs. Just good old-fashioned awful driving. Everyone was fine.) John recently put together LND Vol. X, and it's really wonderful. Brings me back. "93 Million Miles" especially. Miss you, John (and Jenn), and miss you, ND Crew.