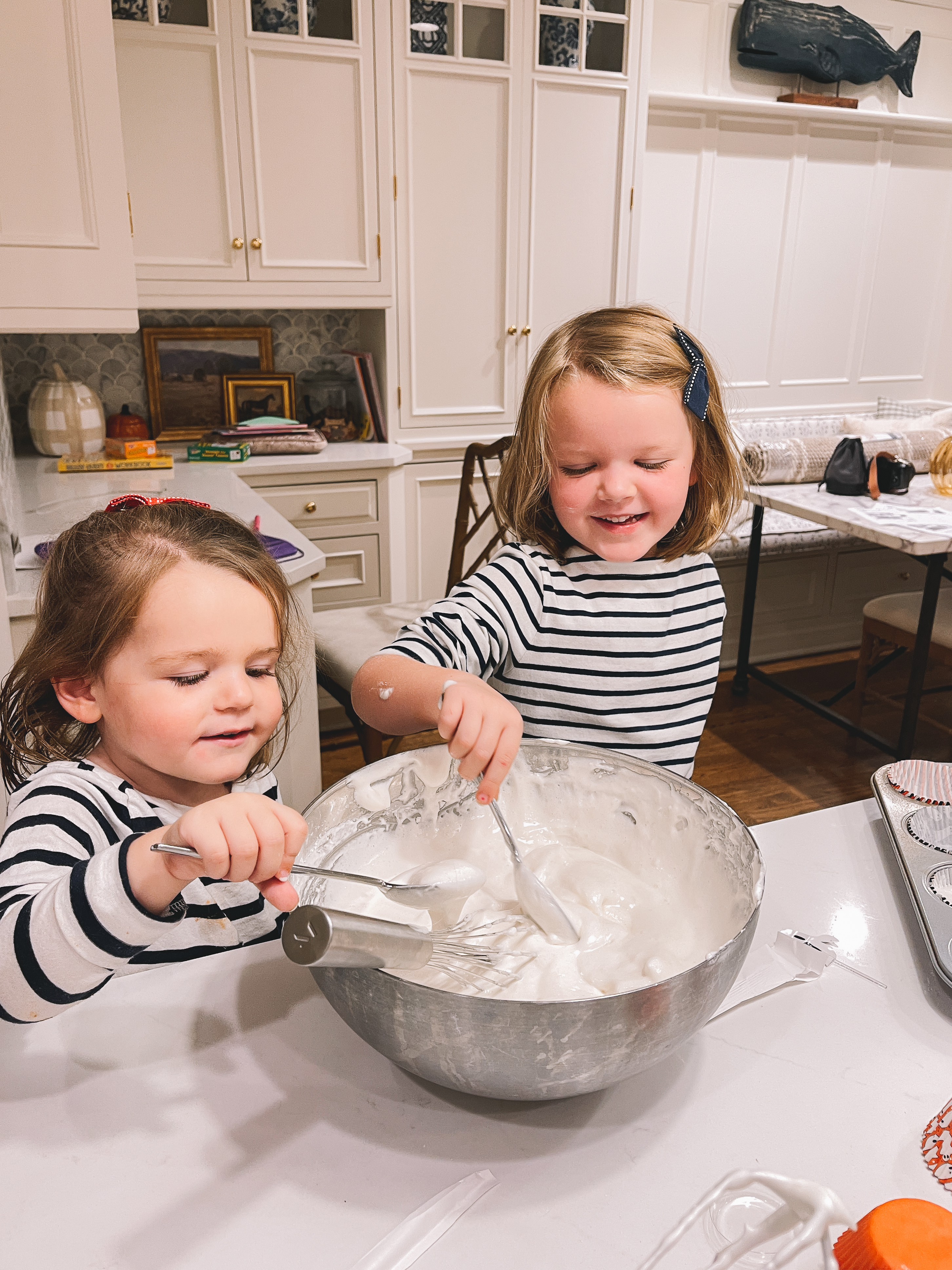 Baking this past weekend! The girls are wearing Boden Breton Shirts.
The first 10+ things that come to mind:
I've been reminded countless times this past month just how important family is. Life is precious, and so are the people we love. I'm really looking forward to spending quality time with both families over Thanksgiving and Christmas this year, and I'm determined to make sure it's calm, relaxing and fun. (Even started planning kids' crafts and activities to keep the girls entertained and happy during the breaks!)
I have an e-mail dilemma.

The situation: Guys, I literally have 87,000+ e-mails. 😆 I know. But let me tell you the story, okay?
The backstory: So in 2013, when I got married, I changed my Gmail address to reflect my new name. So I imported all my old emails, as I store so much in my Gmail account. And I'm sure I just made a mistake in the process—I'm not the most tech-savvy, after all—but eight years of imported e-mails showed up bolded, meaning "unread." (And no, I had never filed an e-mail before, haha. I just used a bold/unbold "organization system, which was CLEARLY FLAWED, haha.) I obviously should have done something to fix the problem back in 2013, but I didn't know how to handle it… and then my inbox just became more and more of a mess, and today it's a straight-up circus act.
How it's impacting my life and business: Because there are 87k+ messages in there, I (understandably?) feel overwhelmed, stressed and guilty when I log on… and because my inbox is such a disaster, I miss lots of e-mails. This is obviously not good for my personal life or my business.
Solution idea: Handle the last month's worth of messages, and then simply give up 😜, mark everything as "read" (or archive?) and start over. I can kind of liken this to the internet browser tabs thing. At the end of the day, if I still have tabs open, close.them.down. Starting the following day with a "clean slate," so to say, will calm the mind and improve productivity.
Advice: If you're more tech-savvy than I am, or have ever been in a similar situation, do you have any advice for me? Mark as "read" or archive? Or something different?

We had our first weekend at home in ages, and I feel restored. We needed it! It was cold and/or rainy most of the time, and the only plans we had were field hockey and a playdate. It was lovely. We put the fire on, we made warm meals, we watched movies, we went to bed on time, we did the laundry. (Okay, not "we" on the last one. Just me. Ha.) And when I got up this morning, I felt collected. :) Life just doesn't work this way for us, but wouldn't it be amazing to clear the calendar one weekend every month?
Style spotlight:

If you have a kindergartener, buy this workbook. It was recommended by my friend Ellen, and WHOA. Emma voluntarily does it because "it's so much fun." 🤯 I love that the directions are simple enough that she can read them herself, and she loves that so many of the learning activities are games. She does it every morning over breakfast, and every afternoon over snack. Highly recommend!
I want to give my "10+ Things" posts a little facelift! I want to have reoccurring topics every week, much like how I always include a "One Home Project Every Day." So I'll be testing out a few over the next month of two to see what sticks. First up…
Self care:

Now that I have my skin under control (more on that soon), I want to start working on my under-eye circles. Honestly, I've had them since I was in high school. Maybe before that, haha. I just have very fair skin, and I tend to get a ton of freckles in that area, which make the dark circles even more prominent. I found this article while doing a little research, but I'd love to hear any suggestions if you guys have miracle products you swear by!
I'm trying to write (creatively) for a half hour in the mornings. I love writing, and the words definitely just spill onto my computer screen when I do it. My biggest problem, though, is coming up with interesting plots. I wish I had a more twisted mind. 😂 I'd love to write a crime thriller novel, for example, but I struggle with coming up with deranged things. Maybe I should just write romance novels. Or teen lit. TBD…
I took my camera out for a walk the other day. Remember my happiness walk series? As the weather gets cooler, I think it's time to start them up again! I love being behind the lens, especially now that the leaves are changing. Being able to have some nice fall shots is fun for the Frame TV, too!

Random reader question: If you had to live in another location for a year, where would it be? Forget about all the real-life logistics, like work and school and living expenses and whatnot. (We're livin' in a fantasy world, haha.) I've always said London. But after getting totally soaked in Chicago's monsoon this morning, I'm leaning towards someplace warmer, ha.
We booked a house two doors down from Patrick in New Orleans for Christmas! WHAT A FIND. A lot of the houses are booked for the holidays, presumably because there are a lot of out-of-state workers in town for hurricane-related jobs. We admittedly waited way too long to book, but thankfully Patrick discovered that his neighbor's home was available. I love how easy it's going to be; we won't even need to use a stroller to go back and forth between the houses! Again, so looking forward to the holidays this year.
"One Home Project Every Day" update:

We pulled together outdoor/indoor toys for Emma's class. They were in need of activities for both indoor and outdoor recess, and it gave me such joy to find a new home for perfectly good stuff that the girls tend to not use that much anymore. It also gave Emma such joy to be able to share with her class! We went through the garage and playroom and collected things we thought would be fun, and Emma is going to bring the bag in this week. (When it's not monsooning.) 
I donated shoes that no longer fit Lucy. Whoa! She's around a size 8 right now, and there were oodles of size 6s in her closet—both her own and hand-me-downs from Emma. Hopefully the too-small footwear helps other kiddos this season!
I tracked/stalked my living room curtains and they're slated for delivery on November 9th. Eeee! So excited. It took me 2.5 years to pick out drapes, but I'm really excited. I think they'll look a lot less busy than our temporary toile ones.
I cleaned out Emma's desk and nightstands. Right now, Emma is really into cutting up tiny pieces of paper and stashing them in her drawers. 😆 Yay for creativity, but holy mess.
I organized the cleaning supply cabinet. I need to admit that we bought roughly a lifetime's worth of hand sanitizer when the pandemic started. So the excess found a better home.
I unboxed our replacement outdoor cushions and I'm thrilled. The other ones were terribly moldy. :( This time I went with the Sunbrella fabric, so with any hope, they hold up a lot better. Outdoor furniture is so challenging, and I feel like I've made so many mistakes over the years! (The best outdoor line, though, is this the Pottery Barn Torrey Collection. It's all-weather, meaning you never have to cover it, and the Sunbrella Rain cushions can STAY OUT IN THE RAIN.)
I started tidying "papers," part of the KonMari Method. I actually don't have a ton, as I got rid of most before we moved. But I'm going through my desk and digitizing what's left, and it feels good. The only thing I'm struggling with is whether to keep or lovingly say goodbye to our wedding-related invitations. (Save the Date, bridal shower invite, wedding invite, thank you cards, etc.) I know that throwing them out might make me seem heartless, but I feel like I have the photos from the day… and that's enough?! Maybe a happy medium is digitizing them, too.

Emma overcame one of her biggest pandemic challenges! She learned to swim again! She took about a year off and completely forgot. But we enrolled her in lessons again, and her instructor recently told us that she was ready to move up to the next level/class because she was doing so well. I can't tell you how proud she was! We got pink sparkly goggles to celebrate. (And also to replace her broken ones, haha.)
I'm looking forward to:

Taking Emma to NYC in January. We're going to freeze our tushes off, haha. But Emma was definitely bummed to have missed our October one, so reschedule we shall! We're going to spend time with family, and go to the Museum of Natural History, American Girl, FAO Schwartz, the Plaza, Serendipity, and/or one of the restaurants in Rockefeller Center that look over the ice skating rink. Maybe we'll go ice skating at Wollman Rink in Central Park, too?! We'll see!
Seeing Cautious Clay with our friends Dave and Natalie. Should be a really fun "parents' night out." :)
Tonight. 😆 Mitch and I are seeing TV Girl! Listen to this song. I love it.

Let's help some teachers: Just because it's October doesn't mean that teachers are less in need! Here are three wonderful educators who could use some help clearing their lists.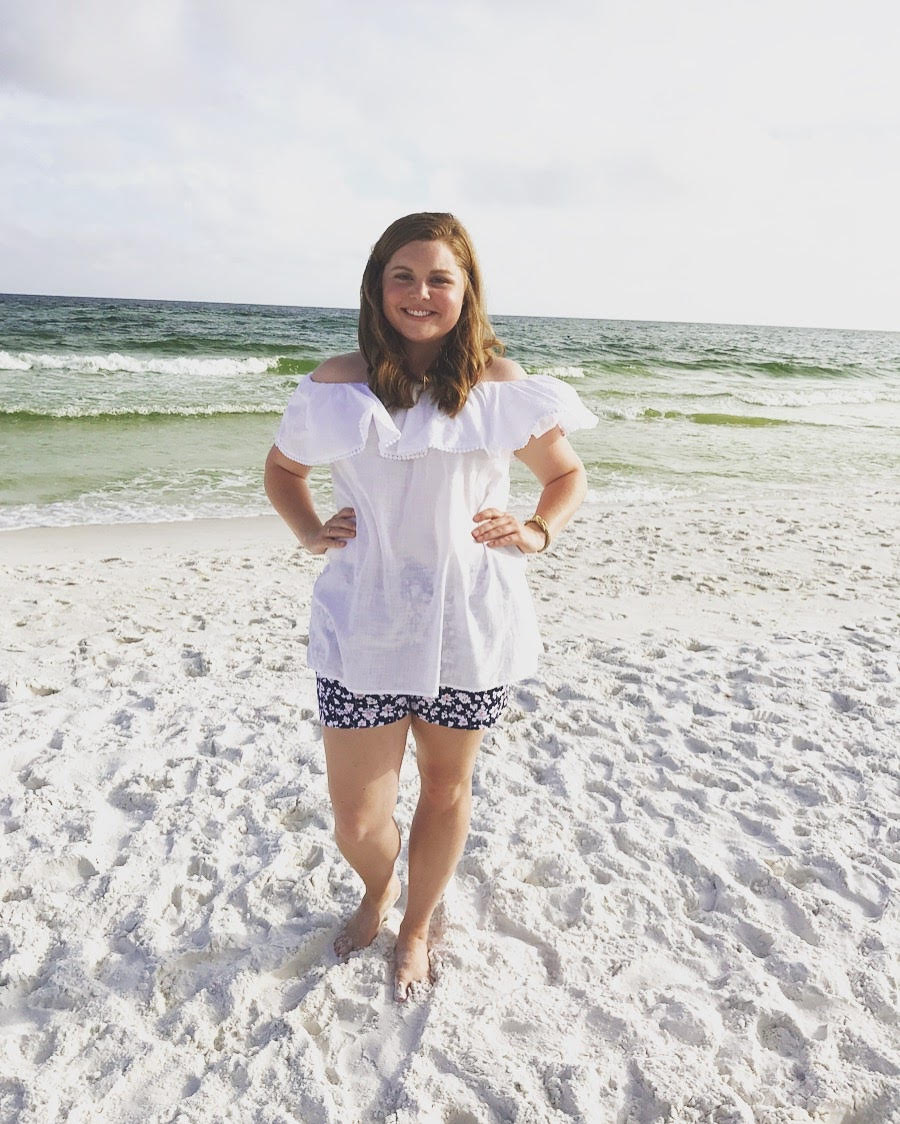 Name: Katie
Title: First Grade Teacher
Location: Georgia
Story: Hello, everyone! My name is Katie, and this is my fifth year as a teacher. I am currently a First Grade Teacher at a small rural school in Georgia. I try to allow my students to explore learning with hands-on experiences, a wide variety of diverse books, and STEM activities. My students and I would greatly appreciate any support for our little classroom!
Amazon Wish List: https://www.amazon.com/hz/wishlist/ls/1KB9W6U92XRRV?ref_=wl_share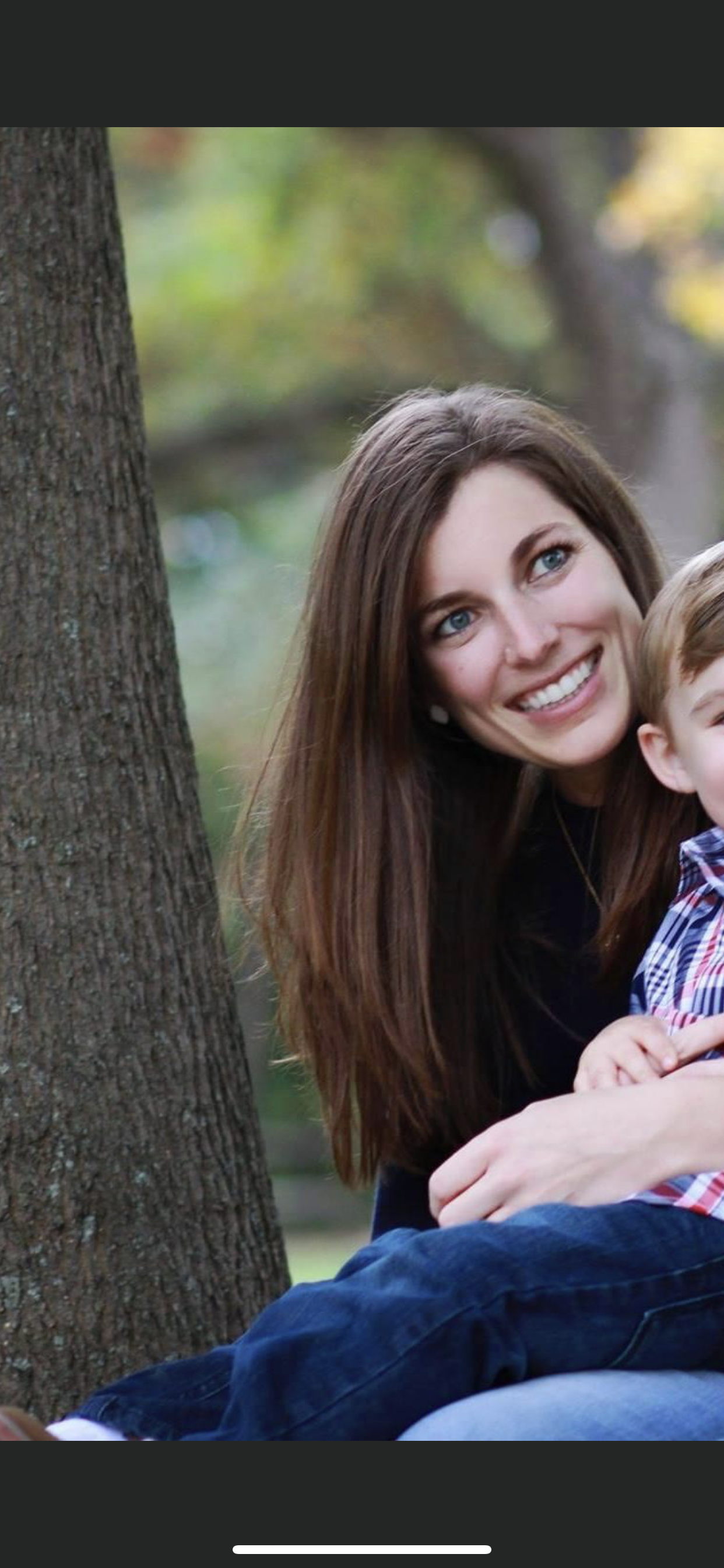 Name: Abby
Title: First Grade Teacher
Location: Chicago suburbs
Story: We teach at a diverse, low-income school where our students have a lot of needs for us to meet. When a prominent Chicago subsidized housing development was displaced to give way to what we now know as Old Town, their families were dispersed to various suburbs. This school is fed by those families that were once Cabrini Green residents.
[This year], we look forward to getting all our students back in-person and hopefully returning to some normalcy. As some students have not been in school for over a year, we are hoping to make this next school year their best one yet!
Helping our students' emotional needs as well as academic, any and all donations from this list are welcome and greatly appreciated. Thank you for your help in making sure these kiddos have a wonderful back-to-school and beyond!
Amazon Wish List: https://www.amazon.com/hz/wishlist/ls/1WF74WTHHOE5Y?ref_=wl_share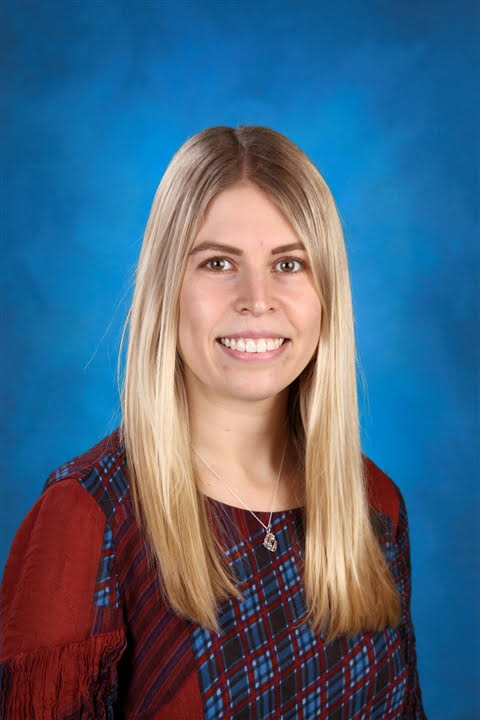 Name: Mara
Title: Kindergarten Teacher
Location: Ottawa, Canada
Story: This list was put together to gather items for my classroom for the upcoming school year. I am starting off new again as I was surplus this year, so I had to pick a new school in Ottawa, Canada. With Covid still present, my students will require a lot of their own learning materials. I am hoping to be able to gather some more materials to be able to provide my students with a rich learning experience!
Amazon Wish List: https://www.amazon.ca/hz/wishlist/ls/3EE3LZO9XZVKZ?ref_=wl_share