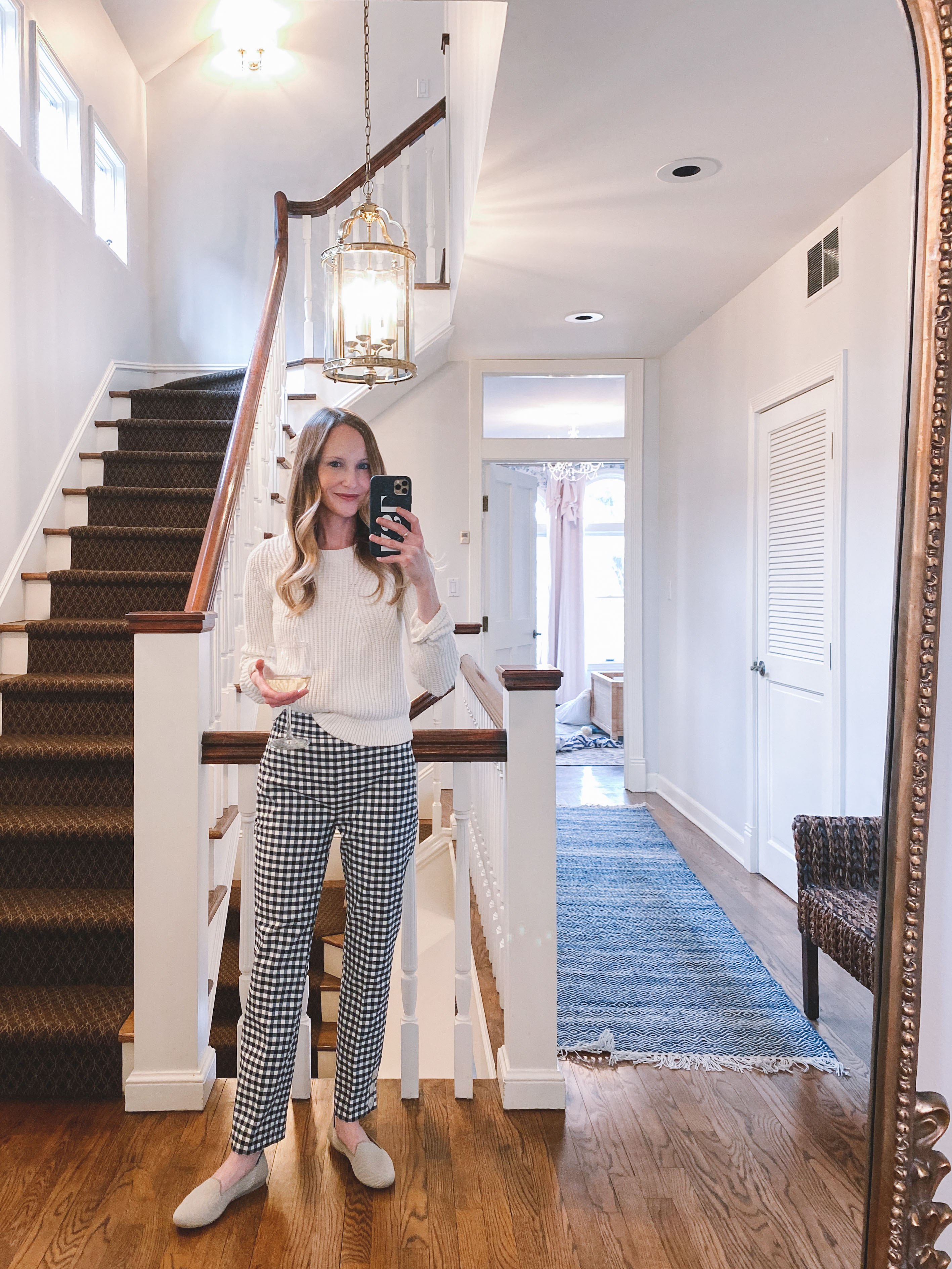 High-Rise Gingham Pants (SO comfortable!) / Washable Loafers / Sweater / Mirror / Runner / Phone Case
Aaaand we're back with more outfits! 😜 Here's what I've been wearing around the house in an attempt to feel half-human.
(Also, my Tretorn sneakers are only $45 today! WHAT? And my most-worn nude pumps are $50 today only… the lowest I've ever seen them for!)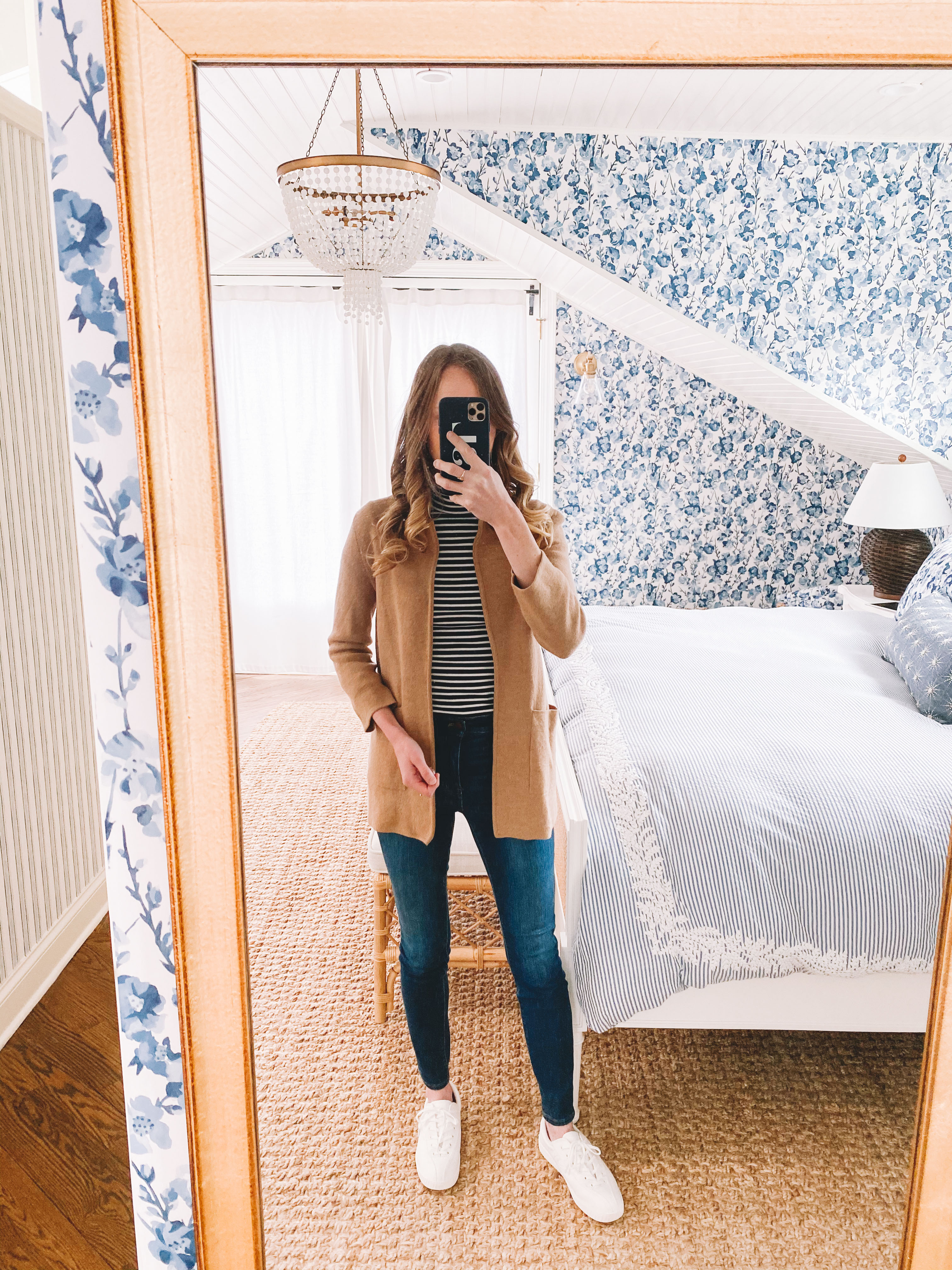 Sale: Tretorn sneakers only $45! (WHAT?) / Perfect-Fit Striped Turtleneck (Here's the solid. And here's the striped Tissue Turtleneck. I also have the striped cashmere turtleneck, which is AMAZING!) / Madewell Roadtripper Jeans / Sweater Blazer / Tretorn Sneakers / Phone Case
Master bedroom details:
Bench / Jute Rug / Cane Bed / Dresser (Also available here.) / Nightstands (Also available here and here.) / Roll-Arm Chair / Chandelier / White Curtains / Brass Sconces / Similar Floor Mirror / Striped "Acadia" Wallpaper / Floral "Fairfax" Wallpaper / Embroidered "Westport" Seersucker Quilt / Embroidered "Westport" Seersucker Euro Shams / Scalloped Plaid Sheet Set  / Floral "Fairfax" Quilt / Floral "Fairfax" Shams / Potential Lamp / Similar Lamp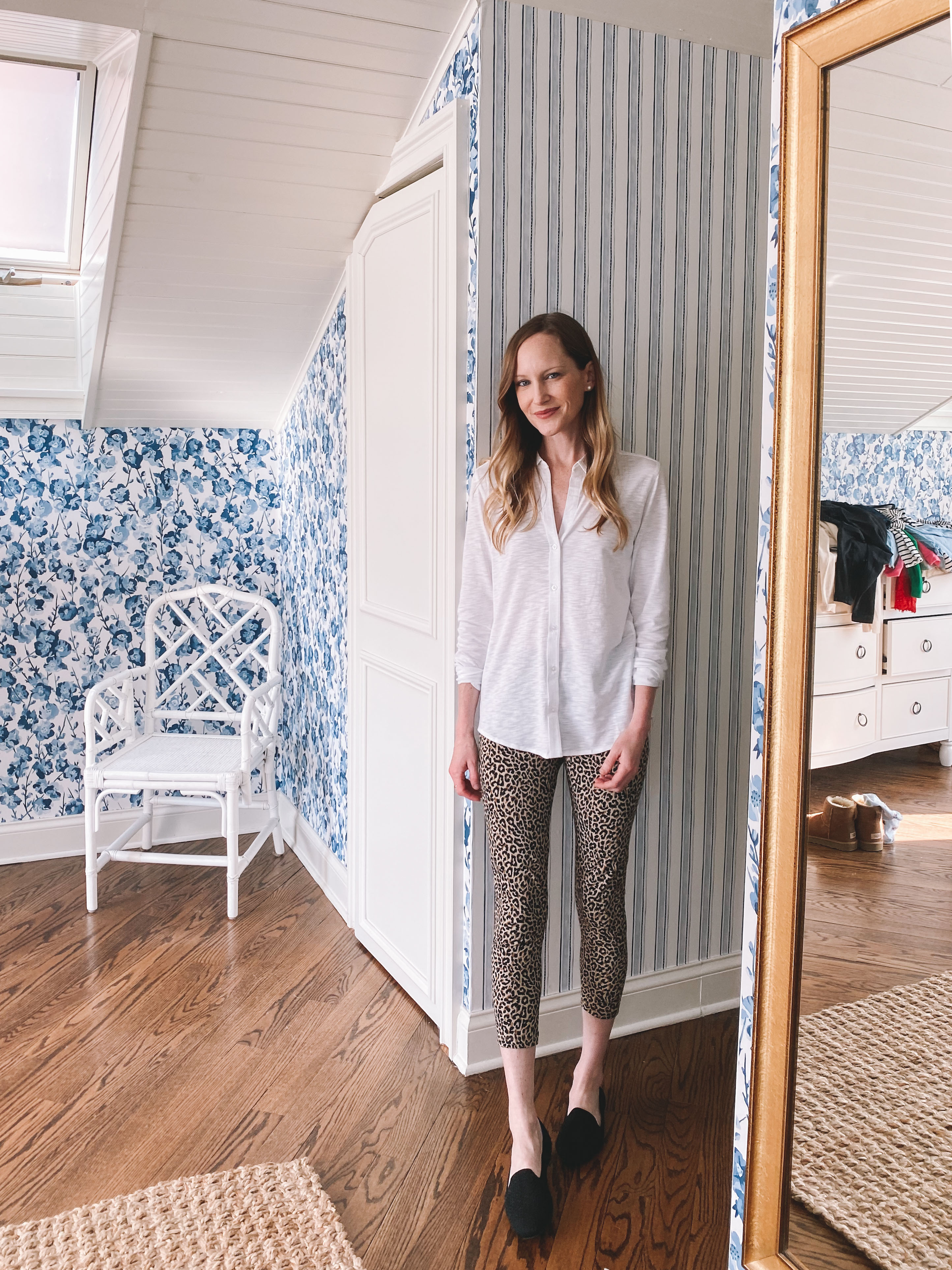 Ha! The mess.
 Leopard Leggings / Washable Loafers / Jersey Button-Down (So cozy yet you get the look of the traditional button-down!)
Master bedroom details:
Jute Rug / Cane Bed / Dresser (Also available here.) / Nightstands (Also available here and here.) / Roll-Arm Chair / Chandelier / White Curtains / Brass Sconces / Similar Floor Mirror / Striped "Acadia" Wallpaper / Floral "Fairfax" Wallpaper / Embroidered "Westport" Seersucker Quilt / Embroidered "Westport" Seersucker Euro Shams / Scalloped Plaid Sheet Set  / Floral "Fairfax" Quilt / Floral "Fairfax" Shams / Potential Lamp / Similar Lamp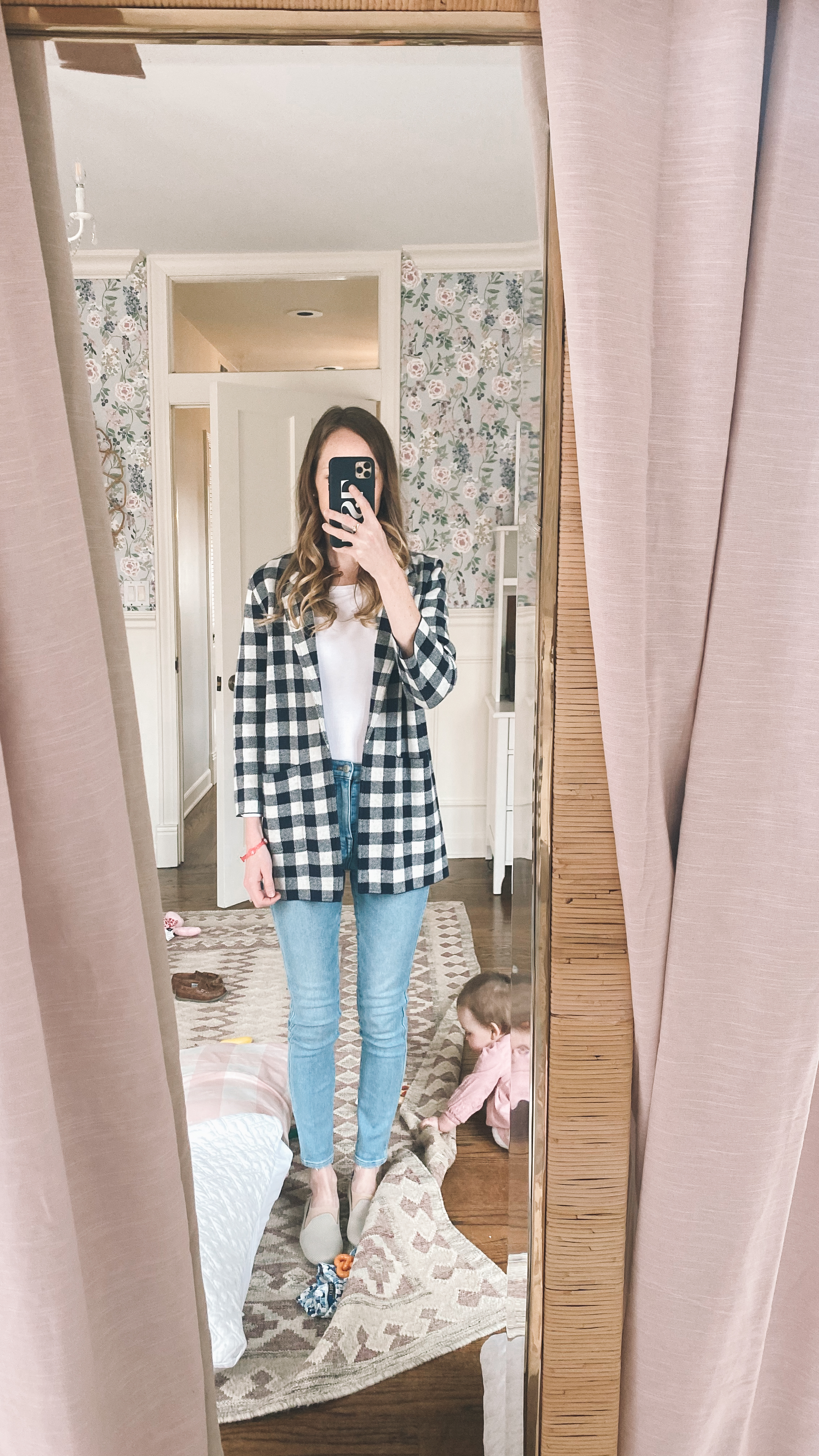 Washable Loafers / Gingham Sweater Blazer (Here's the solid!) / Long-Sleeve White Tee / Phone Case
Emma's bedroom details:
Wallpaper / Floor Mirror / Rug / Desk / Chandelier / Curtains / Wall Mirror / Similar Gingham Bedding
Sale: Tretorn sneakers only $45! (WHAT?) / THE BEST WIDE-LEG JEANS EVER! (Sorry for the freakout, but you need these.) / Scoop Neck Tee (So cheap.) / Mirror / Runner / Phone Case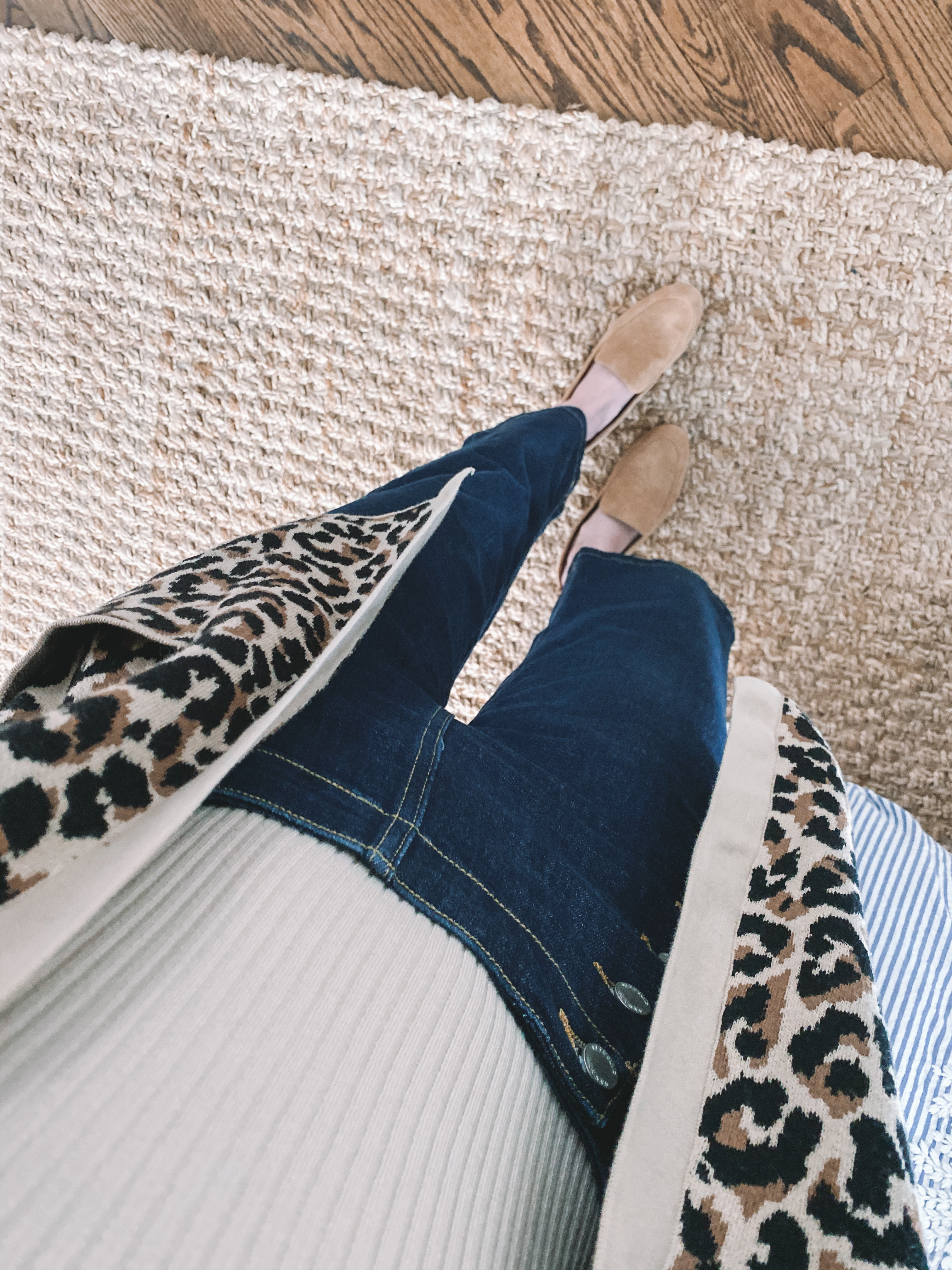 Leopard Cardigan / Sailor Jeans (Try these striped sailor pants and these white and navy sailor pants, too.) / Soft Loafer / Ribbed Mockneck Top
Master bedroom details:
Jute Rug / Cane Bed / Dresser (Also available here.) / Nightstands (Also available here and here.) / Roll-Arm Chair / Chandelier / White Curtains / Brass Sconces / Similar Floor Mirror / Striped "Acadia" Wallpaper / Floral "Fairfax" Wallpaper / Embroidered "Westport" Seersucker Quilt / Embroidered "Westport" Seersucker Euro Shams / Scalloped Plaid Sheet Set  / Floral "Fairfax" Quilt / Floral "Fairfax" Shams / Potential Lamp / Similar Lamp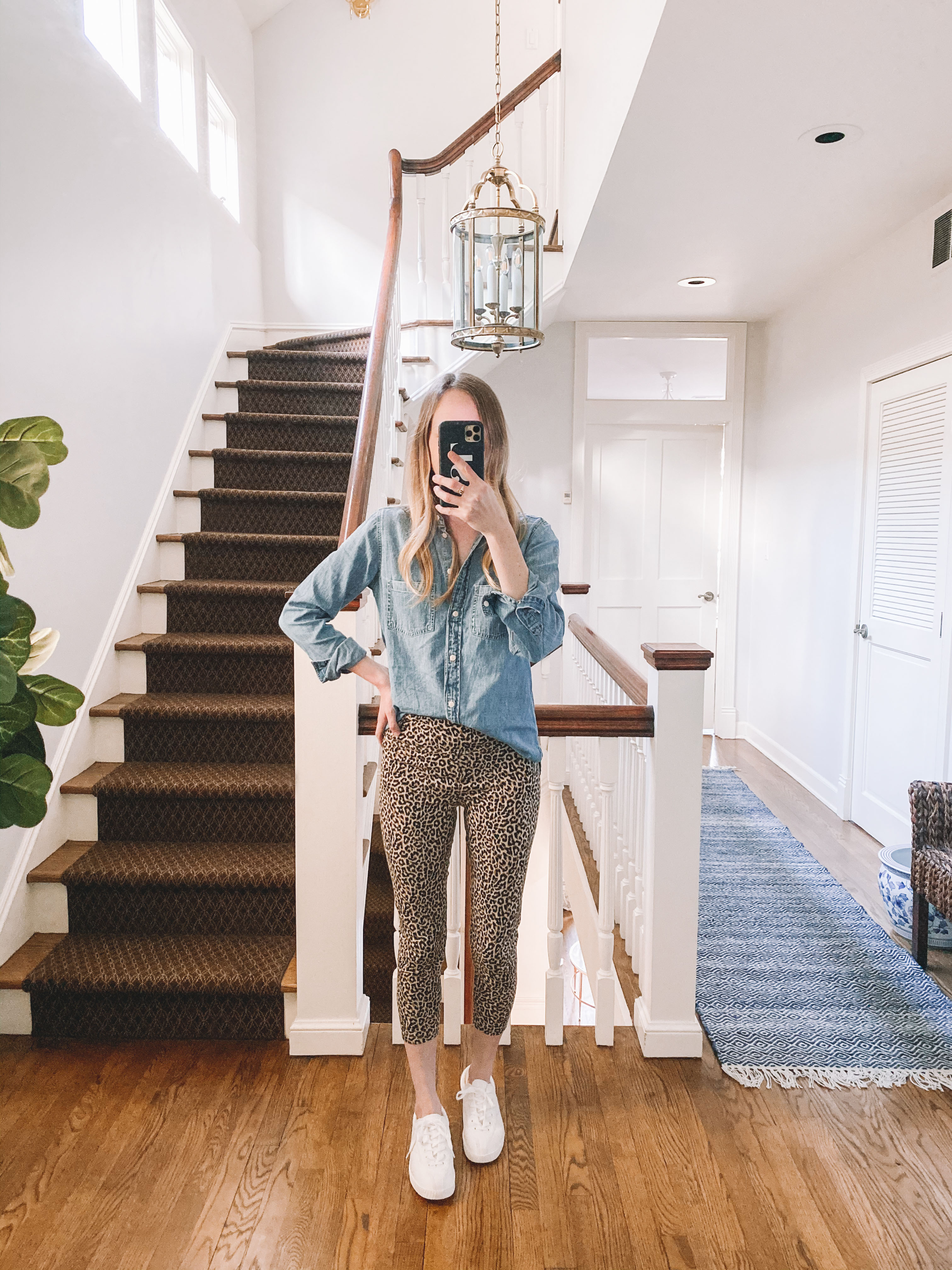 Sale: Tretorn sneakers only $45! (WHAT?) / Leopard Leggings / Chambray Shirt (Also love this one from Factory; it's so soft!) / Mirror / Runner / Phone Case
Trainers / Floral Leggings / Scoop Neck Tee / Phone Case
Master bedroom details:
Bench / Jute Rug / Cane Bed / Dresser (Also available here.) / Nightstands (Also available here and here.) / Roll-Arm Chair / Chandelier / White Curtains / Brass Sconces / Similar Floor Mirror / Striped "Acadia" Wallpaper / Floral "Fairfax" Wallpaper / Embroidered "Westport" Seersucker Quilt / Embroidered "Westport" Seersucker Euro Shams / Scalloped Plaid Sheet Set  / Floral "Fairfax" Quilt / Floral "Fairfax" Shams / Potential Lamp / Similar Lamp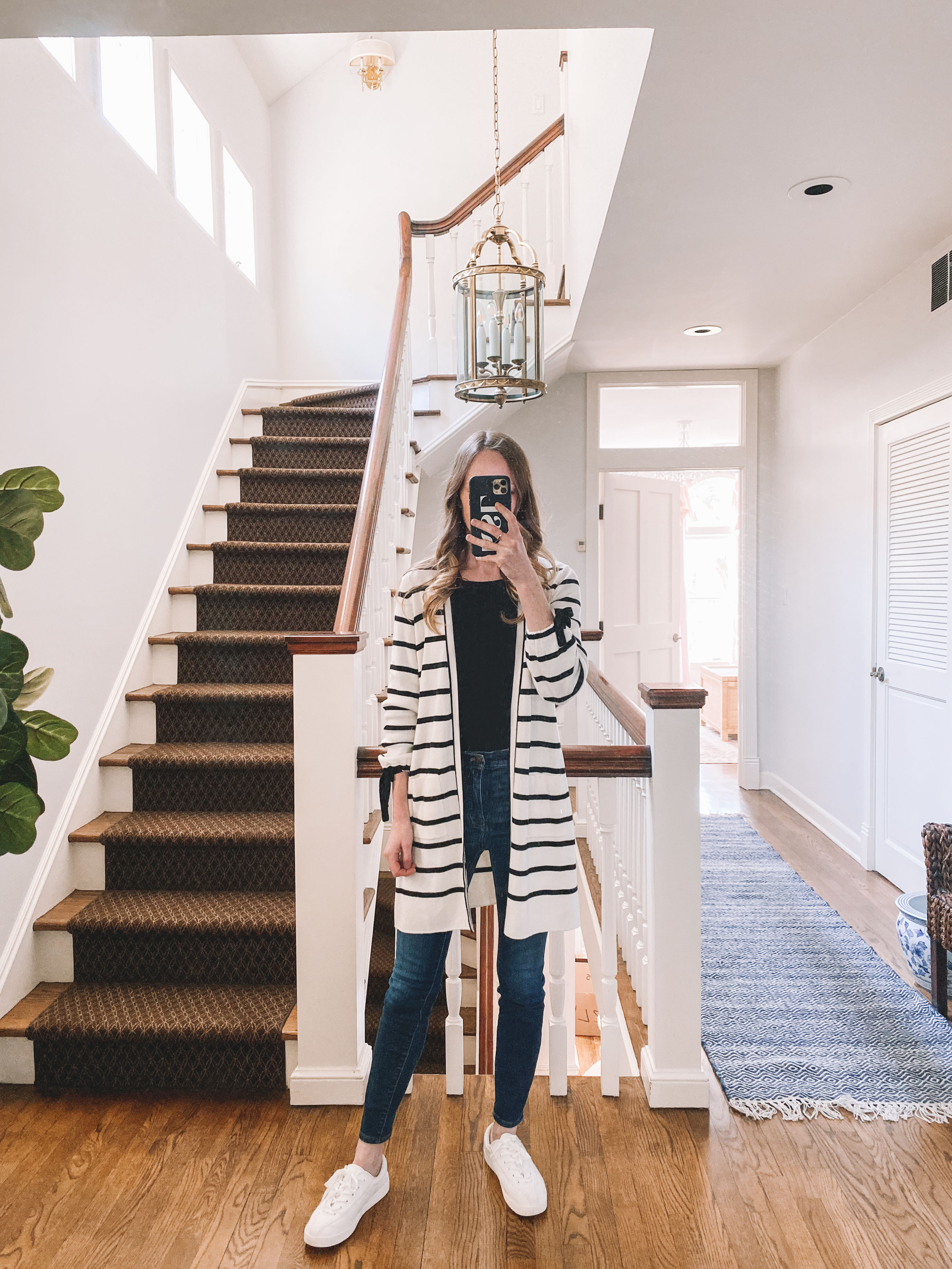 Sale: Tretorn sneakers only $45! (WHAT?) / The Oprah Magazine Collection for Talbots: Striped Cardigan / Long-Sleeved Tee (Also try this one. So cheap.) / Roadtripper Jeans / Mirror / Runner / Phone Case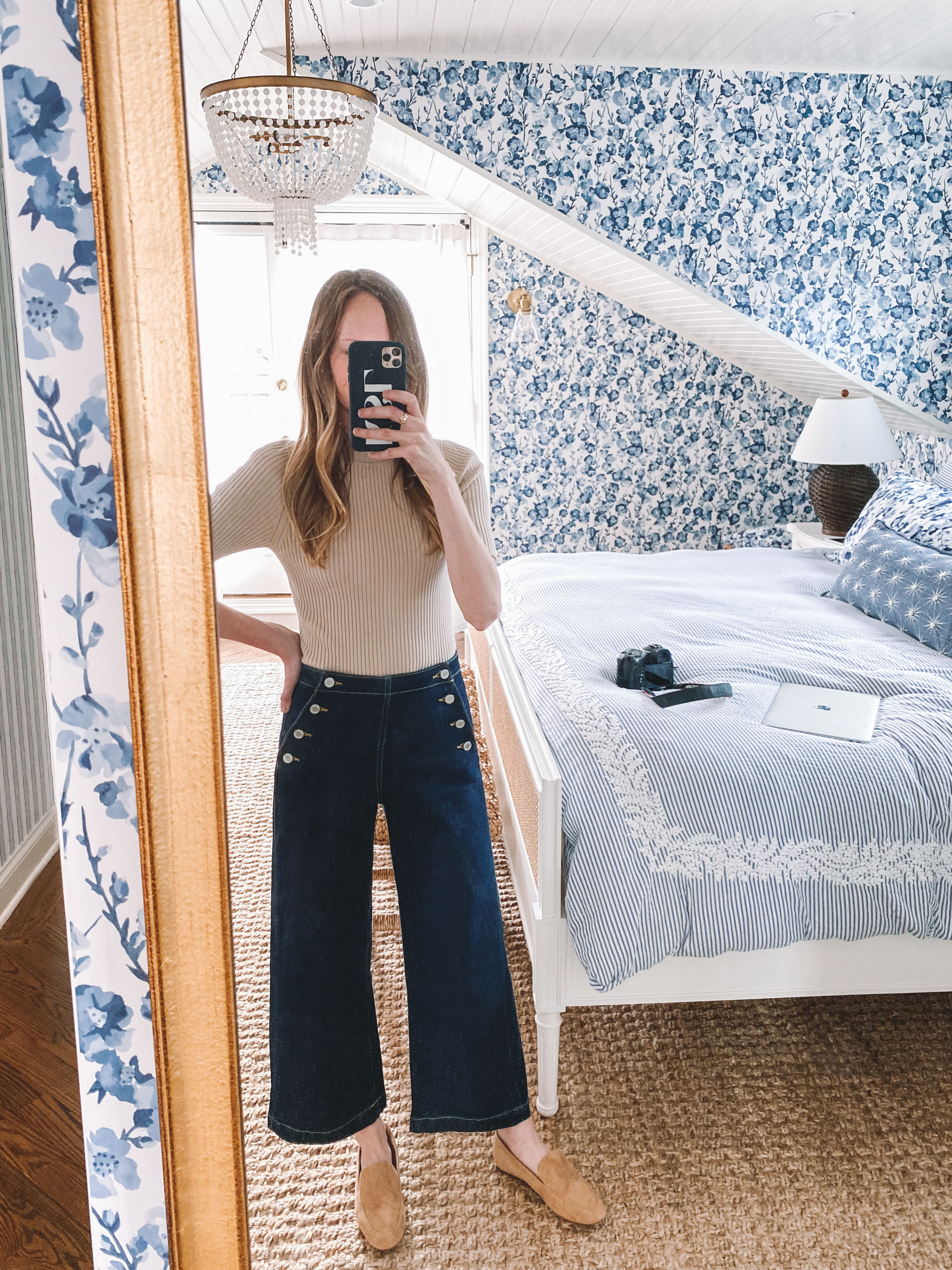 Sailor Jeans (Try these striped sailor pants and these white and navy sailor pants, too.) / Soft Loafer / Ribbed Mockneck Top / Phone Case
Master bedroom details:
Jute Rug / Cane Bed / Dresser (Also available here.) / Nightstands (Also available here and here.) / Roll-Arm Chair / Chandelier / White Curtains / Brass Sconces / Similar Floor Mirror / Striped "Acadia" Wallpaper / Floral "Fairfax" Wallpaper / Embroidered "Westport" Seersucker Quilt / Embroidered "Westport" Seersucker Euro Shams / Scalloped Plaid Sheet Set  / Floral "Fairfax" Quilt / Floral "Fairfax" Shams / Potential Lamp / Similar Lamp