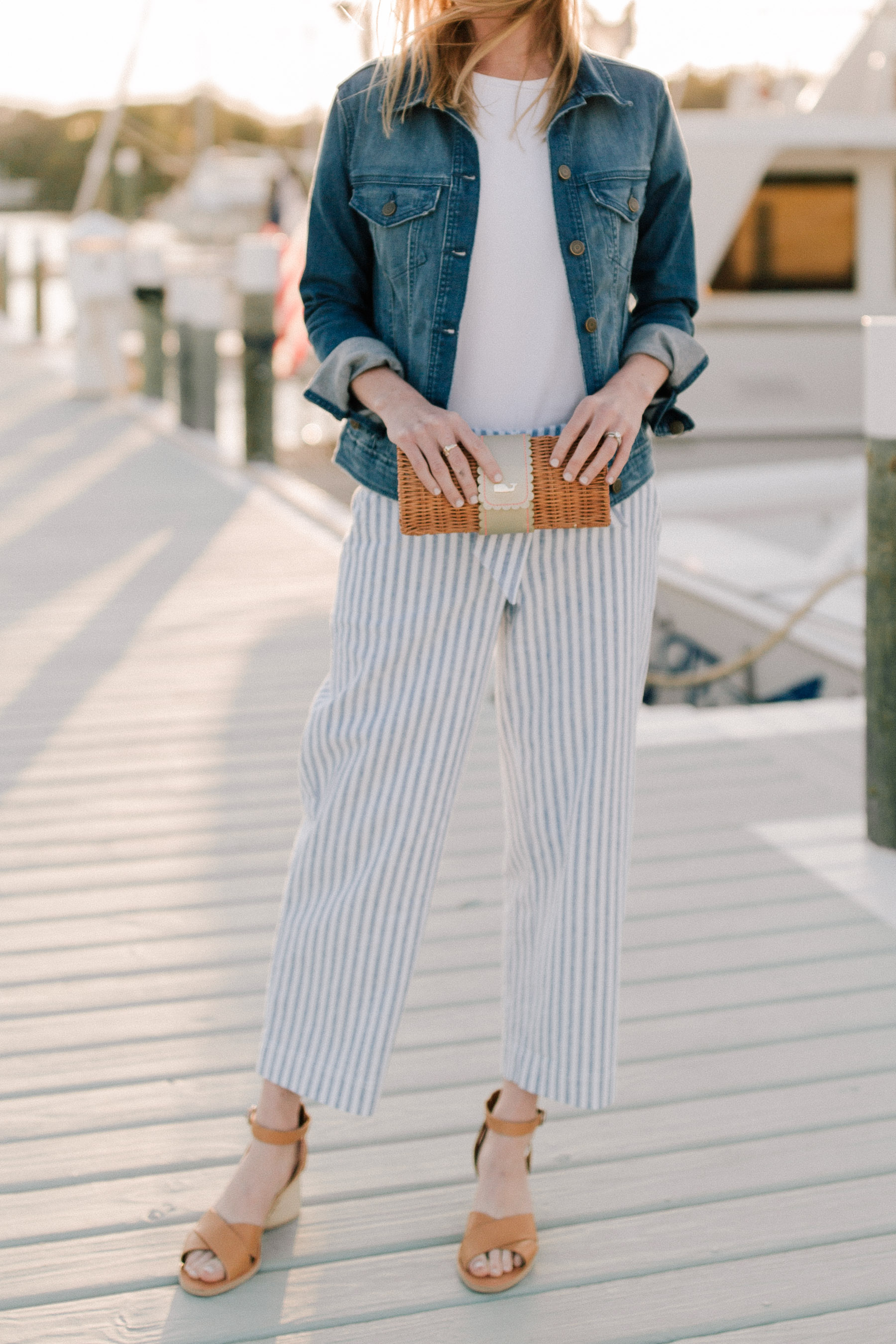 My Pants, Tee and Denim Jacket / My Sandals / Similar Sunglasses / Newer VV Clutch / Mackenzie's Dress / Carly's Dress / The Girls' Wedges
This was probably my favorite outfit from my trip to the Abacos with Vineyard Vines and The Moorings. I know: some time has passed between then and now, but I've been "saving" a bunch of VV outfits since things are just now starting to warm up in my neck of the woods!
I wore this to the Green Turtle Club in Green Turtle Key with Mackenzie, Carly and Sean. (Btw: did you see Mackenzie's recent post on Sarah Bartholomew's home? Because of this, Mitch gave me permission to wallpaper our house. I'M SO EXCITED, haha!)
Anyway, it was a chillier night, so I wanted to dress warmly… yet look cute, too. Luckily, everything was inside: from drinks at the Club's "Dollar Bar" (the walls of which are lined with guests' dollar bills) to the actual restaurant, which had its all-weather vinyl walls up. Still, I was thrilled to be in striped pants and a denim jacket, as I tend to get cold late at night even when I have my space heater blowing in my face. ;)
Details about what I'm wearing:
The denim jacket: I don't know about you guys, but just about every jean jacket I've ever owned has been rough and somewhat uncomfortable if I'm not wearing long sleeves under it. This one is a DREAM, though. Super soft, and has that cozy feeling. It'll definitely be a go-to for me this spring and summer. Sizing: I found that it runs a little large! I went down one size.
The striped pants: SO CUTE, especially with heels or sandals with some height. They're also amazingly comfy. I often feel like wearing pants to nighttime events is a little boring, but these?! They made such a statement. And, again, they kept me warm. (Oy. I sound like such a nut. But listen: warmth > everything for me, haha.)
The sandals: I ordered these for this trip because I wanted one neutral pair of "heels" that would go with all my evening looks. It was a risk, as I'd never worn them before the Abacos. But huge success! While I have very sensitive feet, these gave me absolutely no trouble. (No rubbing, either! Very soft leather.) I think I may have walked close to a mile in them that one night in Baker's Bay! I really can't recommend them more. They run TTS.
The tee: I wore this t-shirt a few times while in the Bahamas. It went with everything! I went down one size so I could tuck it into pants and skirts without it bunching, and I think it worked very well! Love the detailing around the sleeves.
The clutch: BAH! It's old, and V.V. no longer carries it. But I've linked to another one that you guys might like!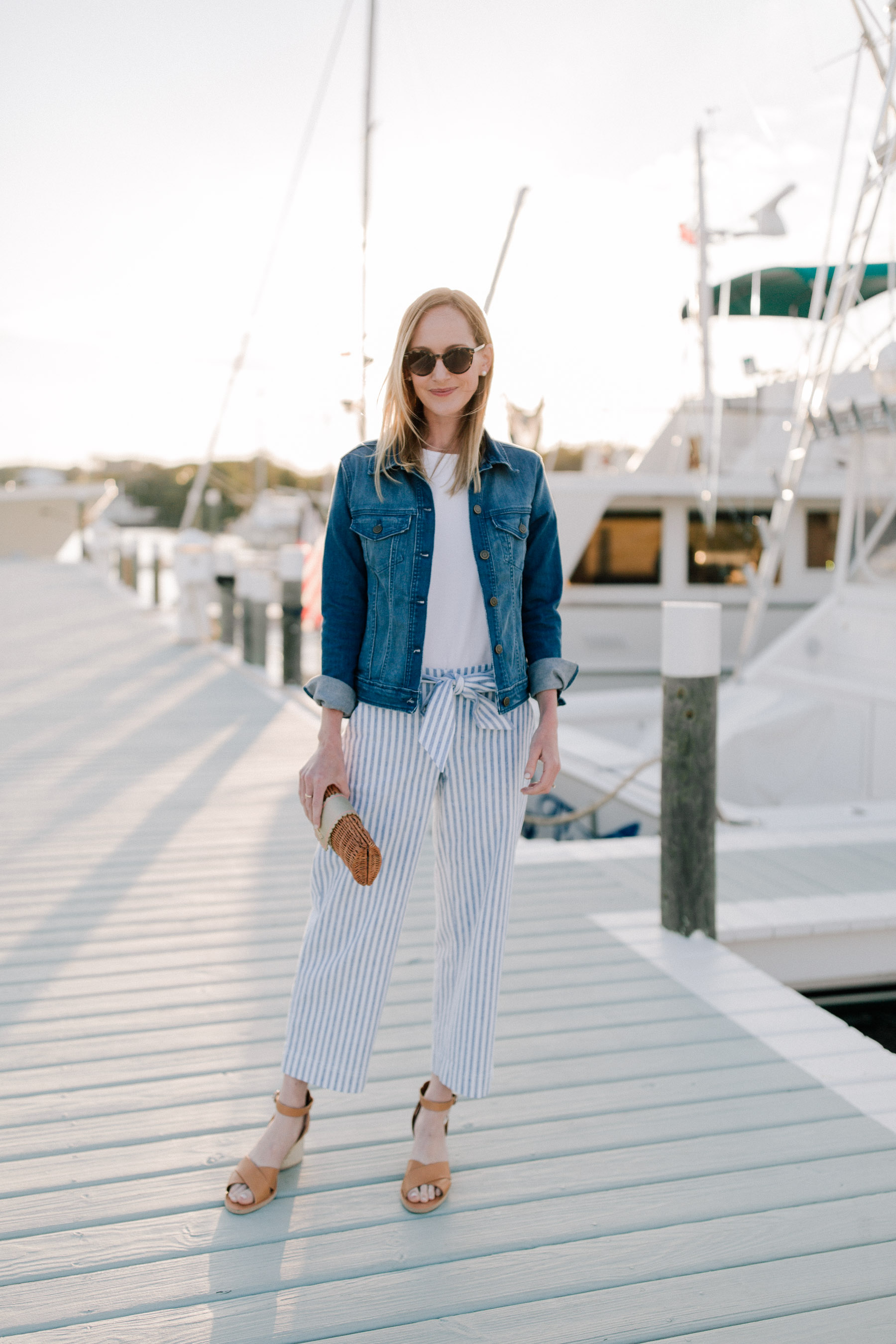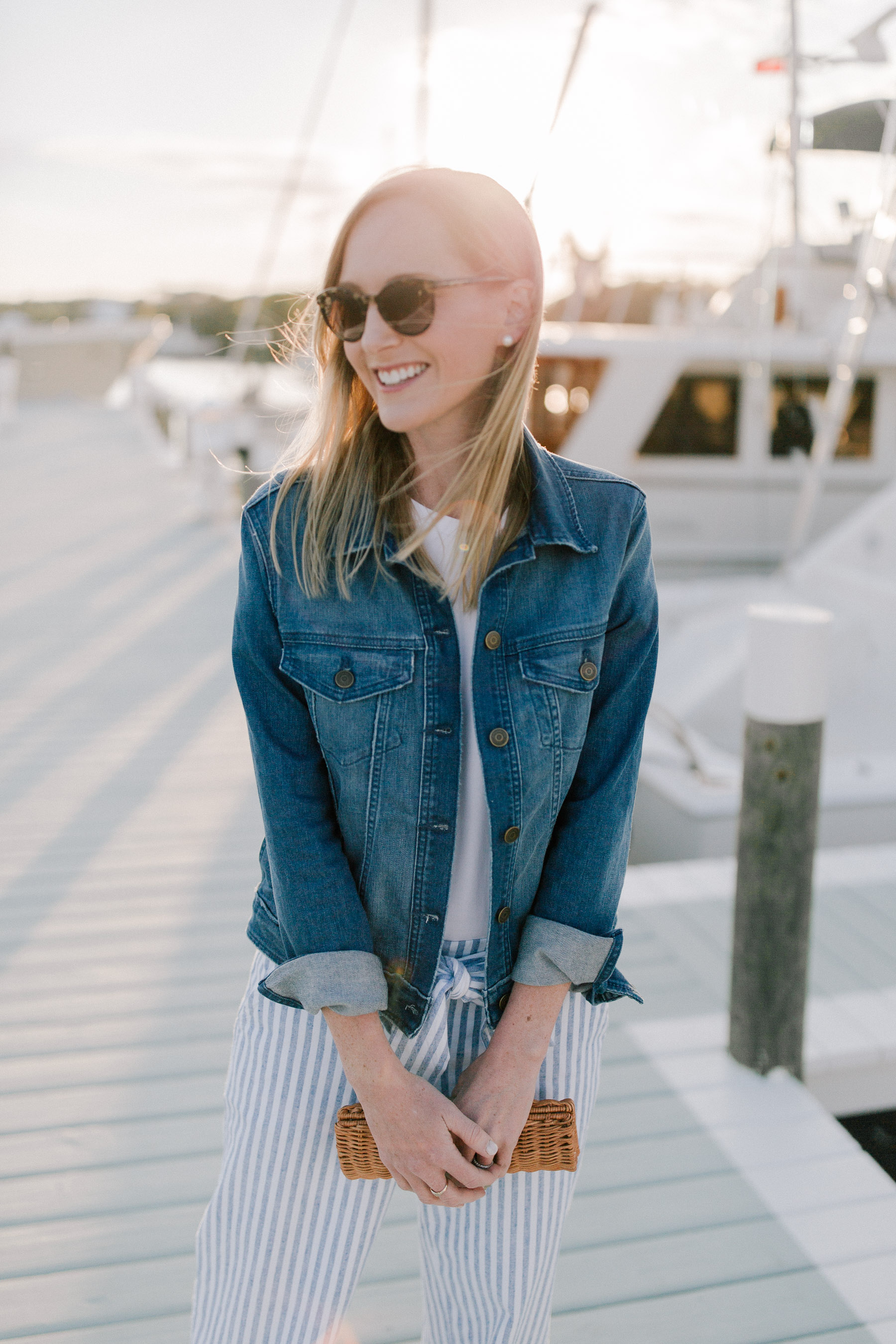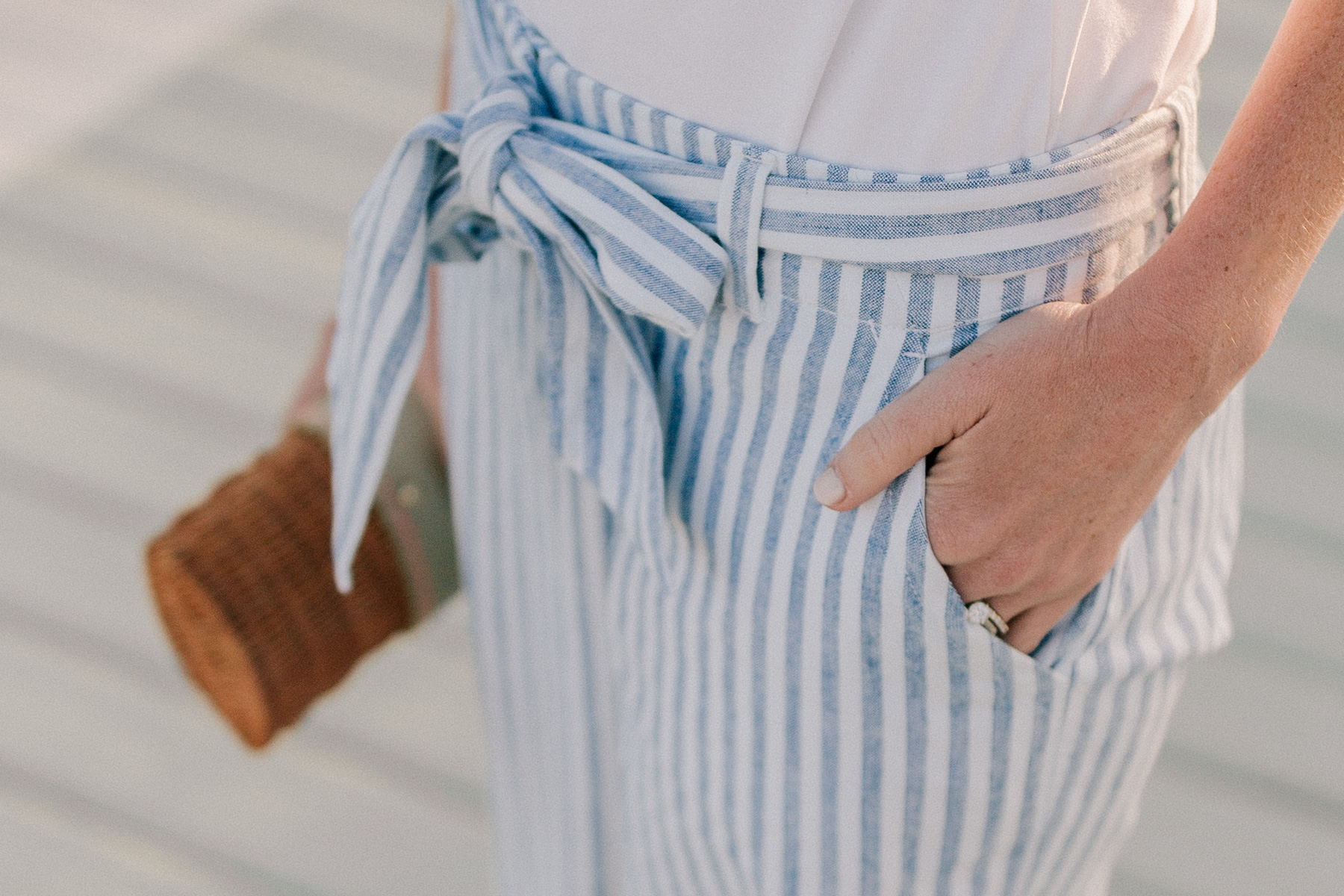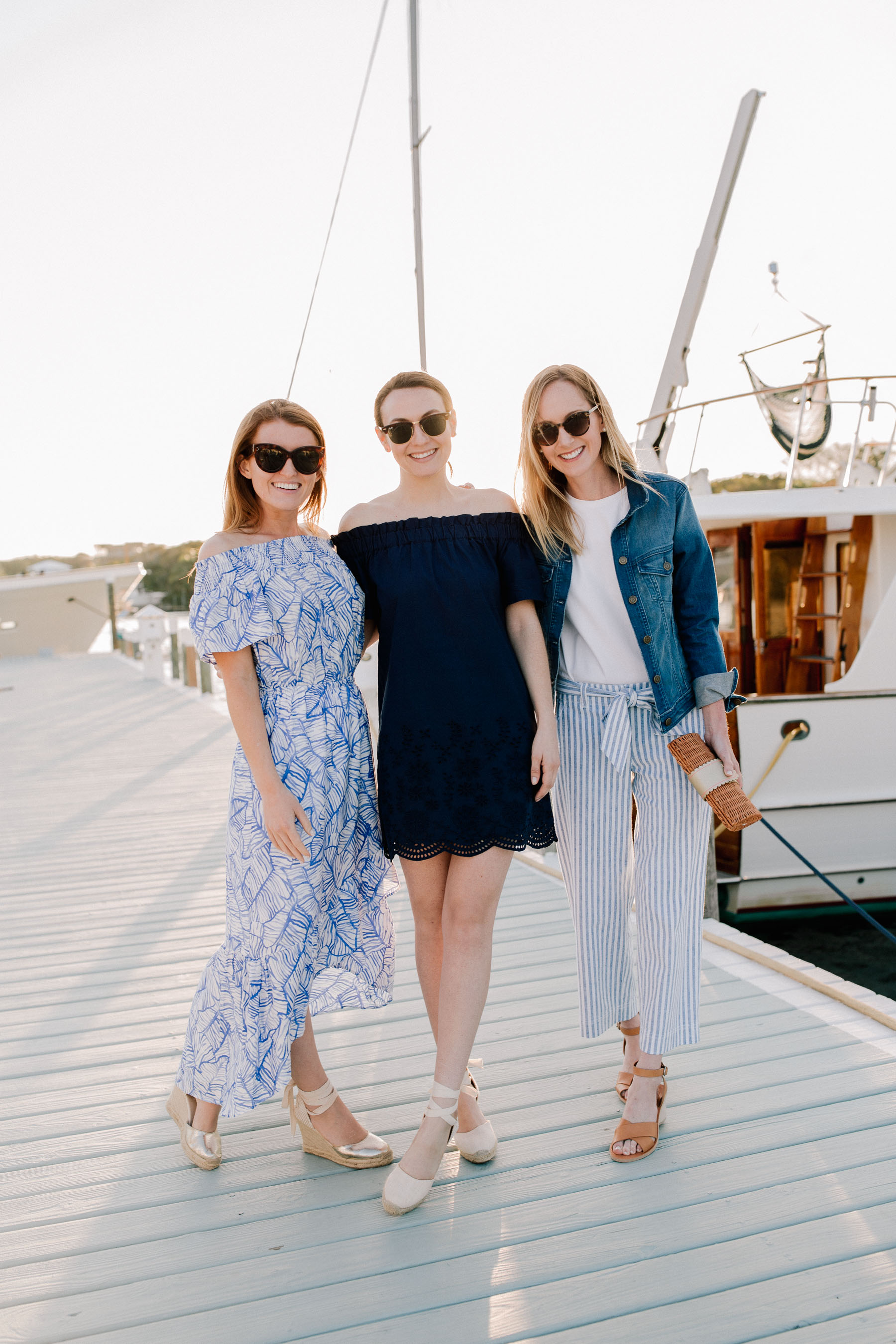 Shop the post:
 My Pants, Tee and Denim Jacket / My Sandals / Similar Sunglasses / Newer VV Clutch / Mackenzie's Dress / Carly's Dress / The Girls' Wedges
Photos by Sean Gale Burke
SaveSave