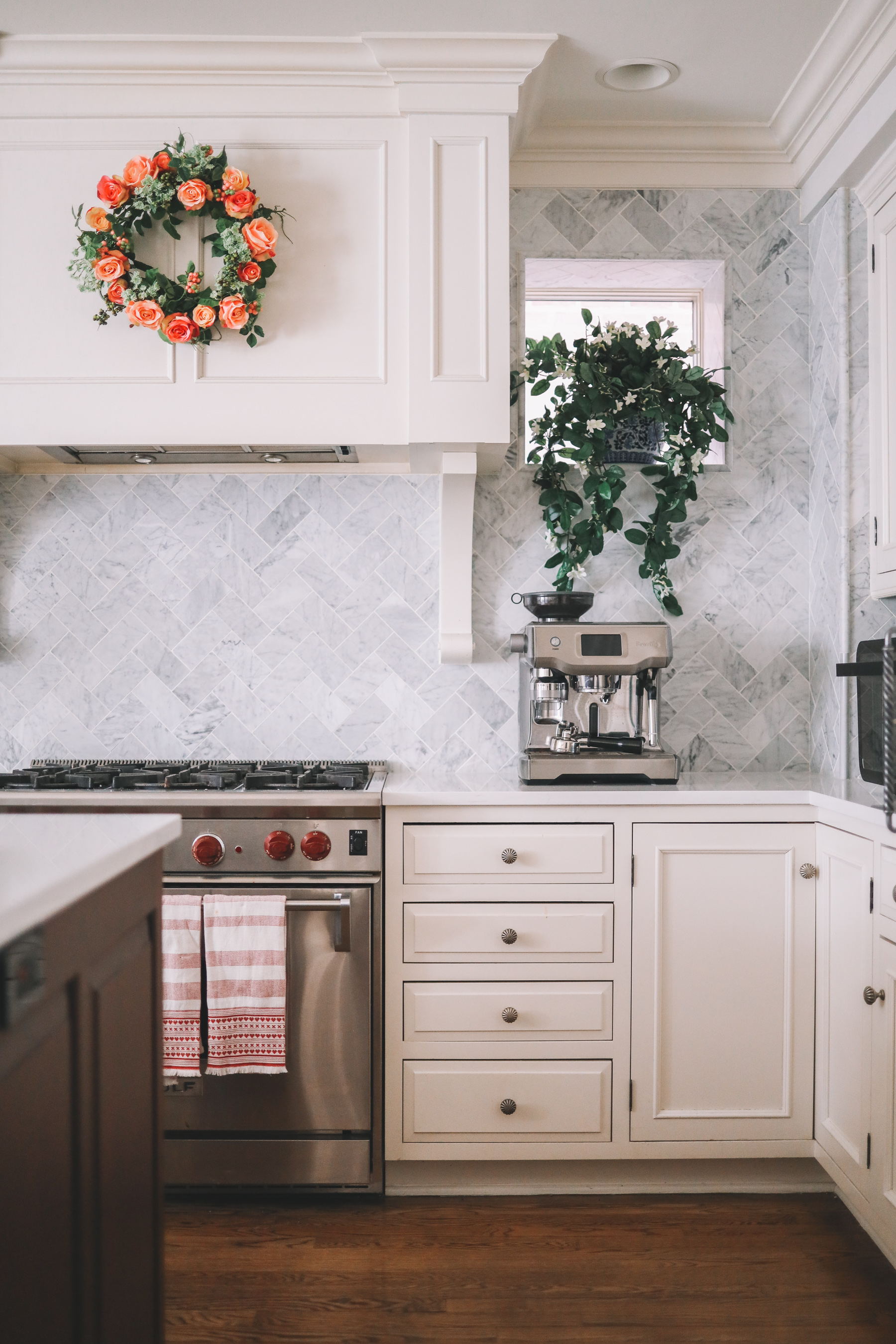 Simply Natural Faux Rose Wreath (Also available via Target) / $2.99 Heart Dish Towels / Hanging Plants (also at Target) in Chinoiserie Planters / Newer Envogue Dachshund Dish Towels (Thank you, Aunt Michelle!) / Front Door Faux Peony Wreath / Faux Roses Wrapped Around Chandelier
Because Mitch and I lived in tiny apartments for so long, we normally shy away from acquiring holiday decor. We tried in our last home–we really did! We had a bit more square footage to work with there and we wanted to make things special for Emma… but the decor still ended up feeling like clutter. And clutter = stress, at least for us!
Now that we have a house, though, things are so different. :) And I'm just so unbelievably grateful for every closet, drawer and cabinet. I'm also grateful that we can now decorate for holidays without freaking out! 😂
I should note, though, that we're trying really, really hard not to accumulate tubs full of stuff. We don't have a true storage space in the basement, so that's helpful, haha… and we've been good about only storing outdoor stuff in the garage. Still want to live that Marie Kondo lifestyle! Love the sense of clarity that comes with it.
Anyway, I'm taking a very slow approach to finding stuff. My mom always had cute decorations that she'd take out for each holiday, and they were always so special to me; they made the everyday fun. :) Over the years, I'd like to build some collections like my mom did, and recreate that sense for my own kids!
I didn't own any Valentine's Day decor previously, so this year, I mostly focused on faux greenery since I still had the hooks up from Christmas. ;) It's not much, but it's made a big difference in the feel of our home! Things are so drab in Chicago this time of year, but pink and red flowers everywhere sure make things a bit happier.

Right now is a GREAT time to stock up on Valentine's Day decor for next year, as nearly everything is so discounted since Feb. 14th is this Friday! Above is what I have my eye on, and below is what I managed to throw together this year!
Shop the post:
Simply Natural Faux Rose Wreath (Also available via Target) / $2.99 Heart Dish Towels / Hanging Plants (also at Target) in Chinoiserie Planters / Newer Envogue Dachshund Dish Towels (Thank you, Aunt Michelle!) / Front Door Faux Peony Wreath / Faux Roses Wrapped Around Chandelier