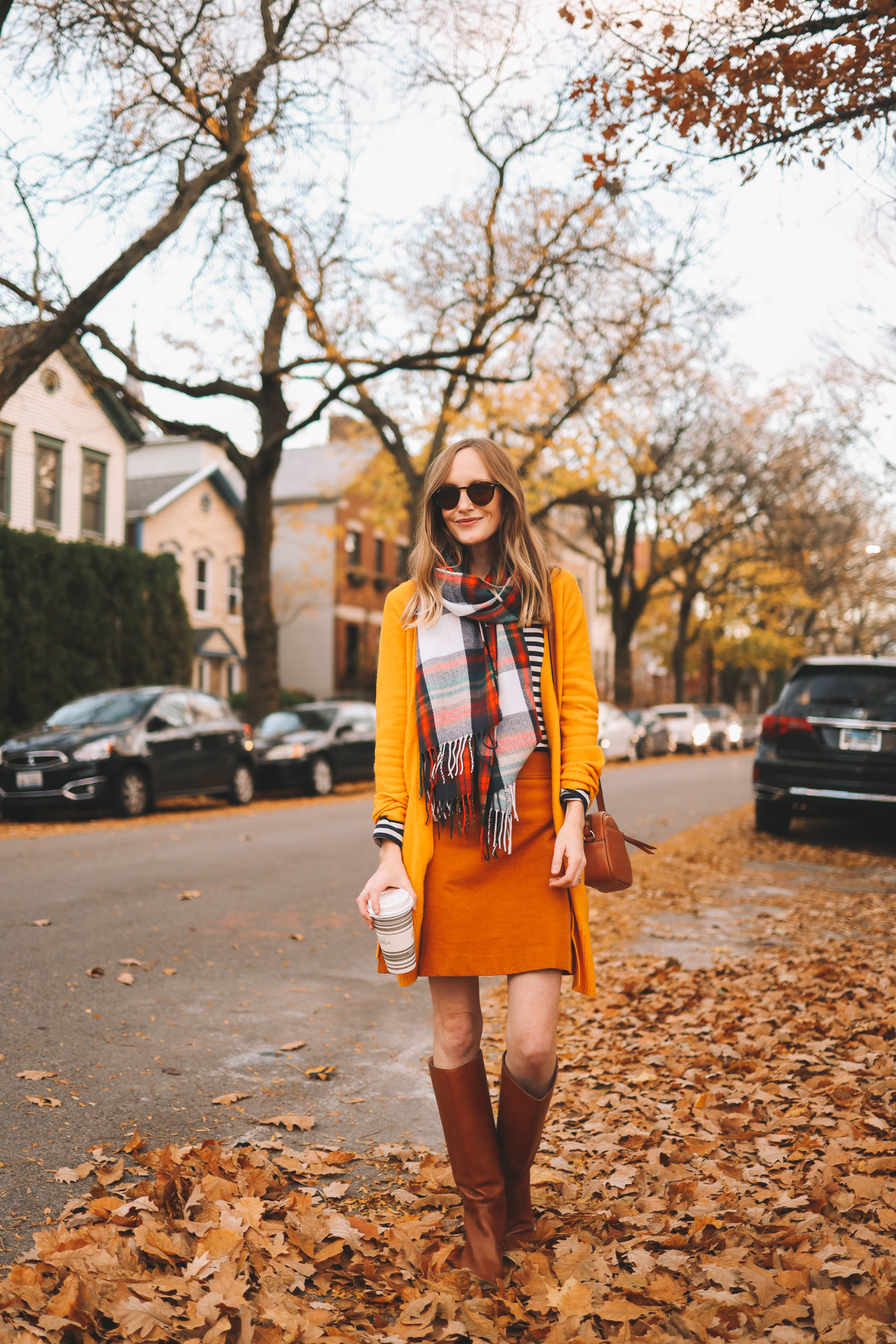 Plaid Scarf (Here's J.Crew's version.) / Long Cardigan (J.Crew's version here.) / Corduroy Skirt (And love this velvet one, too! And this buffalo check skirt is my most-worn fall skirt.) / Long-Sleeved Striped Tee (Factory version here.) / Crossbody Bag (Leopard here.) / Leather Riding Boots (These are fantastic as well.) / Sunglasses (More affordable here and here.)
Guys, I don't know. I'm depleted. I'm sorry.
If I'm being honest here, I've been avoiding the internet for the last few days, just trying to savor this sense of relief I feel after months and months of uncertainty and fear.
It's weird; I thought I would be all "YAY LIFE" right about now. And while part of me definitely is like that, another part is highly cognizant of how draining this year has been… and my need to unwind and disappear and retreat into myself for a little while.
That sentence makes me hate myself, haha. But it is what it is. And the best I've been able to do these last few days is walk and breathe deeply and enjoy my family and clean. (😂)
You know: Channel the energy, or lack thereof… and wait for eloquence.
In the meantime, this is what I wore during Chicago's last 70-degree November day:
xoxo
Shop the post:
Plaid Scarf (Here's J.Crew's version.) / Long Cardigan (J.Crew's version here.) / Corduroy Skirt (And love this velvet one, too! And this buffalo check skirt is my most-worn fall skirt.) / Long-Sleeved Striped Tee (Factory version here.) / Crossbody Bag (Leopard here.) / Leather Riding Boots (These are fantastic as well.) / Sunglasses (More affordable here and here.)