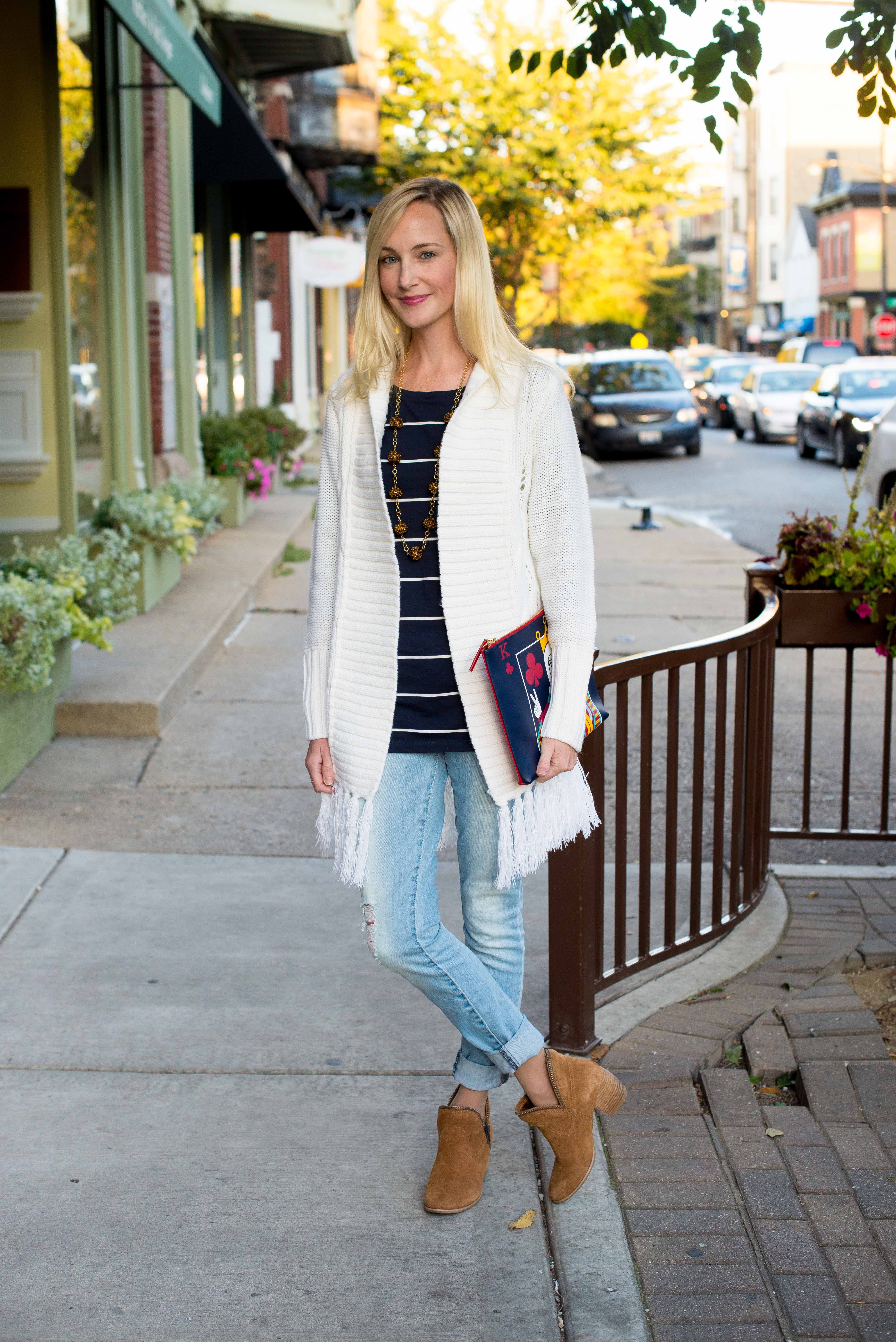 Tasseled Dex Sweater (c/o — Available soon; check out the current collection here) / Lexington Top (c/o) / Greywire Jeans (c/o — Sizing tip: I'm wearing my usual size here, but I think I should have gone down one) / Chinese Laundry Booties (Here in "rose gold," and newer styles here) / Lisi Lerch Necklace (c/o — It's called the "Kelly" necklace, in case you were wondering. ;) Ha!) / Jonathan Adler Clutch (c/o) / Michael Kors Watch / J.Crew Earrings / Armed & Readi Bracelet
My favorite part of my "new life" is the evening walks I take with Mitch and Noodle every night. We set out around 6 or 7 p.m., and go wherever the wind takes us. (Hehe–Chicago joke.) But in all seriousness, they're wonderful.
Because of our walks, Mitch and I get out on a regular basis, we're able to catch up and talk about our days, and we're encouraged to explore different areas of the city. Making new friends seems easier, too. (Everyone wants to interact with our "Snicker Noodle!" Thanks, Noods.)
I know that having pets can be incredibly expensive (and I'm sure that a hefty vet bill is on its way), but so far, Noodle has been amazing for the ol' bank account, too. She's made us realize that we don't have to pay for our entertainment. We can create our own fun.
Do I miss having the ability to drop everything and go out to dinner or grab drinks whenever we want? Sure; to some degree. At the same time, though, I'm loving my new lifestyle. (And the lower credit card bills, haha.) Responsibilities aren't always burdens. Sometimes, they're these awesome parts of our lives that make everything better.