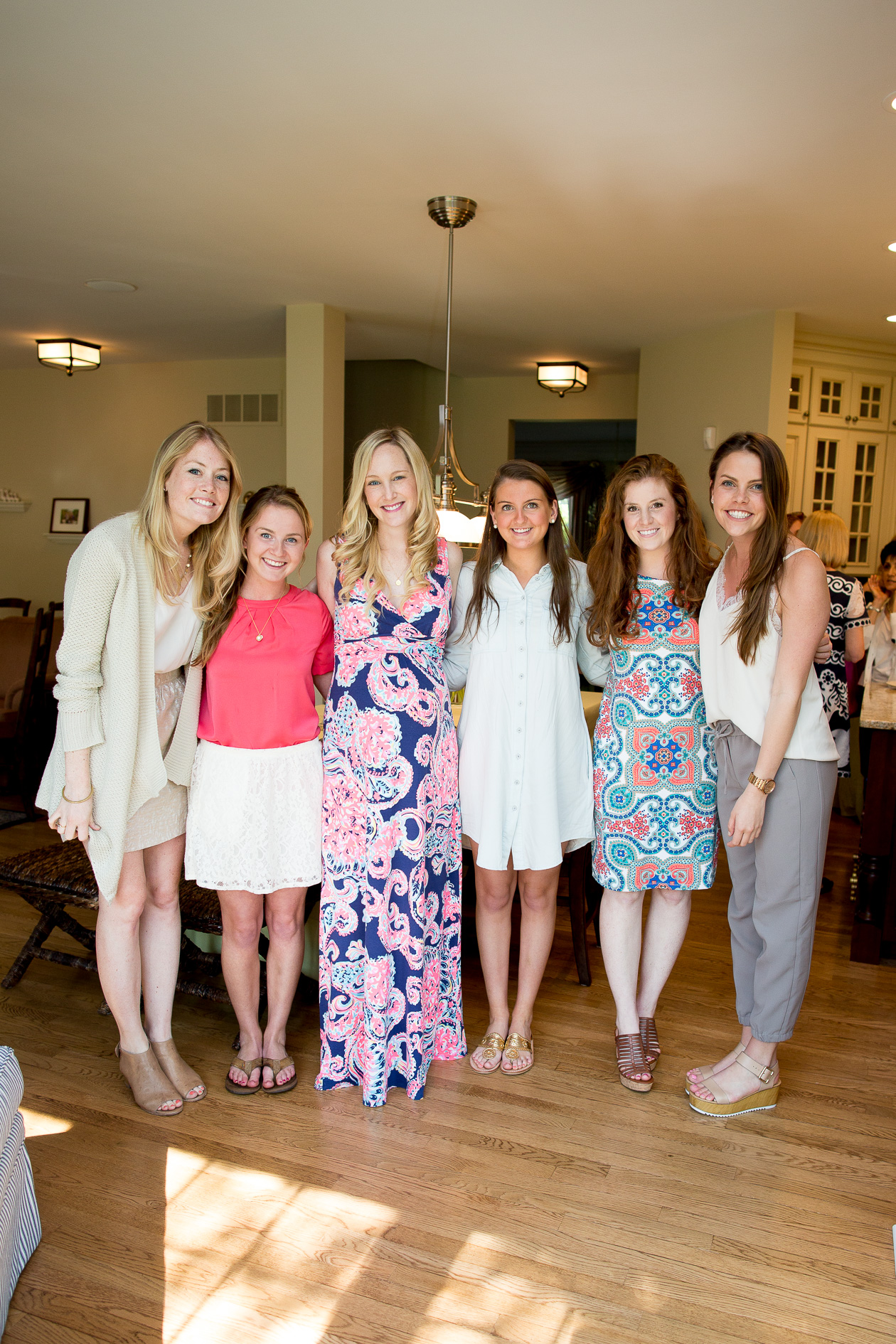 I wore a Lilly dress I'd originally packed for Nantucket (Last seen here) and Jack Rogers Wedges (My newest obsession) / Pictured above: my cousins Annie, Olivia, Delaney and Paige, and my sister-in-law, Kim. We missed you, Sammy, Cassidy, Mackenzie and Brenna! <3
Yesterday, my dad took me out to breakfast at Mil-Lee's in downtown Yardley, and when we returned, my mom, grandmothers, aunts and cousins surprised me with a family baby shower! Half of my family lives on Long Island and the other half lives in New York City, so I was incredibly touched that everyone made the trip to my parents' house in Bucks County. :) I'm the luckiest girl!
A few months ago, when a baby shower was being talked about, I kind of said I was feeling a bit too overwhelmed for one. Since this is my first pregnancy, I wasn't sure whether I'd be up for a big trip back home at 7.5 months, and I also didn't think I'd be able to leave Chicago considering how many construction projects we had (and still have) going on. But when Mitch and I were visiting my parents in Ocean City a few weeks ago, I decided that I was feelin' pretty good, that construction could wait, and that I really didn't want to miss out on all three weekends of fun back East: Rebecca's shower, Nantucket, and Katie's wedding. So I booked flights… and that's when Mom & Co. secretly started planning a little family shower!
In true @cathyinthecountry fashion, the shower was adorable. (And totally not overwhelming! Thank you, Mom! I love you so much!) It was elephant-themed, as we plan on decorating the nursery with lots of elephants… and oh my goodness: the centerpieces. (Please watch the video. Hysterical.) I didn't take too many photos as I simply wanted to enjoy the day and catch up with the fam, but below are a few.
Family, I love you beyond measure, and thank you for everything! Yesterday truly meant the world. Something tells me that Baby Larkin is going to be very loved. :)
Mitch, how cute is this?! Miss you!