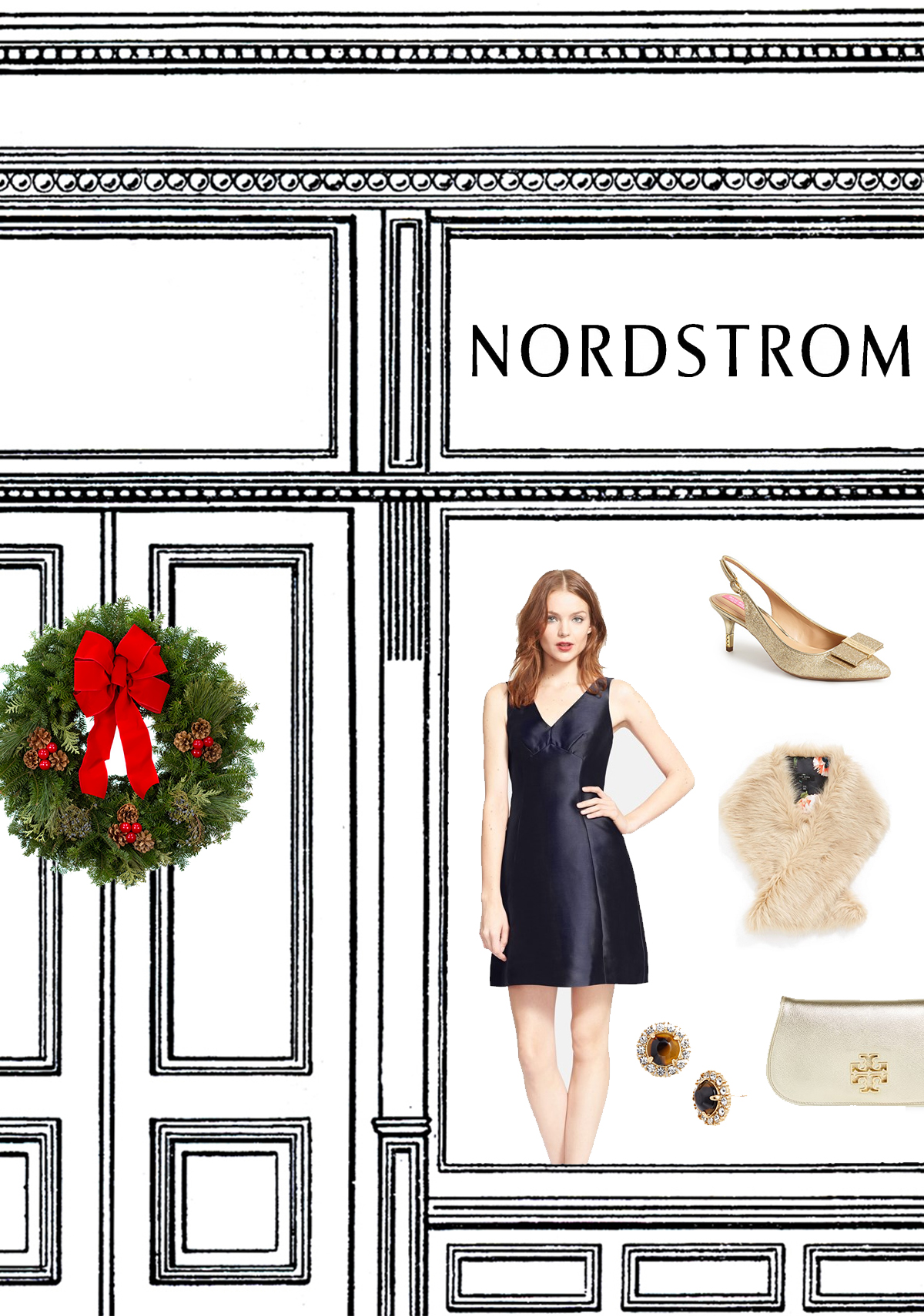 Dress // Pumps // Shawl // Earrings // Clutch
Every holiday season while growing up, my mother took me into the city to see the "Windows." I loved it. We'd wake up early, dress in our Christmas best (velvet dresses and patent leather Mary Janes–for me, at least), and take the train in together. I still vividly remember holding Mom's hand as tightly as I could, nervous about being swept away by crowds yet excited beyond belief to be surrounded by the Big Apple's hustle and bustle. The perfectly arranged department store windows seemed to come alive before my eyes, and everything was magical. (Thanks, Mom. Happy memories.)
Can you imagine being one of the people who gets to style those holiday windows? Knowing that your designs and picks are going to be seen by, quite literally, millions? So cool. I'd kill for a chance to do it some day, but for now, I'm just going to go ahead and style my own virtual window for Nordstrom–my favorite department store. And since there have been a big number of events to attend this season (so fun!), I'm packing my window full of holiday party essentials.
How do you like my look?! ;) What would you put in your Nordstrom window? (Oh–I'd also have little dachshunds with plaid collars dancing around the mannequin's feet, but I'm not the best with graphic design, so I couldn't make that happen for this post. But please take note, haha.)
Below are some of my other favorites from Nordstrom. (Only two weeks left to get that shopping done!)
Disclosure: This post was sponsored by ShopStyle, but all opinions (and masterful Photoshop work) are my own. Thank you so much for supporting the collaborations that keep this blog up and running!