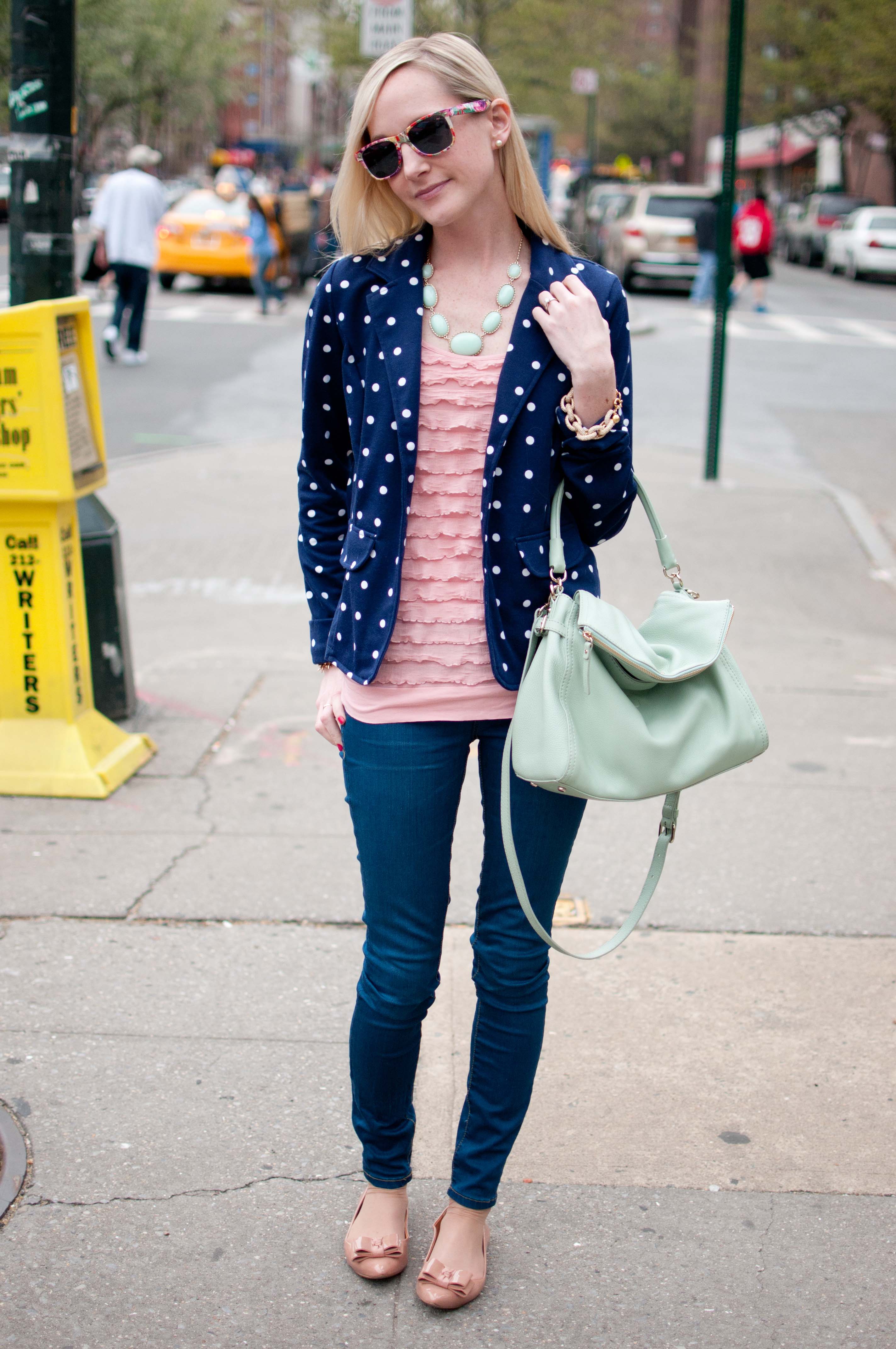 First of all, can you tell how much of a rush I was in on Sunday morning? Same bag and jewelry. Whatever. ;) At least I made it on time to my good friend Ann Marie's baby shower up in Pleasantville (which was gorgeous–so excited for her!), and back down to Stuyvesant Town to visit our good friend Shawn. What a weekend!
Blazer: TJMaxx, similar here (On sale! And take an additional 15 percent off with code "WACKSLACKS"), here (On sale!), here and here (On sale! And take an additional 25 percent off with code "SPRINGBEST") / Jeans: BlankNYC / Bag: Kate Spade (On sale! And available in many colors!), in pink on crazy sale here / Shirt: Ann Taylor Loft, similar here / Sunnies: NYC street vendor, similar here (Splurge), here (Save), here (Save) and here (Super save) / Necklace: J.Crew Factory, similar here / Flats: J.Crew Factory / Bracelets: J.Crew and Stella & Dot / Watch: Marc Jacobs / Earrings: J.Crew /
Whenever I'm back in Stuy Town, I can't help but reminisce about our years down in the East Village on Avenue B. I moved down there shortly after I moved into a fourth-floor walkup studio by myself on the Upper East Side. It was in my tiny space–which I'd thought I'd really, really love–where I realized that I am not fit to live alone. It seemed like a fabulous idea: privacy, lots of "me time," and the ability to decorate the place how I wanted. The downside: everything else. After three months of loneliness and boredom, I moved in with three guys.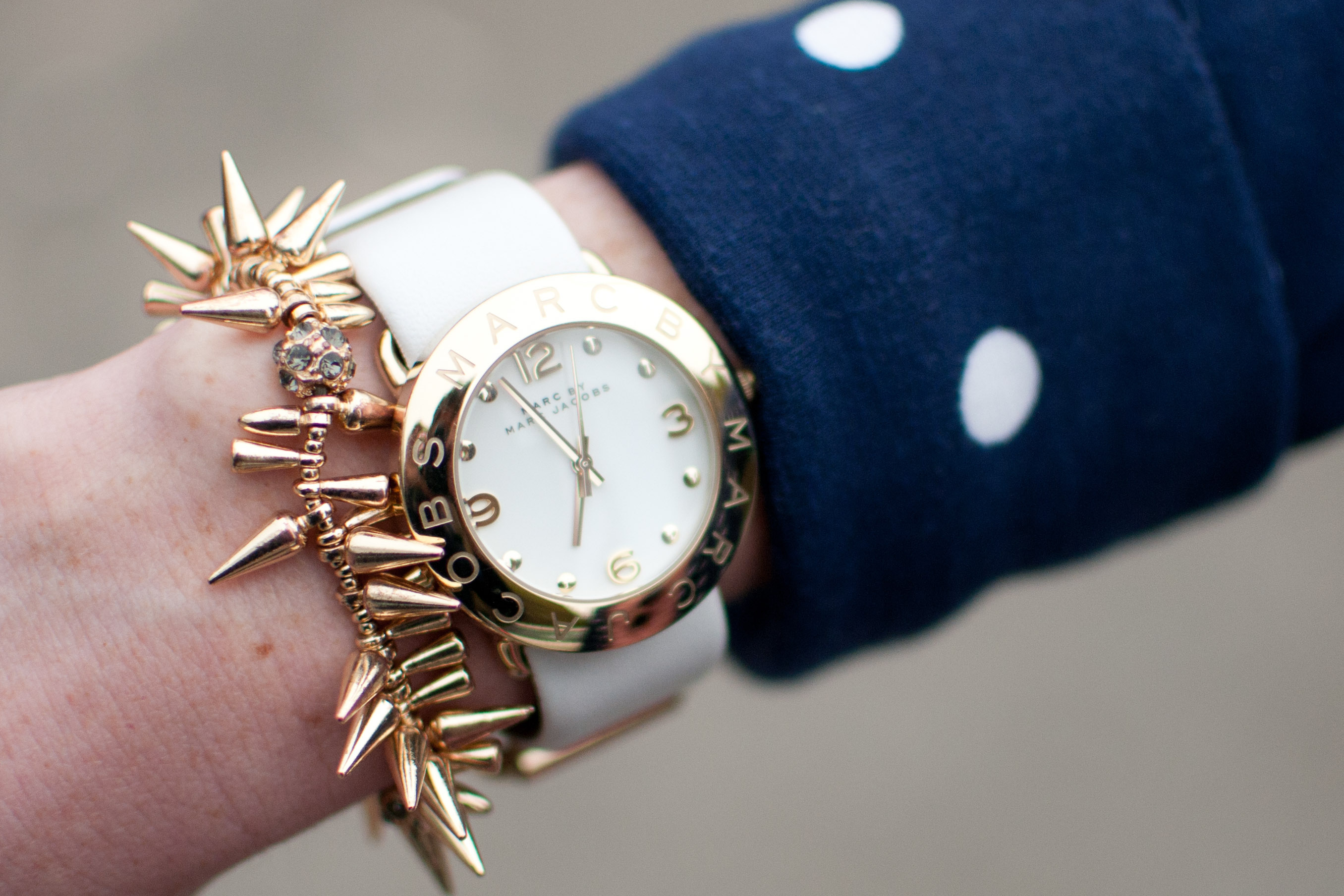 I like to think of those days as "Three Guys, a Girl and a Fake Wall." In NYC, non-millionaire residents typically construct fake walls in order to get extra bedrooms out of whatever little space is available. Sometimes these fake walls aren't legal, though. And that's when it's necessary to run to Home Depot and bring the construction materials into your apartment in the middle of the night. And when you don't need the wall anymore? Simply take a sledge hammer to it. No biggie. Oh, the things we do to survive in the city. ;)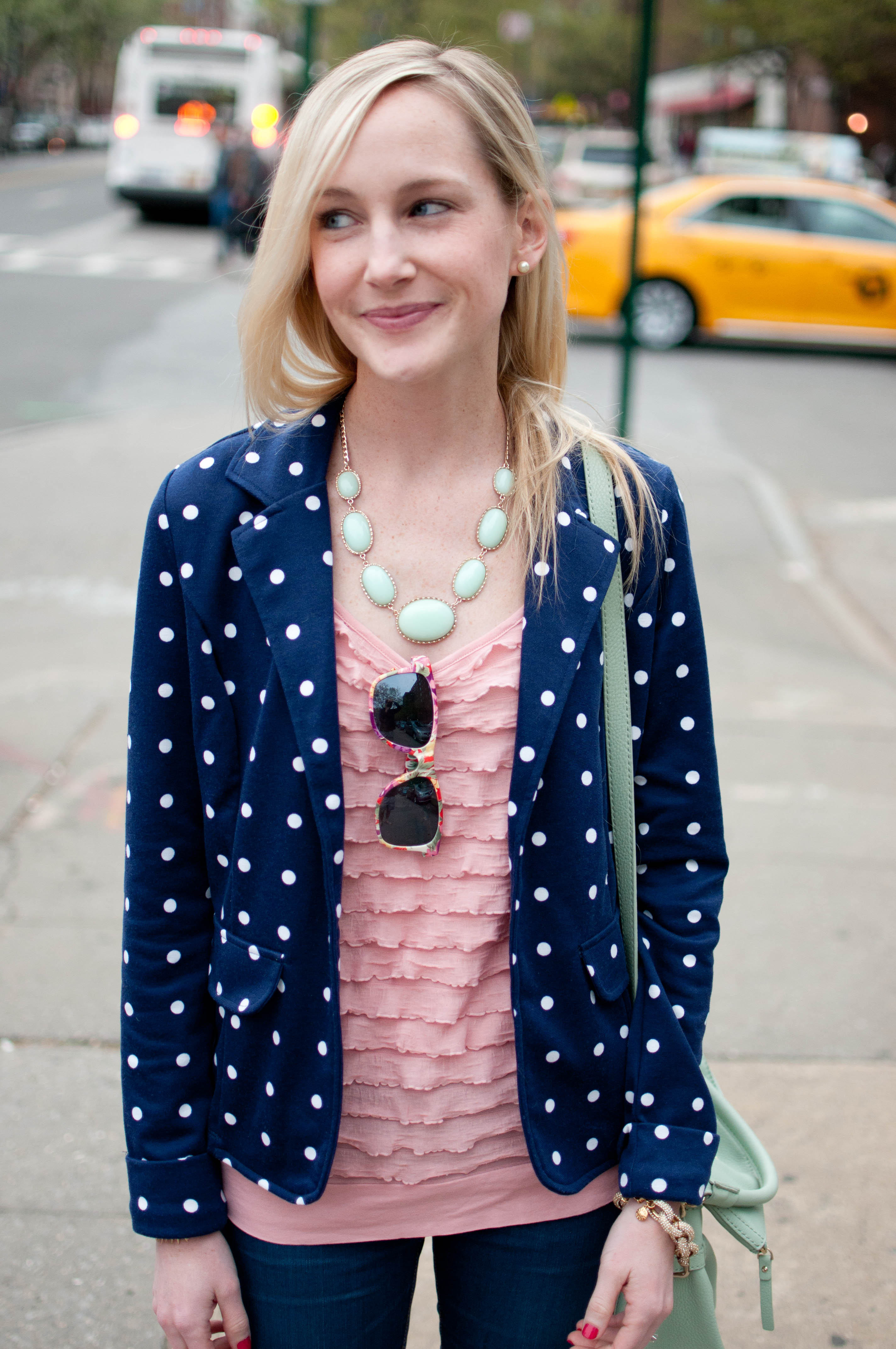 Living with three guys was a challenge. But at the same time, I learned a lot, laughed a lot, made some pretty incredible friends, and had some of the best years of my life. (My roommates certainly knew how to have fun. ;)) And, clearly, things worked out. I'm marrying one of them, and the other two–Shawn and Eric–are in our bridal party.
Now that Mitch and I live in a relatively normal space, sometimes it's hard to remember how we used to live. Life is such a crazy adventure. Especially when you're a 20-Something living in New York. ;) Over and out, fashionistas! Wishing you a wonderful week!
Blazer: TJMaxx, similar here (On sale! And take an additional 15 percent off with code "WACKSLACKS"), here (On sale!), here and here (On sale! And take an additional 25 percent off with code "SPRINGBEST") / Jeans: BlankNYC / Bag: Kate Spade (On sale! And available in many colors!), in pink on crazy sale here / Shirt: Ann Taylor Loft, similar here / Sunnies: NYC street vendor, similar here (Splurge), here (Save), here (Save) and here (Super save) / Necklace: J.Crew Factory, similar here / Flats: J.Crew Factory / Bracelets: J.Crew and Stella & Dot / Watch: Marc Jacobs / Earrings: J.Crew /