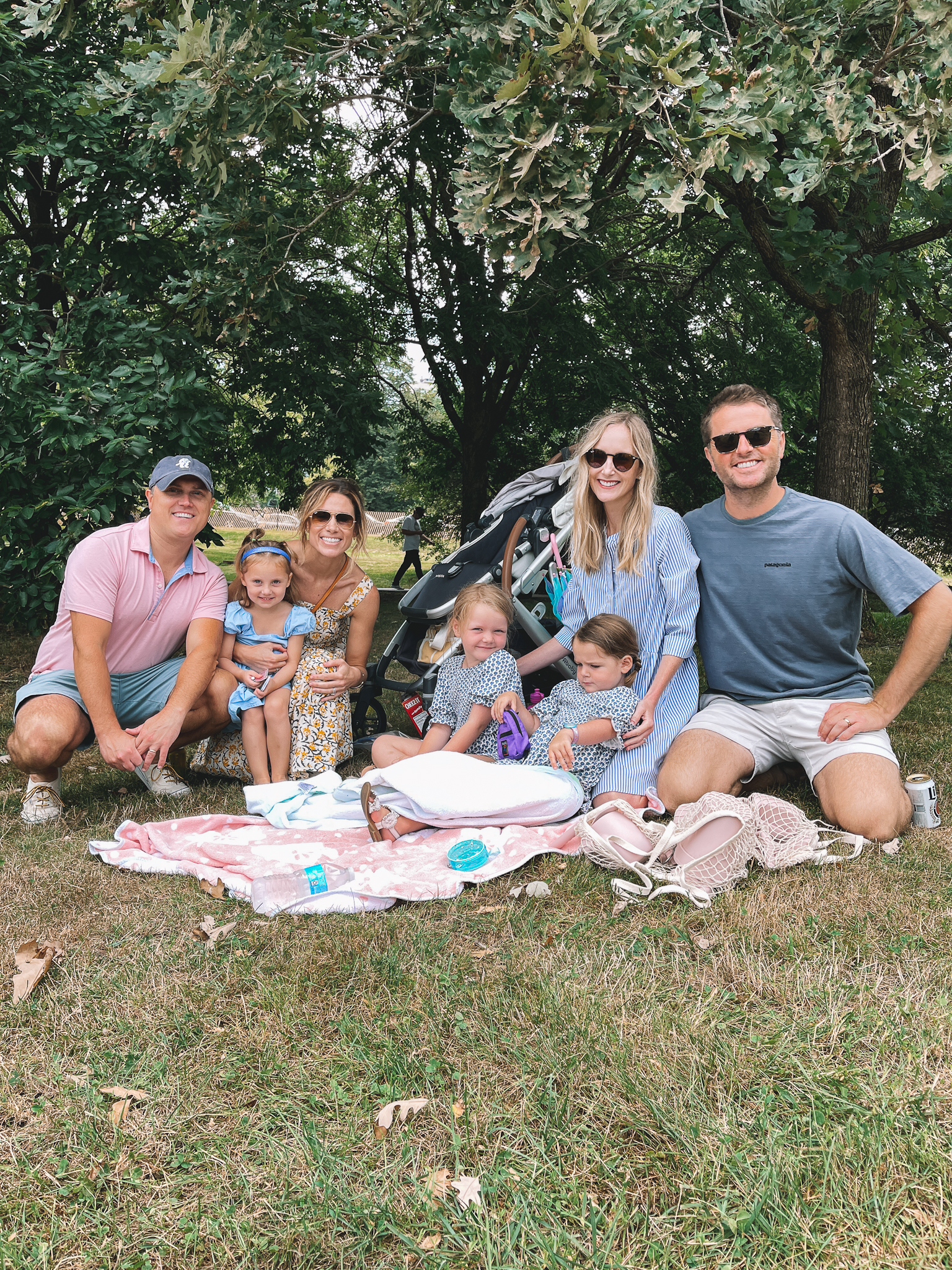 Watching the Chicago Air and Water Show this past weekend with our friends Gretchen and James! (After getting caught in a rainstorm. RIP hair.)
Tuckernuck Royal Shirt Dress / Girls' Crewcuts Dresses (We also ADORE these.) / Sand Toys / Weezie Towels
Hello! Here are the first 10 things that come to mind today:
I started painting! Not like real painting 🙈; I'm just using acrylic paints to give the girls' play kitchen accessories a nice little facelift. (Many are five years old and have seen better days!) But it's been so relaxing at night. I set up camp in the kitchen at night, turn on jazz, pour myself a glass of wine, and go to work. It's mindless "work," which is perfect. Right now I'm giving an older version of this adorable set—previously in ROUGH shape—a nice little makeover! (Btw: If you're interested in doing this, which you're probably not, haha… I suggest getting this varnish so that the kids don't instantly ruin it.)
Mitch's German foreign exchange student from high school came to visit. Oh my goodness. What an amazing time we had. Thomas lived with the Larkins for a year in high school, and he is very much still a part of the family. Today he lives outside of Frankfurt,
EMMA IS OFFICIALLY A CHEERLEADER. Guys. I can't tell you how happy we are. It was so stressful. The cheerleading team was a huge part of the reason Emma was so excited about going to her new school, and we were panicked about her not "making" it. (No try-outs. Just a lottery system.) It's all she's talked about since last winter. By the grace of god, though, she will be cheering this year… and mom and dad are finally at ease. Mitch and I seriously went out to celebrate when we heard the news. And Emma screamed. Parenting! I wish I could go back and tell 24-year-old Mitch and Kelly that we'd one day be crazy worried about our first-grader making the cheerleading team. 😆 Congratulations, Emma. We love you and can't wait to watch you cheer your little heart out!
Guys, buy this INSANELY beautiful lattice rug on super sale today. Can you even get over how gorgeous it is?! And for such a deal. It's shocking, really. I ended up buying it because I love rotating our rugs every now and then for a fresh feel, haha. (If you're in this camp, too, I suggest getting this rug storage bag. Works like a charm.)
I love this versatile classy dress from Tuckernuck. I can't get enough of clothing that transitions well from season to season, or that even works year-round. And this is one of those numbers! This short-sleeve tweed version is also amazing.
If you have kids, get yourself a Bentgo Box ASAP. I linked it in this Amazon Storefront folder. It makes packing kiddie lunches so easy. We do it the night before with the kids, and they never complain about their lunches because they picked everything that went into it! We typically offer them sliced chicken, salami, cheese sticks, cucumbers, strawberries, goldfish, grapes, carrots, apple slices, watermelon, etc. And then there's a tiny circle in the center where we put a little "surprise," which is a small treat. They love it!
How adorable is this Liberty of London line? Clearly I have a Liberty problem. But gosh! Those dresses…
In my dad's retirement, he and my mom have taken up pickleball, and it's the cutest thing ever. There is nothing more adorable than the thought of my parents playing this together, and I definitely think they need these sweet paddles.
I think I've finally trained my hair to go a few days between washes. Only took a couple of decades! My secret is that I rinse and condition/deep-condition between washes, which makes it feel clean. I've linked my favorite haircare products in my Amazon storefront in case you're after thicker, healthier hair, too!
We're making a little progress with the night terrors. We read together and then chat for a solid 20 minutes before bed. We've also introduced an Alexa so she can listen to music and some Barbies so she can play in bed until she feels sleepy. And we've cut out milk from our diet—temporarily or perhaps permanently as there may be a link between milk and night terrors—and done away with the blackout curtains so as to allow more light into her bedroom. We're still experiencing a lot of wake-ups but I do think we're seeing some improvement. Cross your fingers for us that things get better; it's so hard to see your child feel truly scared!
Summersalt is having a huge end-of-season sale. My favorite collection is the Summersalt x Rifle Paper Co. collaboration. But be sure to check out the ever-popular Sidestroke, too. (Oh, and Summersalt carries a ton of long torso options!)
In an effort to avoid holiday stress, I started my Christmas shopping for the girls. I know. It's August. I'm aware of just how insane I sound. But I'm hosting my entire family this year, and I want to have fun—not feel under pressure! I also really enjoy collecting special things over a longer period of time instead of panic-buying. Here's what I've accomplished so far:
We ordered our Halloween costumes. The only fear here is that the girls change their minds but I will NOT be in the same position I was in last year. I told them that there's a cutoff. (Which is when the return window changes on this "round.") TBA what they choose. ;)
One Home Project Every Day update:

We sold Emma's desk and an extra dresser on Facebook Marketplace. We used the desk so much during quarantine, but it's gone unused for the last year, and we decided it was just taking up too much space. We ended up selling both for exactly what we originally paid, so it was a win-win!
We moved the piano to the playroom. THANK YOU, THOMAS, MITCH AND JOHN! You guys are the best. I was too scared to move it down there with Mitch, so it sat in our foyer for months. So lovely having it out of there!
We had our first guest use the new sleeper sofa! Thomas loved it. Of course, he is the most polite guy on the planet, so who knows. Might make Jess and Neal sleep on it, as I know I'll be able to pry the truth out of Jess. (Girlfriend is the most wonderful person ever but she will always tell it like it is! RIP Interior Define couch.)
I think I finally decided on sleeper chairs for the girls' rooms. The end goal here is to have sleeper chairs/sofas in nearly every room because we have so many guests! (Which we love.)
I made some progress with fixing up the toy closet. It's going to be a process, for sure, as there's a lot of work to do. But so far, I've implemented my favorite striped bins for storage.
We drilled holes in the bottoms of our ceramic planters and filled them with mums. First of all, we live in Chicago and have had these planters living outside for THREE YEARS, and they've never cracked. I'm so impressed. Second, we drilled holes in the bottom, and they still didn't crack. Incredible quality! (Also, can we believe we went the live plant route this year?!)
I sprayed down the patio. It needed it.