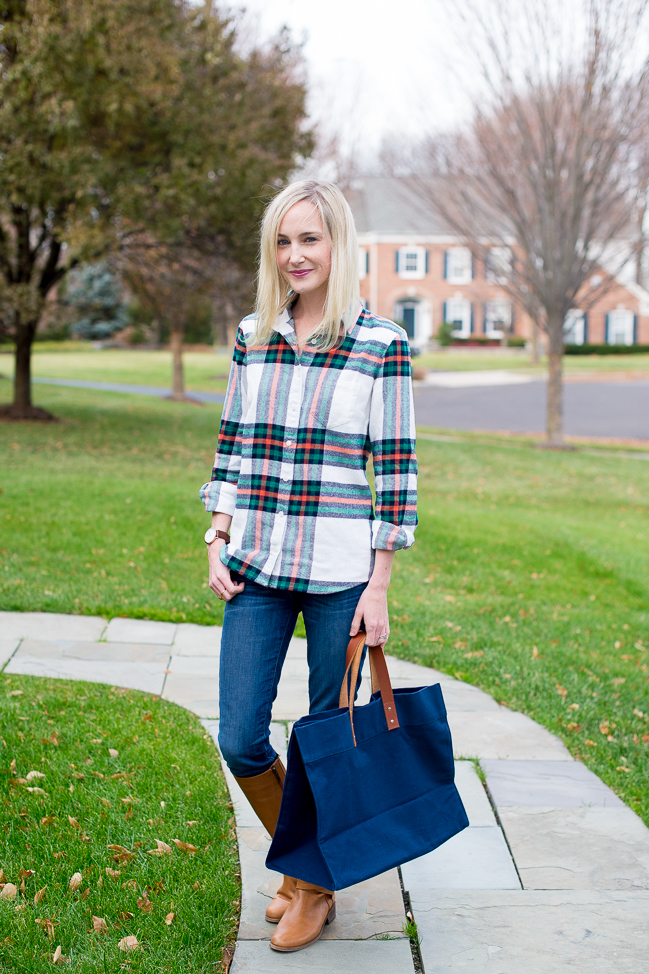 CB Station Tote (c/o — You can also find CB Station at Tuckernuck, which is having some amazing deals this weekend!) / J.Crew Factory Flannel Shirt (50 percent off everything and free shipping on $50+ orders) / J.Crew Jeans (Mine are in the "Miller" wash, but I love the "Kelly" wash, haha) and Earrings (30 percent off full-priced orders and 40 percent off sale products with code "HOLIDAY")/DUO Boots (c/o — 25 percent off this weekend with code "BLACK25") / Daniel Wellington Watch (c/o — Take 15 percent off with code "KELLYINTHECITY." Have you seen the new jeweled version?! Order any leather watch and get a free NATO strap!)
Please excuse the frizzy hair in these photos. ;) They were taken right before the first snowfall of the season in my parents' town. (#omgitswinter)
Well, today is my last day in Bucks County, and I'm already homesick, haha. Being home is wonderful. Between late-night airport pick-ups, Thanksgiving, and my grandmother's 80th birthday party out on Long Island (more about that tomorrow!), though, we've had a busy last few days here. So we're hangin' low today, and putting up the Christmas tree, shopping at Bucks County's local businesses, and ordering pizza for dinner. I'm also hoping to see my high school friends tonight. :) We have a 5 a.m. departure time tomorrow, and a 14-hour drive in front of us… so we're resting up!
Hope you guys have a wonderful Small Business Saturday!
A little bit about Small Business Saturday: It began as a way to help local businesses with their most pressing need–getting more customers. The day encourages people to shop at small businesses, specifically on the Saturday after Thanksgiving. (Today! Woo!) How can you help?! Get out there, and support your local businesses. And don't forget to use the hashtag #ShopSmall and #SmallBizSat in your Instagram photos, Facebook posts, and Tweets! Follow along with @ShopSmall's Instagram account today, too!