Serena & Lily Riviera Kids' Table and Chairs c/o / Old Gap Kids Bow Flats / Newer Ralph Lauren Dress / Similar Hair Bows
Note: This photos were taken for an Instagram giveaway collaboration I did with Nothing Bundt Cakes, but they were too cute to not include on the blog! The company is opening its 300th bakery. And to thank guests, they're  giving away up to 300 free Confetti Bundtlets for 300 seconds today at 3 p.m. at your local bakery. Learn more here!
I've been getting a lot of questions about Emma's table and chairs, so I thought I'd dedicate today to reviewing them!
Serena & Lily Kids' Riviera Table and Chairs Review
In full disclosure, Serena & Lily sent Emma the set last year in celebration of the Lincoln Park store opening. (If you're in Chicago, be sure to stop by the store, which is located at 853 West Armitage. It's GORGEOUS!) We were so excited about it since we'd had a couple of the (adult-sized) Riviera side chairs for a few years at that point, and loved both their look and their durability. Because the Riviera collection is made from lightweight rattan and woven plastic, everything is easy to move around and wipes clean. That's been huge for us; toddler messes are no joke, and not having to stress over Emma wrecking furniture has been wonderful on the mind.
Btw: Looking for awesome toddler-proof couches? I highly recommend the Landry leather line, available at Wayfair and Joss and Main. We've had ours for four years, and we have zero discoloration or scratches! Magic.
And let me tell you:
The kids' version of the Riviera furniture line is just as wonderful as the adult stuff. It's essentially the exact same thing, just on a miniature scale. And our set shows no signs of wear after almost a year of use! Emma uses it every single day. Also, she does arts and crafts at it, plays at it, builds Lego castles at it, and even eats at it. And again: no signs of wear. Just like the chairs, the tabletop wipes clean, and we've never had food or arts and crafts materials that we haven't been able to remove.
In terms of cost, yes, the kids' table and chairs are an investment. In our current living situation, though, we don't have a playroom or basement. So everything ends up in our living room–which is what you see the moment you step in the door. Because of that, we've tried really hard to only bring in larger kids' pieces that blend into our home decor and look really nice. (Like the Magnolia dollhouse, for example!) And the Serena & LilySerena & Lily set does just that. (Frankly, I think it makes our living room look better. 😜) Because of this, and because of how well-made the set is, it's completely worth it for us!
Anyway, here's hoping that Serena & Lily eventually comes out with an adult-sized version of the table, because I'd personally love to own one. And an A+ review from the Larkin Family for the Riviera table and chairs. We couldn't recommend them more!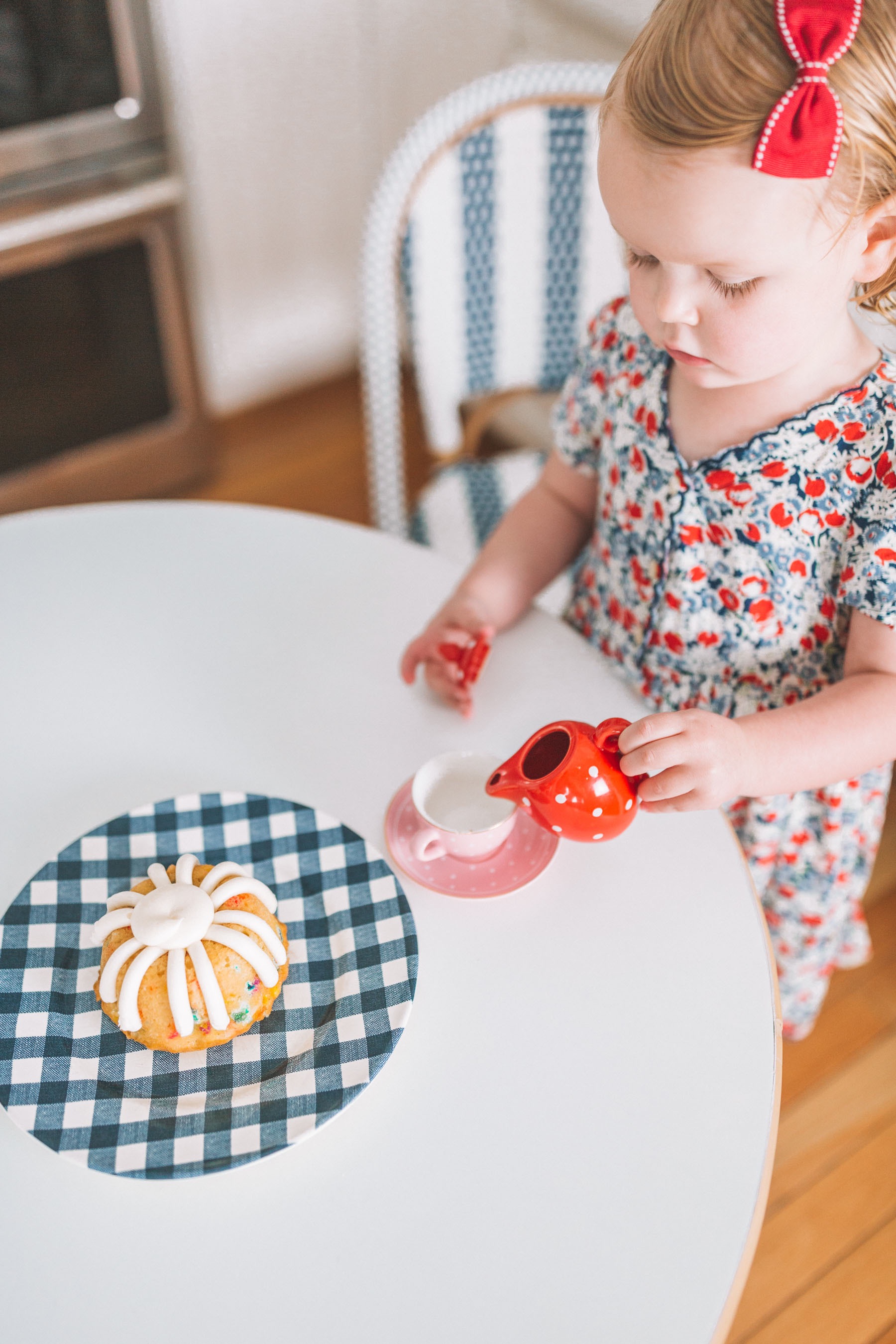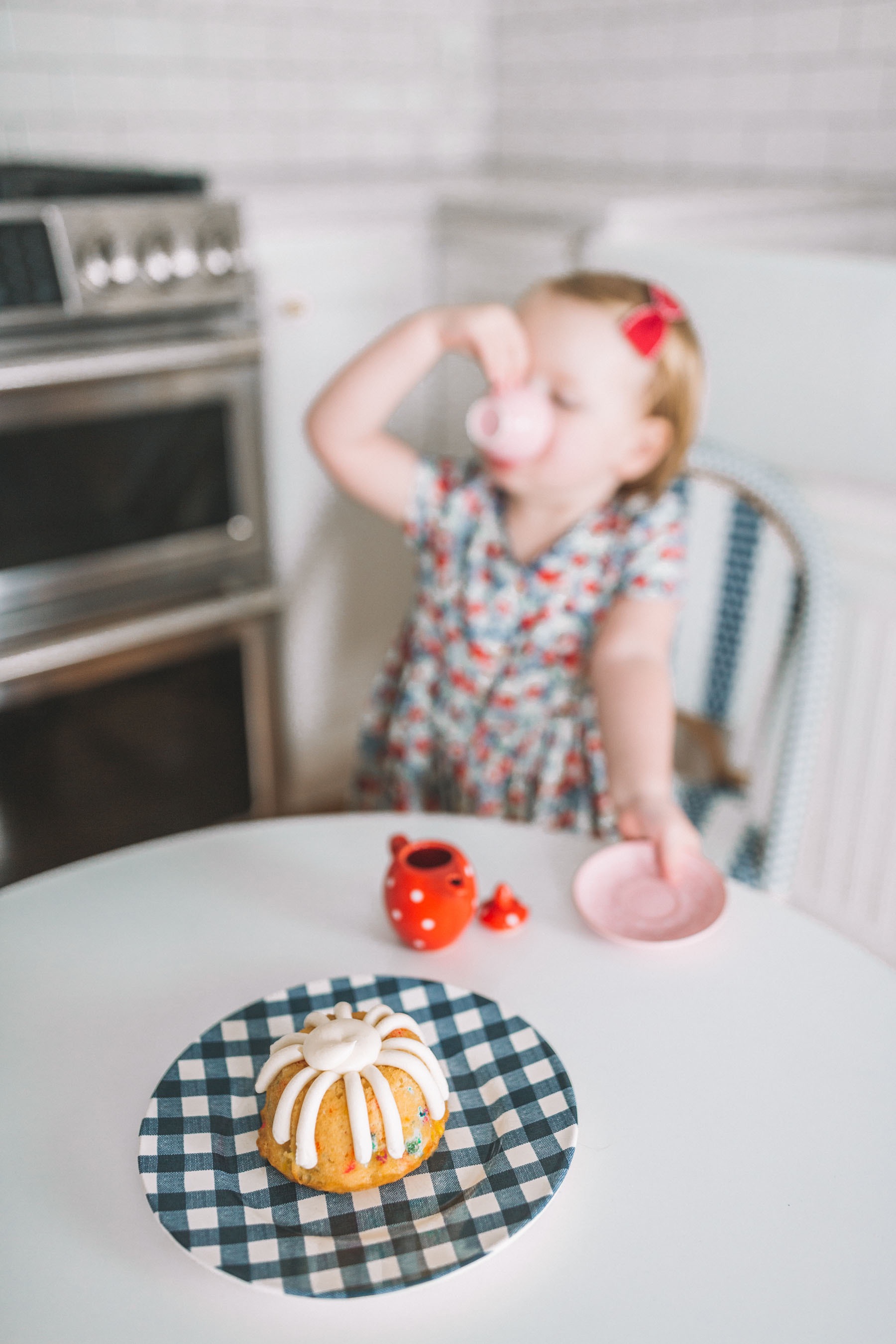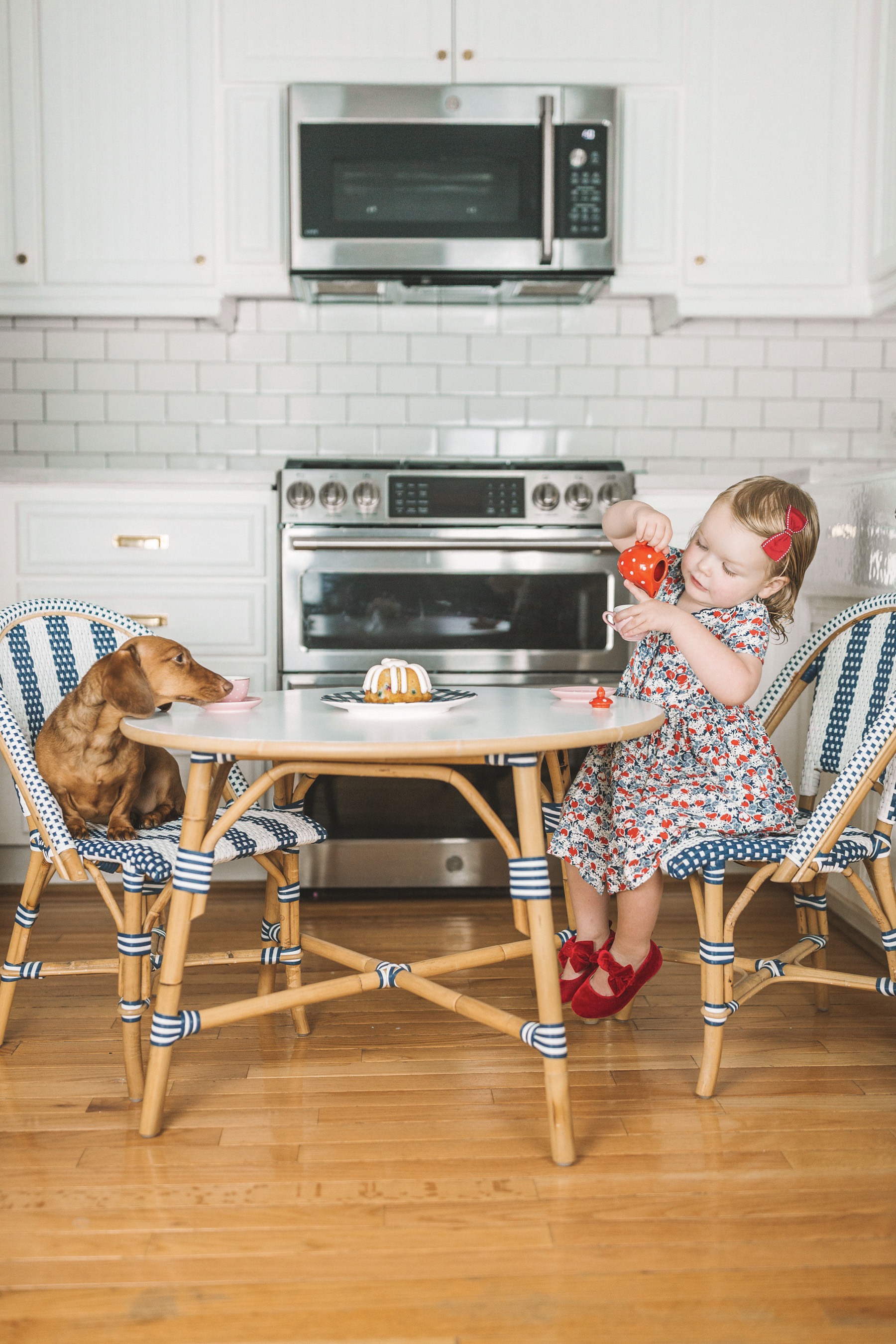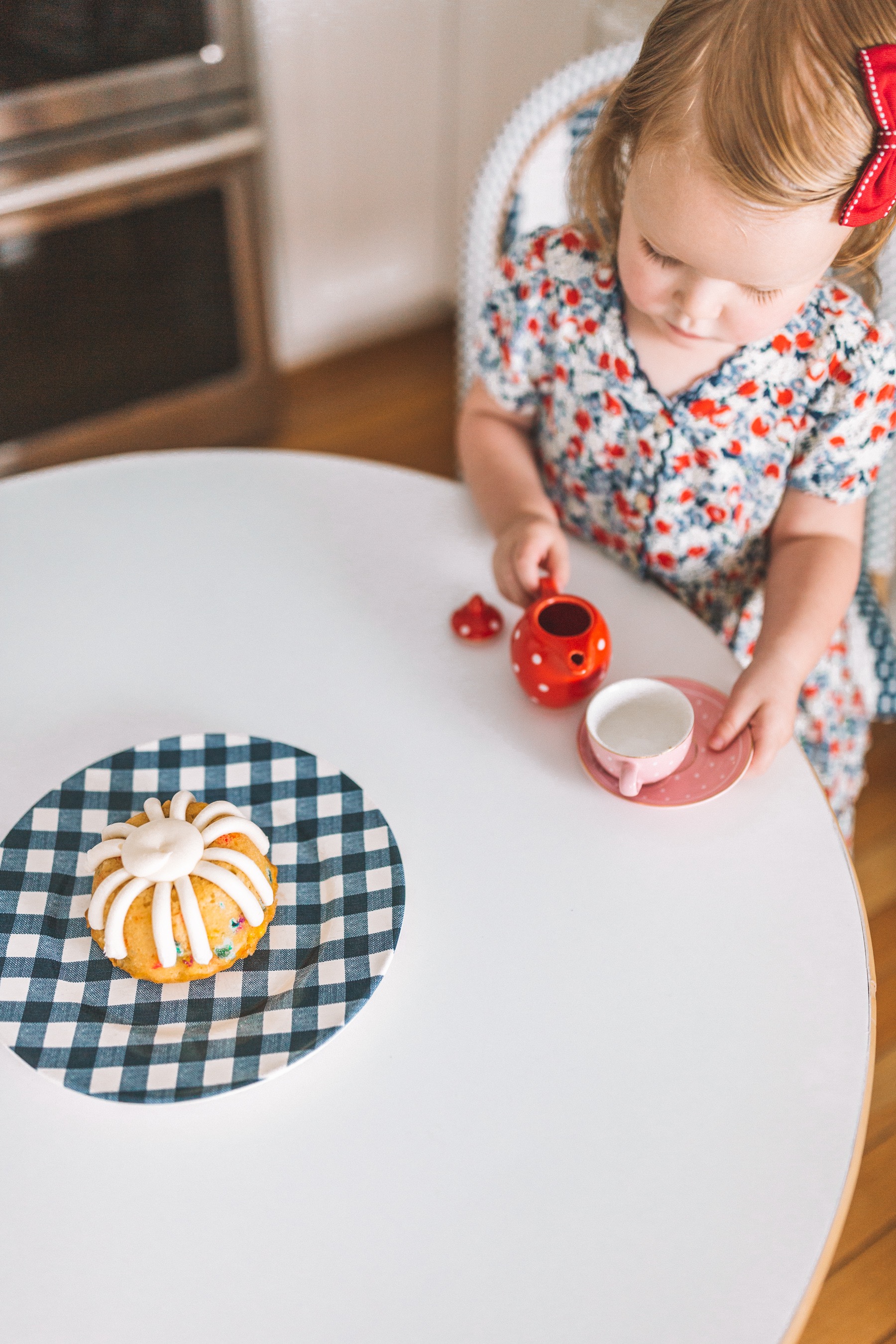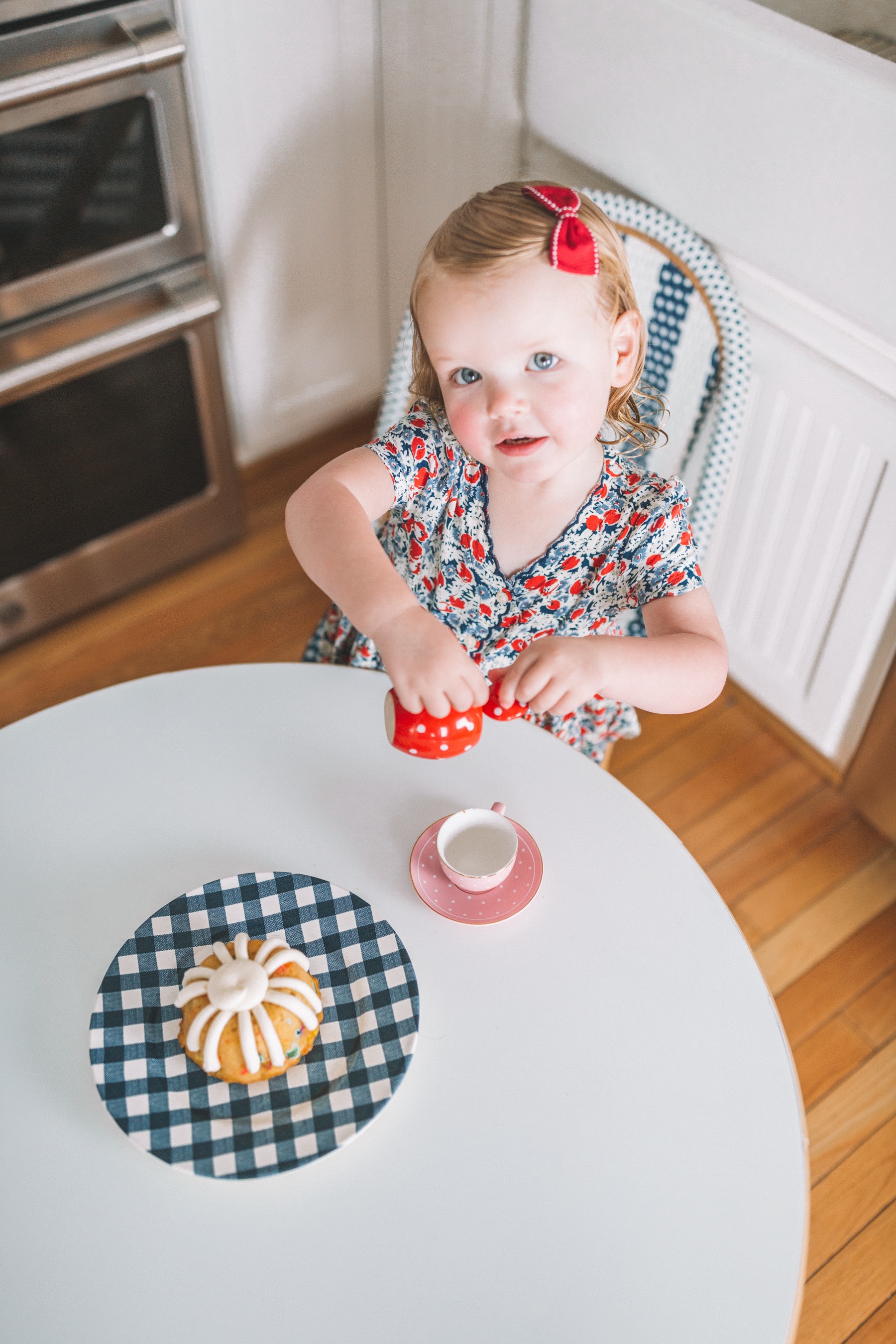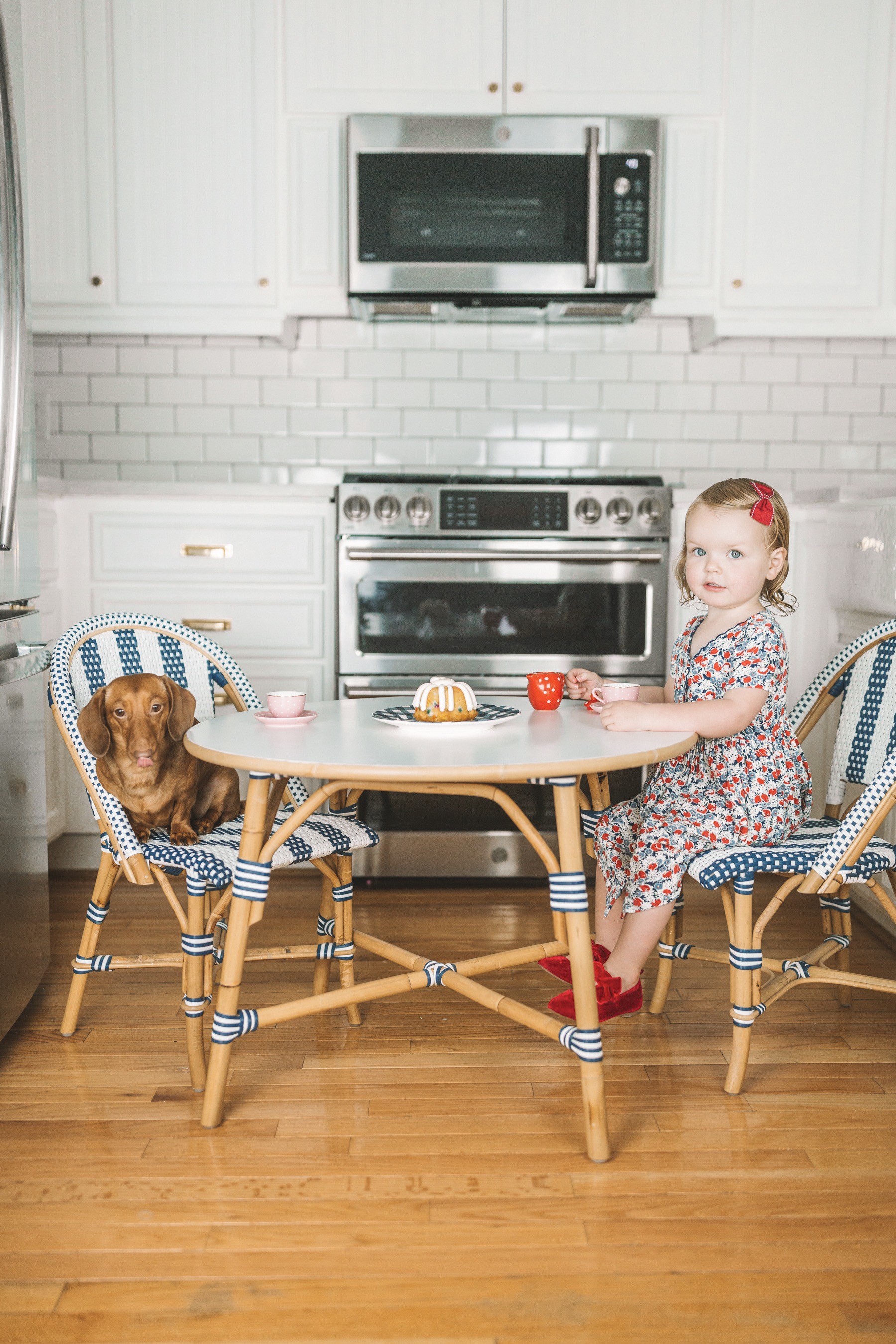 Shop the post:
Serena & Lily Riviera Kids' Table and Chairs c/o / Old Gap Kids Bow Flats / Newer Ralph Lauren Dress / Similar Hair Bows