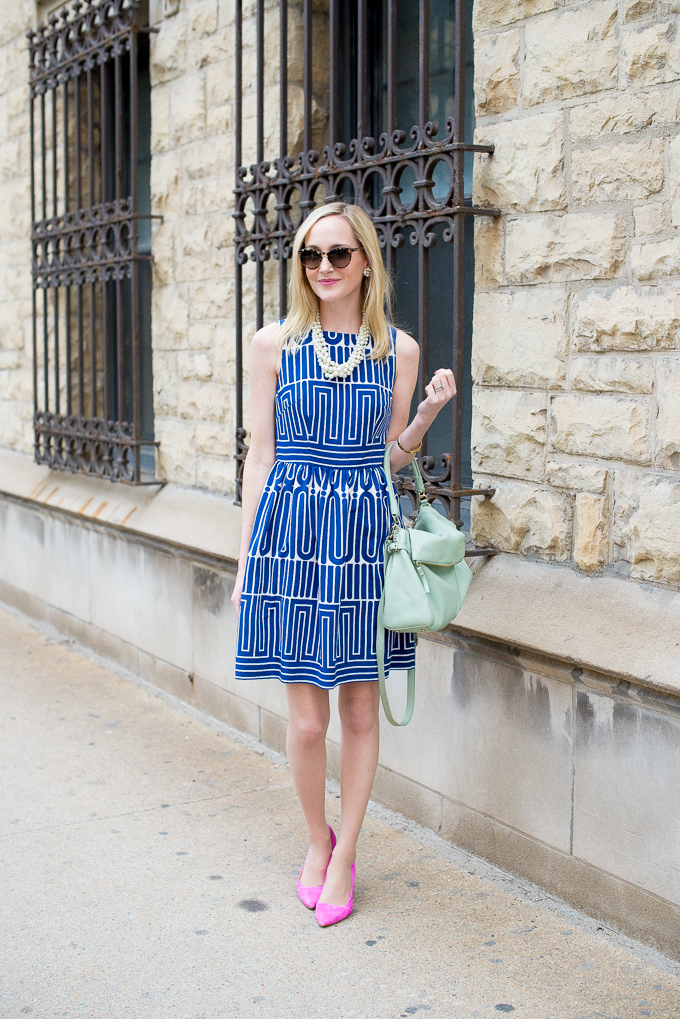 Trina Turk Dress (c/o Rent the Runway – New members, use code "RTRKELLY" to take $30 off your order of $90 or more!) / C.Wonder Pink Suede Pumps (Old, similar here, here, here and here) / Kate Spade Bag (Similar here) / J.Crew Necklace (Bracelet here) / Moon and Lola Earrings (c/o — And how cute is this pair and this pair?!) / Kate Spade Sunglasses (Old, but love this similar pair by Tory Burch and this pair from Ray-Ban!) and Bracelet (Old, but love the Sailor's Knot version!) / Clinique Lipstick ("Pudgy Peony")
Last night, I attended Rent the Runway's launch event at its new store in downtown Chicago.
So much fun.
Before I tell you about it, though, I should note that the store's grand opening is today! It's open 11 a.m. to 8 p.m. Monday through Friday, and 10 a.m. to 7 p.m. on Saturdays and Sundays. I mentioned this before, but the gorgeous 2,940-square-foot store, located at 710 North Wabash Avenue, features over 300 designers, including Lilly Pulitzer and Kate Spade. Four-day apparel rentals are priced from $30 to $800, and four-day accessory rentals are priced from $5 to $400. And you can rent the day of.
The launch event was great. It was a completely packed house, and everyone was dressed to the nines. I loved chatting with my girlfriends and meeting some new dress-loving ladies, browsing Rent the Runway's huge selection, and sampling some amazing bites and cocktails. I was beyond impressed with the store's space–so elegant!–and fell head over heels for this dress by Temperley London while there, too. (I think I need to marry Mitch again just so I can wear it!)
If you live in Chicago, you have to stop by. If not, you can still rent online, and use code "RTRKELLY" to take $30 off your order of $90 or more!






The F Bombs, The Fox and She, The Golden Girl, The Kittchen, Heart of Chic, Hot Pink Style
(Do we like how everyone's holding cute cocktails and I'm clutching a full bottle of wine? #classy)