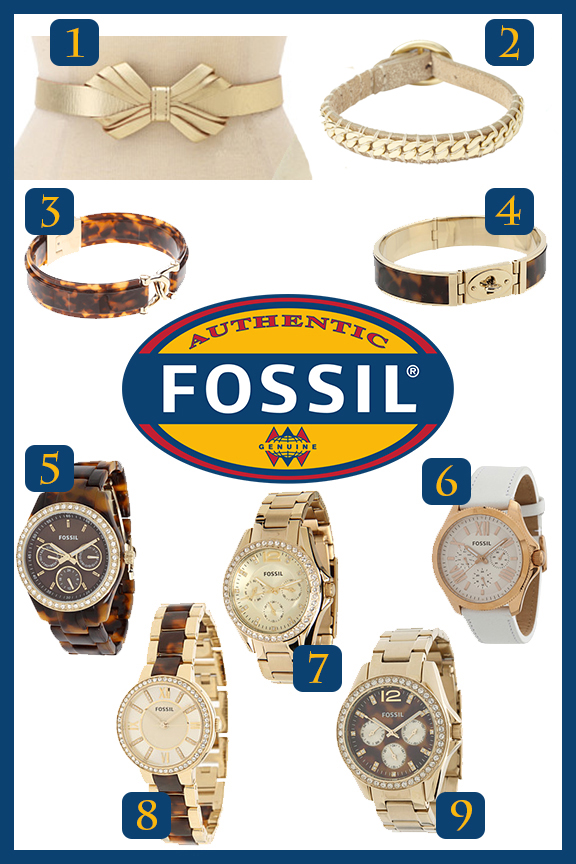 1. Gold Leather Bow Belt / 2. Braided Leather Bracelet / 3. Vintage Iconic D-Link Tortoise Bracelet / 4. Vintage Iconic Tortoise Bracelet / 5. Stella Watch / 6. Cecile Watch / 7. Riley Watch / 8. Virgina Watch / 9. Riley Watch (Tortoise)
I've been crazy about Fossil since high school, when my aunt gave me a Fossil watch for Christmas. (It kind of looked like this. Thanks, Auntie-M!) Our tastes have changed a bit since then, as we're now big into oversized, chunky gold watches with as much bling as possible. Thankfully, Fossil is still killin' it with trendy pieces! And the best part? Go with Fossil and you don't have to break the bank to get the look. (Right now, I'm swooning over #8, by the way!) And how cute are the tortoise bracelets? I'm also loving the Cheetah Leather Cuff, Green Velvet Trim Bracelet, Dalmatian Leather Cuff, and Tortoise Disc Bracelet.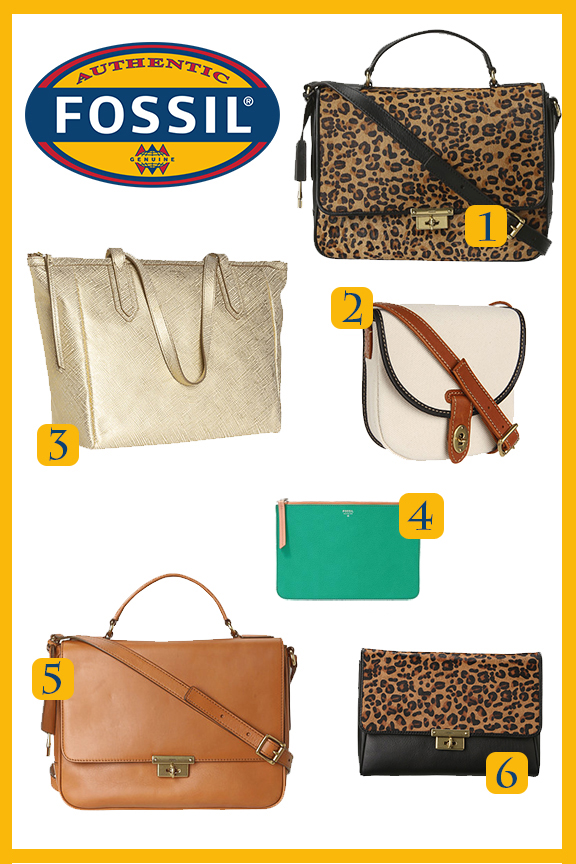 1. Cheetah Memoir Flap Bag / 2. Austin Small Flap Bag / 3. Gold Sydney Shopper / 4. Sydney Medium Pouch / 5. Camel Memoir Flap Bag / 6. Cheetah Memoir Haircalf Clutch
On to the bags. When I saw this one in a recent issue of Lucky Magazine, my heart skipped a beat. ;) Seriously, though. Its design and structure look so similar to that of the far more expensive Coach Court bag! And it comes in camel, which looks nearly identical to the Coach British Tan color. In love.
Happy weekend, fashionistas! New Yorkers, try to stay dry. :) And happy, happy birthday to my husband and best friend in the world. Love you!