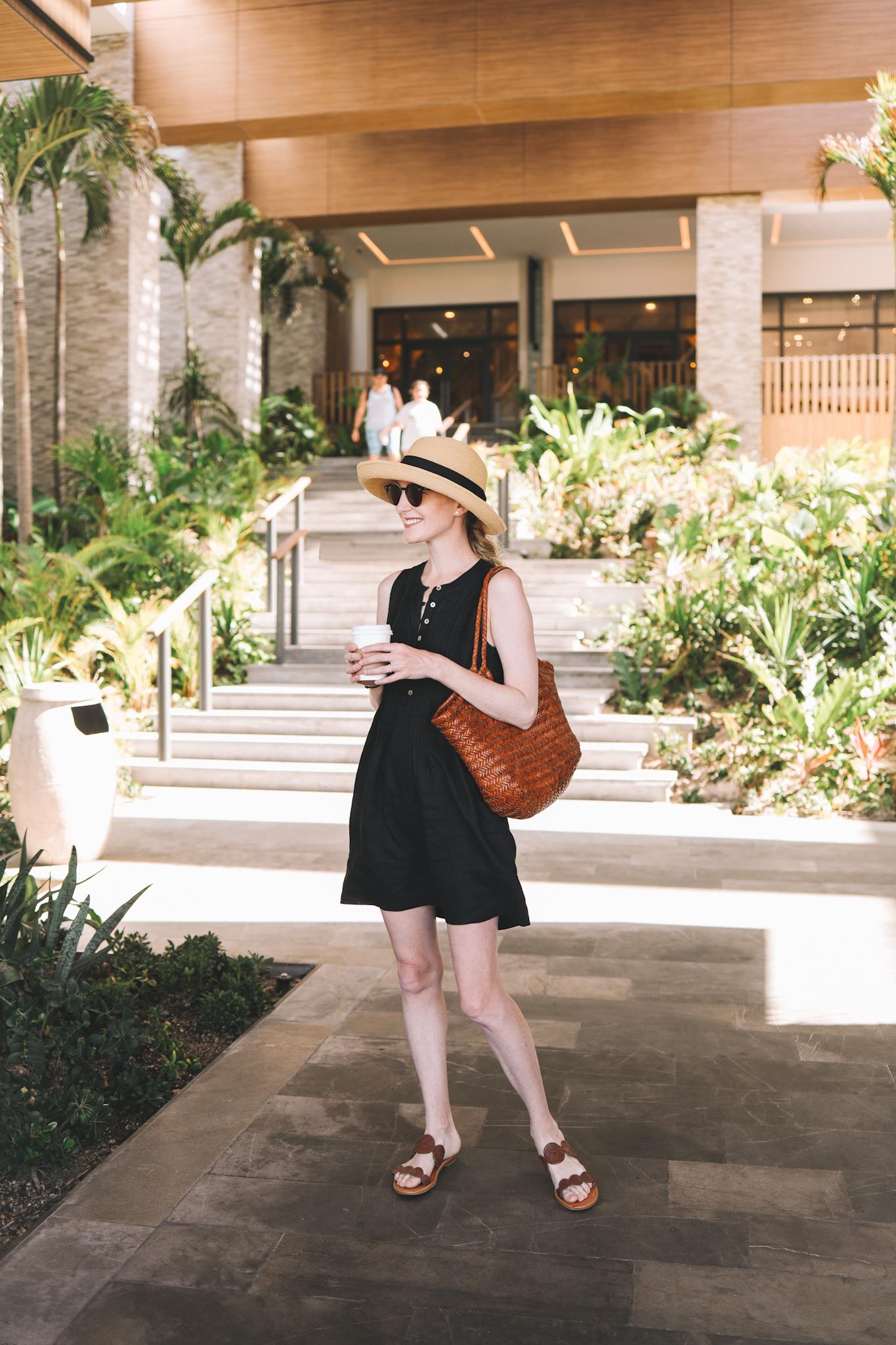 $59 Quince European Linen Dress (Short-Sleeved Version Here!) / Jack Rogers Lauren II Sandals / Dragon Diffusion Tote (J.Crew's new Market Tote is gorgeous and way more affordable!) / Peter Beaton Hat (Currently sold out, but try this crushable Amazon hat!) / Girls' Blue Dresses / Girls' Jelly Sandals
I used to be a serial over-packer. Nervous that I wouldn't have what I needed once I arrived at my designation, I would stuff my suitcase in an effort to prepare for every possible scenario I could imagine. My nightmare was ending up on a mountain without the proper gear. Oh wait, that actually happened to me. (Thanks for not warning me, MITCH. 😆) During the pandemic, though, I significantly downsized my wardrobe in an effort to make laundry—and life in general—easier. And it's really worked. A bonus is that because I only have so many versatile travel go-to's, packing has been made easier, too.
This dress is one of those go-to's. It's the $59 Quince (sleeveless) European Linen Dress, and it gets a lot of wear when I travel. (There's a version with short sleeves, too!)
I wore this dress to breakfast every morning before changing into my swimsuit. Pre-Pandemic Kelly probably would have packed several other dresses because she thought she "had" to, but Post-Pandemic Kelly knew she likely only needed one. And man, that was nice. It brought me back to my Catholic school days; no decisions necessary! Just throw on the plaid jumper and go.

So a few things you should know about the Quince (sleeveless) European Linen Dress:
Fit + sizing
TTS, but if in between sizes and you have a smaller chest, you can likely size down. I typically buy dresses in a small but go down to the XS in this one.
Material + washability
I have always been nervous about linen, probably because I used to own a couple of pieces that required way too much maintenance. But this dress comes out of the wash without needing steaming, which is kind of insane. Granted, I would never run linen through the dryer. (Just say goodbye.) But I hang it up to dry, and it's totally wearable. And I appreciate that so much! Because linen really is fabulous when it's hot. And I just love the look! One other thing to note is that the dress has pockets. They're sewn shut to maintain a tailored look, but if you want to open them,  you totally can.
Colors
I love all of them, haha. I most often travel with the black, but I miiiight own the white as well. 😉 And the khaki and olive green colors?! It's only a matter of time, haha.
A+ from me. You'll be seeing this one a lot! :) Also, please enjoy these photos, many of which were taken by Emma and Lucy! GREAT JOB, CUTIES!
Shop the post:
$59 Quince European Linen Dress (Short-Sleeved Version Here!) / Jack Rogers Lauren II Sandals / Dragon Diffusion Tote (J.Crew's new Market Tote is gorgeous and way more affordable!) / Peter Beaton Hat (Currently sold out, but try this crushable Amazon hat!) / Girls' Blue Dresses / Girls' Jelly Sandals