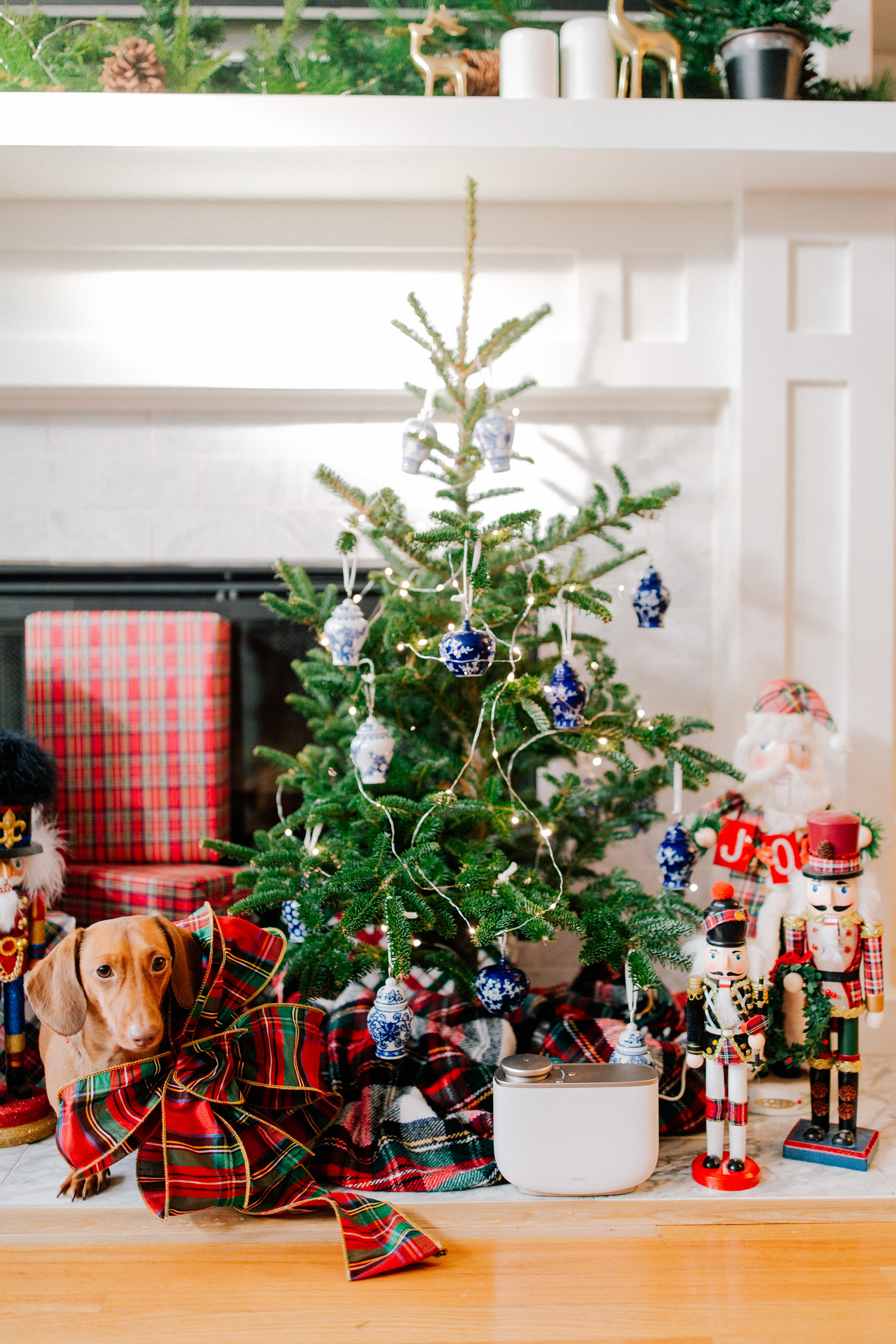 Aera / Ginger Jar Ornaments / Plaid Throw / Nutcrackers (We add one a year! It's a special holiday tradition for the Larkins.) / Wrapping Paper
Mitch here!
Listen: you're not alone if you're stressing over finding the perfect holiday gifts for everyone on your list. It's difficult! When Kelly and I get stuck, though, we fall back on gifts for the home. You don't have to worry about sizing, which takes a lot of the pressure off, and it's usually stuff that the person will pull out holiday after holiday. Our personal favorite seasonal decor is that which has been given to us over the years. It makes us remember specific Christmases and think of family and friends!
Anyway, today, Kelly and I are sharing some of our top holiday gifts for the home!

Aera
Let me introduce you to the Aera Smart Diffuser. If you've been following along with these Mitch posts for a while now, you've likely noticed that I'm a bit of a gadget freak… but not much of what I bring home impresses my wife. (It's okay. I've admittedly made a few mistakes in the past. For example, half of our light switches are no longer functioning.) The Aera, though, was a home run right out of the box.
The Aera Smart Diffuser is a device that simply and efficiently makes your home smell great. All it takes is plugging it in, inserting a scent capsule, and setting the fragrance intensity. Aera has a great design which fits in perfectly on our shelf and doesn't even look like an electronic. (Even Kelly, who pretty much only wants chinoiserie-printed stuff up there, was like, "Oh, this is great!") It's also pet and child friendly!
We're rocking the Hygge Holiday Collection right now, and my personal favorite fragrance is "Winter Light." Winter Light smells like how Christmas feels. It's our favorite Christmas decoration. Each capsule lasts for 1440 hours, and as an advanced dork I should note that the Aera is easily adjusted via its phone app or an Alexa skill. I'm constantly getting compliments on how nice my place smells. And believe me: I'd never once received such a compliment before I got the Aera.

So how does it work?
I mean, from the perspective of an outside observer, it's the simplest device in the world. But under its hood, this thing is rockin' all kinds of innovative technologies. When you drop in an Aera fragrance capsule, it emits billions of undetectable evaporated Aera fragrance droplets. The fragrance is everywhere in an instant, covering the space in what can only be described as a 360-degree smell bomb. The best part? The Aera is flame- and residue-free! It's terrifying to think that until recently, I was putting open-flamed candles all over my house to achieve the same thing.
Btw: Aera is also offering a 20 percent discount with code KELLYINTHECITY20 through 12/16, and if you're planning on gifting it to someone, consider the Simplicity or Luxe Collection of fragrances! They're favorites. As an added bonus, this 20% discount works on top of Aera's current 20% holiday promo. So go crazy!
Preppy Holiday Home Gift Guide
There's some kind of special joy found in knocking off a gift early in the season, and below, you'll find a virtual pile of presents for those plaid-loving, preppy names on your list.
Honestly, I wish I could send these gift ideas to all of your significant others out there. I'm straight up striking out on a gift for Kelly this year, so please leave your own little gift suggestions for her in the comments below. ;) Thanks in advance!
Mitch. Out.

One / Two / Three / Four / Five / Six / Seven / Eight / Nine / Ten / Eleven / Twelve / Thirteen / Fourteen / Fifteen / Sixteen / Seventeen


Eighteen / Nineteen / Twenty / Twenty-One / Twenty-Two / Twenty-Three / Twenty-Four / Twenty-Five / Twenty-Six / Twenty-Seven / Twenty-Eight / Twenty-Nine / Thirty / Thirty-One / Thirty-Two / Thirty-Three / Thirty-Four