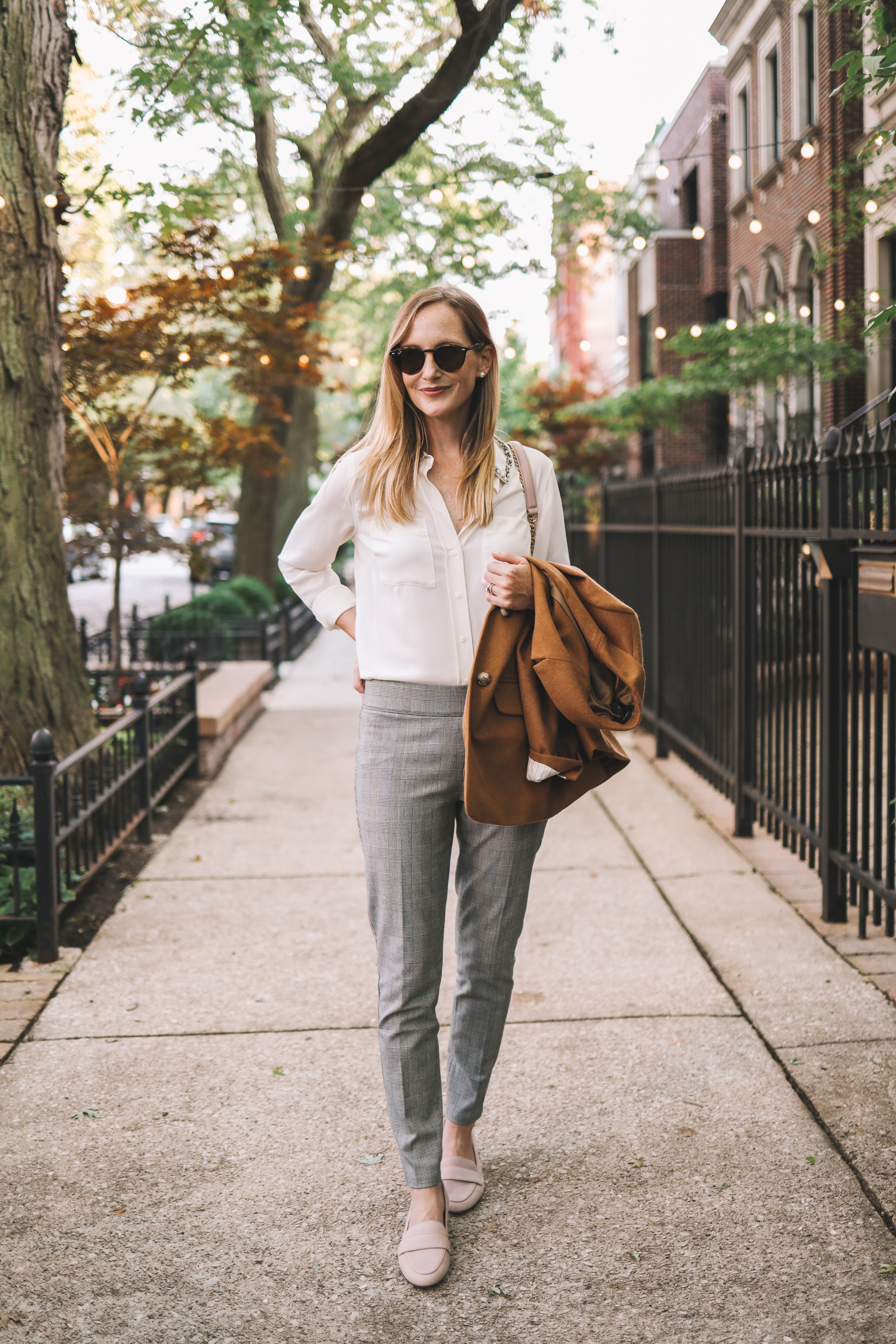 Pull-On Essex Pants / Long Camel Blazer (The houndstooth version is to die for, too.) / Ryan Loafers (No break-in time! TTS.) / Quilted Bag (Also available in black.) / Embellished Collar Shirt all c/o Talbots
Hey, Guys, hey!
Oh my goodness. What a week, and it's only Wednesday. 😂 Long story short, Mitch and I came down with something a couple of days ago, and it wasn't pretty. The girls thankfully remained happy and healthy, but YIKES: taking care of children when both parents are "out of order" is quite the challenge.
If you're a more seasoned parent, do you have any pointers for this? It's not like kids have an "off" switch, and life doesn't stop–even when you feel like you're going to die, haha. As first-timers, I think we did okay… and we're so grateful for our incredible Chicago friends who offered a lot of help and support. (Love you guys!) However, I'd love to hear your secrets for next time. Because woo-ee; that was tough!
Mitch and I snapped these photos a few days ago, before we came down with the plague, during date night. We're always together, but rarely get to really talk, which is why we often stay up way later than we should. We just want to catch up! So we talked to our babysitter and asked her whether she'd be down with coming overnight during the workweek, and simply taking the girls to the park and then putting them to bed. She said yes, and while we've only gone out once so far, it's really lovely. Because we're planning on making this a regular thing, we're not putting any pressure on ourselves to make the night "special" or go to the best restaurant or whatever. (Always our downfall.) Instead, we're simply focusing on quality time. Who cares if we go to the pizza place we've been to one ZILLION times?! We're just here for the conversation… ;)
Anyway, I wore the outfit you see here, as I was working on an Instagram project with Talbots.
And I'm SO obsessed with everything I picked out–and the entire fall line, really–that I thought I'd share on the blog, too!
Before I get to what I'm wearing, though, I wanted to share details about the Talbots Fall Style Event Shopping Party, which is taking place this Saturday, August 24th at your nearest store. You'll receive 25 percent off your purchase, and 10 percent of the net proceeds from the shopping party will benefit your local Dress for Success. It's an amazing time to stock up on fall essentials while also supporting a wonderful cause!
And now for those details. ;)
Essex Pants: These are AMAZING dress pants. They're pull-on and feature a fantastic waistband that smoothes tummies and hips. I can't tell you the last time I wore a silky shirt tucked into pants, yet I did it with these, and felt great! HIGHLY recommend. You can choose from classic and curvy fits (wearing classic here), and there are a ton of available colors, too. I'm thinkin' that "Harvest Wheat" is a must for this fall! Sizing: TTS. I'm wearing the size 2 Regular here.
Long Camel Blazer: Stop the presses. This is THE blazer of the season. The longer length is incredibly flattering, and I love that it could be worn as either a blazer or a topcoat. I already know that this'll be in my closet for YEARS. The houndstooth version is to die for, too! Sizing: Perhaps a teensy bit large, but that's the look. I went with my normal size.
Ryan Loafers: These are a dream. I love pairing blush pink with black and camel in the fall, and I know I'll get a ton of use out of these. They feel like clouds, and require absolutely no break-in time. Tons of padding and buttery soft leather. Sizing: TTS. I'm wearing a size 7.5 here, which is what I always wear in flats.
Quilted Bag: Yes! I admit that I do have a black Chanel bag, which I'll own until the day I die. ;) But I've long pined over one in blush or nude to use with other outfits. This one is perfect, and a zillionth of the cost of a Chanel, haha. (It's also super soft!) It's also available in black in case you're looking.
Embellished Collar Shirt: I'm all for classic tops and sweaters with cute details, as I'm a throw-it-on-and-go girl these days. I adore the tweed and pearl detailing around the collar of this shirt, and the fact that you can machine-wash it since it's polyester! (Oh, and have you seen this sweater?! LOVE.)
Over and out, Friends!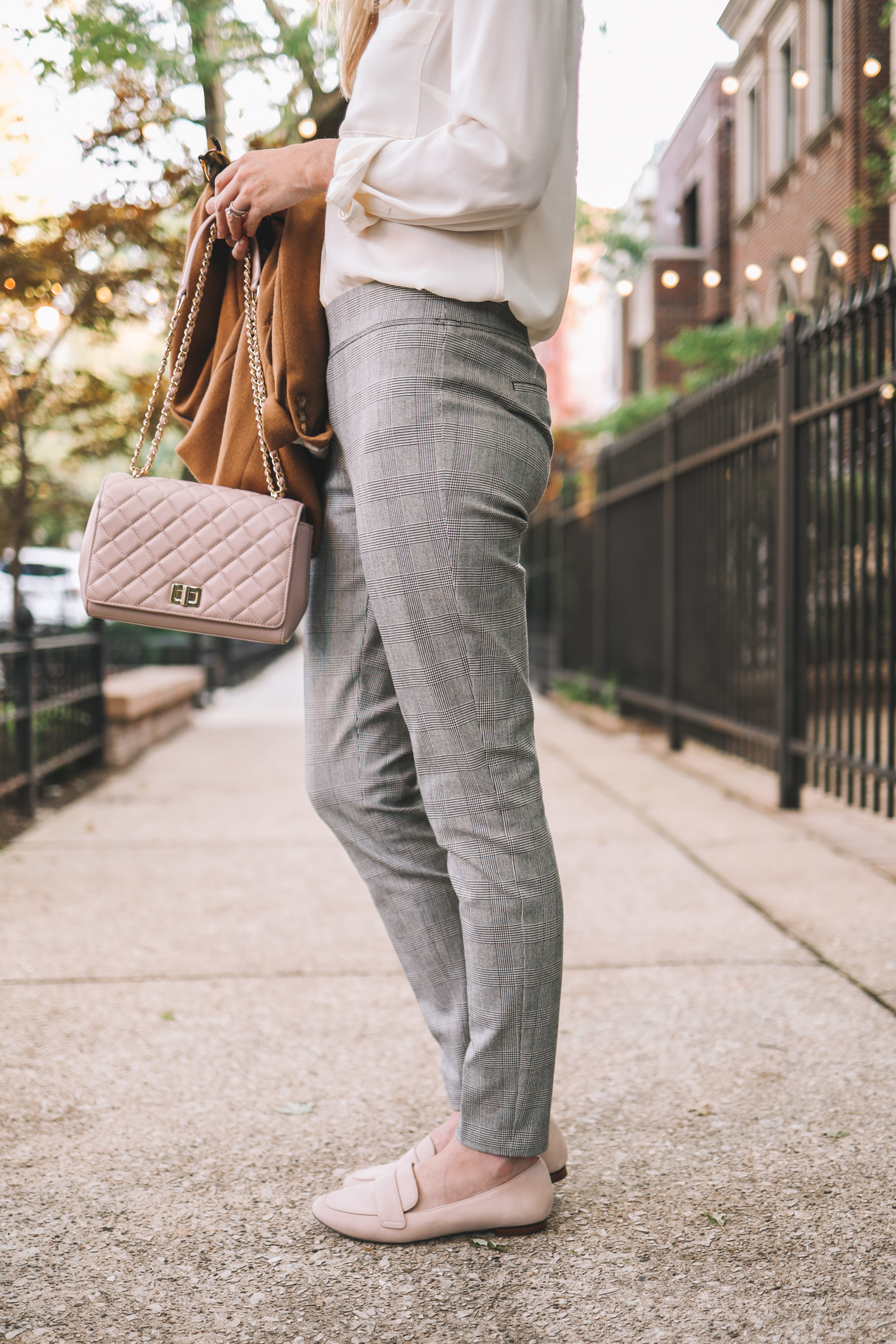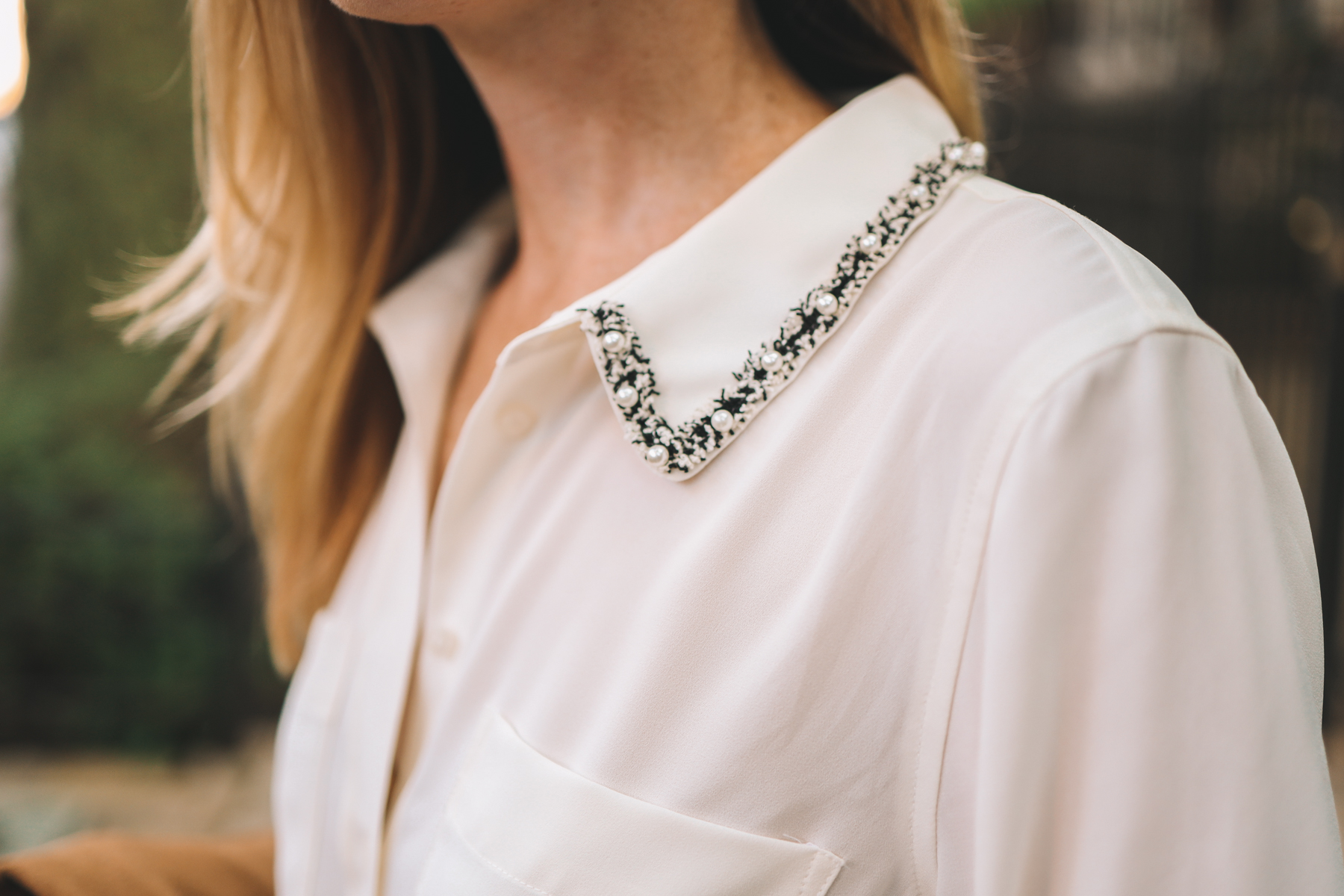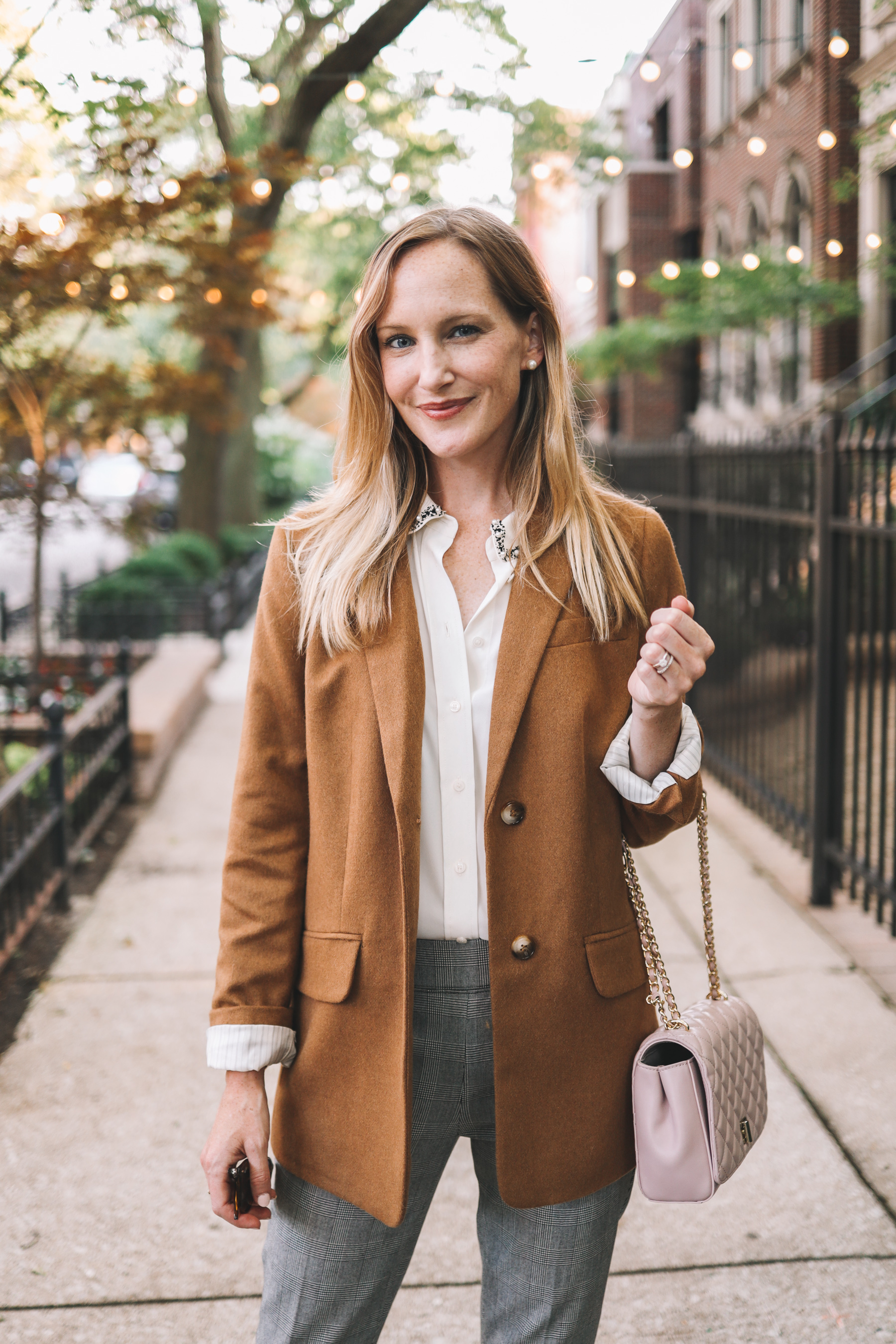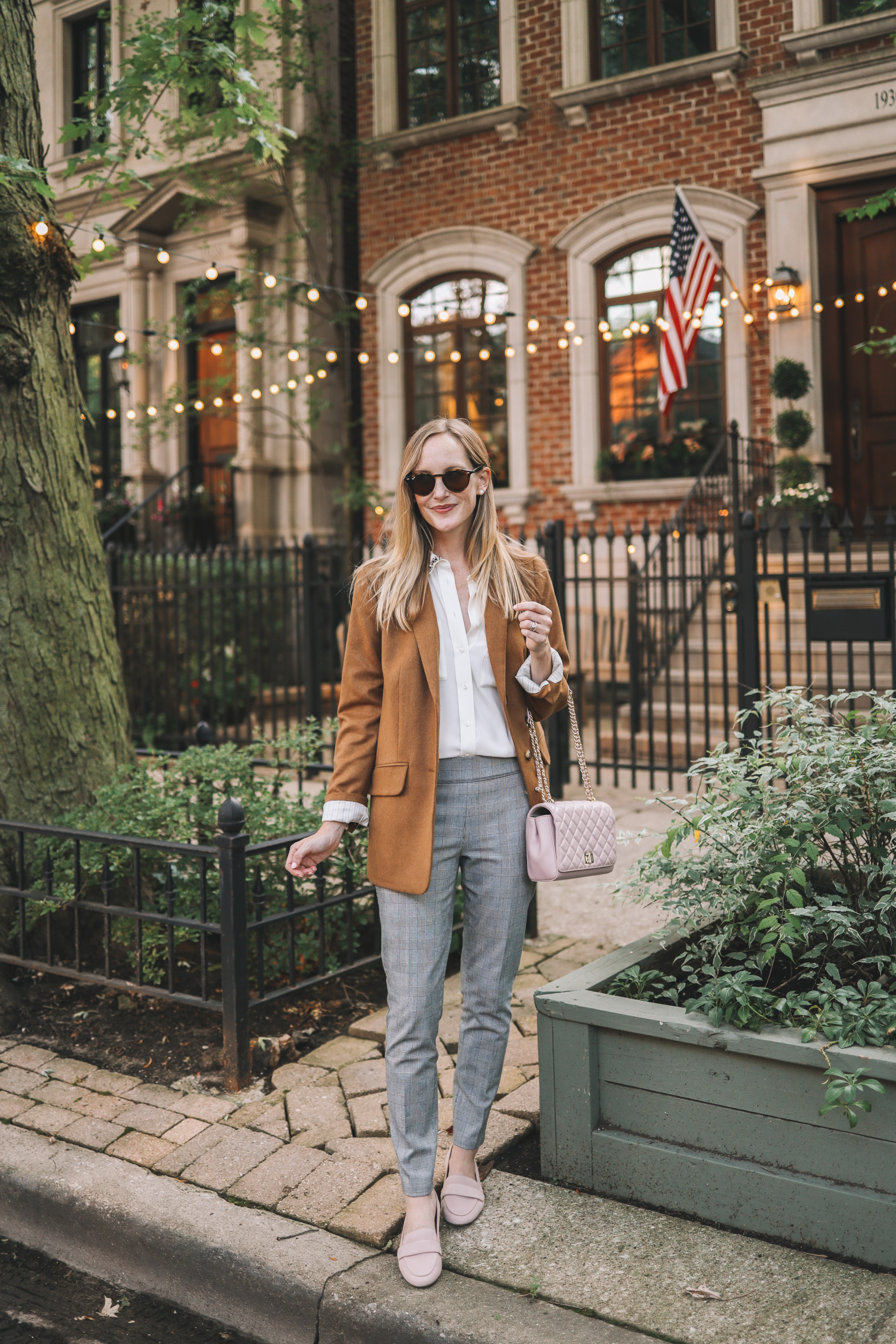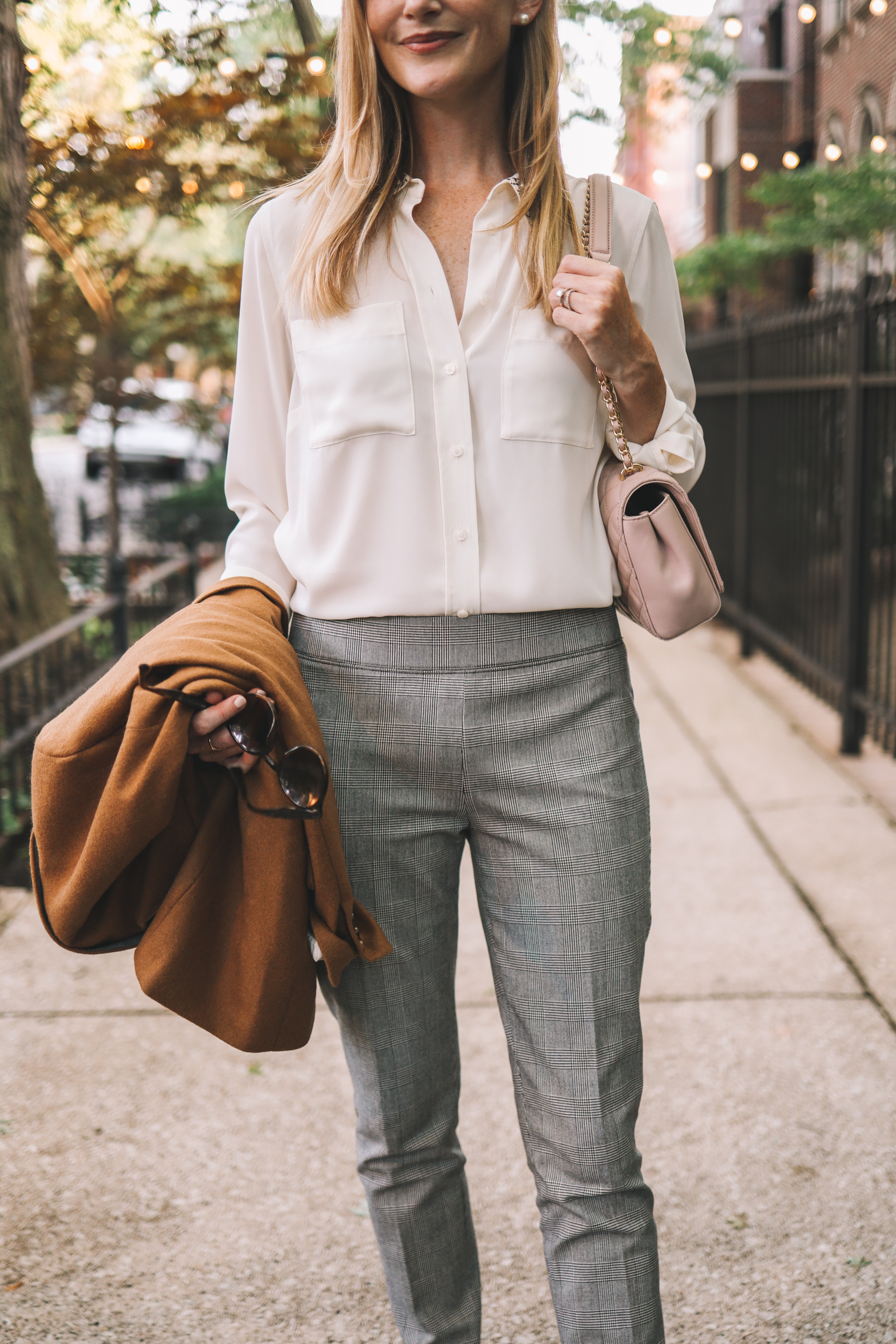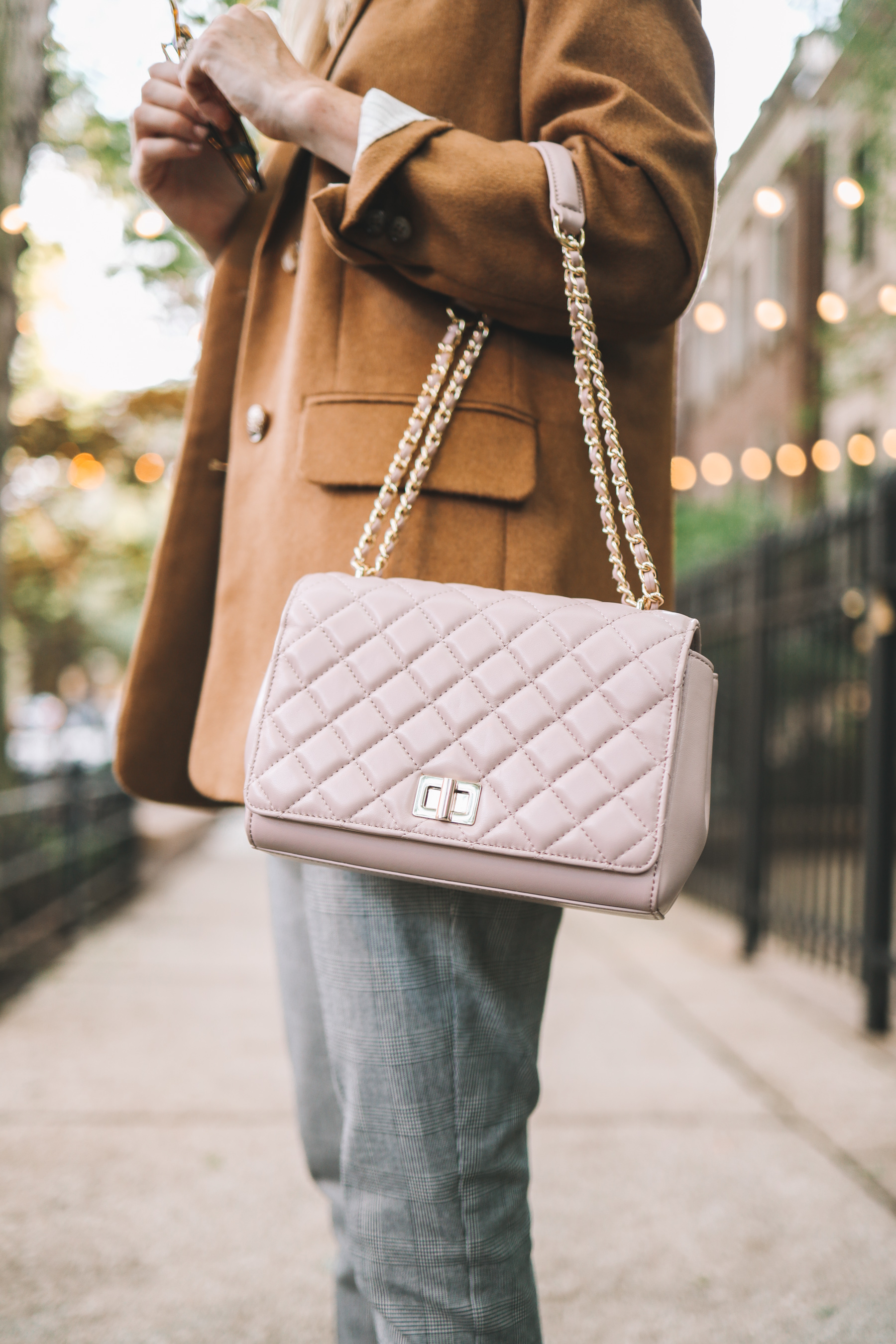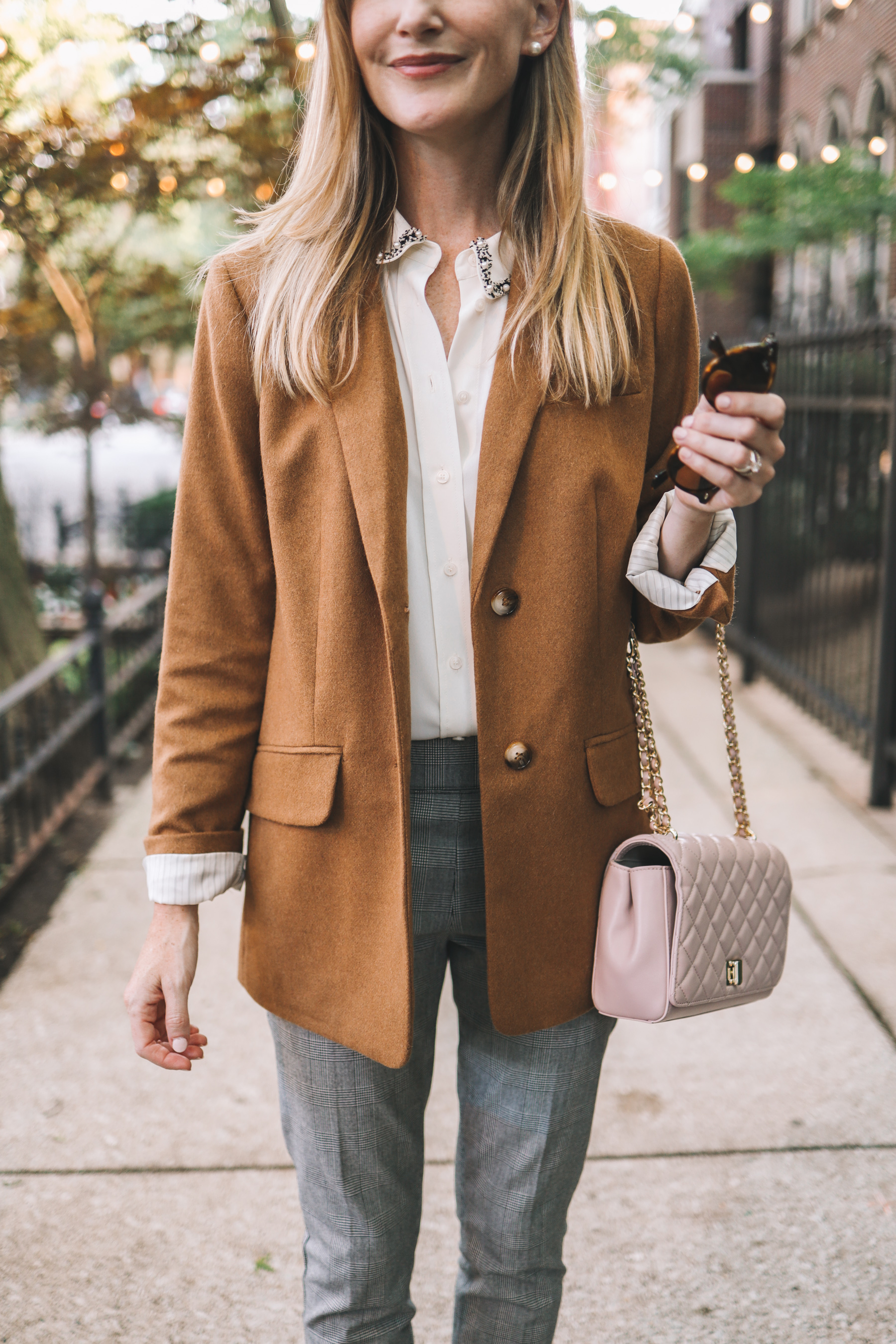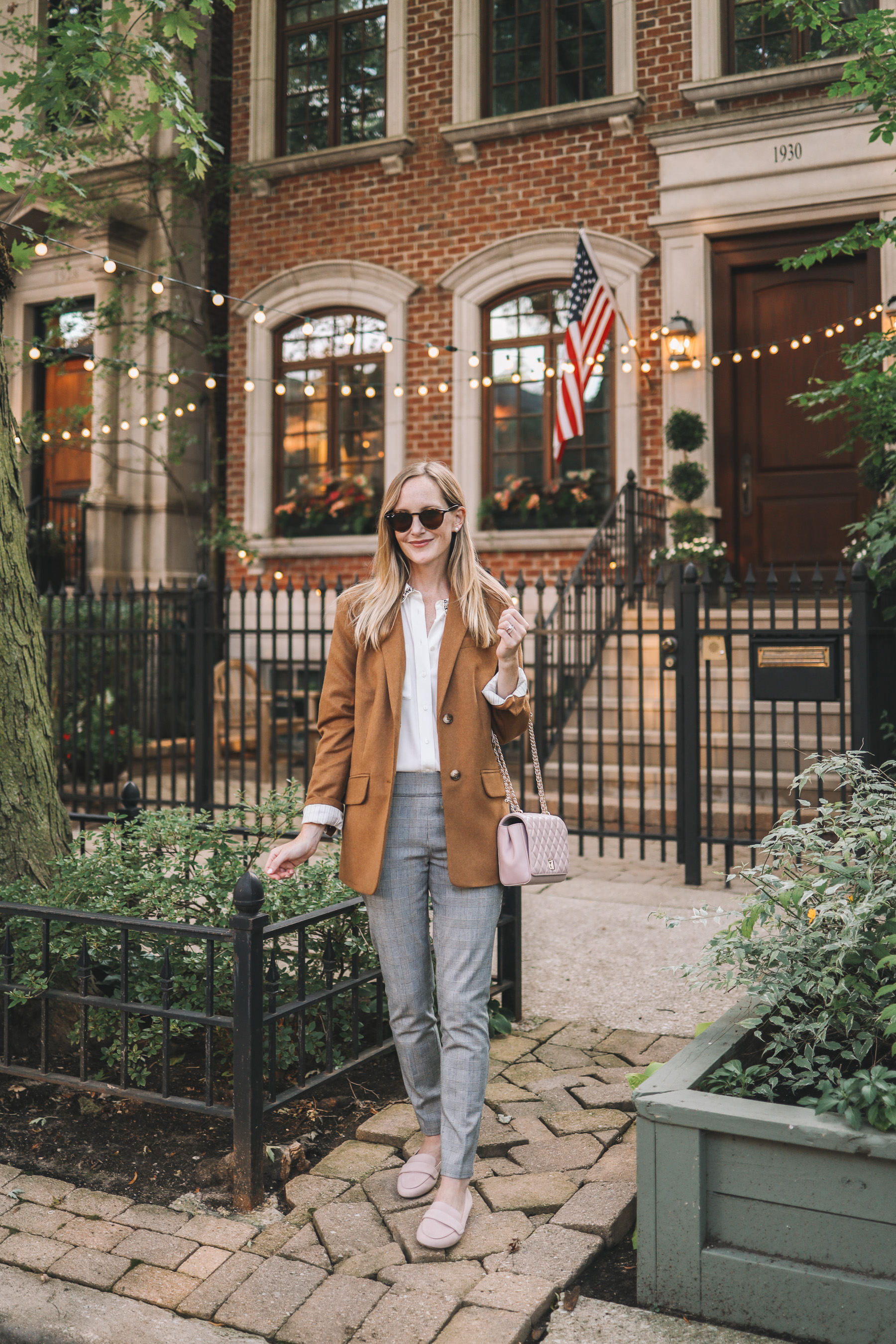 Shop the post:
Pull-On Essex Pants / Long Camel Blazer (The houndstooth version is to die for, too.) / Ryan Loafers (No break-in time! TTS.) / Quilted Bag (Also available in black.) / Embellished Collar Shirt all c/o Talbots